August the eight month of the year and if i'm being honest, my favorite month. This month's tutorial is a super easy pants tutorial, since you've been practicing enough on previous tutorials this one will be easy peasy for you.
This style of pants is timeless, versatile and classic. Since it has a straight silhouette it's very comfortable. If you're in a part of the world where you are still having hot weather I recommend you use natural fabrics like linen, cotton, hemp, silk. And if you're having a cold weather i recommend using something different like wool or cotton but look for thicker fabrics.
Like I said this should be a simple and an easy to sew project. So I believe you won't have any problem with it. But if you do, remember that we are always available to answer your questions.
For a long time I've been wanting to have a two toned pants but I never found the right ones so i thought that this would be the perfect opportunity to make me ones. Since this type of pants are timeless I thought that making them two toned would give it a fun factor but still being able to wear them for years and years.
You'll see in this tutorial how it turned out. But you don't need to do it like me, this is just a personal thing I wanted to do.
Enough of this story, let's get into it..
This is how it turned out…
Fabric 
Thread
Elastic 3 centimeters or 1 inch wide
Scissors
Tape measure
Pencil or Fabric marker
Sewing machine or Needle
Pins or Clips
A pair of pants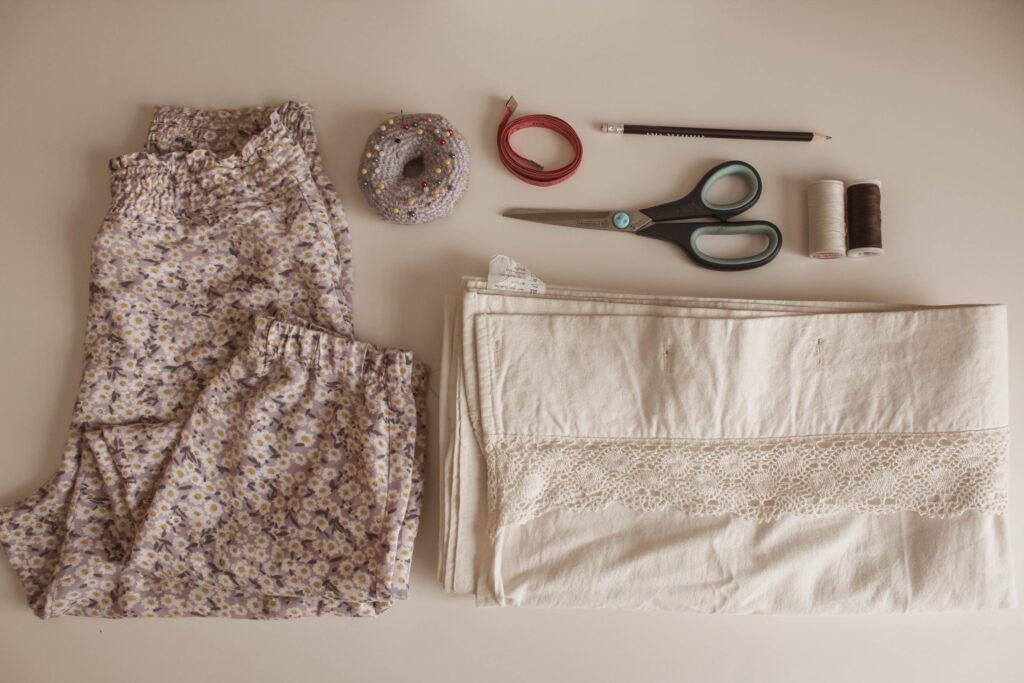 How much fabric?
According to the size you normally wear your pants: 1 yard= 91 cm
XXS: 1 yard (90 cm)

XS: 1 yard (90 cm)

S: 1 yard (90 cm)

M: 1 yard (90 cm)

L: 1 1/2 yard (1.40 mts)

XL: 2 (1.80 mts)

XXL: 2 (1.80 mts)

2X: 2 (1.80 mts)

3X: 2 (1.80 mts)

4X: 2 (1.80 mts)

Larger sizes: 3 yards (2.70 mts)
how much elastic?
Measure your waist and add 2 cm. That's how much elastic you'll need.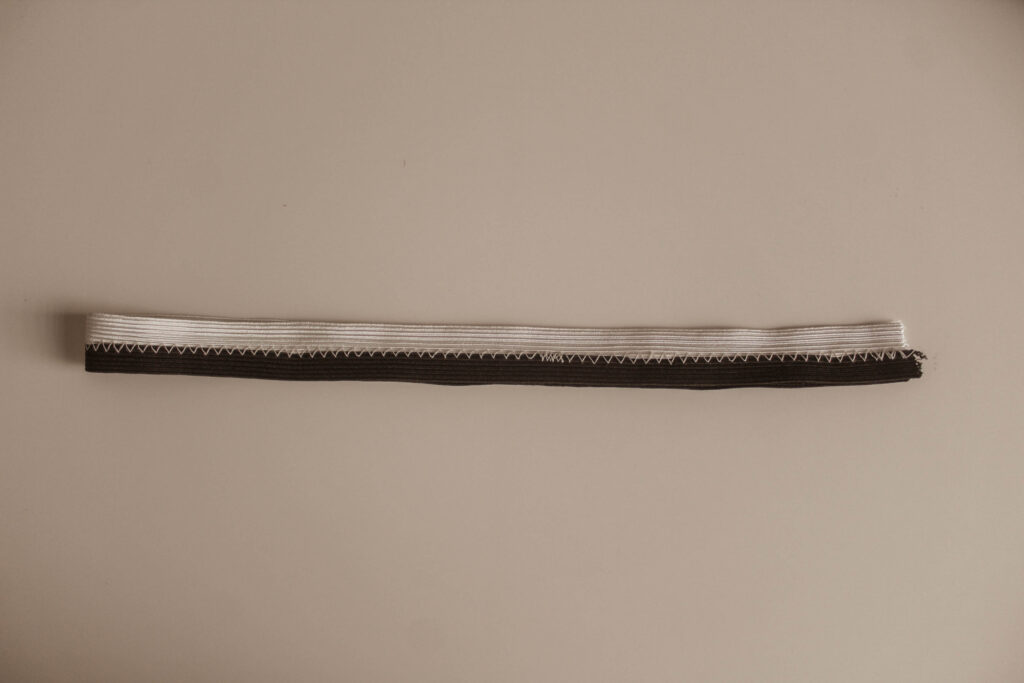 Step 1
Take your fabric and fold it in half.
Take your pants, turn them inside out and fold them in half as well. 
Place them on the fabric, they will be our guide. Leave space around it to make the adjustments.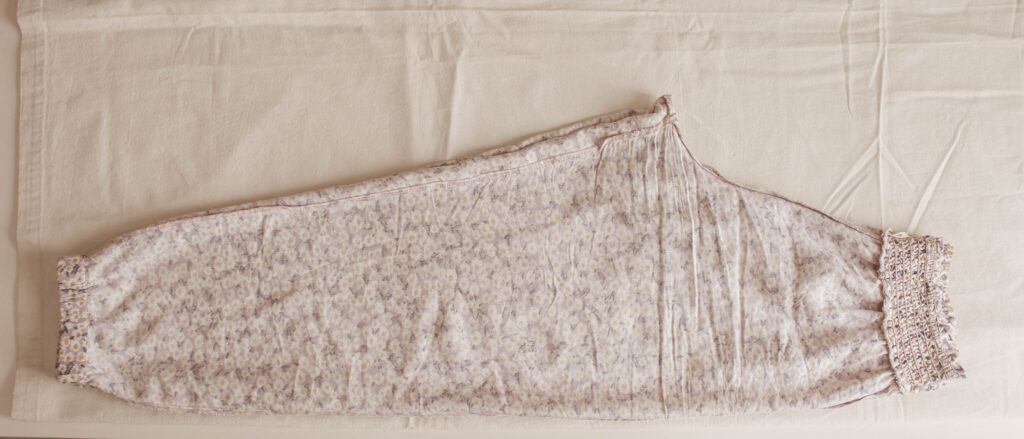 Step 2
Trace the pants contour. 
On the crotch you'll notice that the front crotch line is shorter than the back crotch line. Trace it all the way and make a mark where the front one ends. This will help us later.
Like this…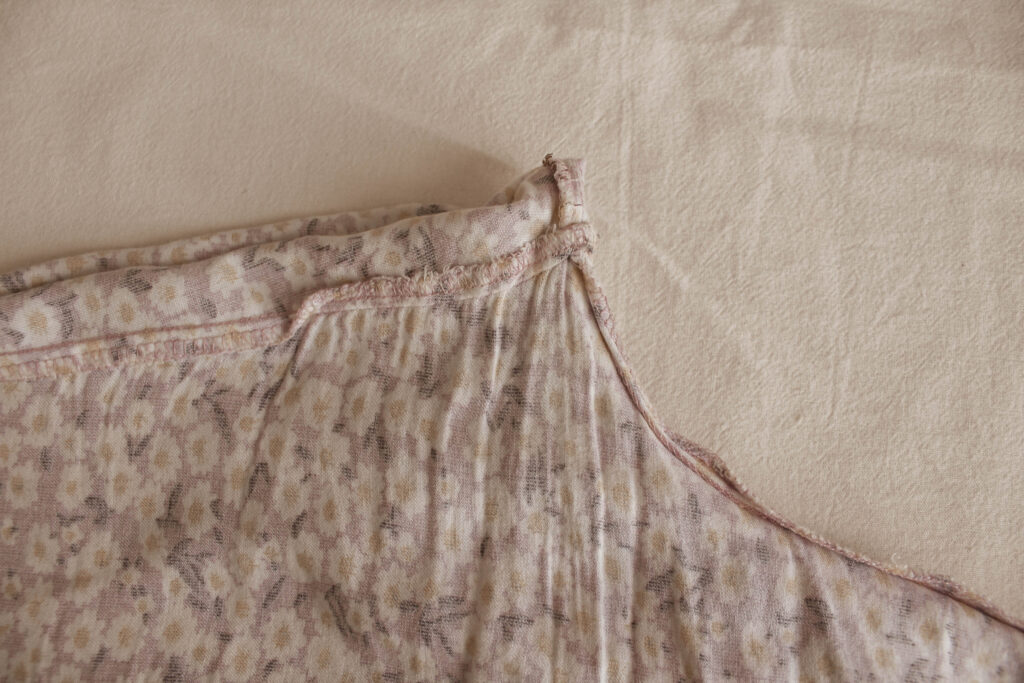 Step 3
Trace a straight line one the ankles. You might want to follow the lines of the existent pant as a guide. This will give the pants legs a straight silhouette.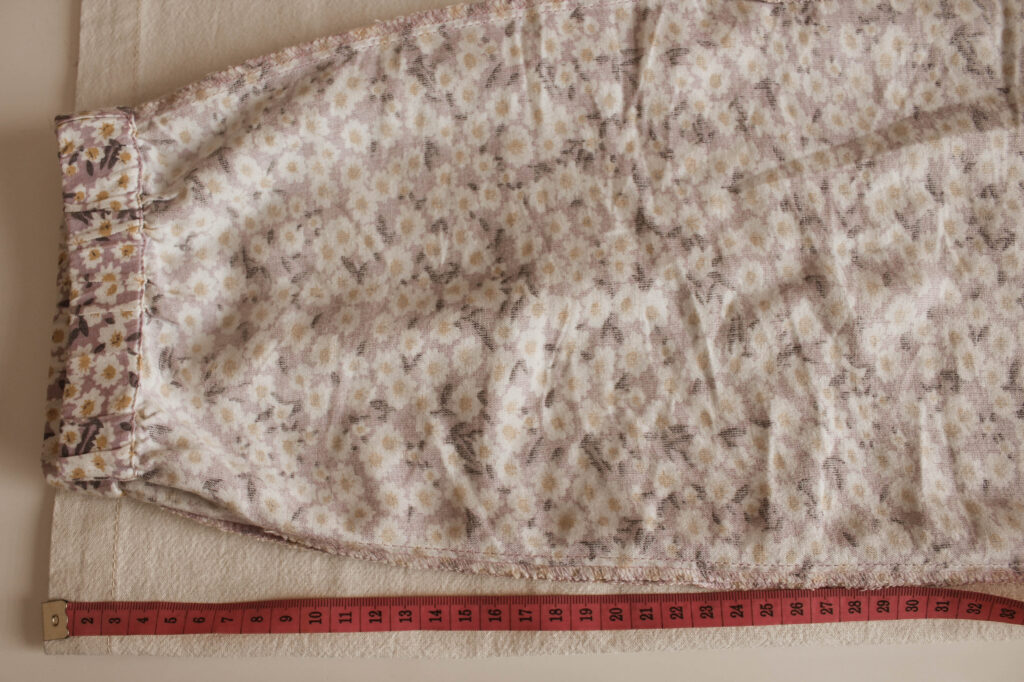 Now, make a straight line from the side to the waist, as well.
On the hip make sure that they fit. Measure your hip and divide it in four. That measurement is what you should have on the fabric pattern. Depending on the type of pants you're using as a guide, is how much you'll add to the sides to loosen it up a bit.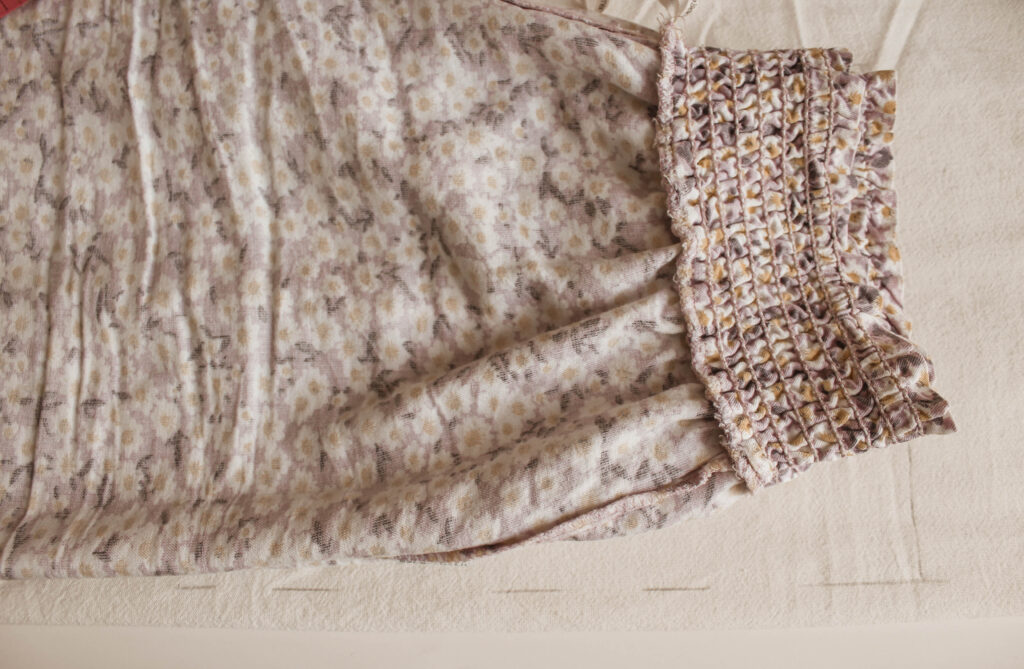 Remove your garment.
Now, on the waist line you'll need to add 3 cm to the center, where the crotch is. This will give us the opportunity to fit through the hips if you need you can add more. Depending on your hip measure or on how loose you want it to be.
I added only 2 cm but then regretted it because it's a little bit tight to put on.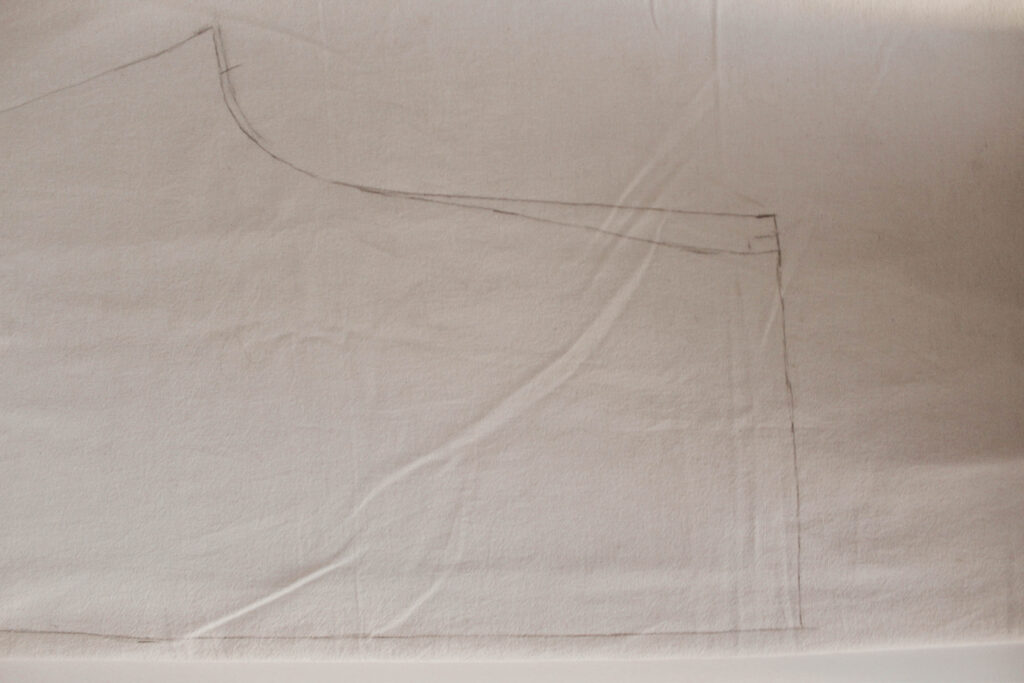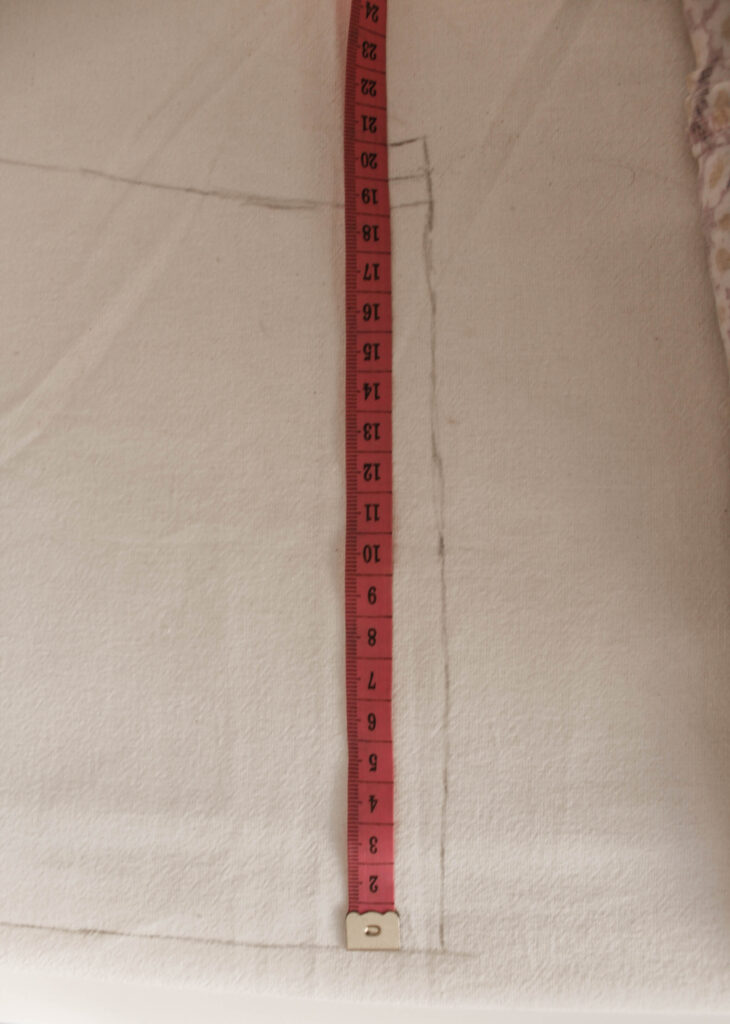 Step 4
Add 1 cm of seam allowance on the side, crotch, and inseam. Add 3 cm to the hem. And add 4 cm to the waist, this will be the waist band.
Then, pin it down and cut it.
At the end you'll have two pieces of that, these will be your back sides.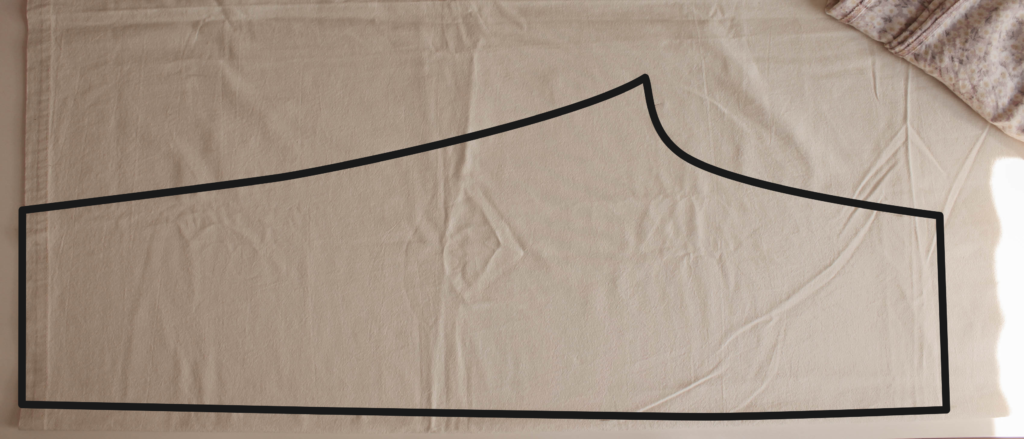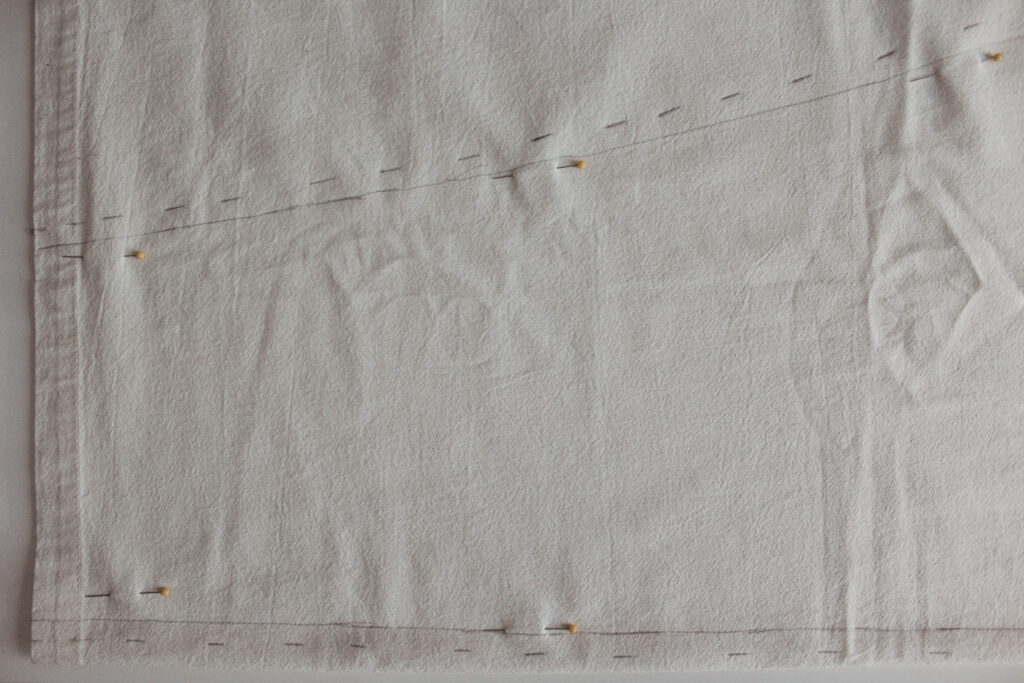 Step 5
Take your remaining fabric and fold it.
Place one of the pieces that's already cut, in the folded fabric.
Trace the contour and cut two more pieces. Then at the crotch line, mark where the front ends. Add 1 cm and connect that point to the inseam line. Cut that excess. (Third photo)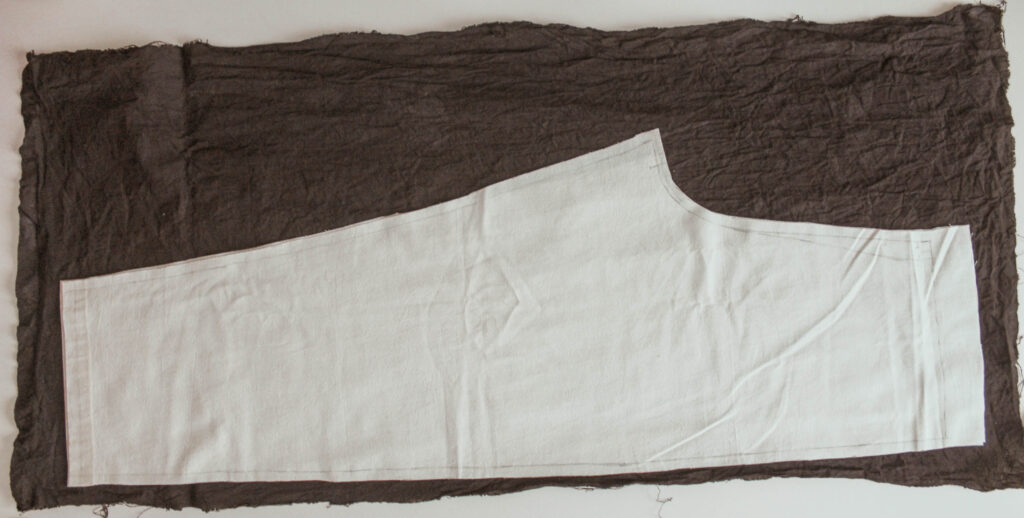 I used black fabric to do the other leg, that's why you see the change in color. If you decided to do it like me, cut of the same color, one piece with a long crotch and another with a short crotch. Repeat that with the other color.
Step 6
Finally cut those pieces.
You'll end up with four of them.
If you want to make a two toned pant like mine, you'll need: 2 pieces in one color (one front and one back) and 2 pieces in the other color (one front and one back).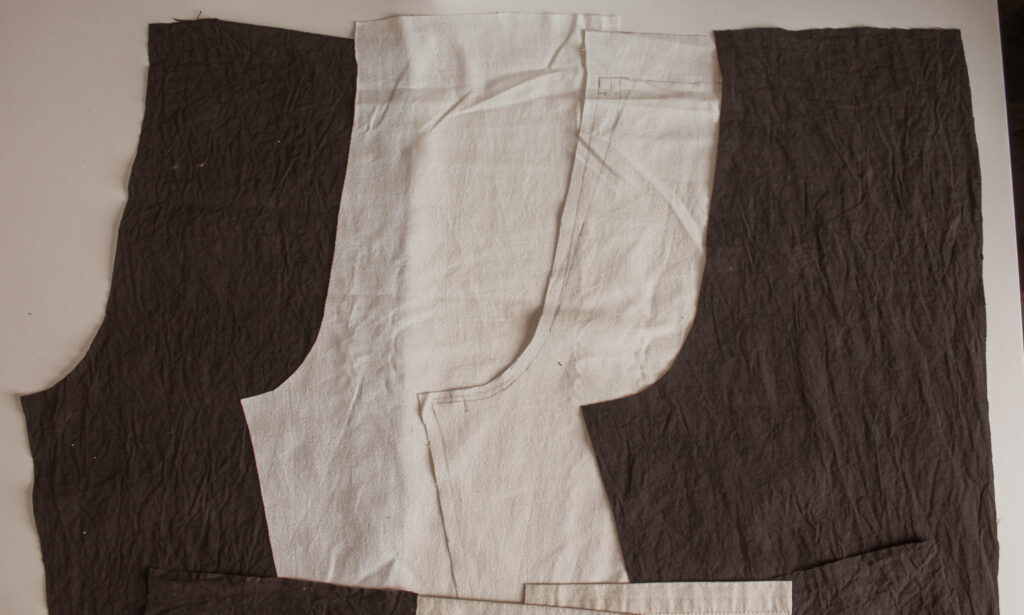 Step 1
To start sewing take your pieces and place them front sides of the fabric together. Pairing right leg pieces together and left leg pieces together. 
Sew the side seams.

Step 2
Now, you'll sew the crotch. Extend them and face right sides together. You'll pair the back crotch line with the back, and the front with the front.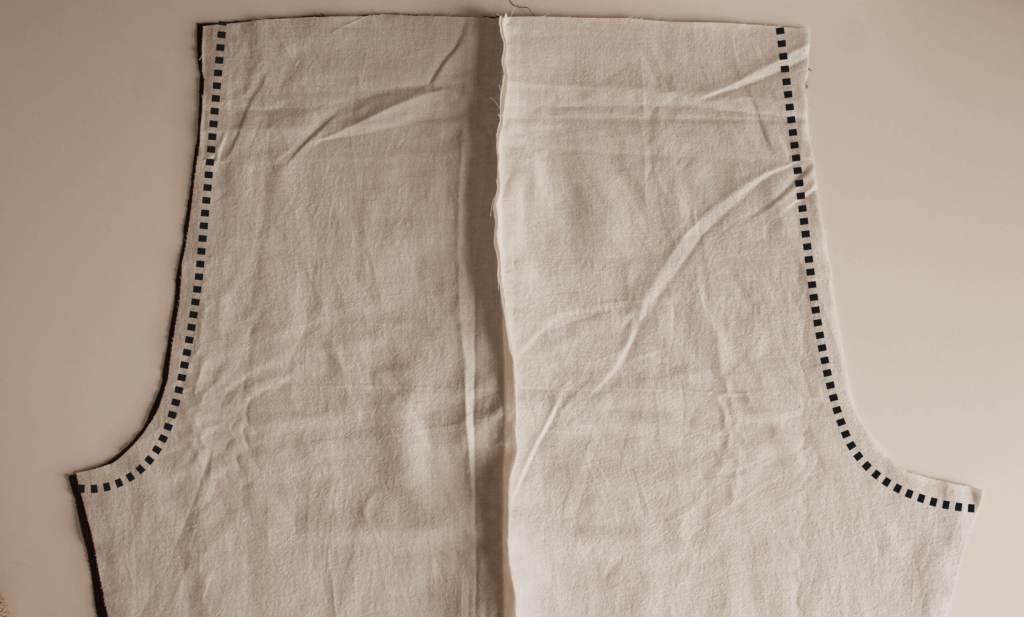 Step 4
Take your elastic band and make sure that it measures the same as your waist + 2 cm (6/8 in). 
Sew the ends together.
*Little tip: if you don't find a 3 cm wide elastic you can sew together two elastics of 1.5 cm. As you could see this happened to me and this tip was such a good life saver. Use a zig-zag stitch to attach them.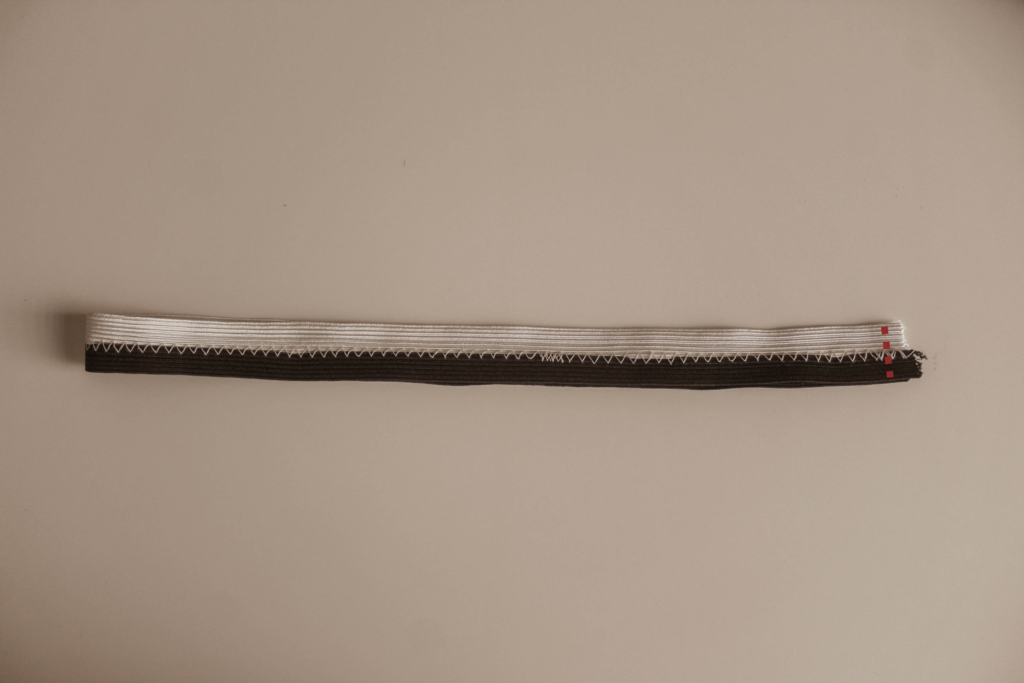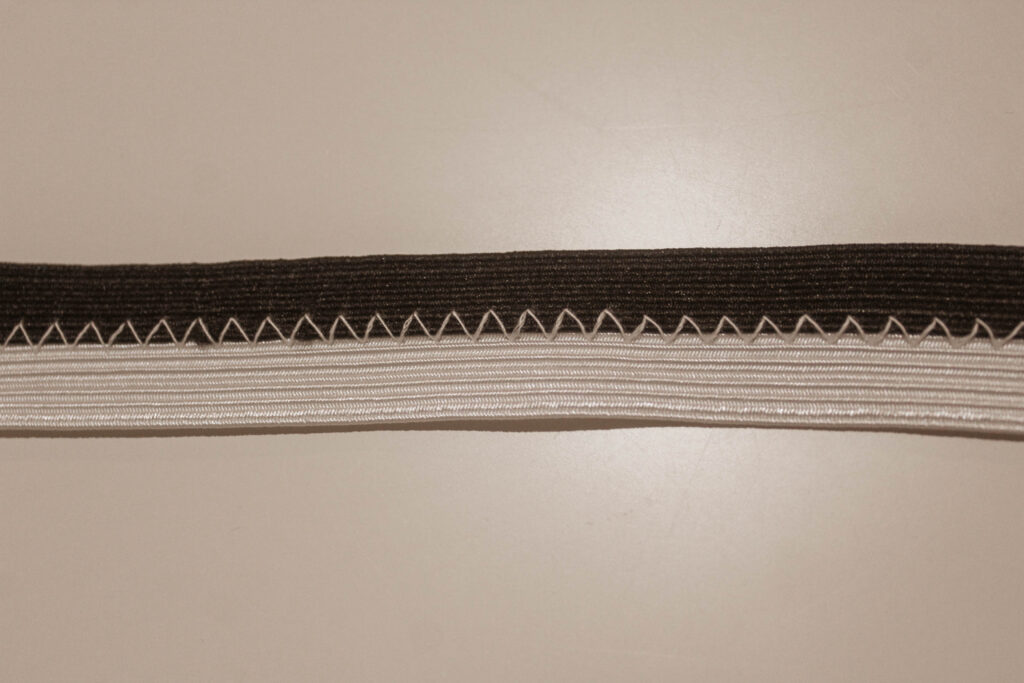 I used this setting for the zig-zag stitch:
5-6 Tension
4-5 Stitch height (position of the needle)
3 Stitch width
Normal Zig-Zag Stitch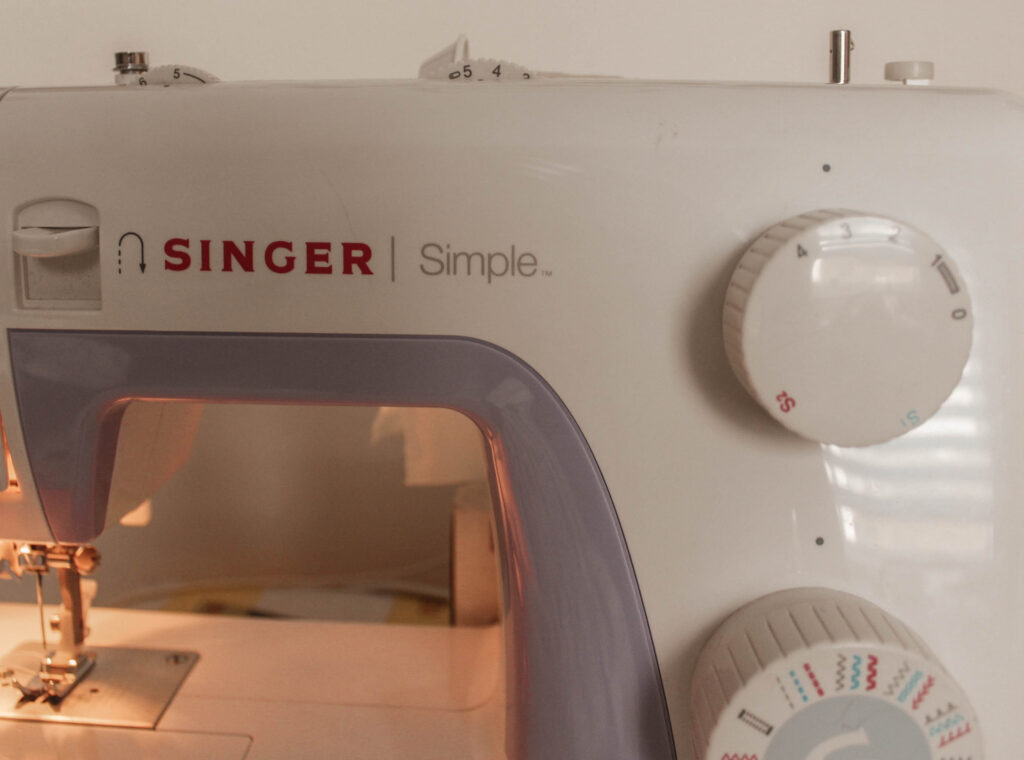 Step 5
Make a Zig-Zag stitch on the all around the waist of the pants. This will avoid the fabric from unraveling.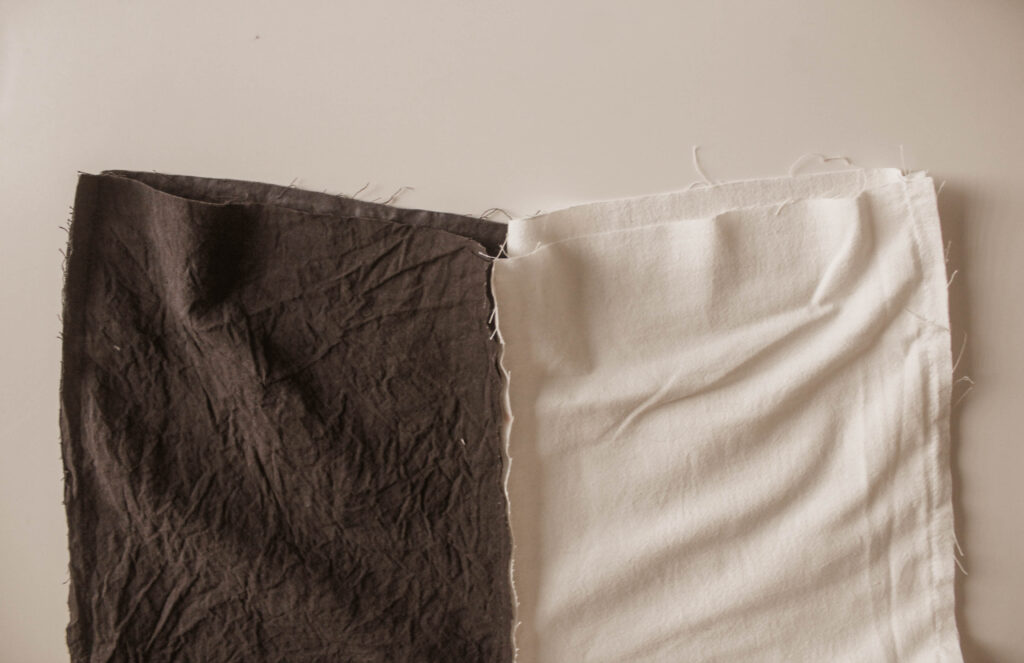 Step 6
Take your elastic and wrap it with the fabric. Like the photo. 
It should cover the elastic and 1 cm extra. Pin it down on 4 points all around.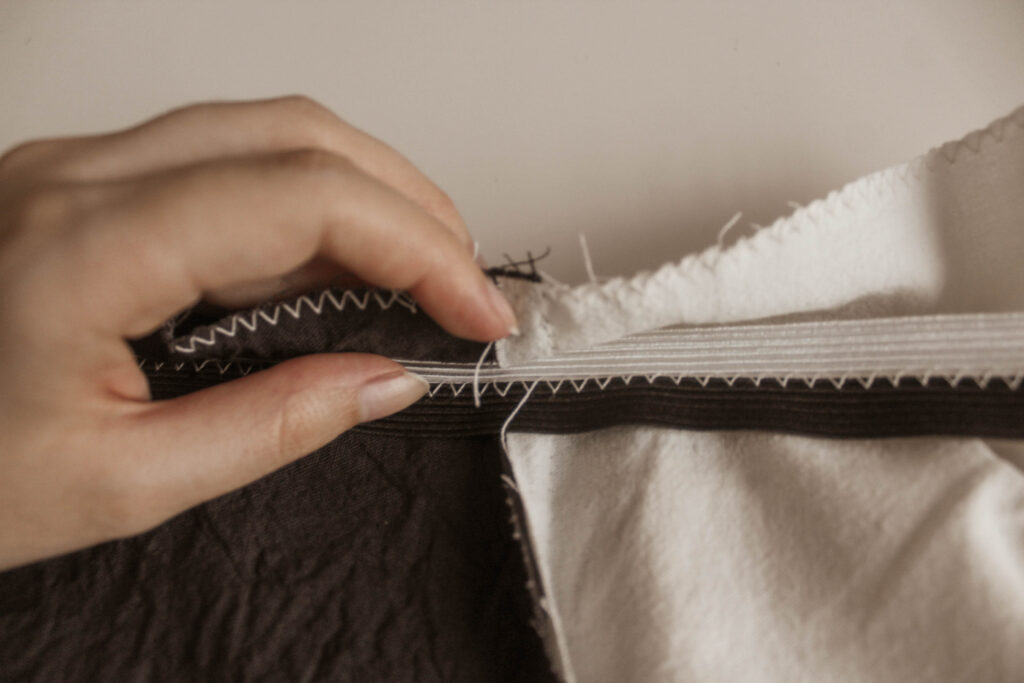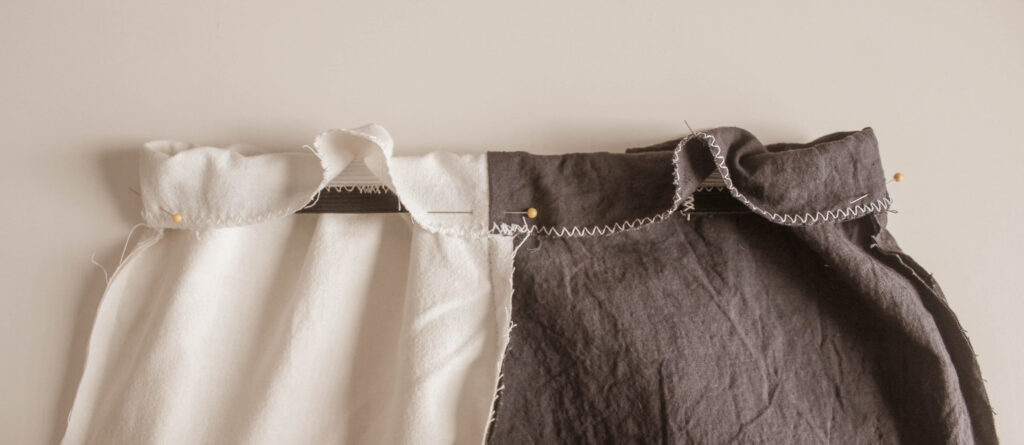 That extra centimeter is your seam allowance, just make sure the stitch doesn't touch the elastic because it will prevent it from stretching.
To guide yourself you can place the edge of the fabric on the edge of the pressing foot.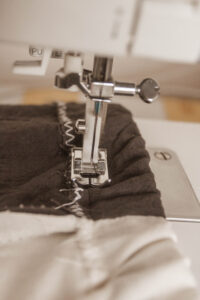 When you're sewing, stretch the elastic and the fabric together. Since the elastic is shorter than the fabric it gathers and creates frills. When you stretch it becomes sraight and easy to sew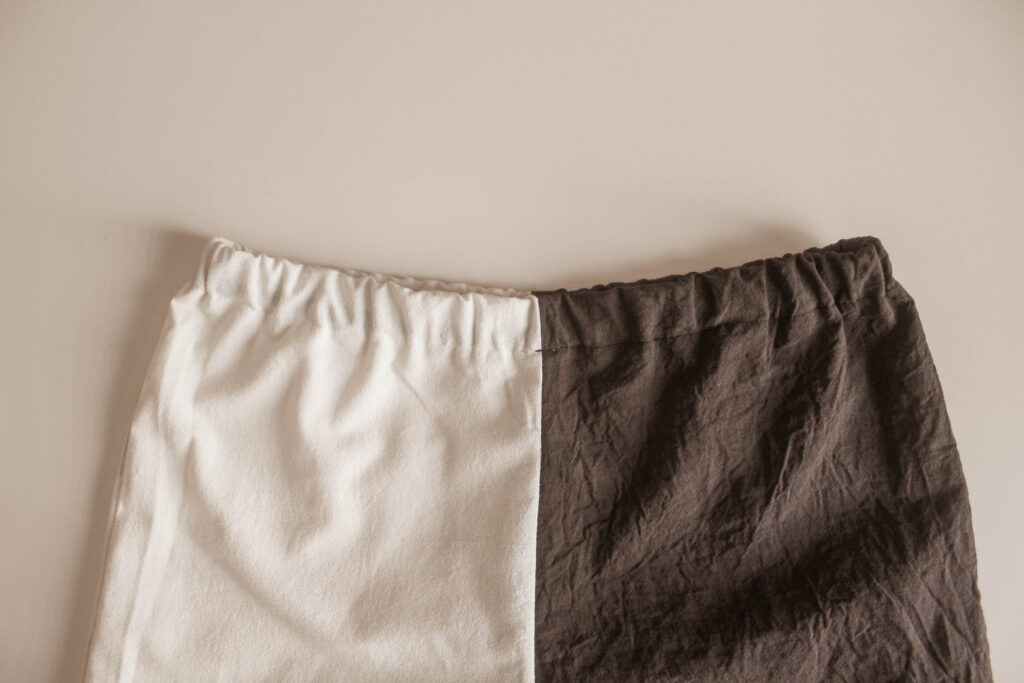 Step 7
Finally, sew the hem of the pant legs.
Fold 1 cm in then 2 cm in. Make the stitch very close to the edge.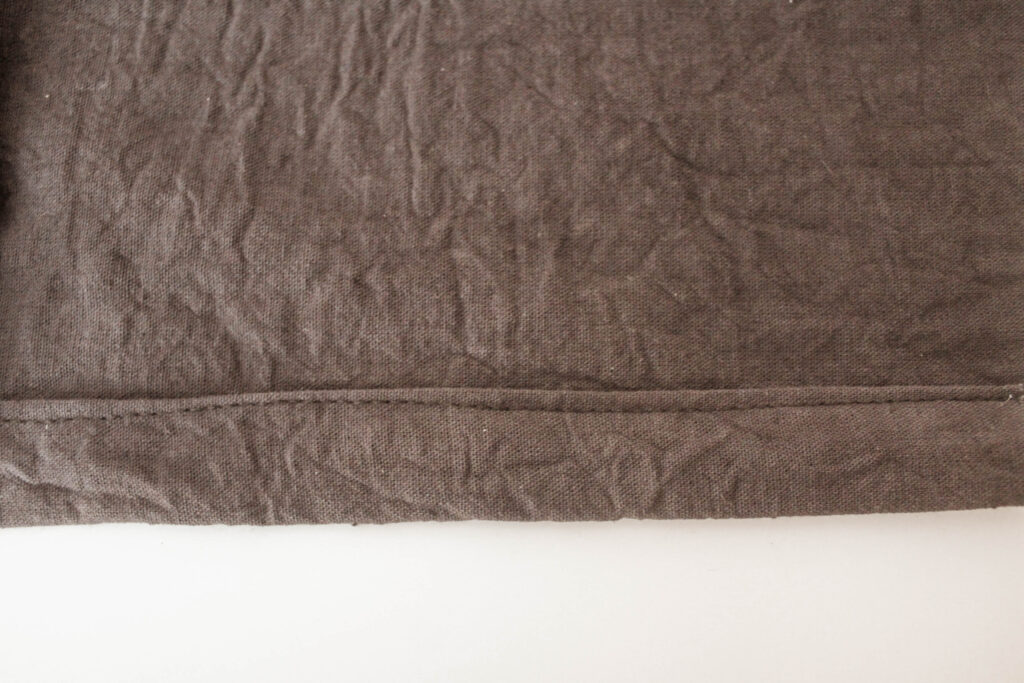 And you're done. Simple and fast! 
I loved this project! I'm so happy at how my pants turned out, they have timeless style but with a fun touch. You might see me wearing them a lot.
As always you can personalize yours however you wish. Use different types of fabric, make it looser or straighter, or even play by mixing patterns.
Don't forget that we can help you solve any doubts and questions. We'd love to see how your projects look like. 
More than half of the year is gone! We want to thank everyone who's been following along with us. We hope you're happy at how your wardrobe is turning out. 
Look! I'm wearing it with the V-Top we did in April and it goes together perfectly.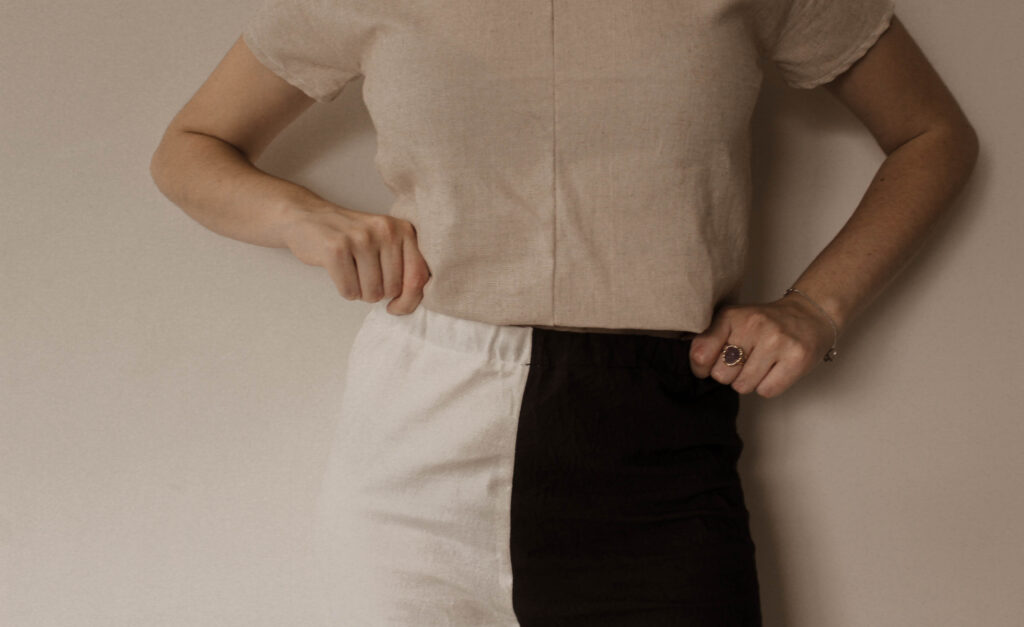 4