Disclosure: This post may contain affiliate links and we may receive a commission if you purchase through them.
This 2020 year that passed changed us all, quarantine made us stay in our comfy clothes all the time even if you had a zoom meeting. Thanks to that, I realized we wear clothes that make us uncomfortable most of the time, for example, denim pants or bras with underwires that are just hurtful. So, I started thinking of using other underwear alternatives that allowed me to dress up but still feel comfy. The only options were bralettes or sport-bras, which aren't ideal for every day.
Then I dive into my research of getting new underwear that solved my needs, but I realized that in this fashion's category (underwear) you can also have sustainable alternatives. So my research changed to "Sustainable Comfortable Underwear".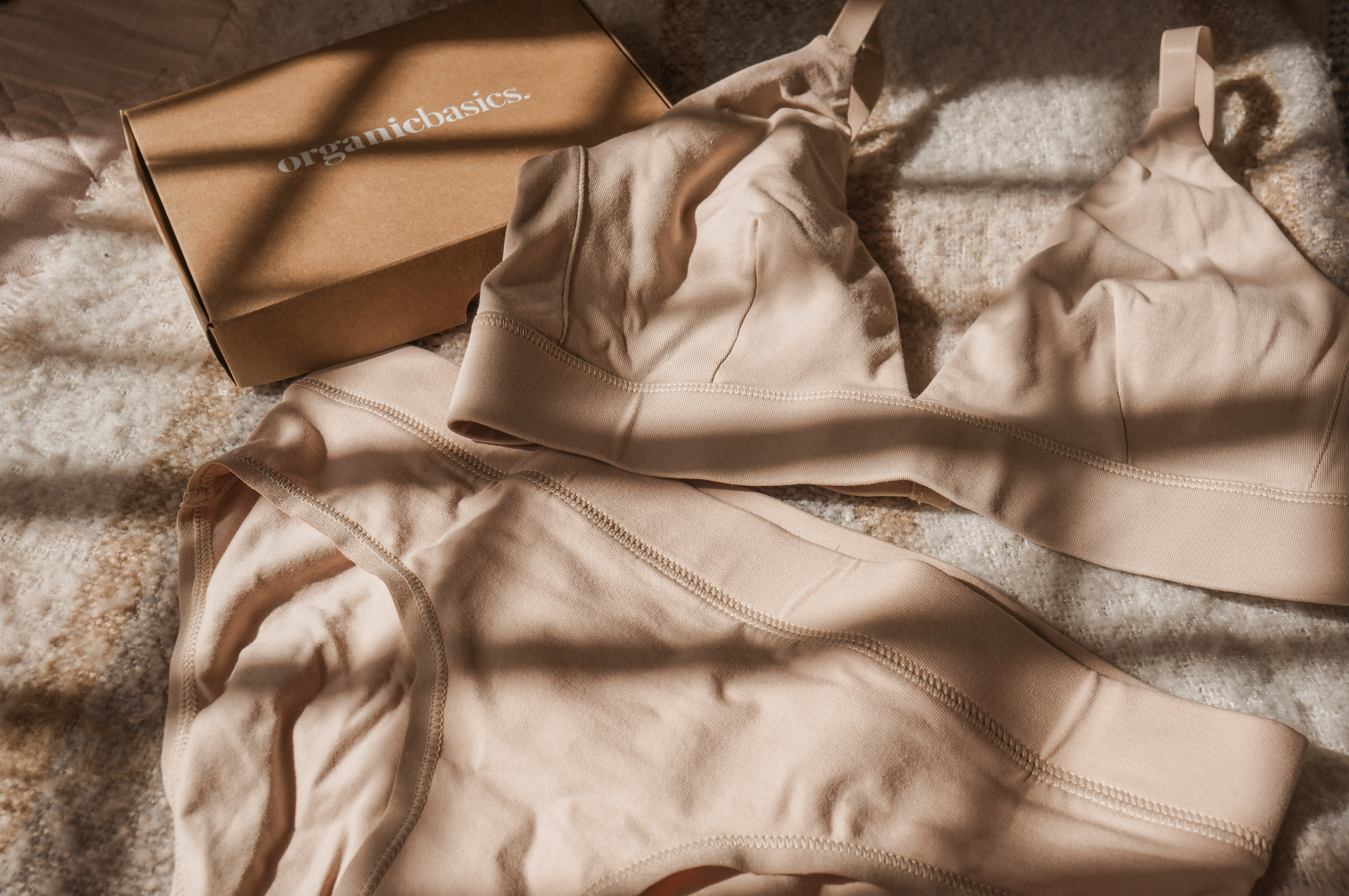 On my research on finding a low impact option that had all of these requirements, I found out that there are brands that are truly concerned about making sustainable underwear.
Since I was looking for comfort and low impact on the planet, I had to compare all the pros and cons of all these brands to find the right one for my needs. After that, I finally decided to try Organic Basics underwear.
This brand had many great things that led me to choose them. You might want to know what they are. Well, here it is:
I chose to buy the Organic Cotton Starter Pack in the color rose nude.
1. Design – Quality
It's the first thing you see when you enter their website. The brand has a minimalist style and most of the garments they offer are basics, for me, this is a good thing.
I loved that all their designs are made to last. They achieve that by designing with simplicity and function in mind, which I'm a fan of.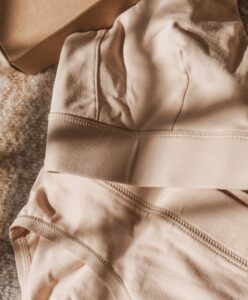 Look at those details!
This set included a triangle bra and a pair of bikini briefs. Some of the things that make me like it so much are… the thick elastic band, which meant that it will last longer and that the stitches are tight, not loose. Also, that the cup has double fabric so you can wear it carefree, and the back has an adjustable hook so you can put it on easier.
After trying it on and use it for a couple of times, I can say it is comfortable. I was able to wear it every day but still feel supported, I can wear it with almost everything because the fabric is thick enough nothing will show. If you are struggling with the same things as me, this bra is for you.
2. The materials they use
When you look for a sustainable garment you need to pay attention to the materials they use to produce it.
A good fabric choice for underwear is organic cotton, which is better than the regular one because it is grown without harmful insecticides and pesticides. Searching for certificates to make sure everything that they're saying is guaranteed is also something I would recommend doing. In this case, they have the GOTS (Global Organic Textile Standard) certification.
They place on their website a variety of products made with organic cotton, if you want to see all their beautiful designs.
3. The impact on the planet
As you select a garment, they let you know the impact they have on the planet. For example, this organic cotton Starter Pack has this Impact index:
0.89 kg – CO2 prevented
492 g – chemicals prevented
36 g – waste prevented
*All these compared to conventional cotton and traditional practices.
4. Ethical production
The production of the garments is very important as well, as consumers we need to be conscious and informed about what we buy. We have to make sure that what we consume is not harming the people who made them.
All their garments are made fairly in Europe and in certified factories. Which you can see on the pictures on their website.
5. The price
Next is the price, I know that sometimes sustainable fashion is quite on the expensive side, but it is for a reason. Having high prices allow brands to pay their workers fairly and pay the right quantity to their suppliers. And by fair, I mean to pay workers at least the minimum wage or even a living wage (which is different from the minimum wage).
Sometimes we're just on a budget but still want to invest in a sustainable wardrobe, that's why Organic Basics was a yes for me. Their prices are affordable and they have packs, like the one I chose, to help you save a little bit. I saved like 20% off. Go check it out!
6. Reviews
The last thing you should always pay attention to when you're buying something is the reviews.
This product had a lot of good reviews, they said that it was really comfortable, that it provided support without wires and that it was very soft. But I also read that it came a little tighter or smaller, therefore you should size up, which I agree 100%. I measured myself and my measurements were for XS size but I order size S and fits me perfectly. So I would recommend as well to order one size up.
Lucy also bought some basic garments to try, a black turtleneck and a pink long-sleeve. Both very soft, high-quality, and easy to combine with her wardrobe. She told me that the black turtleneck even felt luxurious, that's special.
If you want to see all the outfits she created with these garments go check the blog post "The 6 Wardrobe Essentials You Need To Make Infinite Outfits" It will inspire you to get creative with items you already own!
In conclusion, it is worth it! We both recommend Organic Basics clothes. They have great designs, thought to last, and they definitely keep sustainability in mind all the time.
The only thing we didn't like that much, was that our package was really delayed and the tracking link didn't work, but they apologized for the inconvenience and returned us our money, so we ended no paying shipping at all. Which we really appreciated. The customer service was excellent.
Finally, if you want to try yourself this sustainable underwear or these basic garments, click here and see for yourself how great this brand is. I know it's hard to trust someone else's suggestions, but you can see and try OB products and fall in love with them just like I did.
This and all of our product recommendations will be in the new section:
*This review is 100% honest and the main intention is to help and inform you.
– All the love, Dani.
4