The best way to repurpose your old garments!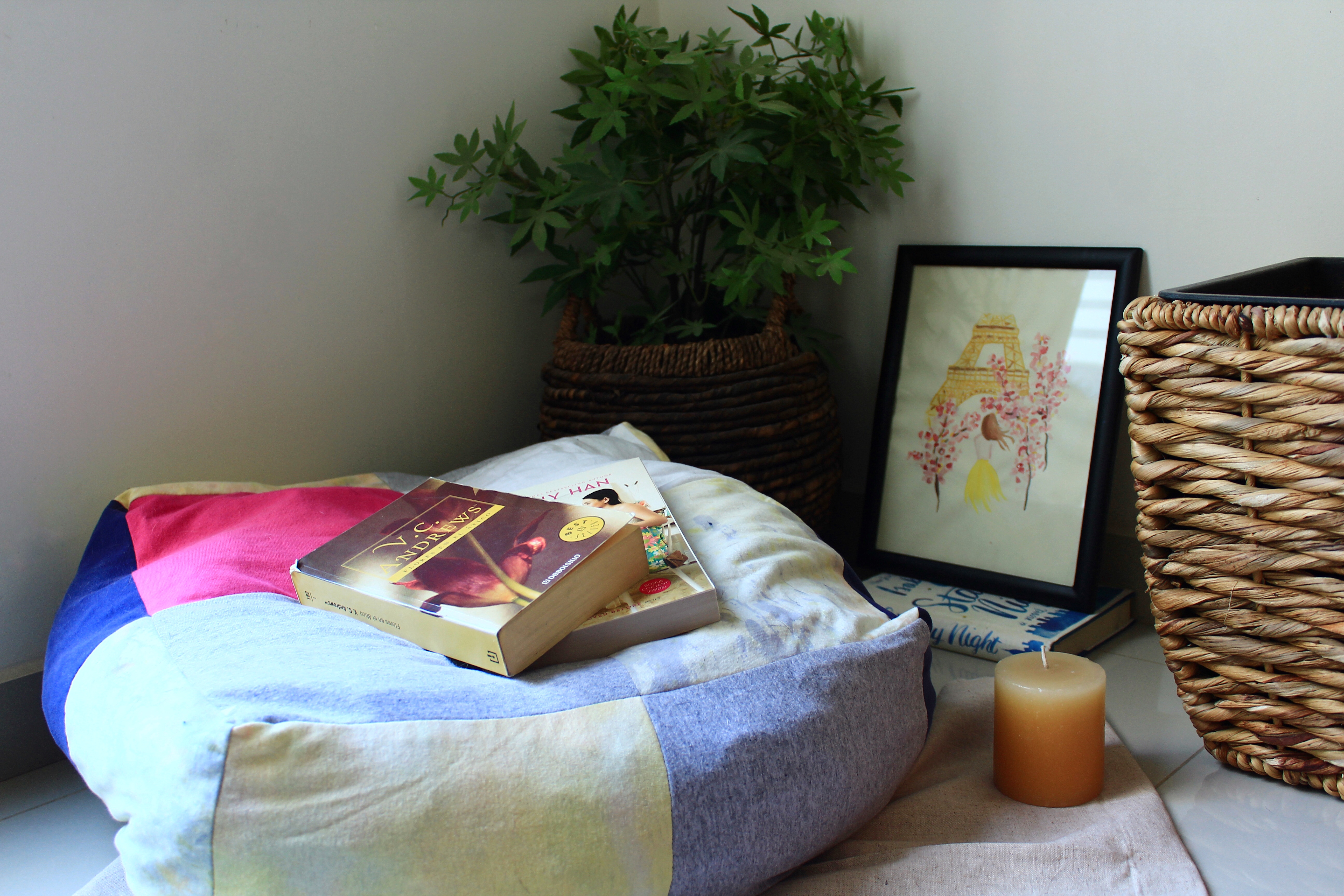 A new season is coming, you feel the need to welcome it by doing a cleaning of your closet. Or maybe, you just started the minimalist and sustainable wardrobe journey.
And the result of all that is a pile of clothing that you have no idea what to do with now. You don't want to just throw them in the trash, you feel like those clothes can have a second life. I've been there! That's why I made this tutorial to give you one alternative to repurpose those garments.
And what better way to give those old jeans another use, than a fun floor seat!
Follow along with this tutorial, you'll have the perfect Pouffe to sit and watch T.V. or the comfiest floor seat for a low table. I guarantee it's really simple and fast.
I decided to use some old t-shirts that I didn't wear anymore. You can use any type of garment you have, but it'll have a better shape if you use thicker fabric like denim (jeans). If you don't have any similar, don't worry, anything you have will work just fine.
Read on for the steps…
Materials
Used clothes (5-8 garments)
xA tabloid sheet (7 x 11 in)
Pencil/ soap bar
Measuring tape
Zipper 18 cm/7 in
Scissors
Thread
Sewing machine
Filling (fabric scraps; old clothes, pillows, cushions)
---
-Now that you have everything. Let's get started!-
First, we need to cut the tabloid sheet in half. We'll use it as our pattern.
The first half will stay the same size, 28 cm/11 in X 21.6 cm/8 ½ in.
The second half will be cut as a square of 21.6 cm/8 ½ in X 21.6 cm/8 ½ in.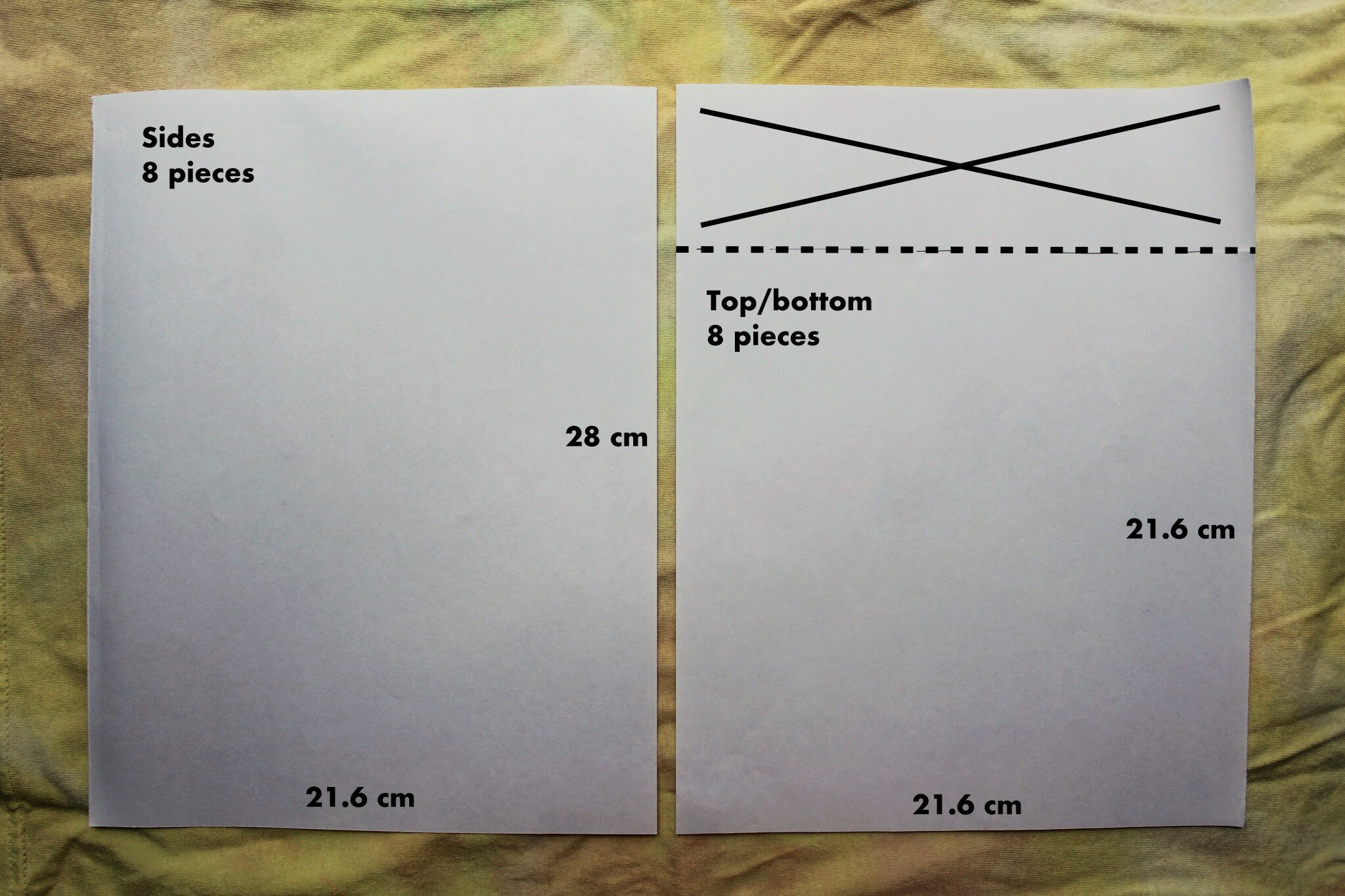 Then extend your clothes, so you can place the sheet where it fits. Add 1 cm or 3/8 in, to all the sides. Mark it with a pencil or bar soap, like it's shown in the photo. This is will be the sewing margin.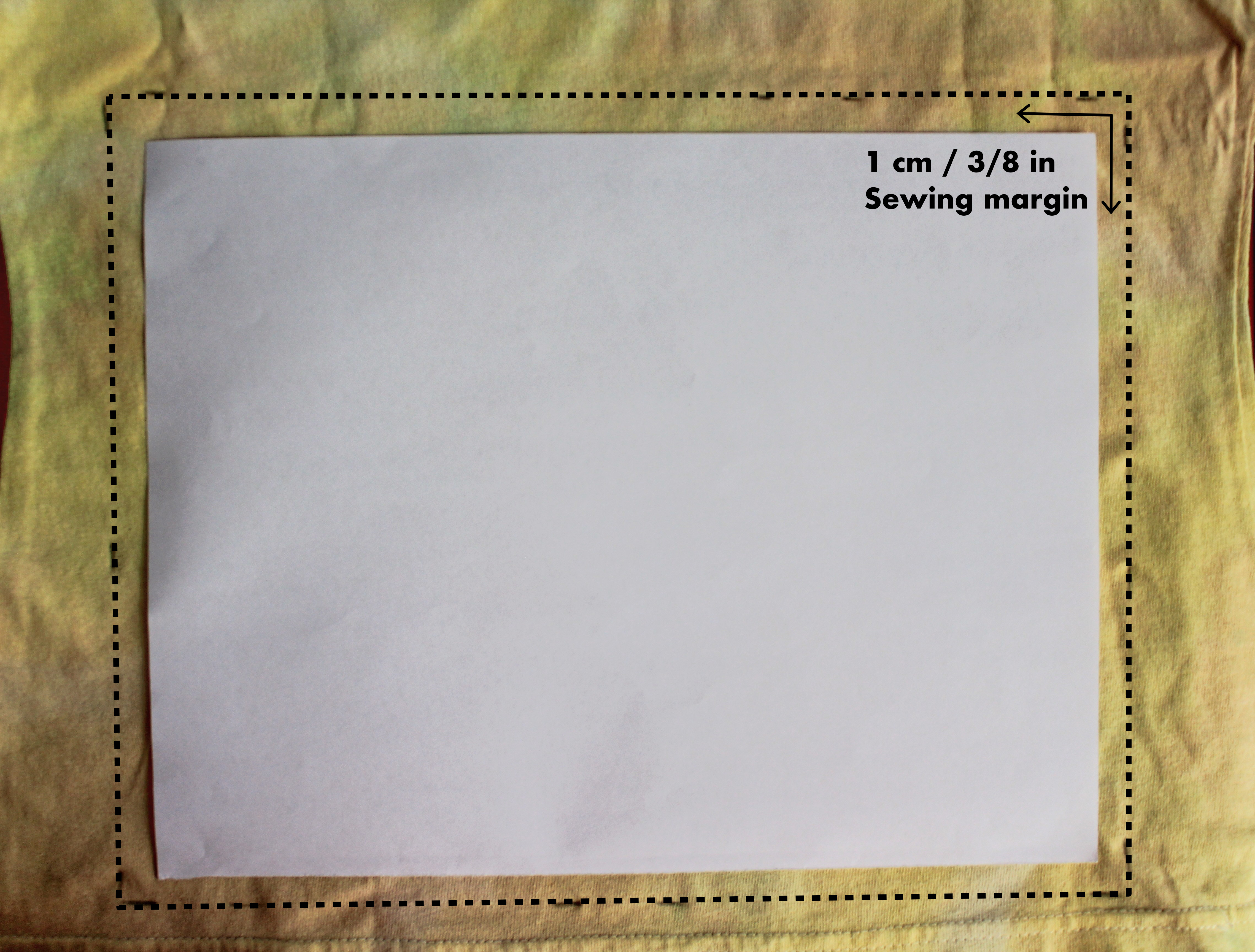 Cut the fabric following the lines you marked.
Some fabrics may allow you to cut two pieces at the same time, for example, t-shirts you can cut both sides of it. So if your garment allows you to cut it like that. I recommend you put pins on, so both layers don't move.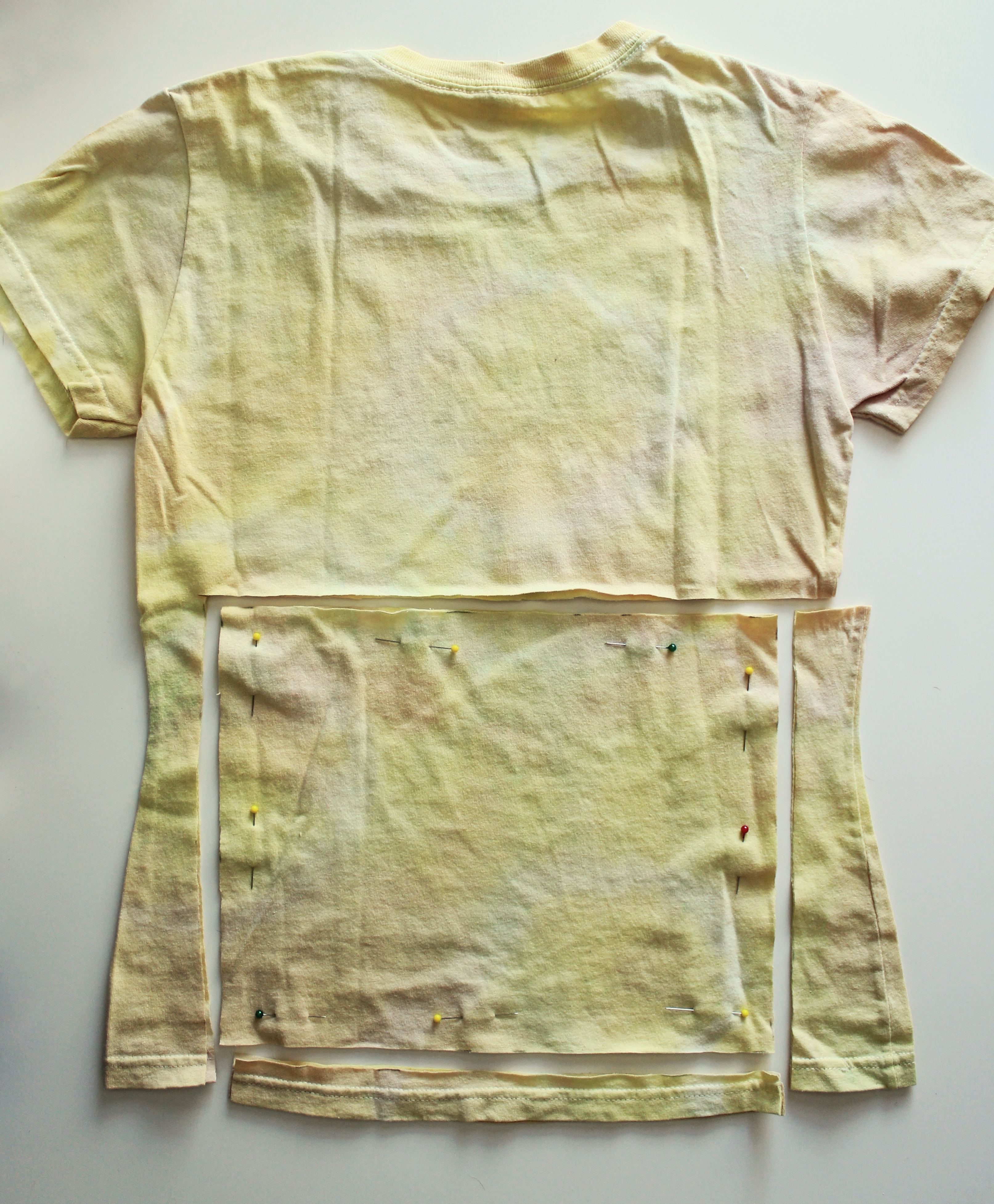 You could repeat the same steps every time you cut a new rectangle or square. But a faster way to do it is, using those fabric rectangles that already have the margins as your new patterns. This, so you don't have to add that margin on every square or rectangle you cut.
We will be needing…
Make them fit the best way, so you can take advantage of most of the clothes.
*You can adjust the size of the patterns depending on your clothing but they need to be proportionate.
Don't throw away what's left of the garments, save it. We'll be using it as part of the filling.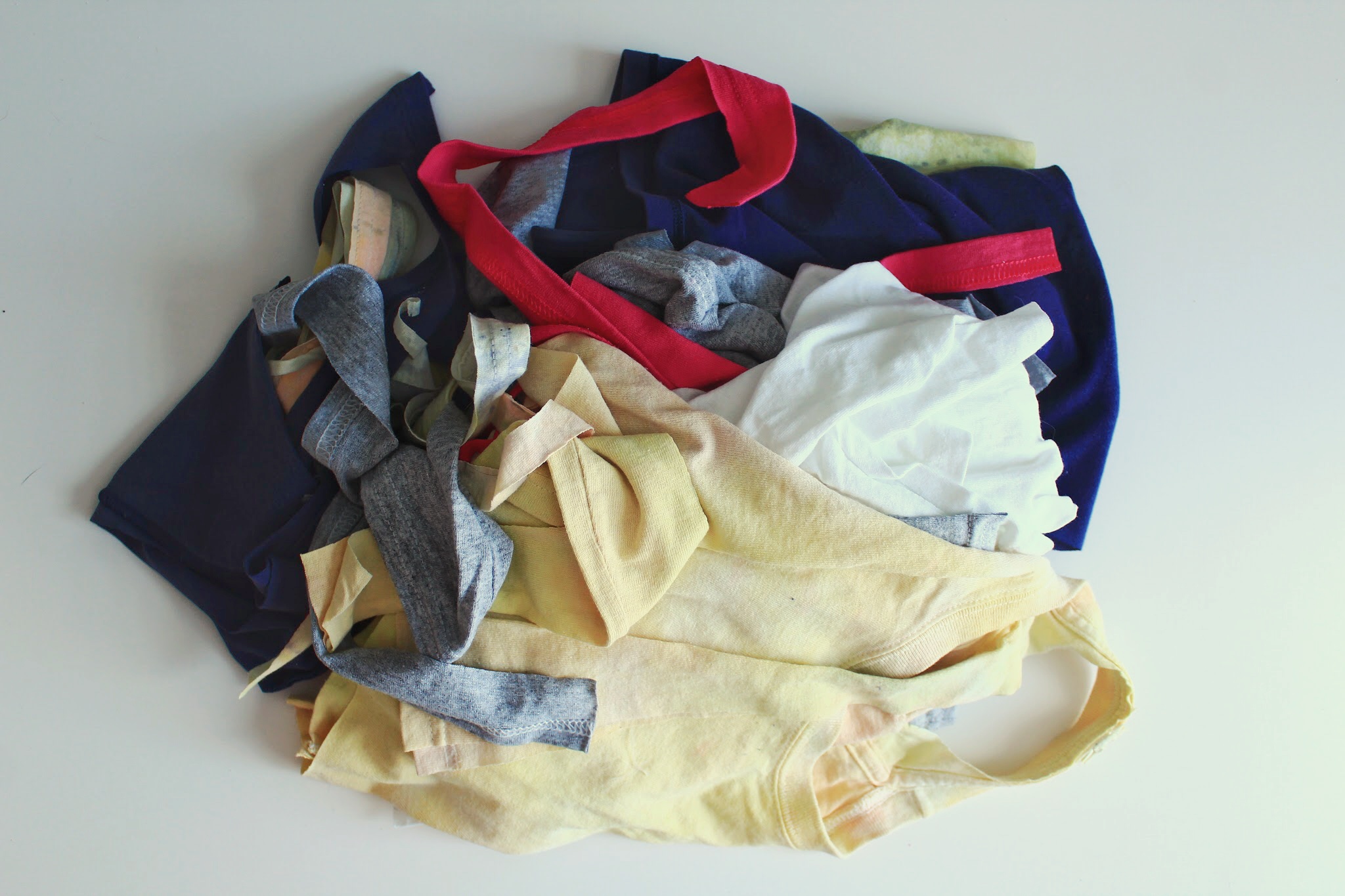 Next, you'll be forming the sides of the Pouffe. Take the rectangles and put them in pairs, long sides together.
Remember… Always place the front side of the fabrics facing together.
To be able to open the pouffe to fill it, we will need a zipper.
Here are the steps to sew it:
1. Place it in the middle of both rectangles, put some pins on it to secure it. Sew first one side and then the other. Both front sides of the fabric and the zipper facing each other.
2. After that, sew the ends of the fabric that doesn't have the zipper.
3. Turn it right side and sew around the zipper, forming a rectangle. This is to make it look more aesthetic but also to secure it.
Sew together the other sides, with about 1cm / 3/8in of sewing margin. When you're done, you should have 4 bigger rectangles.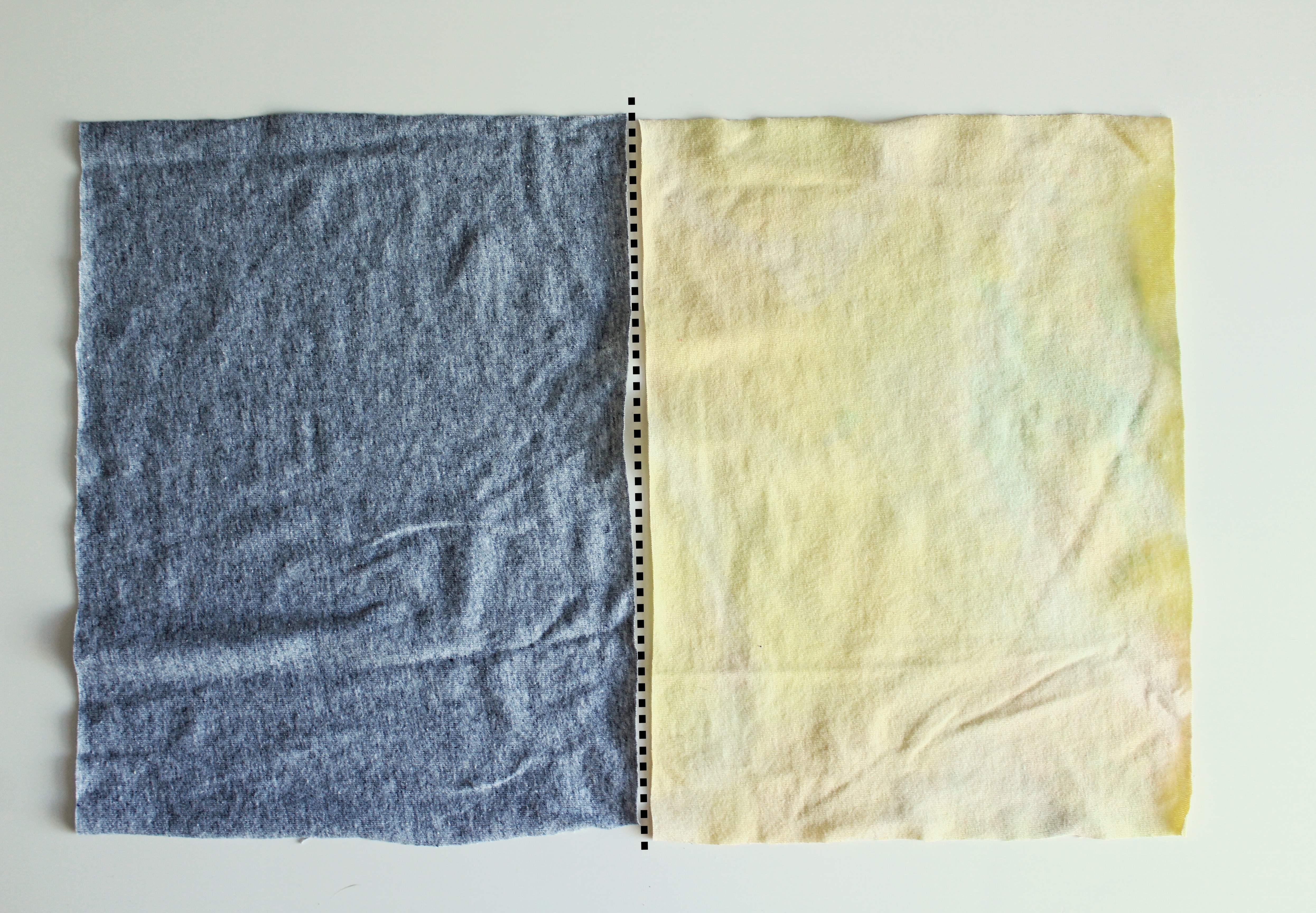 Then, take the squares and put them in groups of four. Sew the sides to connect them (same sewing margin). You'll end up with bigger squares. This will be the top and the bottom parts.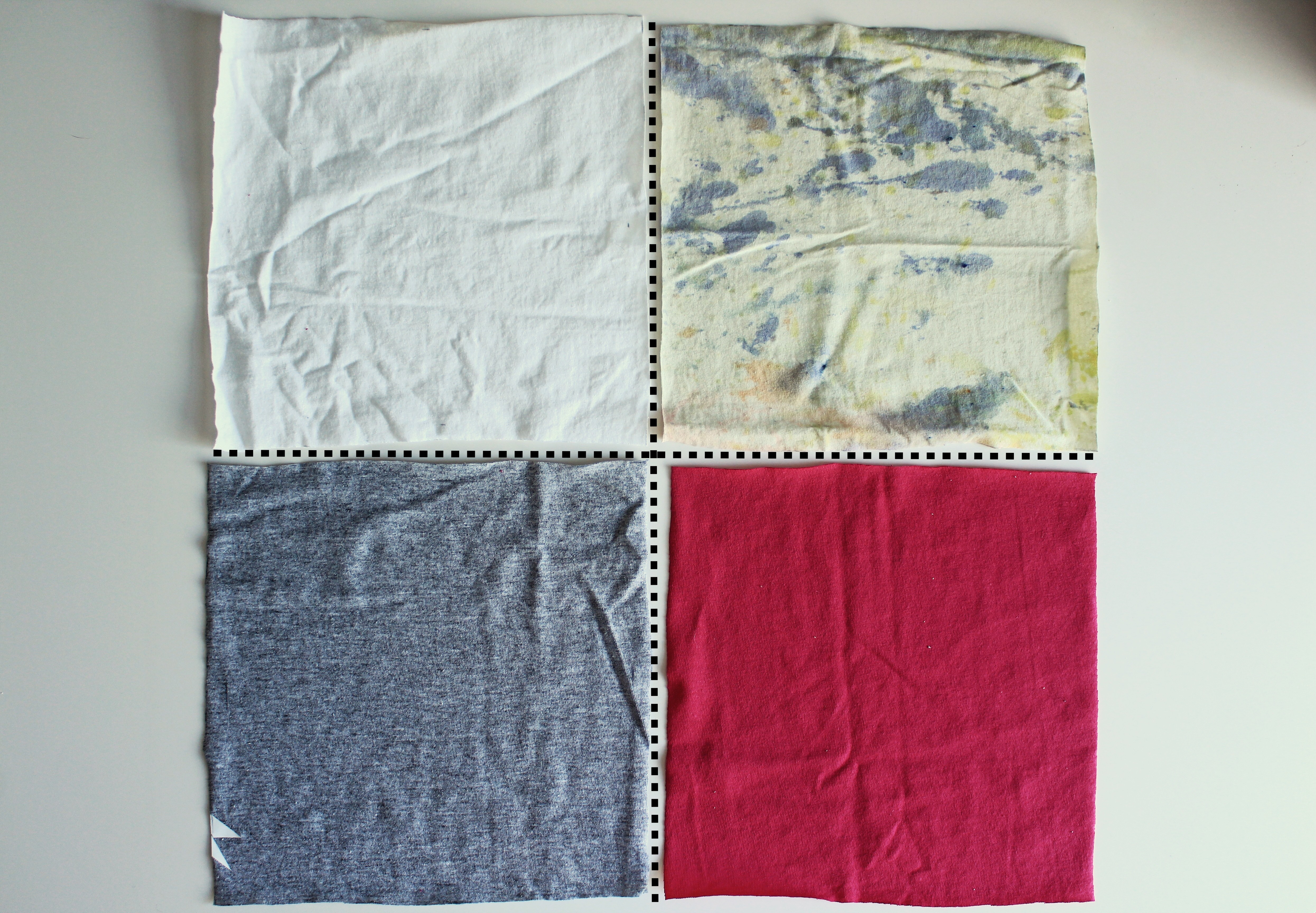 Set on the floor all your parts in the shape of a cross. To make it easier for you to identify what sides are going to be sewn together. To sew them follow the order on the photo.
white

black

blue

yellow
Before doing the last line of sewing, which will close the cube. You have to open the zipper because that's where you'll be turning it around.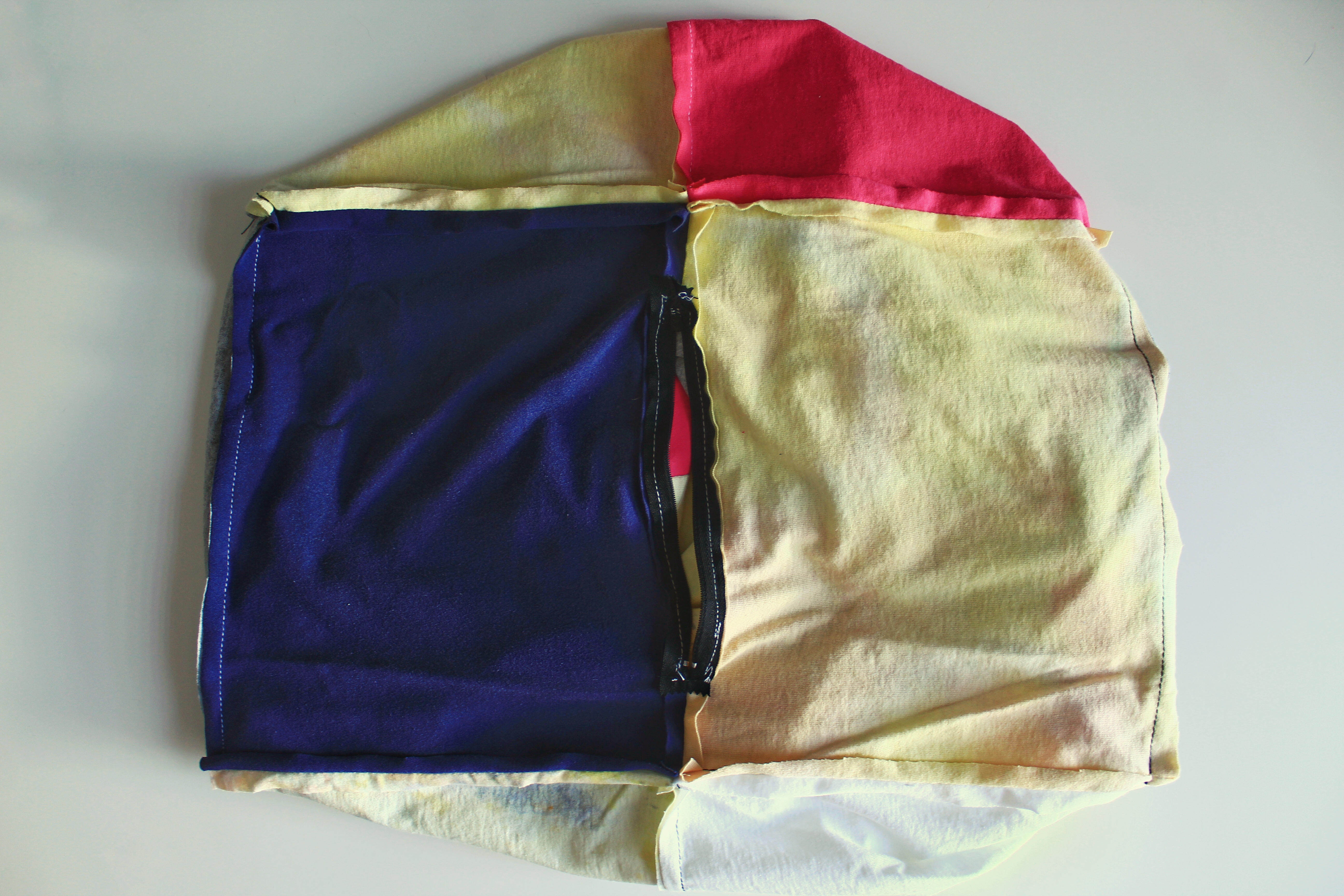 Finally, sew the last part and turn it around.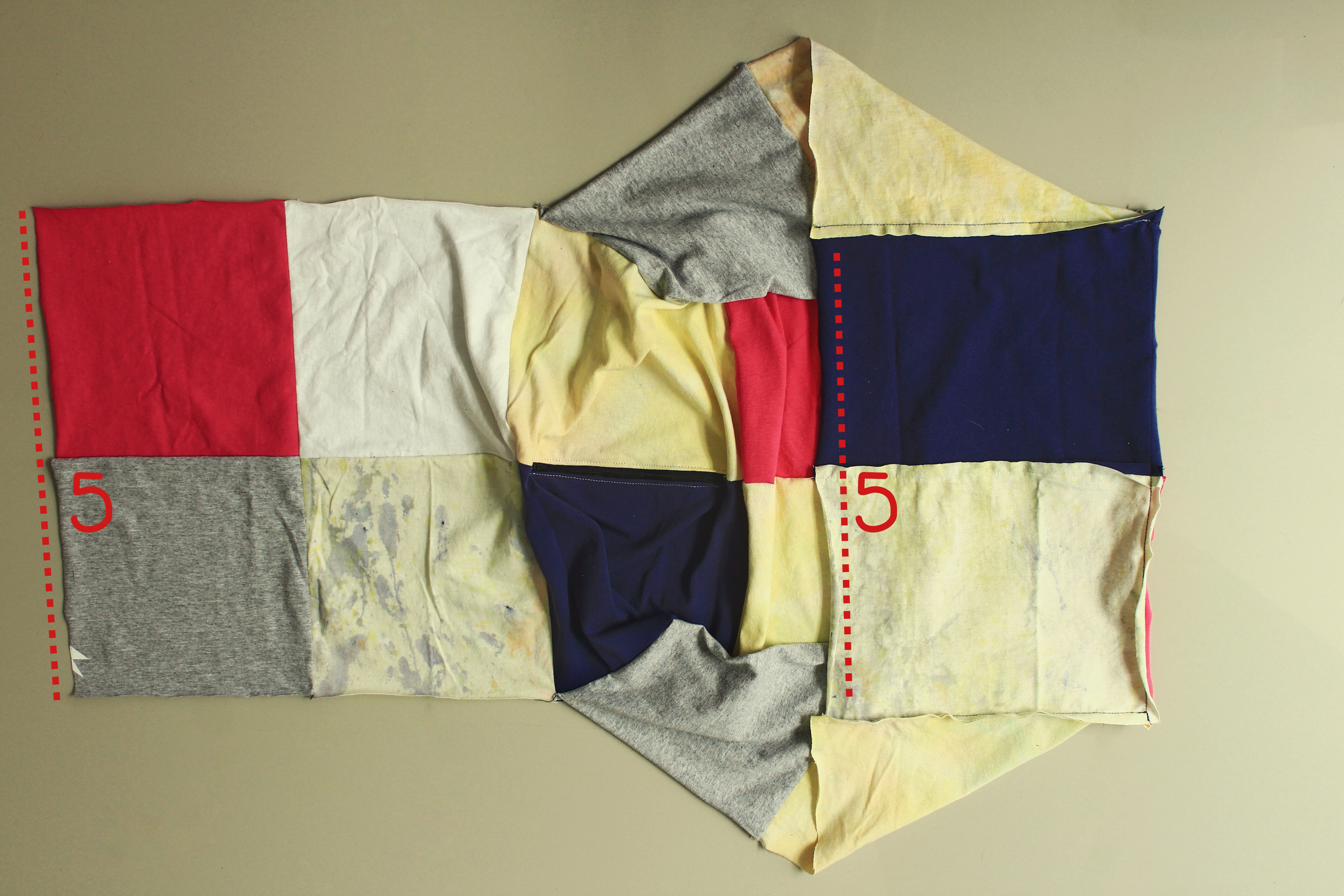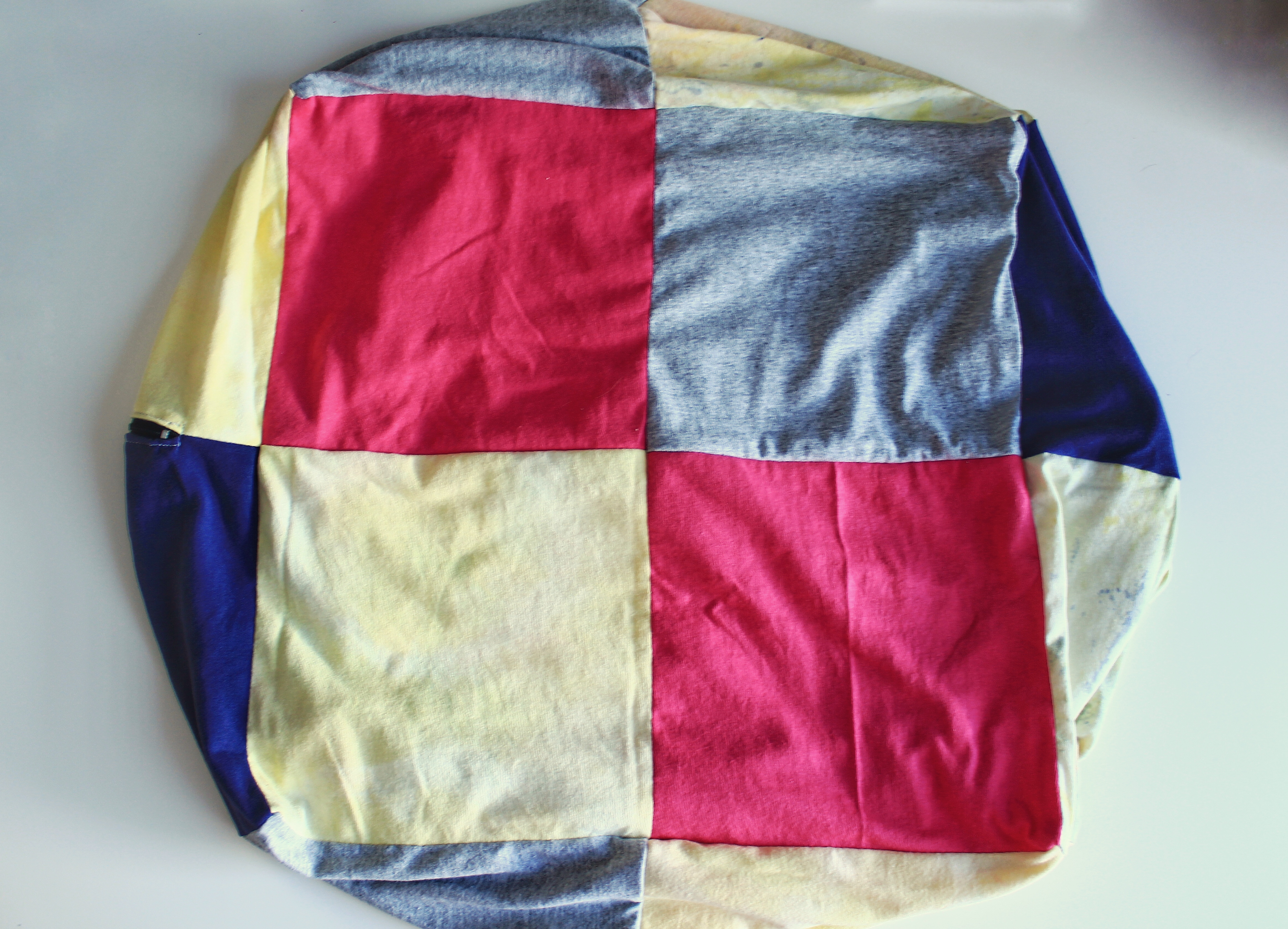 Finally, I just filled it with a lot of fabric waste that I had. But you can use different things. Remember the parts of the garments that were left, we'll use them here, put them inside the pouffe. You will need more so if you don't have any more fabric waste, you can fill it with old cushions or pillows or even more old clothing.
---
And that's it! You have your own Pouffe. Even my dog loved it!
*This tutorial can be hand sewn, it'll take longer but it is possible to achieve. Just make sure the stitches are tight enough.
I believe that the best way of being sustainable is, to use what you already have. Finding new ways to keep using the clothing you already own can be challenging, but if you find a new purpose to your worn-out items, the planet will thank you.
Well, I hope this tutorial was helpful for you. If you have any doubts don't hesitate to ask me in the comments or send us an e-mail.
---
SUBSCRIBE if you liked this tutorial!
We'd love it if you joined our community. There are some amazing, freebies waiting for you! And of course, we'll notify you every time we have a new blog up.
1