This post may contain affiliate links, which means I'll receive a commission if you purchase through our links, at no extra cost to you. Please read full disclosure for more information.
A t-shirt dress is a must-have on your wardrobe, casual, and comfortable yet flattering. With a basic silhouette but this one, in particular, has some details that make it cuter.
This month's tutorial is more challenging, for the first time we'll show you how to sew a dress with a separate sleeve. It takes a few more steps, but it will make it fit you better. July means summer so we thought it was fitting to make another dress. You can wear it to a zoom meeting, to a walk in the park, or even now that some places are opening you can wear it on a date.
Are you ready? Let's get started with the tutorial.
A t-shirt that fits you a little loose
Pencil/Chalk/Erasable pen
Pins
Scissors
Thread
Needle or a Sewing Machine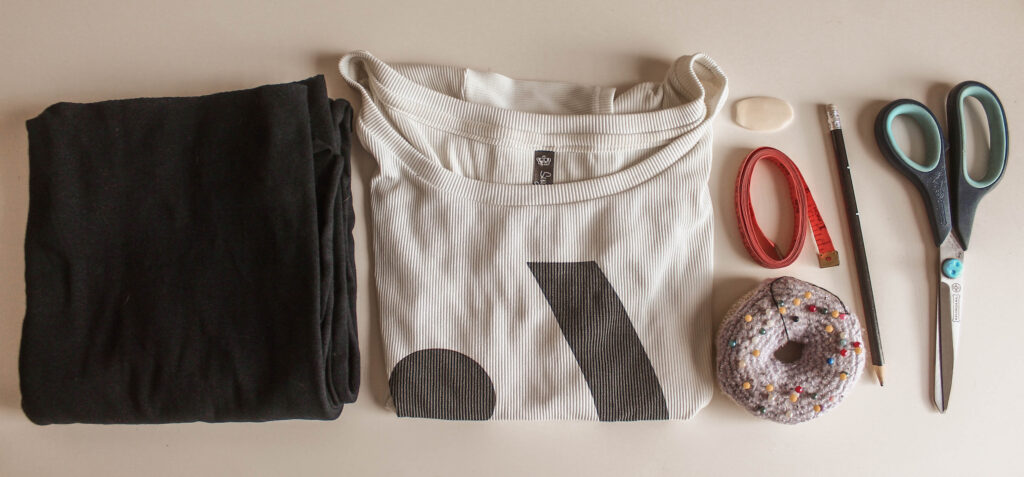 If you are looking to buy a fabric marker we recommend this one from Madam Sew, it is a Heat Erasable Marking Gel Pen. Affordable and very useful. Since we will be marking our fabric a lot with this tutorial I recommend you check them out.
What and how much fabric should I get?
It depends if you want a longer dress or a shorter one. Measure the length from your shoulder to your knee or where you want your dress to be. Then add +3.5 inches. That's what you need.
According to the size you normally wear your dresses:
1 yard= 91 cm
XXS: 1 yard (90 cm)
XS: 1 yard (90 cm)
S: 1 yard (90 cm)
M: 1 yard (90 cm)
L: 1 yard (90 cm)
XL: 1 1/2 yard (1.40 mts)
XXL: 1 1/2 yard (1.40 mts)
2X: 1 1/2 yard (1.40 mts)
3X: 2 (1.80 mts)
4X: 2 (1.80 mts)
Larger sizes: 2 yards (1.80 mts)
Any type of fabric should work but if you want it to feel like a literal t-shirt dress we recommend jersey knit (sometimes named Lycra), interlock, or Rib knit.
Quick tip:
Before cutting anything, I would like to give you a little tip on how to identify the right side and the wrong side of a jersey knit fabric.
Right Side 
This is how the right or front side looks like. It has V columns, you see those Vs because that's how it was knitted.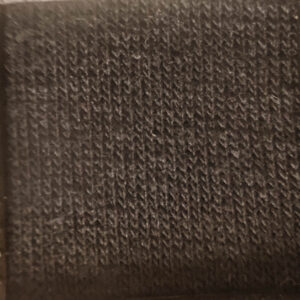 Wrong Side
This is how the wrong or backside looks like. They are like horizontal small lines, like very tight stitches.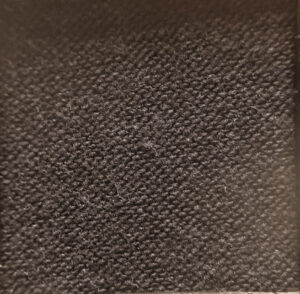 Now that you know this, you can start cutting your pieces. 
Step 1:
Take your fabric and make a fold along with the columns. the fold should be wide enough to fit half of your t-shirt.
Then, take your t-shirt fold it in half and make sure that it fits.
Also to make sure that the fold has the same width through, you can measure in several points and adjust if necessary.
Step 2:
Trace the contour of your t-shirt, without the sleeve and the hem. 
If your t-shirt is not as loose as you'd want your dress to be you can add a few centimeters to the side. I added 3 cm.
This is where we'll separate the sleeve and make it a different piece. You need to follow the line of the sleeve joint like it's in your t-shirt, to make it easier.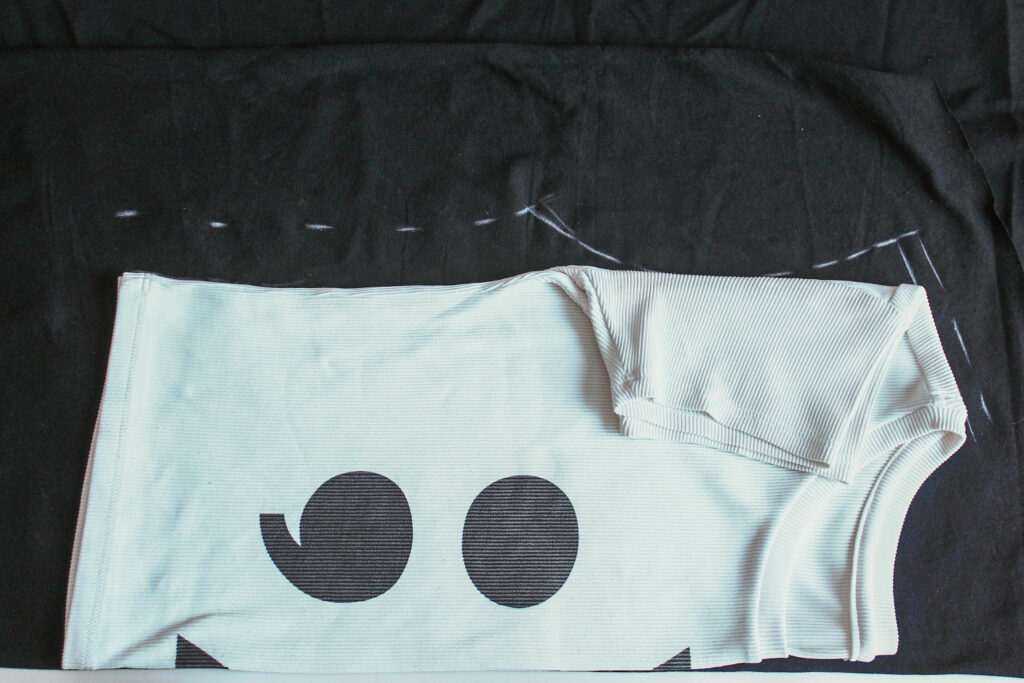 Step 3:
After you finish tracing the t-shirt, it will look something like this…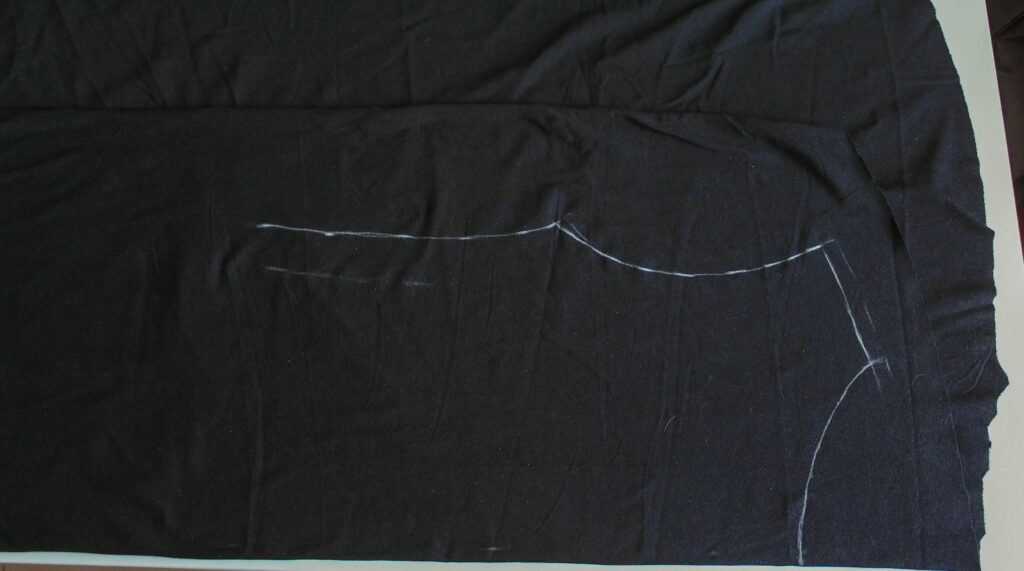 You will take your tape measure and from the shoulder to the bottom, make a mark where you want your dress to end, this is your dress length.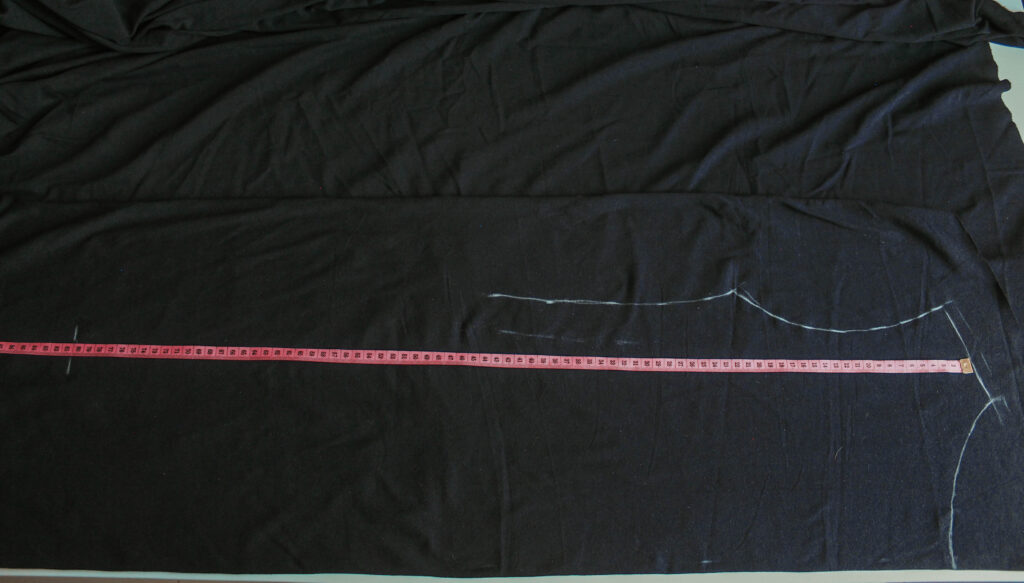 Make a straight line where that mark is. You can use a book to help you, a ruler, or simply use the tape measure.
Extend that line until it's almost touching the edge of the fabric.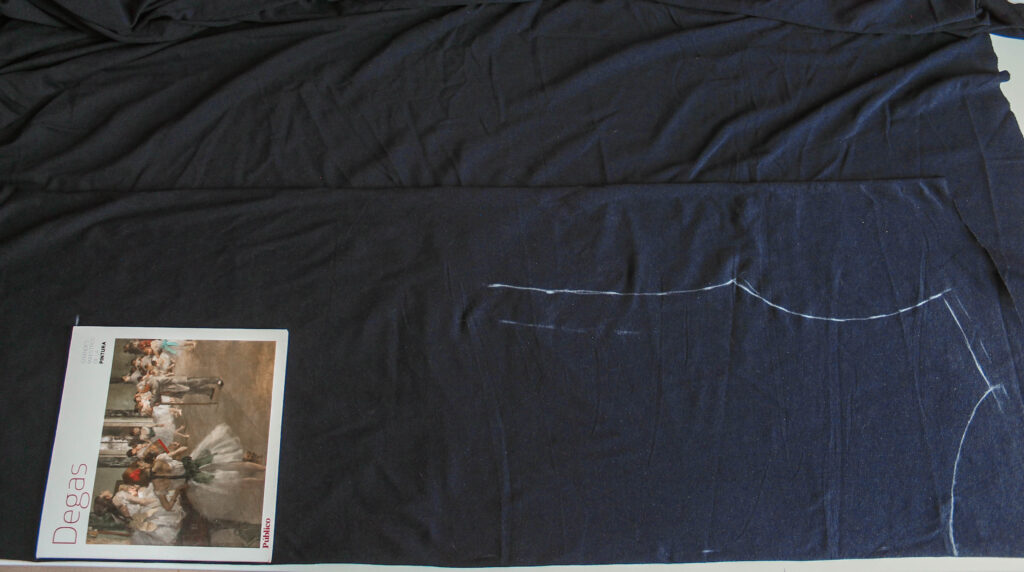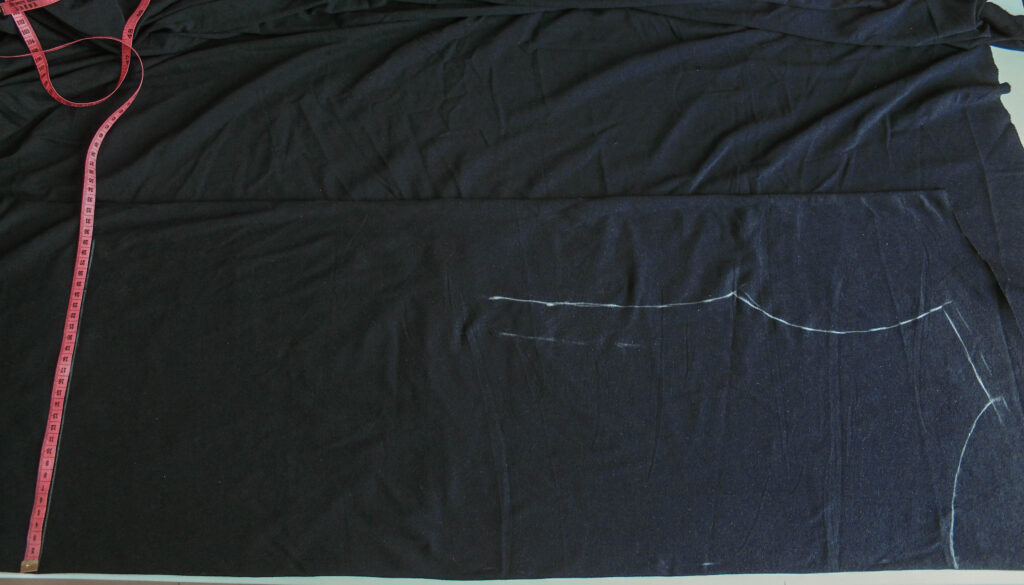 Now join the line on the side with the one on the bottom. You might want to follow the direction of the sideline. But if you want the dress to have more like an A silhouette make the line more inclined/diagonal.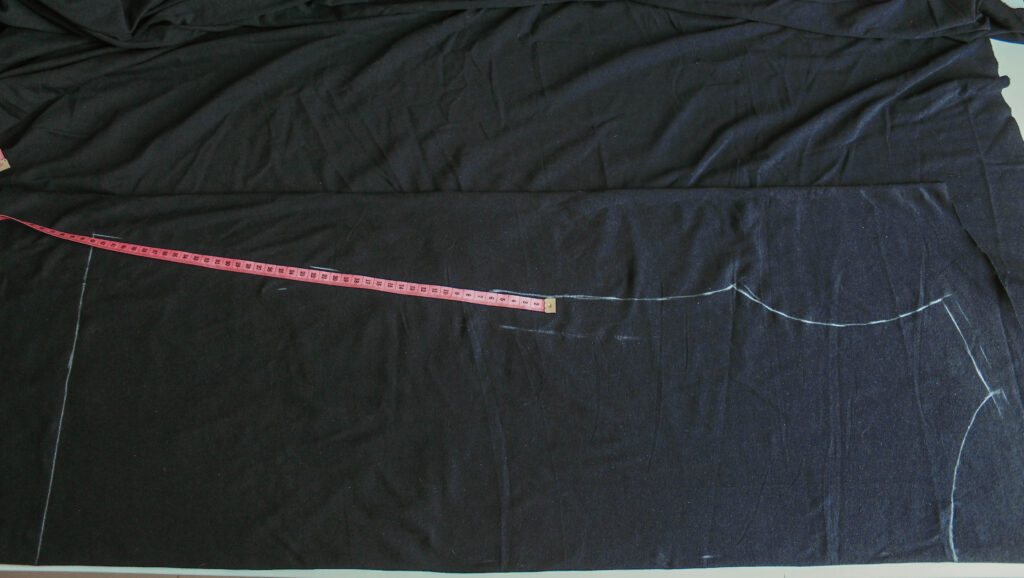 Step 4:
On the top corner, you will measure 10 cm up the sideline, make a mark there, and 10 cm to the right on the hemline and make a mark as well.
Then, join those lines with a curve, I did this by hand, you don't need a special ruler for this one.
This is how it will look…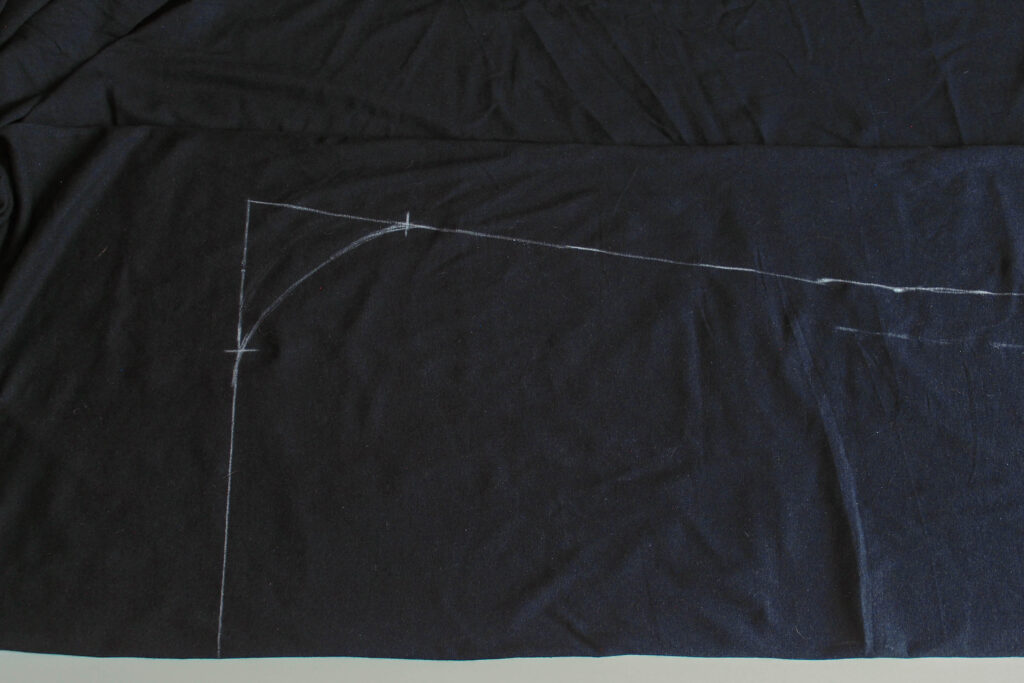 Step 5:
Finally, you will add 1 cm of seam allowance to the shoulder, sleeve, and neckline. 
Then 1 cm to the side, if you want a tight dress don't add this.
To the hemline add 2 cm, but on the curve, you will be decreasing until the side mark is. Check the photo…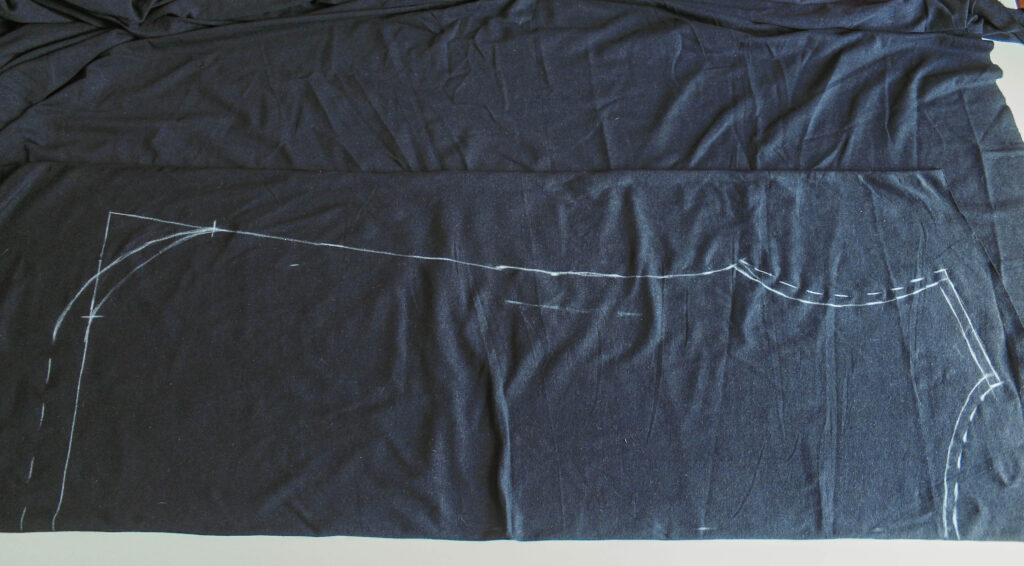 Pin the fabric following the line so that it stays in place, and then you can cut it. This is your back side of the garment.
Then, fold the remaining fabric again and put on top the piece you just cut, folded in half as well. This is to cut the front side of the dress.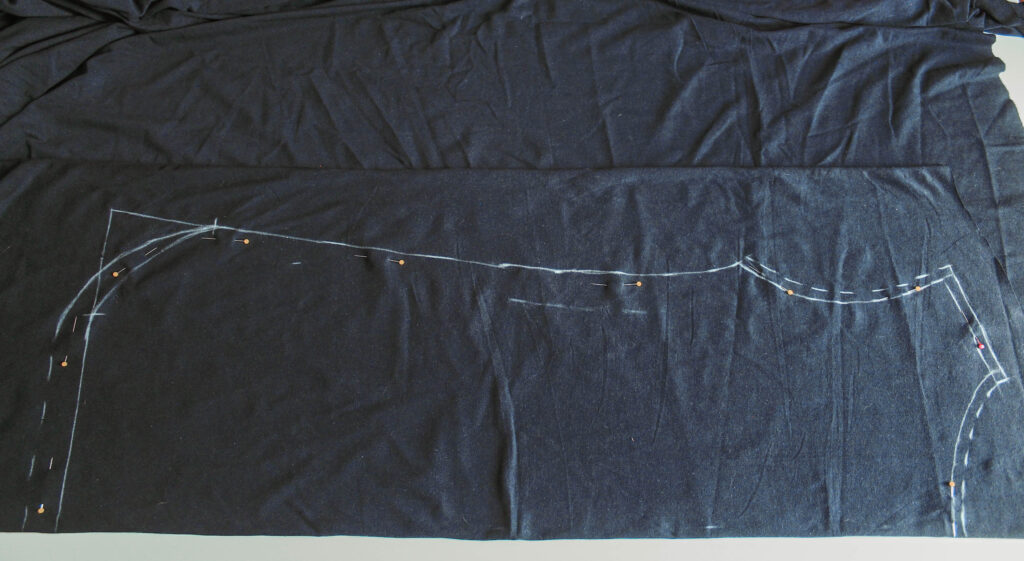 Step 6:
Trace the whole piece and when you get to the neckline you will make a mark 4 cm down the center. 
Then trace the new neckline with a curve, you can do this by hand as well. Just make sure that the curve is not too deep.
And when you get the desired curve, you can go ahead and cut it.
Now you have your front piece ready.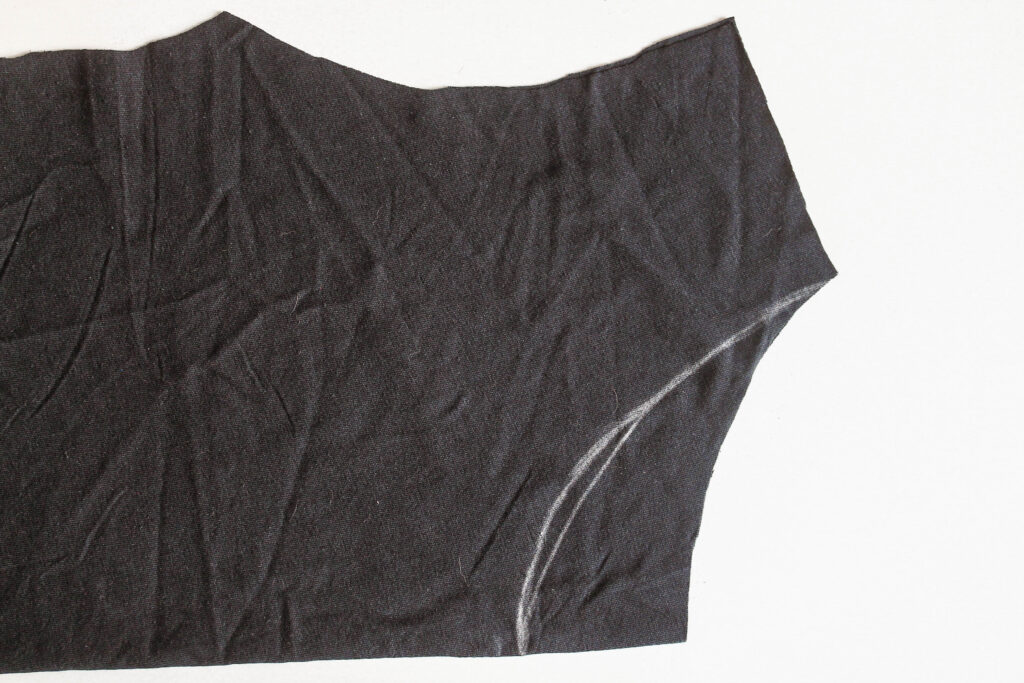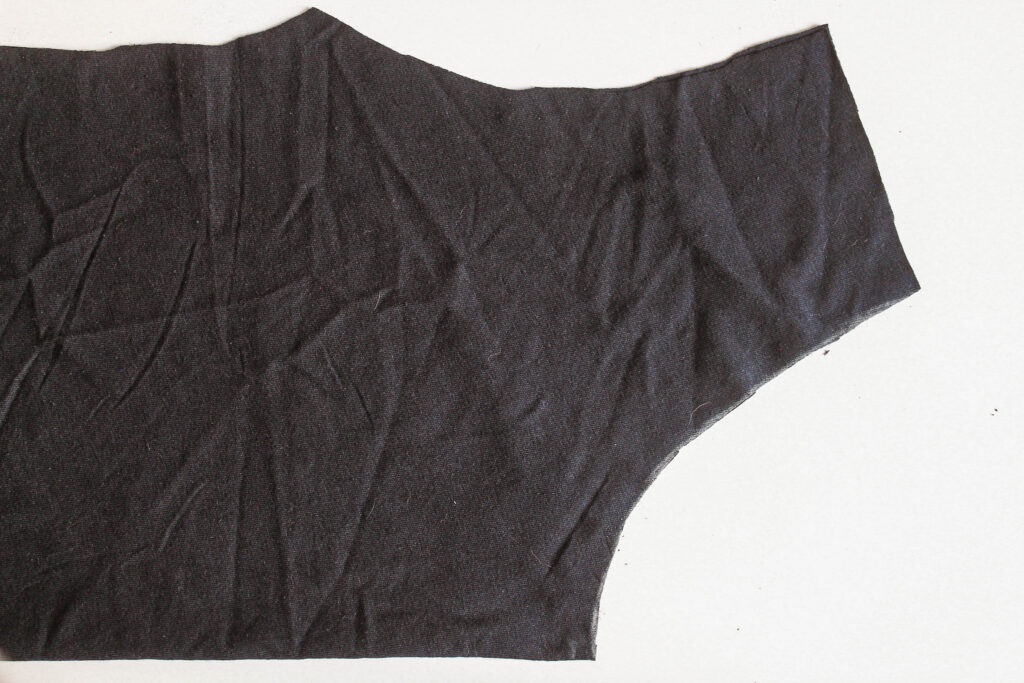 Step 7:
The sleeves… to cut these you will need to take a piece of fabric remaining and fold it in half as well.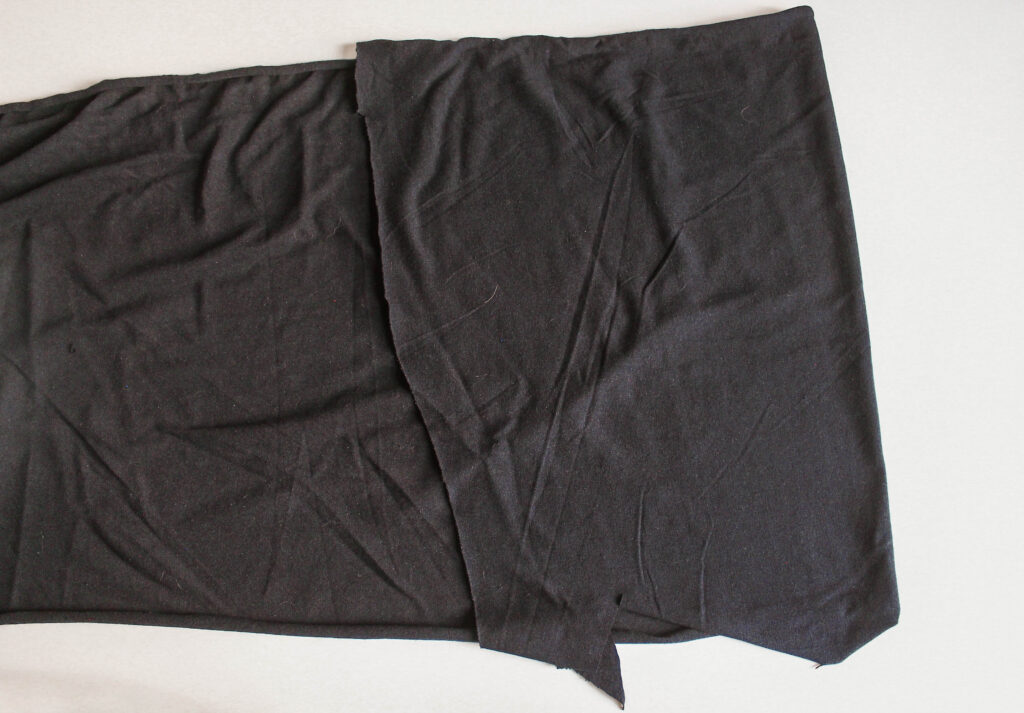 Take your t-shirt again and place the sleeve on the fabric, with the fold of the fabric in line with the fold of the sleeve.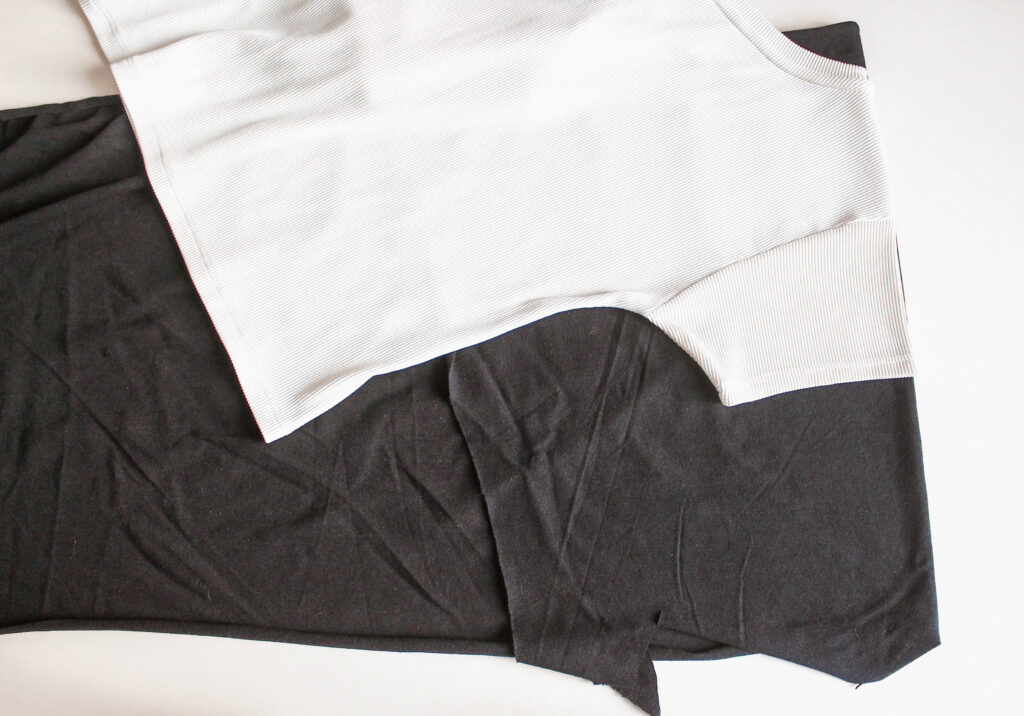 Trace the sleeve contour as well.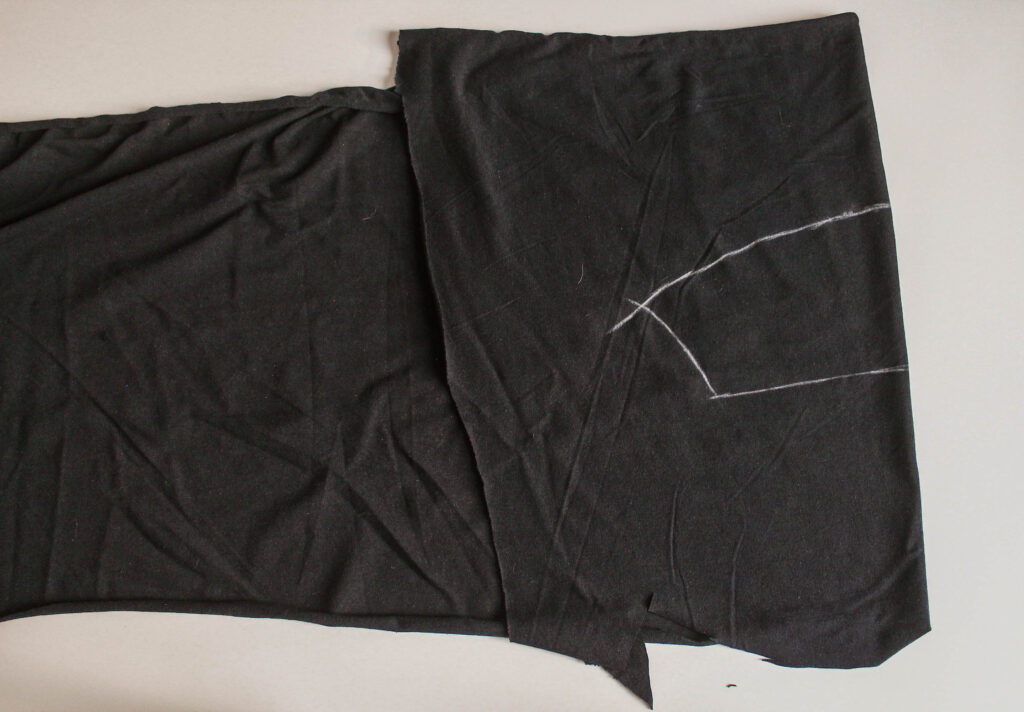 Since I added 3 cm to the sides, we need to add 3 cm to the downside of the sleeve.
You can add more cm to the sleeve to make it larger, I just added 4 cm. I recommend adding a few centimeters here because you can add now and not later when you try it on. This 4 cm included the sleeve hem, which is 2 cm.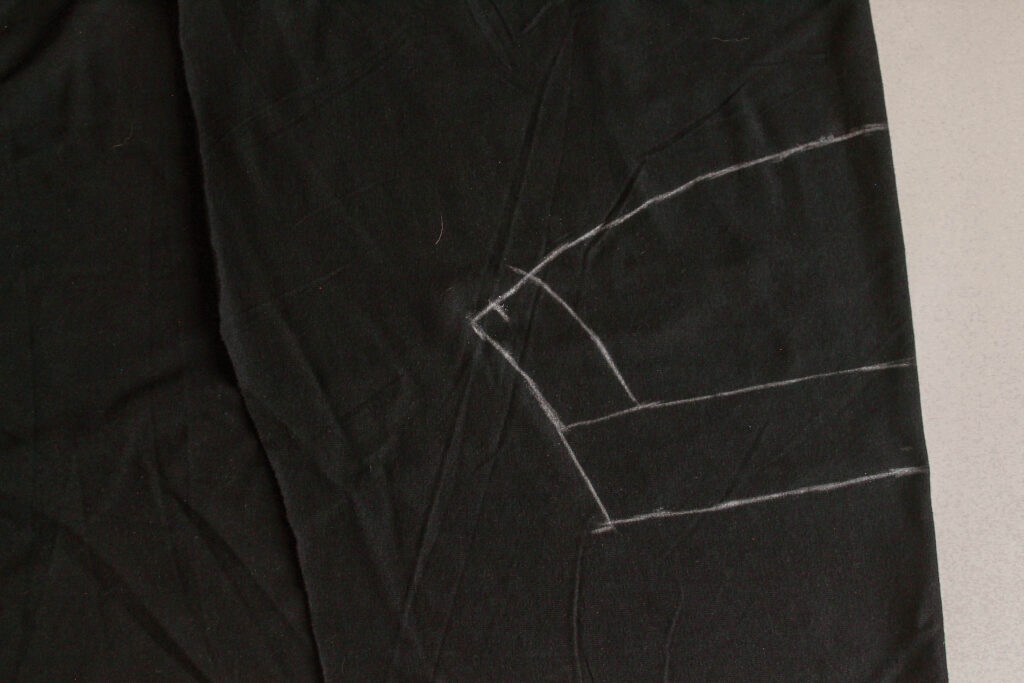 Add 1 cm of seam allowance on the sleeve joint.
And cut that piece, following the lines.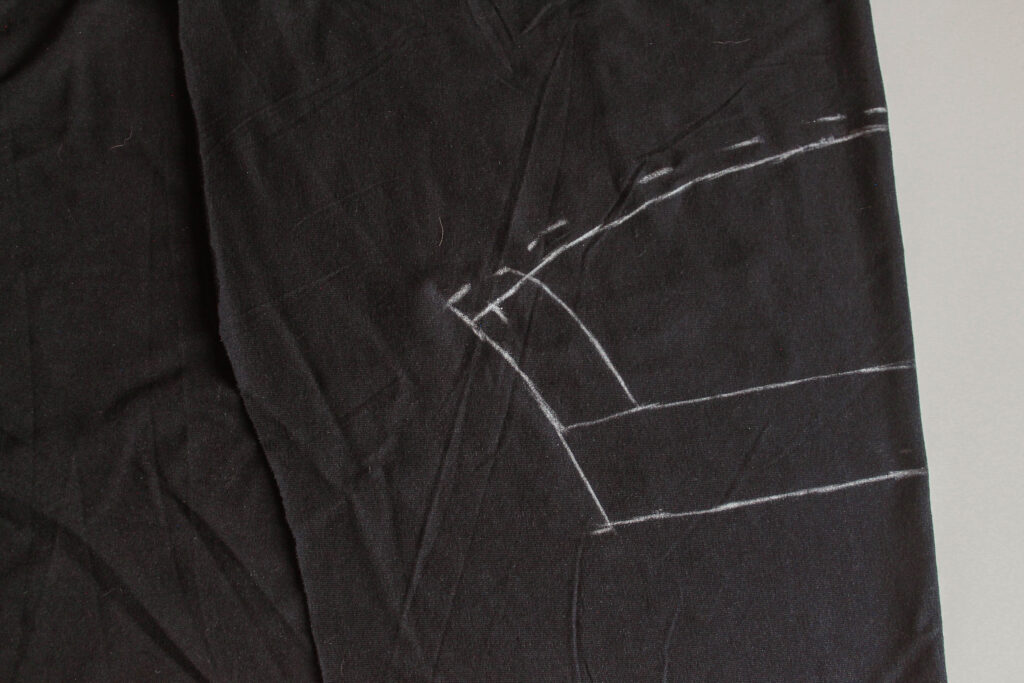 Step 8: 
Fold another piece of fabric and place your recently cut sleeve on top (keep it folded in half) and trace the contour.
Cut that second sleeve, now you have your sleeves ready.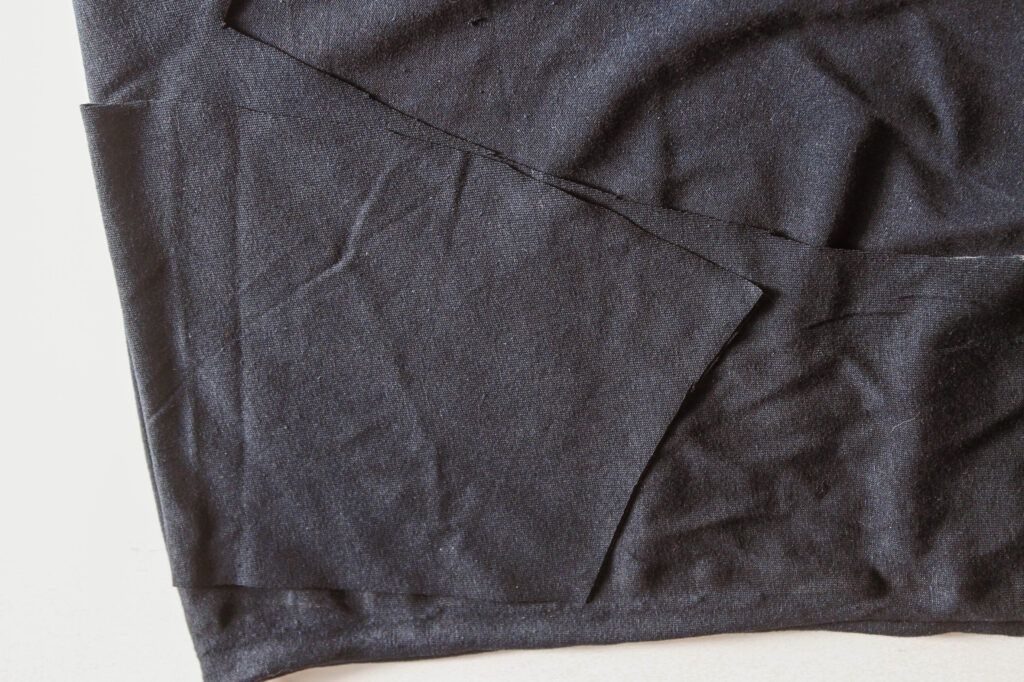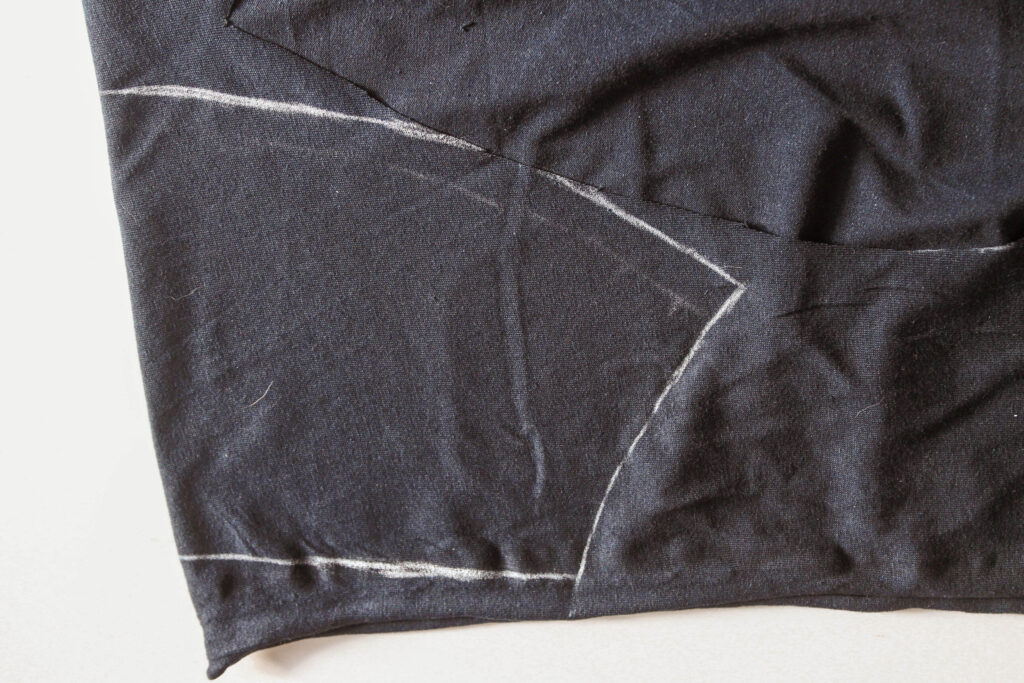 Step 9:
The last piece you need to cut is the neckband. For this one, you can find a smaller fabric piece and fold it in half as well.
You might be wondering why folding everything, well the answer is because it makes it easier and faster to cut the fabric.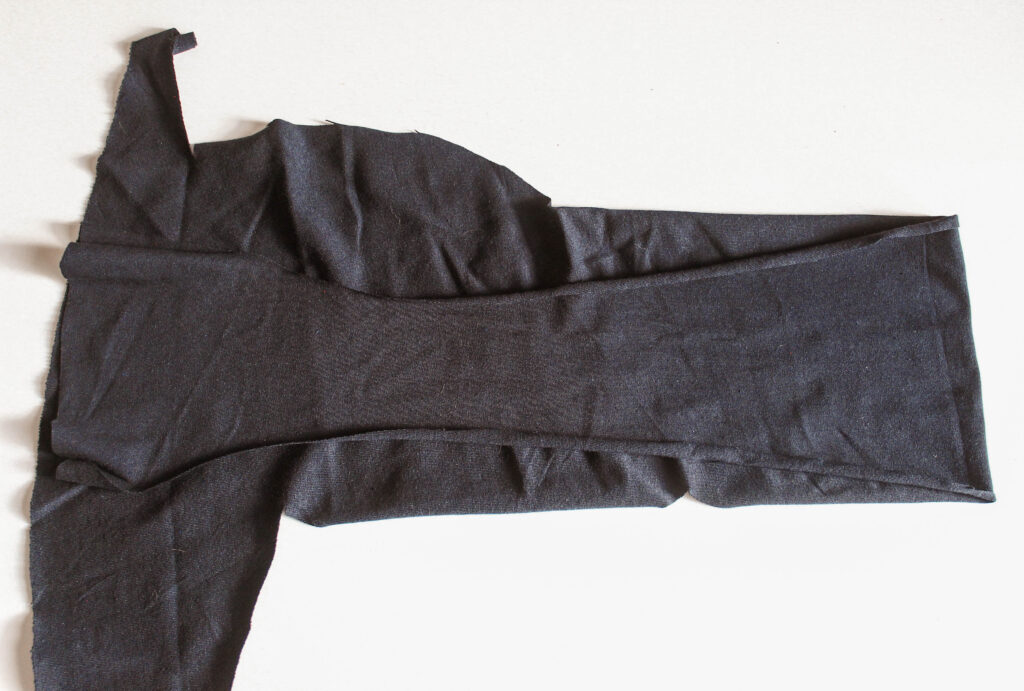 Measure the complete neckline, both front, and back, sum it up and then subtract 4 cm or 1.5 inches.
Now, trace a rectangle with half that measurement by 4 cm. I did mine of 6 cm and it was too wide so I regret it.
Since the fabric is folded we only need to trace half the rectangle.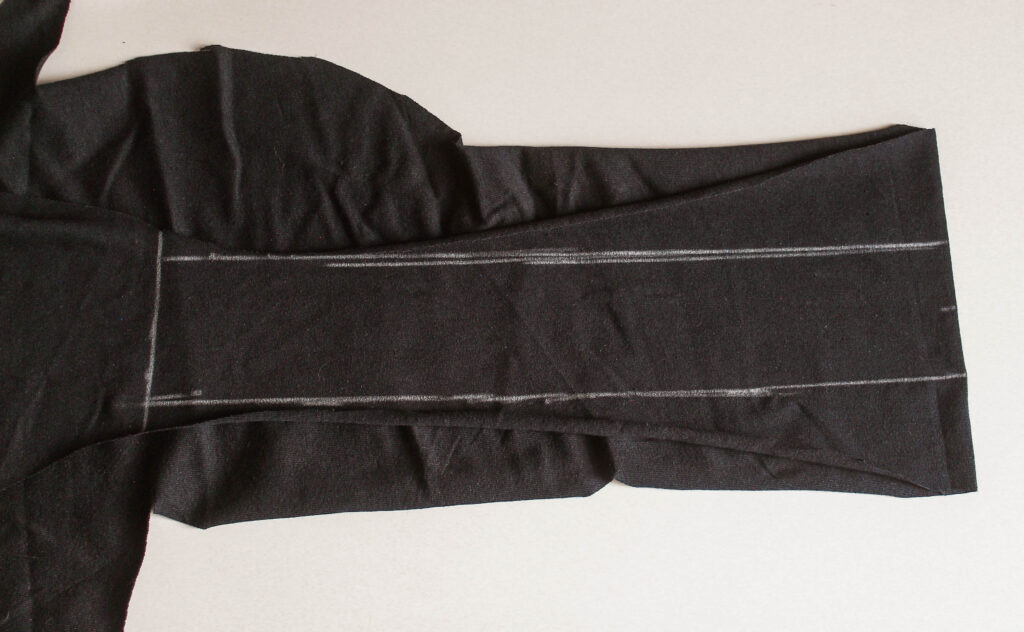 And that's the last piece to cut.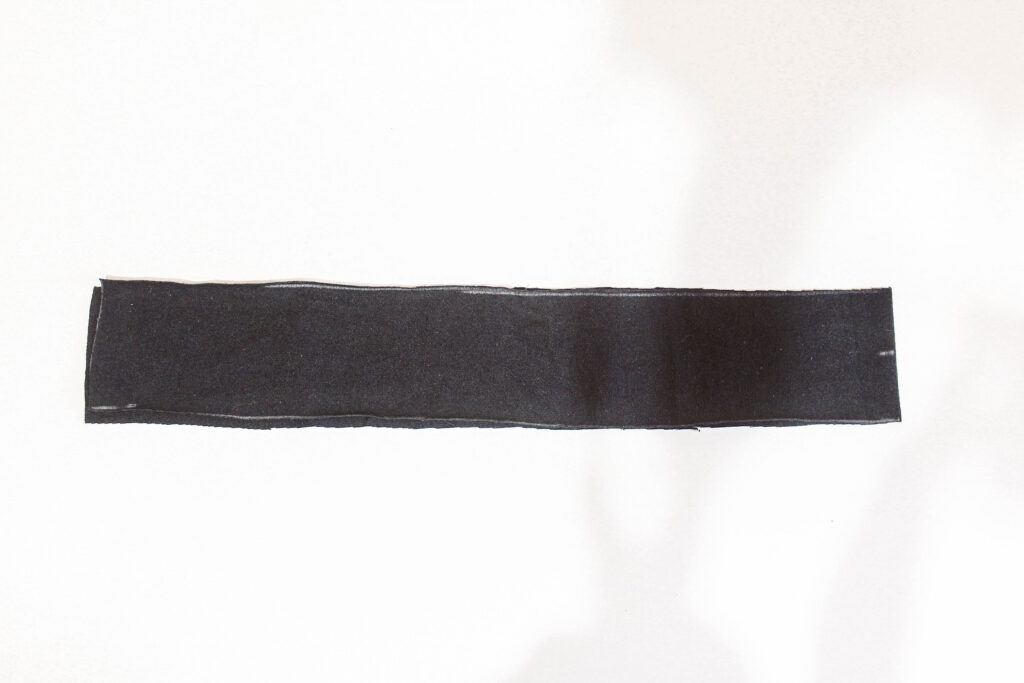 Sewing
Let's begin the sewing part of this tutorial. As you could see we have in total 5 pieces, a front side, a backside, a neckband, and 2 sleeves.
Step 1:
We're going to start by sewing the shoulders, face both right sides of the fabric together and sew.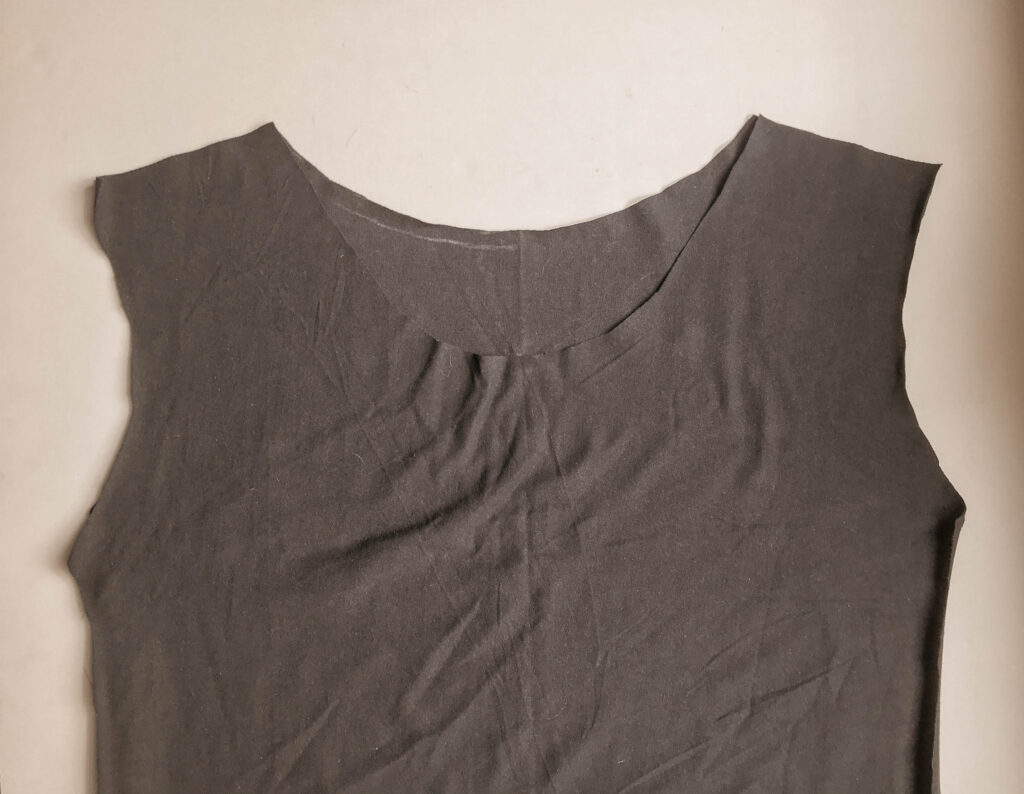 Step 2: 
Take your sleeves and sew them. Remember to face both right sides of the fabric together.
I recommend if you pin it first so it doesn't move. This stitch is a little tricky but you can do it.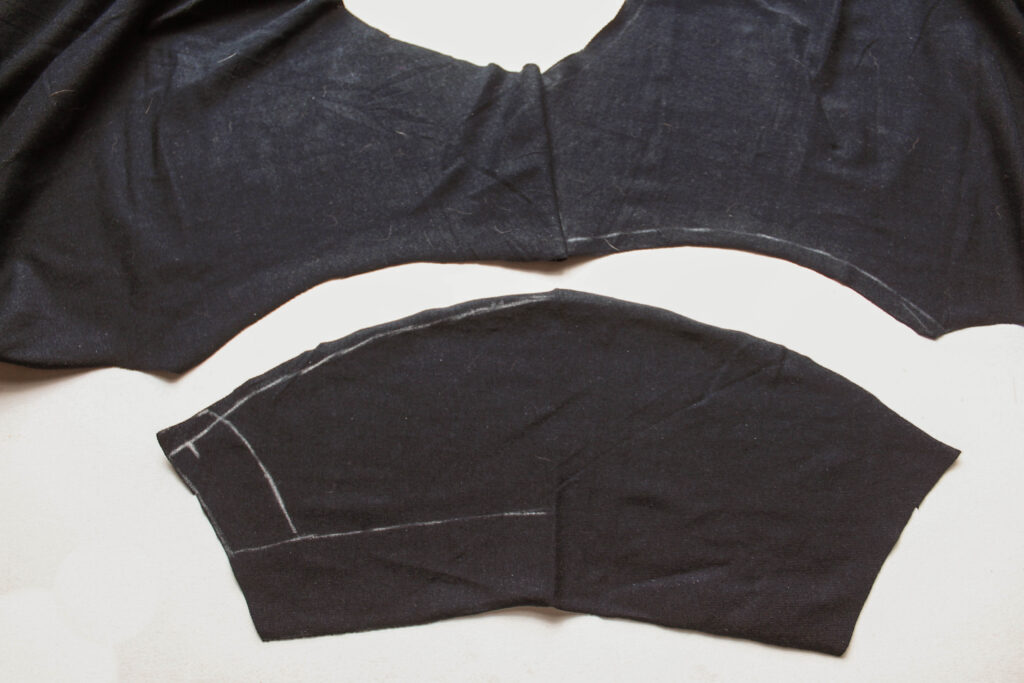 This is how it should look like, both sleeves sewn.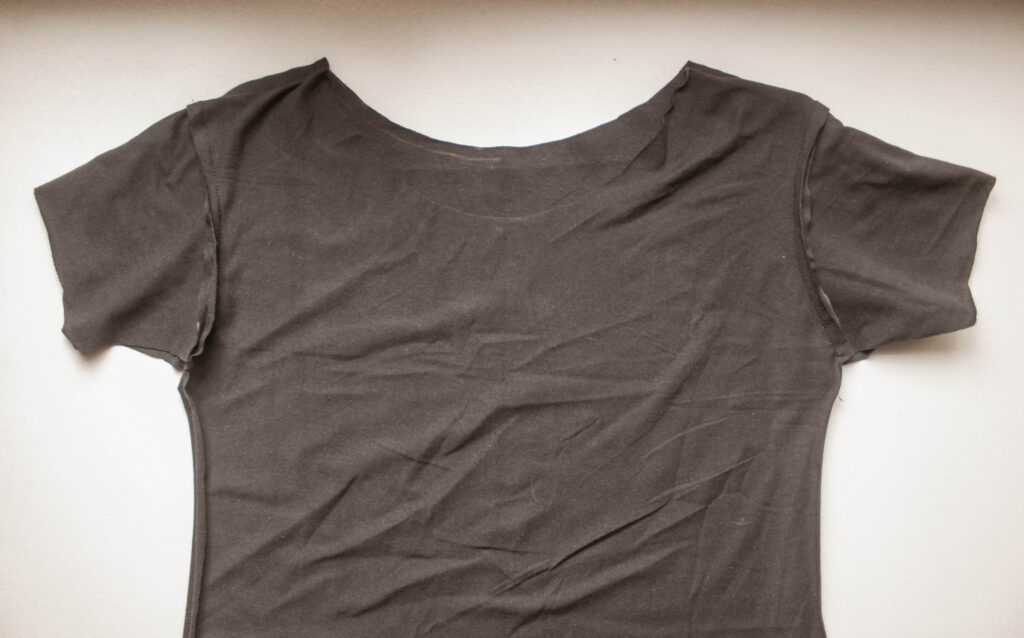 Step 3:
The next step is to make the hem, normally this step is the last one but since the edge has a curve shape we need to make the hem before sewing the sides.
If this is the first time you're sewing a curve this step will be a bit hard but don't worry I will guide you step by step.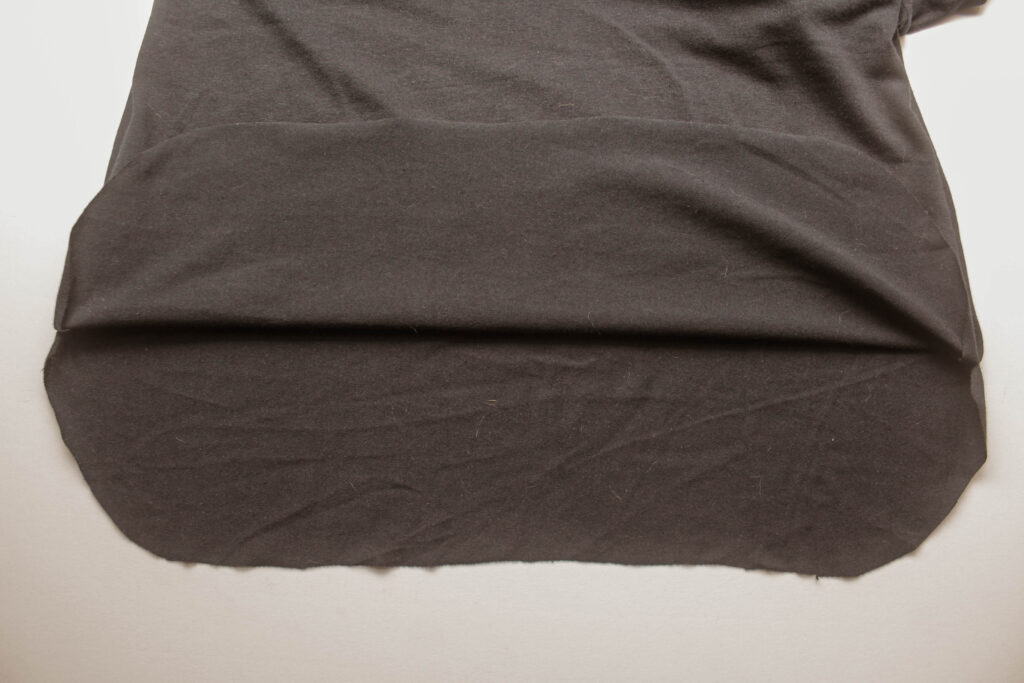 First, you will sew a stitch along the edge, leaving a 1 cm allowance from the seam. This stitch will help the fabric stay in its shape.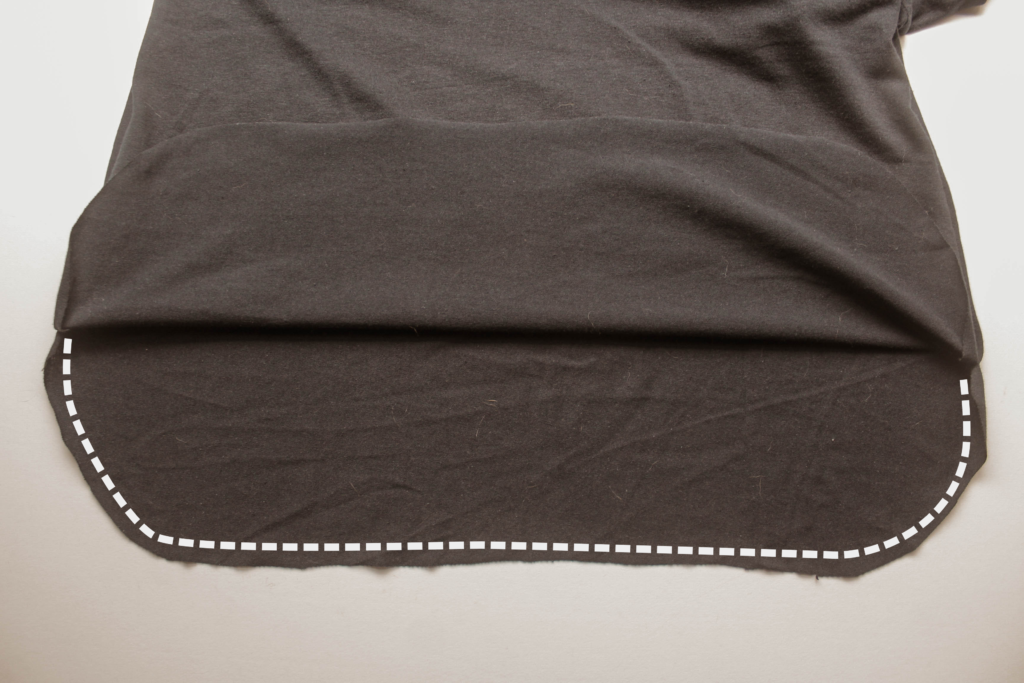 Now, you need to iron that 1 cm to the inside. Don't press the fabric with the iron too much, what you can do is use a lot of steam, this is if you're using knit fabric.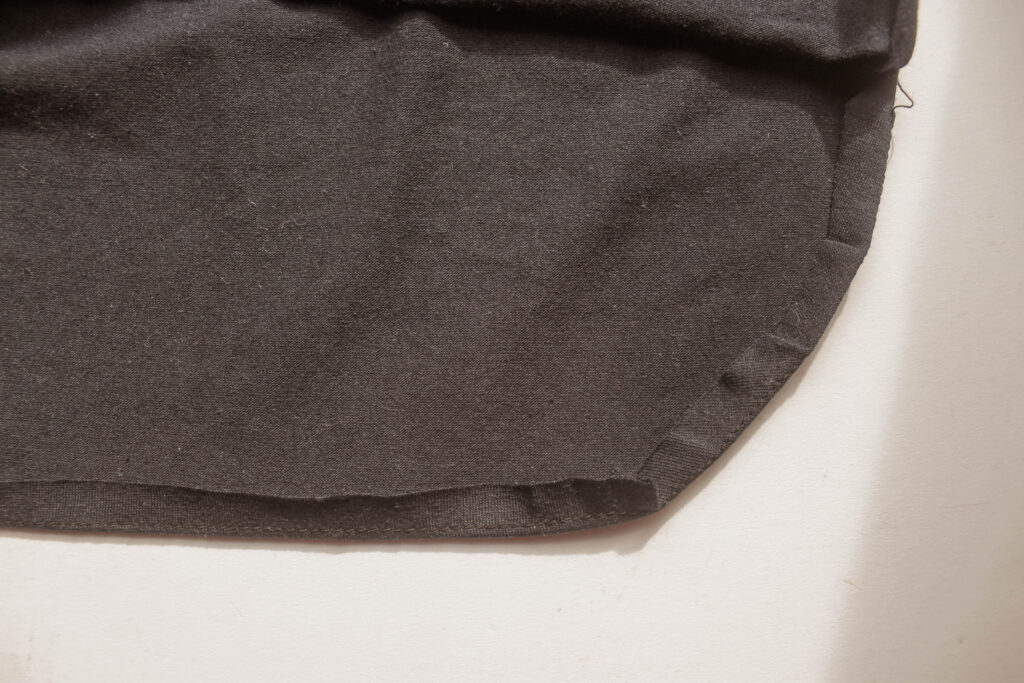 Then fold it in one more time 1 cm, and pint it. If you want you can iron it again.
I used these clips they are very useful for this kind of hems, they keep it in place, fast to put them on, and don't hurt the fabric.
If you like to get some clips for yourself as well you can buy them online at Madam Sews, I promise you won't regret getting ones. Check them out!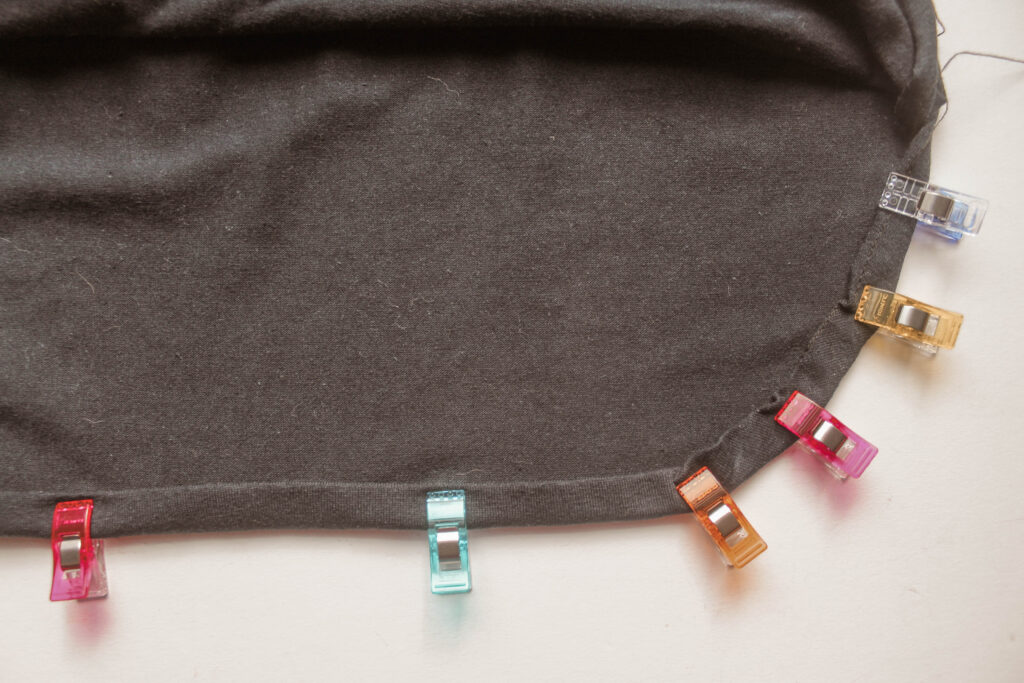 And finally, sew the hem. If possible use a zig-zag stitch, if not a simple straight stitch will work.
You can iron it to keep that stitch nice and smooth.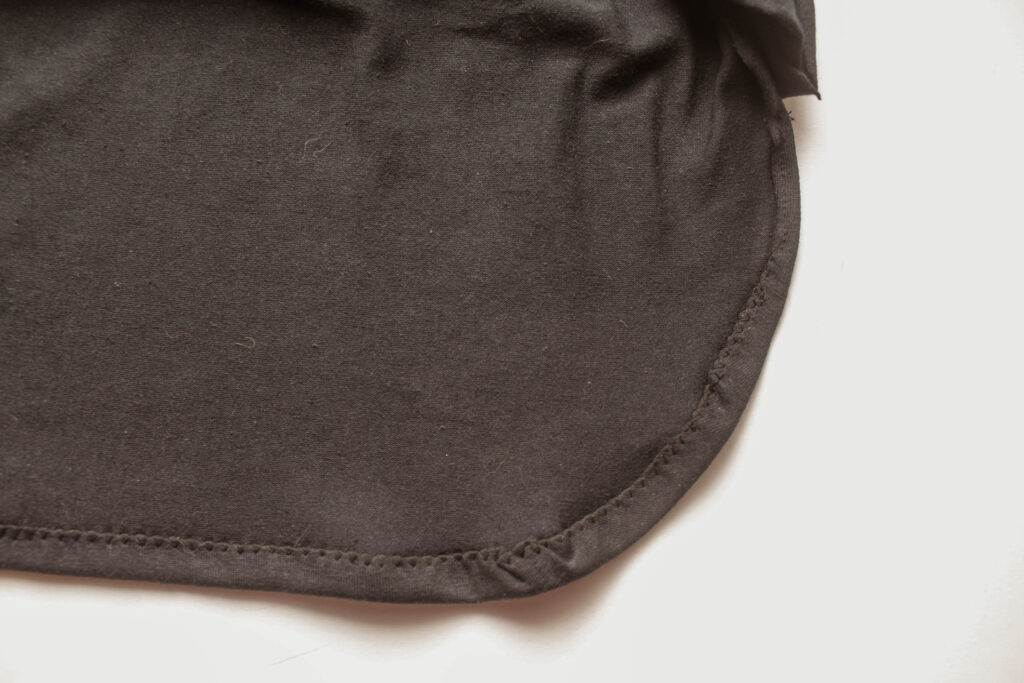 Repeat the same process to the other piece's edge.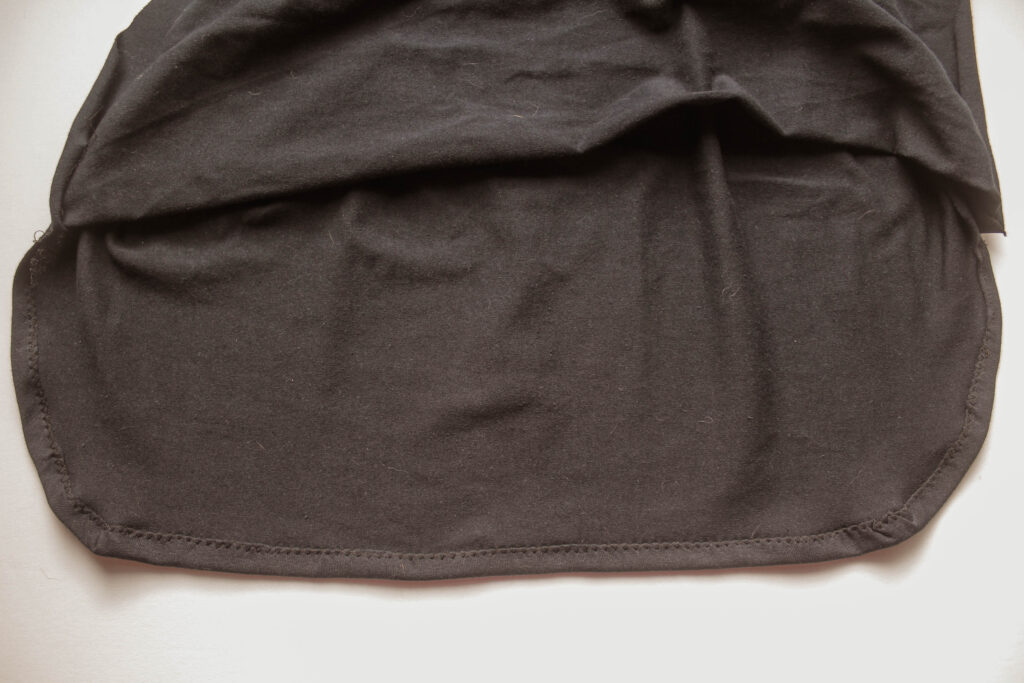 Step 4:
Now, sew the sides. You will start from the side of the sleeve to the side of the dress in a whole stitch.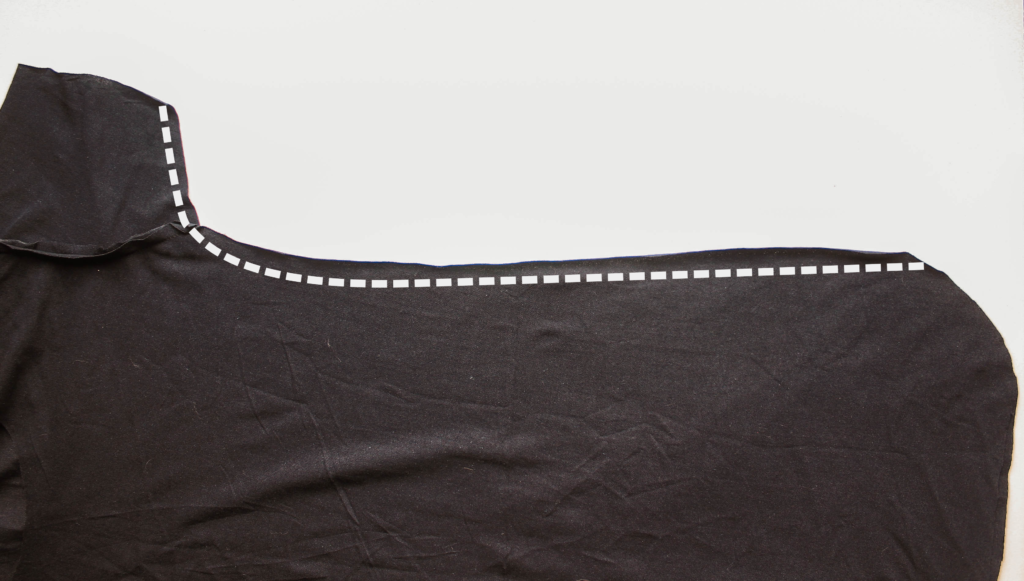 Step 5:
Take your neckband, the rectangle piece, and sew the edges together.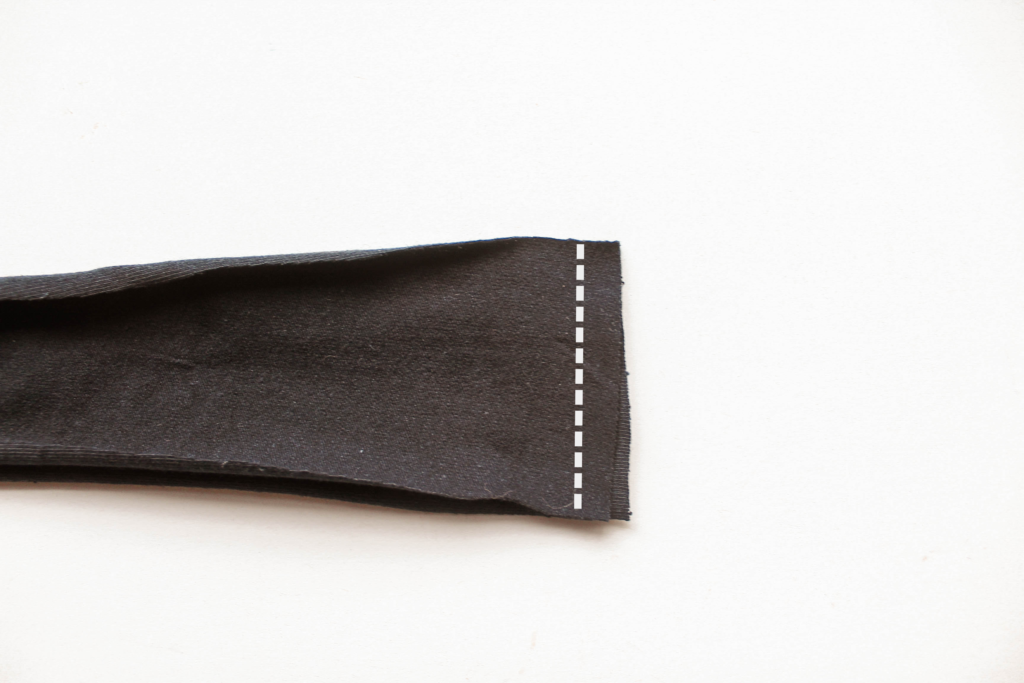 Then open the seam allowance like this…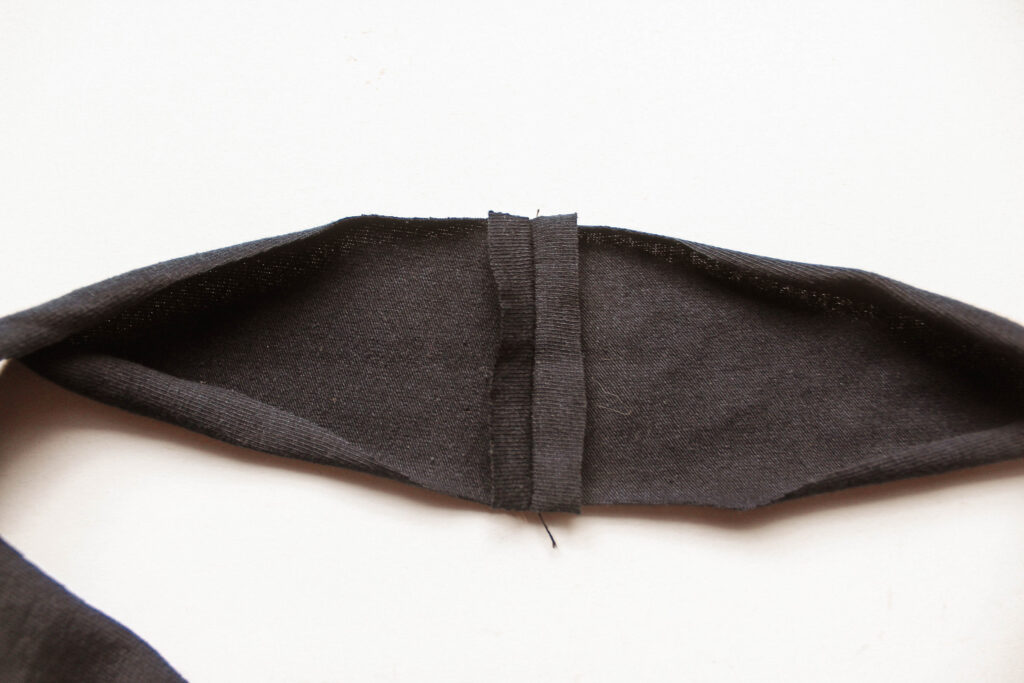 Then, take your neckband and place it on the neckline. Aline the seam of the neckband with one of the shoulders. Pin it down.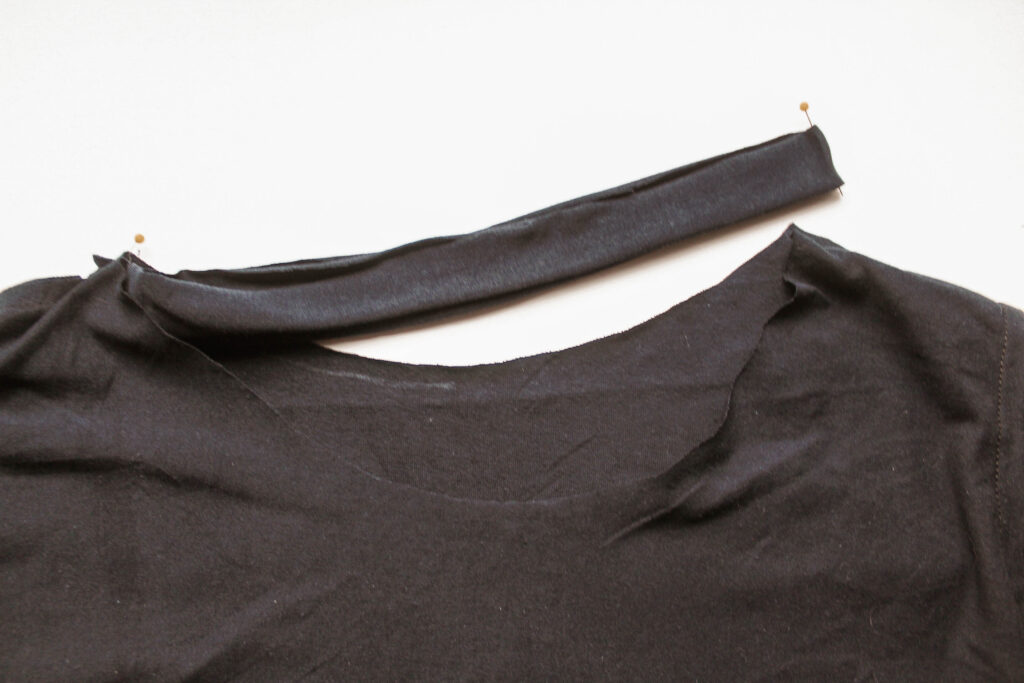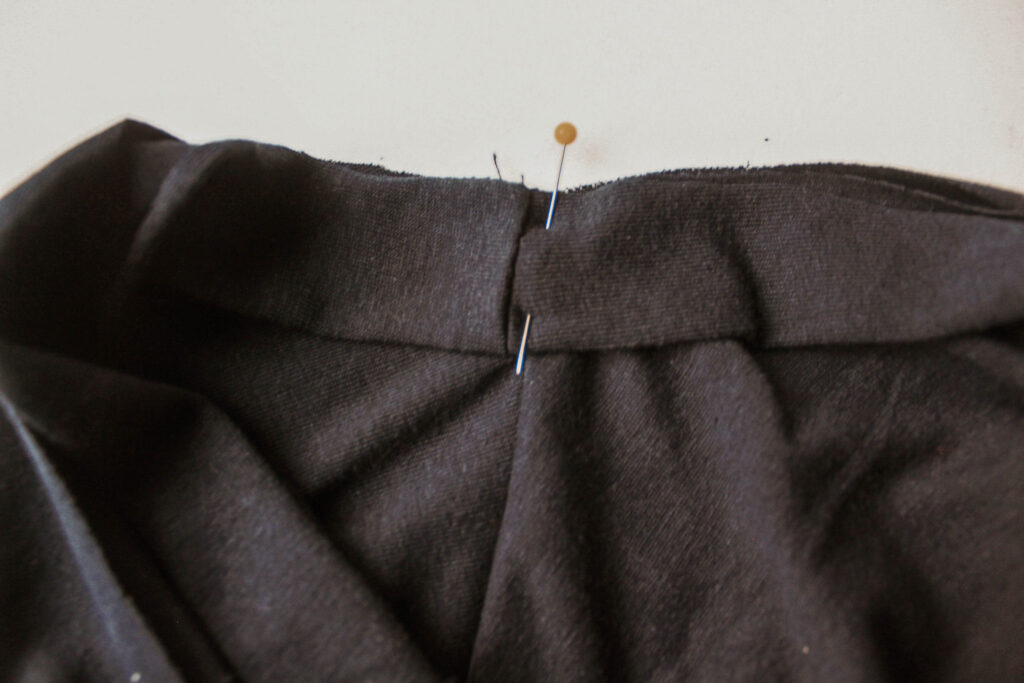 Sew all around it, leaving 1 cm of the seam allowance. Start from the pin all around till you end on that same shoulder. 
You will notice the neckband is smaller than your neckline, but don't worry, this will help keep it in place. For this, you will stretch a little your neckband to make it fit.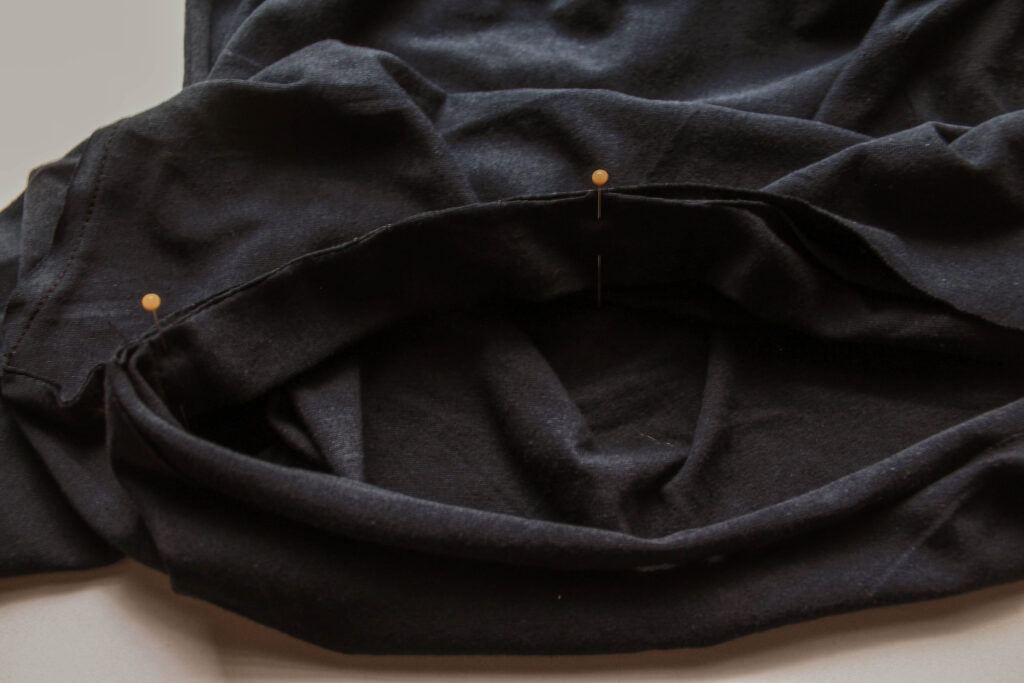 Step 6:
And to finish you'll sew the hem of the sleeves.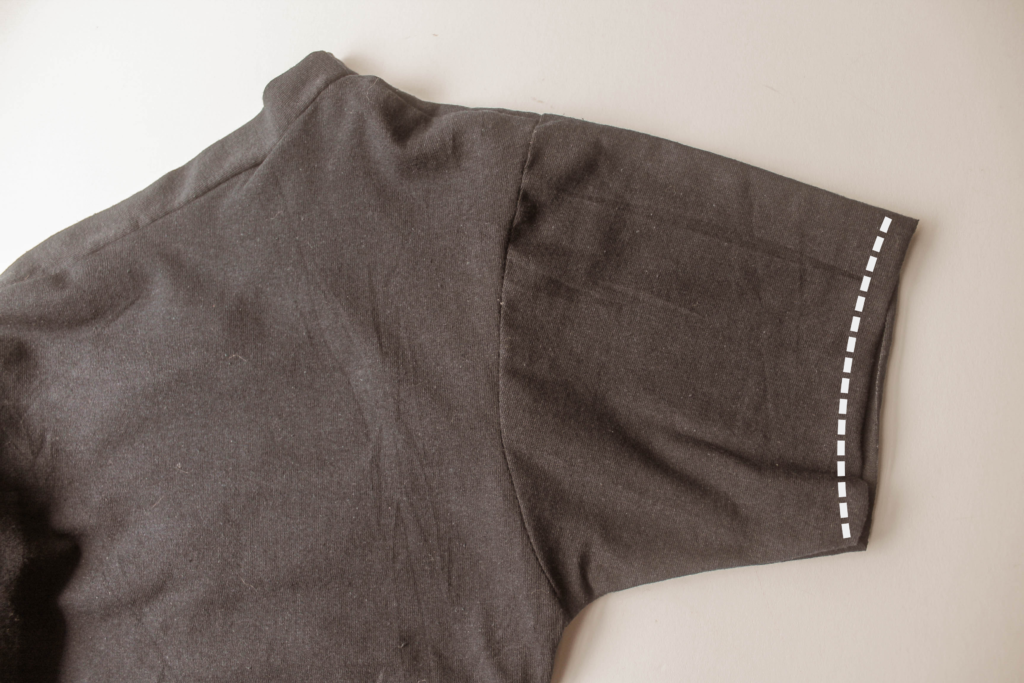 That's it! You should have your dress finished…
It was a bit more challenging than other tutorials but it is definitely worth it. It is a dress you might never stop using and the best part is that you did it yourself
If you have any doubts you know that we are here to help you. You can comment here, send us an email or a DM on Instagram. 
Hope you like your new T-shirt dress. Enjoy the summer season!
2