We're almost done with the I Made My Wardrobe Challenge! How do you feel about it? Almost 12 new me-made items in your closet, wow! 
So, this month we are making a cape-wrap-coat, perfect for the cold weather and definitely more affordable than buying a coat in the store. And I mean, just look at it, isn't it cute?
-Fabric (We recommend looking for a fabric that has wool in it, as it will make your coat very warm).
-Lining.
-Scissors.
-Sewing machine or a needle.
-Tape measure.
-Thread that matches your fabric.
-Pins.
-A pencil or something to trace over your fabric.
-A cardigan that fits just right.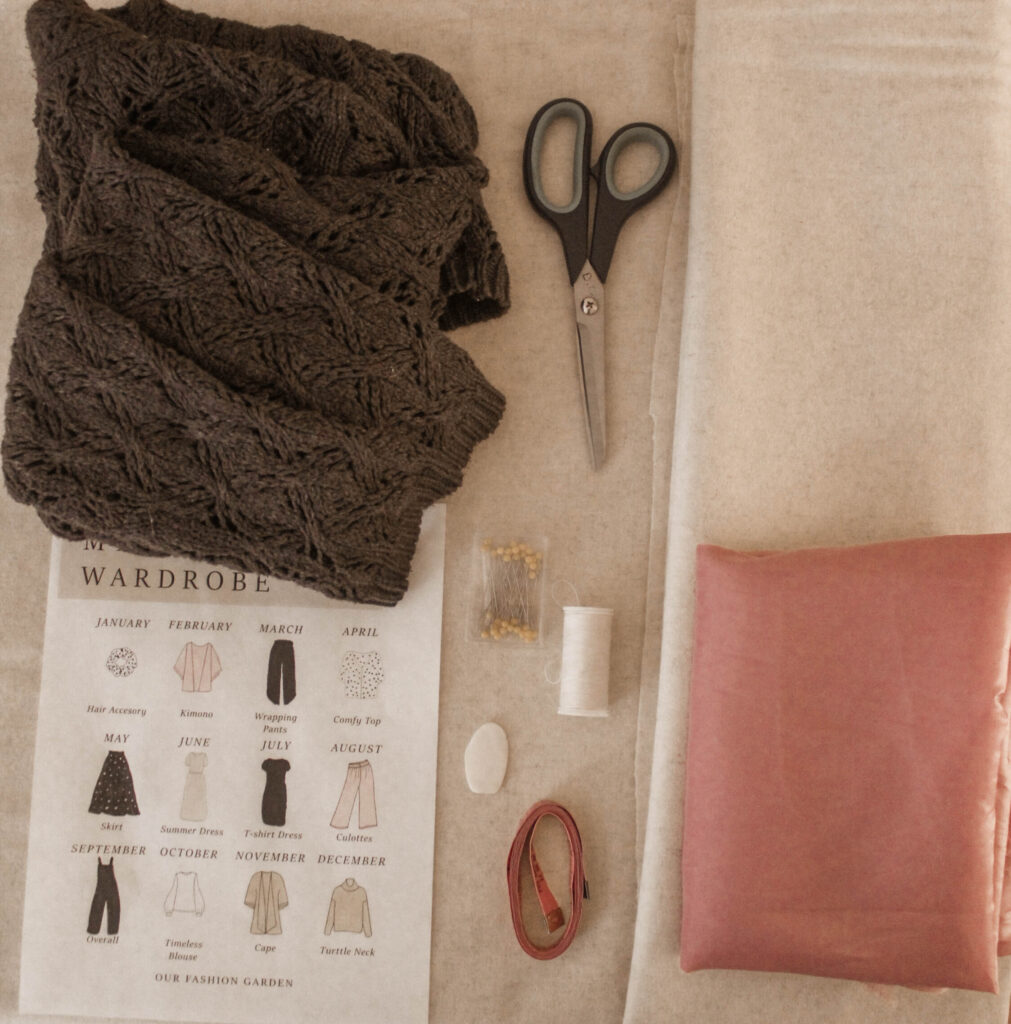 How much fabric do I need?
According to the size you normally wear:
1 yard= 91 cm
XS= 2 yards main fabric & 1.5 yards of lining.
S= 2.5 yards main fabric & 1.5 yards of lining.
M= 2.5 yards main fabric & 2 yards of lining.
L= 3 yards main fabric & 2 yards of lining.
XL= 3 yards main fabric & 2.5 yards of lining.
2X= 3.5 yards main fabric & 2.5 yards of lining.
3X= 3.5 yards main fabric & 2.5 yards of lining.
4X= 4 yards main fabric & 3 yards of lining.
5X= 4 yards main fabric & 3.5 yards of lining.
Larger sizes= 4-5 yards main fabric & 3.5-4.5 yards of lining.
Step 1
Find a cardigan that fits you right. It can be long or short, or you can even look for one that is just as long as you want your coat to be. Make sure the front sides touch if the cardigan doesn't have buttons. 
Step 2: The backside
Fold your fabric, and place your cardigan (folded in half) over your fabric. Both folded sides together. We are going to trace the backside of your coat, so fold the sleeves to the inside too.
Add +1/2 inch or 1 cm to the sides (don't add to the shoulders or the armhole). You can add more if you want your coat to be more loose, or you can just add 1/2 inch or 1 cm for a coat that will fit just right, like we did.
In this step you should also define how long you want your coat to be. You can measure from your shoulder or tell someone to measure from the back of your neck you where you want your coat to end.
Add 1/2 inch or 1 cm to the contour and 1 inch or 2.5 cm to the bottom (where you always make a hem). 
If your cardigan has a little neck in the back, ignore it and just trace the backside line.
Step 3: The front sides
Fold your fabric (right side of the fabric on the inside) and place your backside piece folded in half over your fabric.
Fold again your backside piece where the neckline begins to the inside. Fold it as straight as you can.
Trace the contour with the piece folded like that. You should have something like this.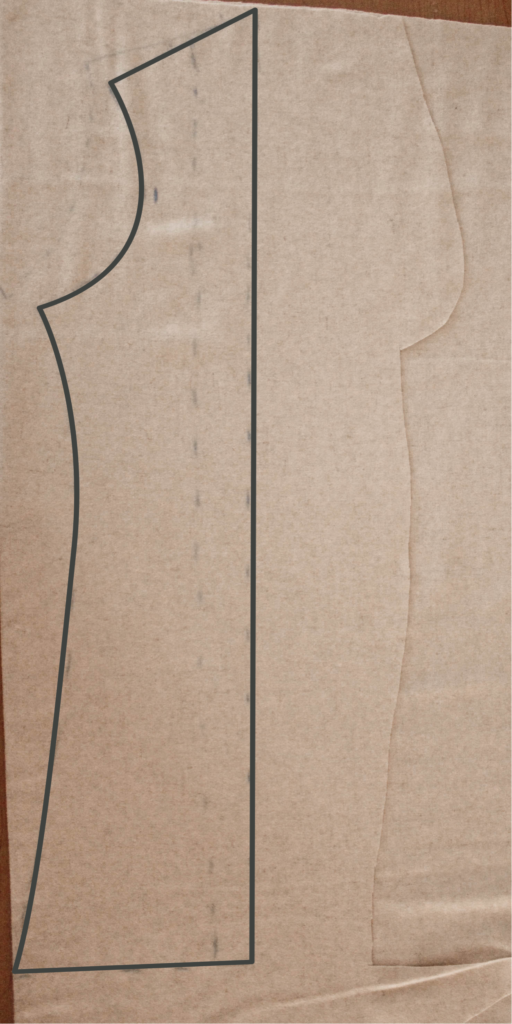 In your armhole, trace a mark of 1/2 inch or 1 cm to the inside and make your new armhole line. We reduce for comfort, as it will allow us to move more freely.
Cut them and you should end up with 2 mirrored pieces, like we did.
Step 4: the lapel
Measure the length of your front piece from the highest point of your shoulder to the bottom and write it down. That's your lapel length.
Next, measure the widest part of one of your front side pieces (it will most likely be the bottom) and then divide that measure in two. The measure you get, multiply it X 3 and you'll get your lapel width.
The measure you get x 3= lapel width.
Trace a rectangle with your lapel length x lapel width.
On your longest side, from the edge go down 4 inches/ 10 cm and trace a mark. 
From the mark you just traced, take your measuring tape and trace 1 inch / 2.5 cm to the side. Just like we did in the picture.
Now, measure your neckline (backside piece) and divide it in two. Write that down.
On the same side you traced your marks, go to the other edge and go up your half neckline measure. For example, mine was 10 1/2 inches, so I traced a mark from the other edge up. 
Now, to the side (where you made your other marks) add 6 inches/ 16 cm and make it a rectangle, like we did.
Join the highest mark with the one where we added 1 inch to the side in a curve. Try to make it as similar as we made it. Keep it straighter in the rectangle and curve it as you pass it. 
Cut the contour and now turn it around to cut another mirrored piece. 
When you have your 2 pieces, cut another two. We want FOUR pieces. 
Step 5: the sleeves.
Just like we did in our last tutorial, fold your fabric again and place your cardigan in diagonal to create the armhole. 
Measure your arm to determine the length of your sleeve and go down from the deepest part of your armhole. 
Now, remember how much you added in step one to make your coat more loose? Bring that measure back and add it to the side of your armhole curve. 
Measure your fist contour and add 1.5 to 2 inches. This depends on how loose you want your sleeves to be. We don't recommend more or less, because less can be uncomfortable, and more can be too loose (unless that's the look you're going for). Then divide it in two and trace it on your fabric.
Then just make a straight line from that point to the end of the armhole line.
Next, add 1/2 inch/ 1 cm of allowance to the contour and .75 inch/ 2 cm to the fist.
Cut it and then cut another exact piece. 
Step 6: the lining
We're going to cut almost one of all the pieces we just traced, but with some modifications in the length.
Let's start with the backside. You just have to cut another exact piece but 1/2 inch/ 1 cm shorter. 
Do the same with your front side pieces. They should be 1/2 inch/ 1 cm shorter.
It's the same thing with your sleeves. 
You can fold 1 cm or 1/2 inch to the inside, to make it shorter. Pin it like that and cut it.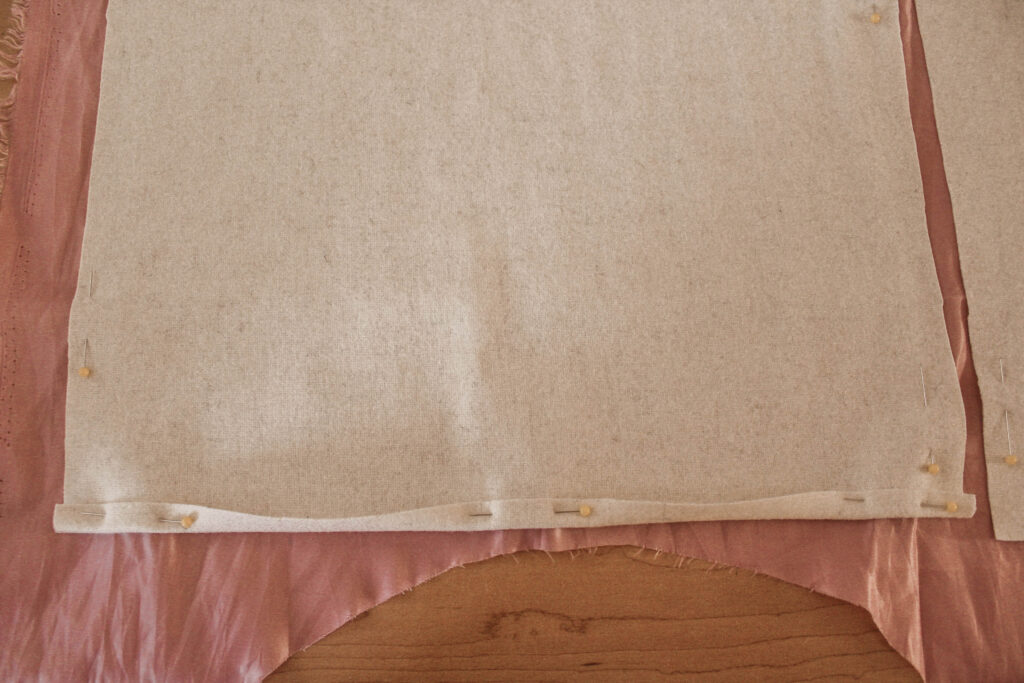 And that's it for the lining. We don't need any for your lapel.
Step 7: the belt
For the belt we need a long strip. If you don't have enough fabric, don't be afraid of joining small pieces together to make it. 
Start by measuring your waist with your cardigan on or a coat on. To this measure add 33 inches or 84.5 cm. This should be enough to make a knot and make your wrap coat the cutest.
The strip should be as long as the measurement you got and as wide as 3.5 inches or 10 cm.
Since we didn't have enough fabric to get the whole length we divided it in half and cut two strips.
Optional Step: pockets!
If you want your coat to have pockets, cut two rectangles of 7 X 10 inches. (20 x 26.5 cm)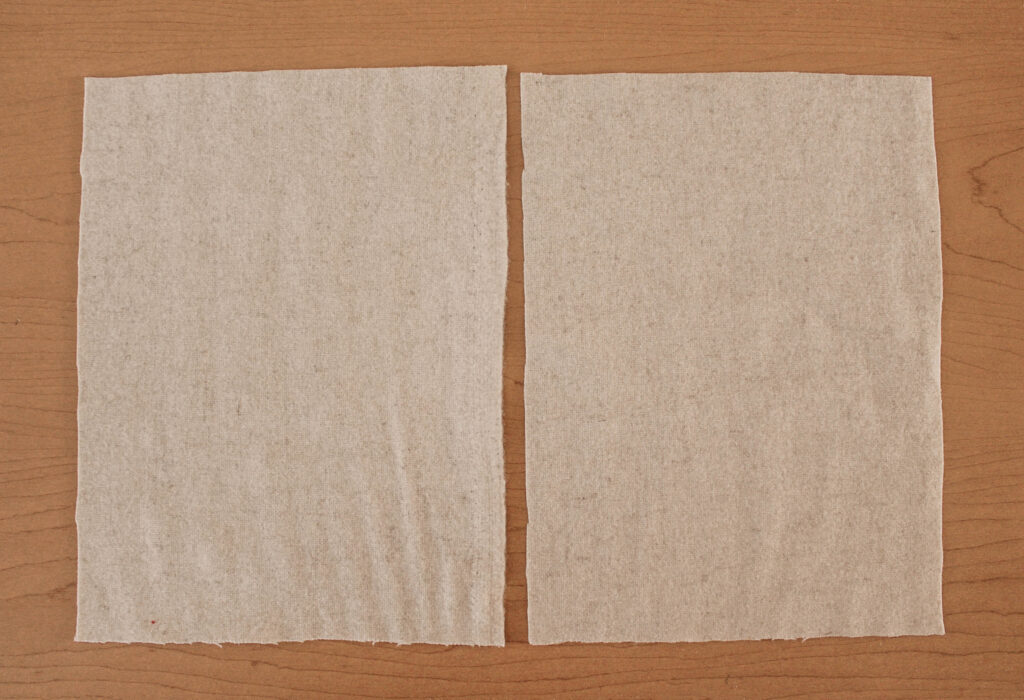 Step 7
Start by joining the shoulders. At first, it's going to be like making 2 different garments (one with the lining fabric and the other one with your main fabric) but it will start making sense as we go on. 
Sew the sleeves on both lining and main fabrics.
Bring your lapel pieces and sew them together. It should be in the thinnest part. Remember right side of the fabric facing each other. 
Let's join the lapels to your front pieces. Remember to sew the straight sides together. On the lining part, your lapel pieces will be a little larger, you can cut the excess in diagonal as we did.
Here, you'll join your lining with two pieces of your main fabric. It will look something like this: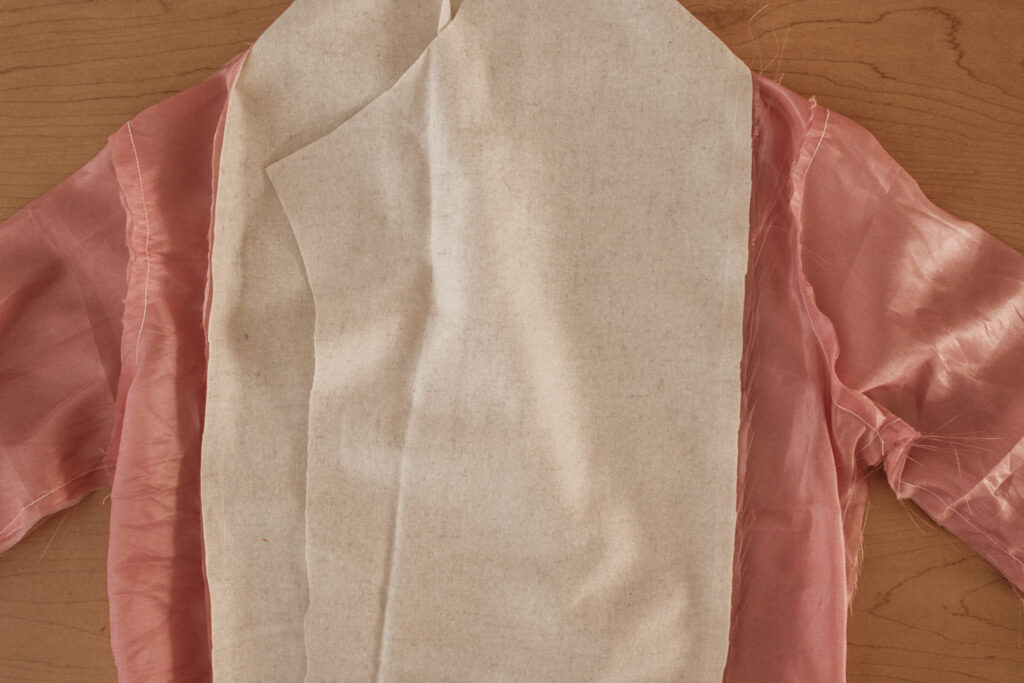 A tip to make it look like something you bought in a store is to open the seams and iron them. This makes a huge difference, trust me.
You don't necessarily have to do it with the lining, but definitely try it with the main fabric in all the seams. 
extra step: pockets
If you're not putting pockets skip this. 
Find the spot where you want your pockets to be. For this you can try on your coat (main fabric) and imagine you're putting your hands in your pockets. Once you have it, make a mark where your hand begins and from that point you'll sew the pockets.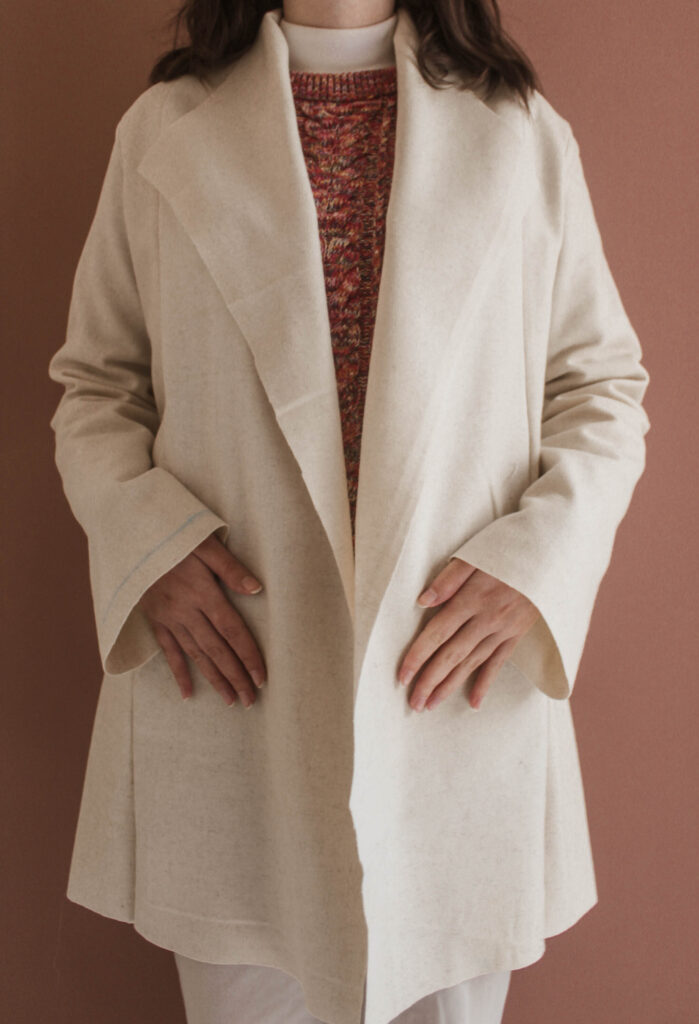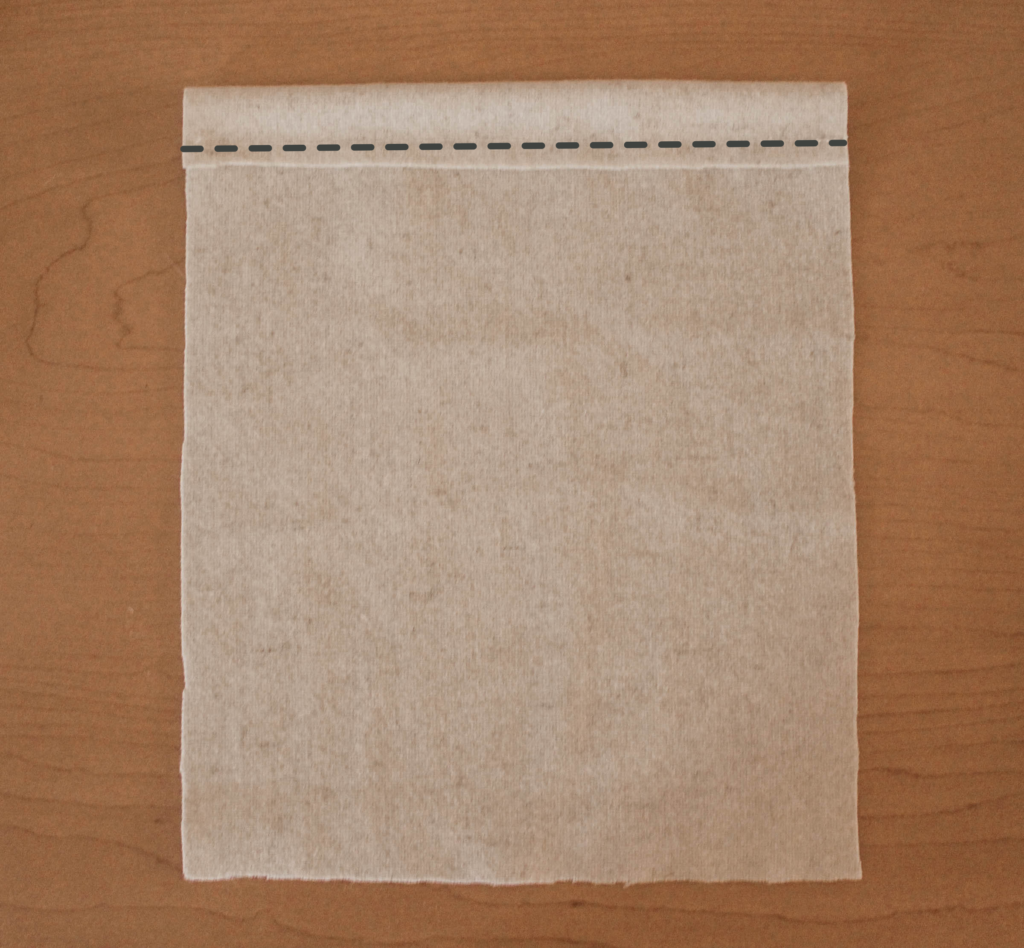 Fold 1 inch or 2.5 cm to the inside in the longest side and sew it. This is your picket hem. 
You can iron the edges to the inside to make it easier when you begin sewing them to the coat.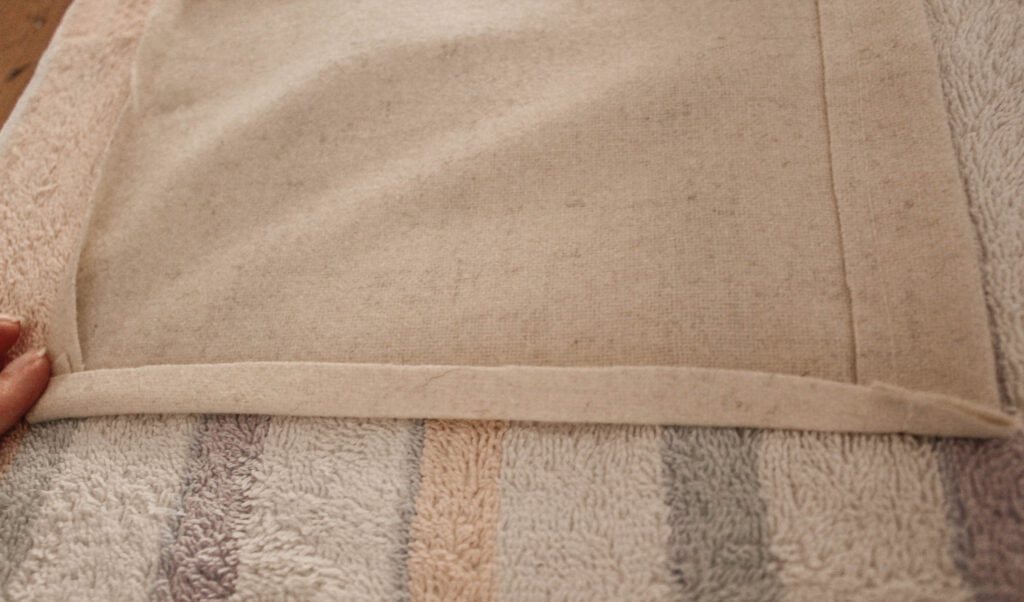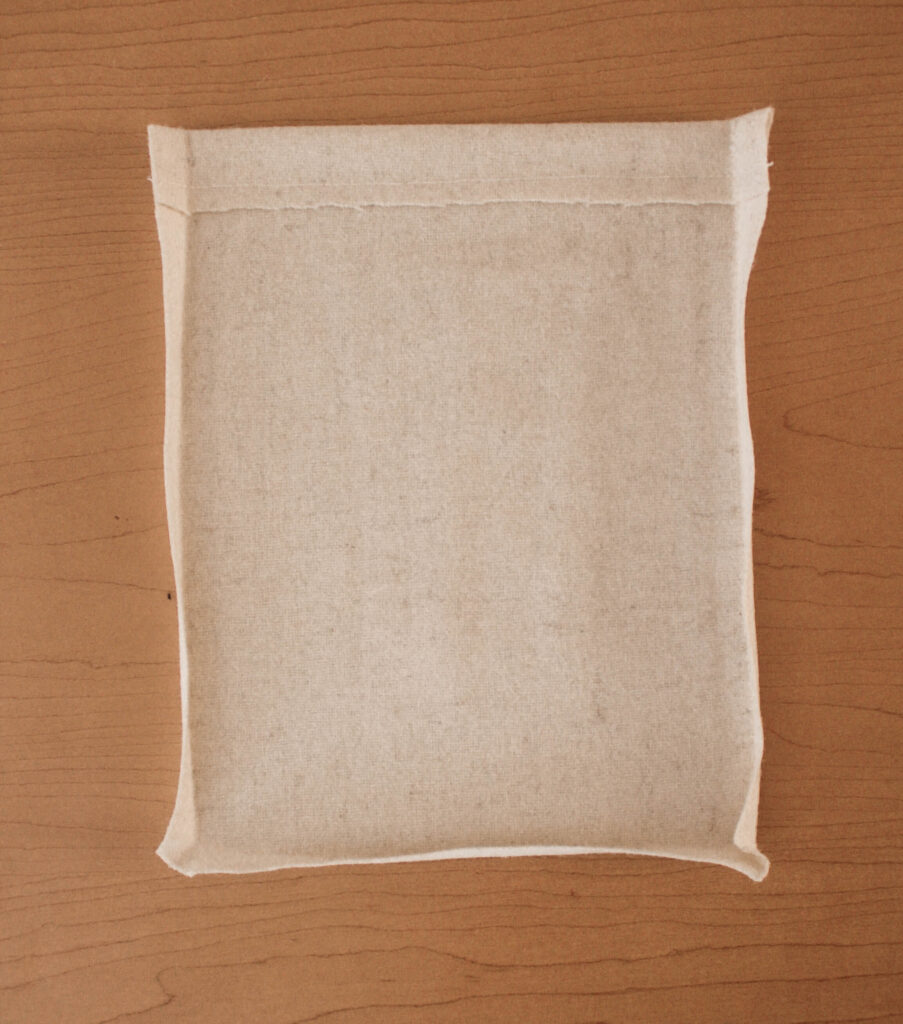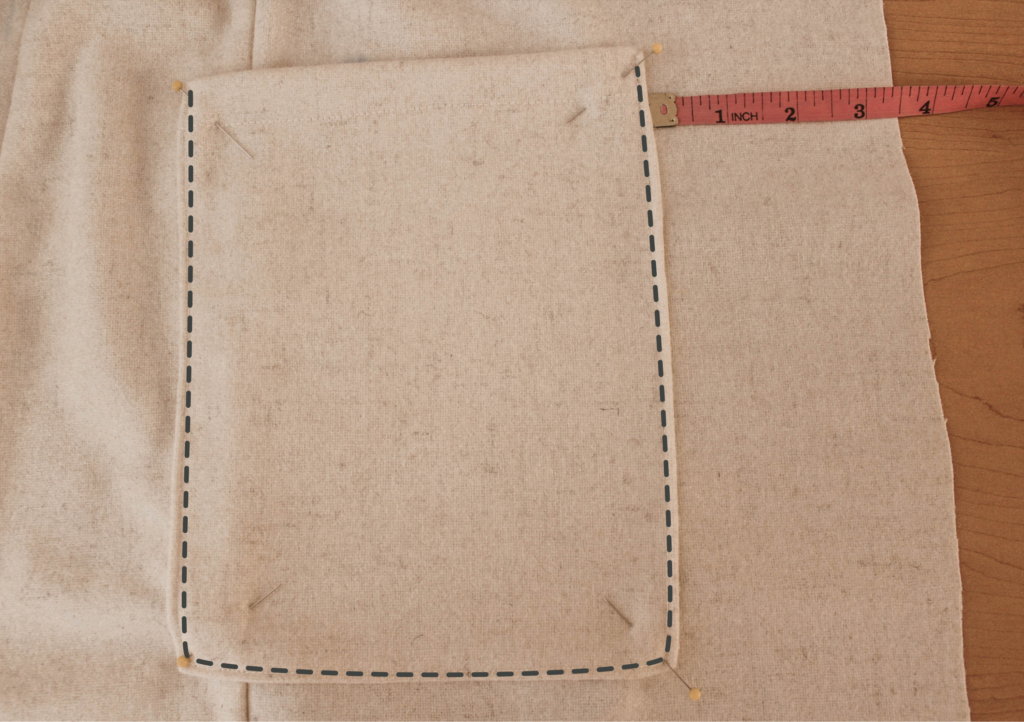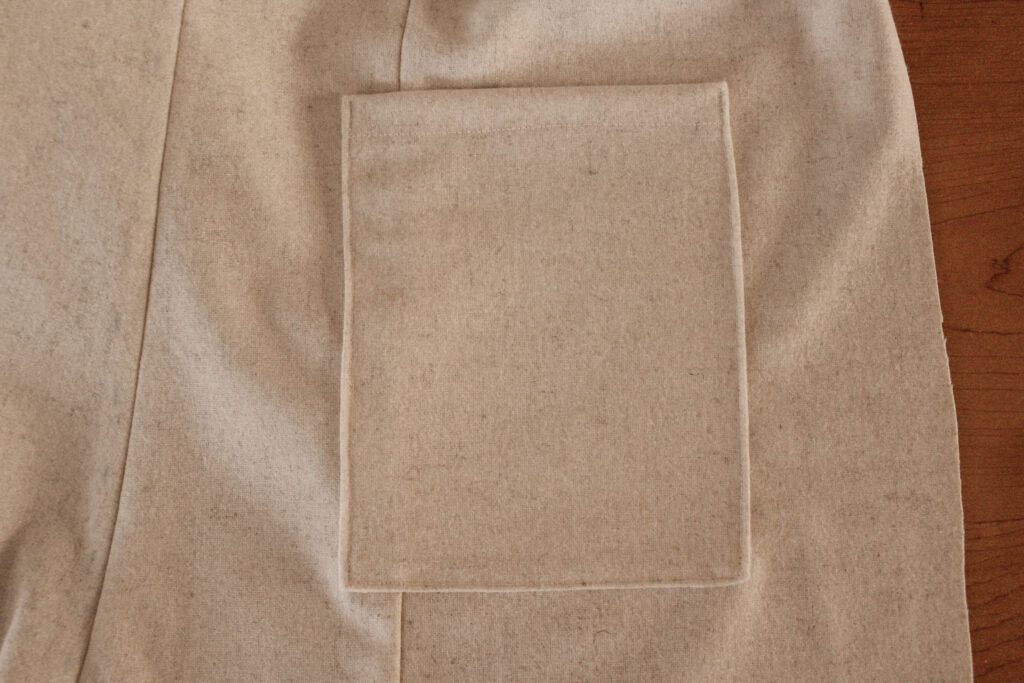 Then, you just place your pockets over your coat and pin them. 
Use your tape measure to make sure both are placed symmetrically. 
Step 8
It's time to join the two parts together! Put both parts over each other, right sides facing each other.
Pin together the lapel over each other and sew on the edges.
Open the seams and iron them. Flip it over and iron again, but now folded. 
At this point, you'll start seeing your coat come to life. This next part is a tricky part, we're closing the sleeves at the fist. 
Take your sleeve as we did here, joining both edges but folding them to the inside. Then, without letting those go, flip it over and sew those edges together. Take a look at the pictures to see how we did it.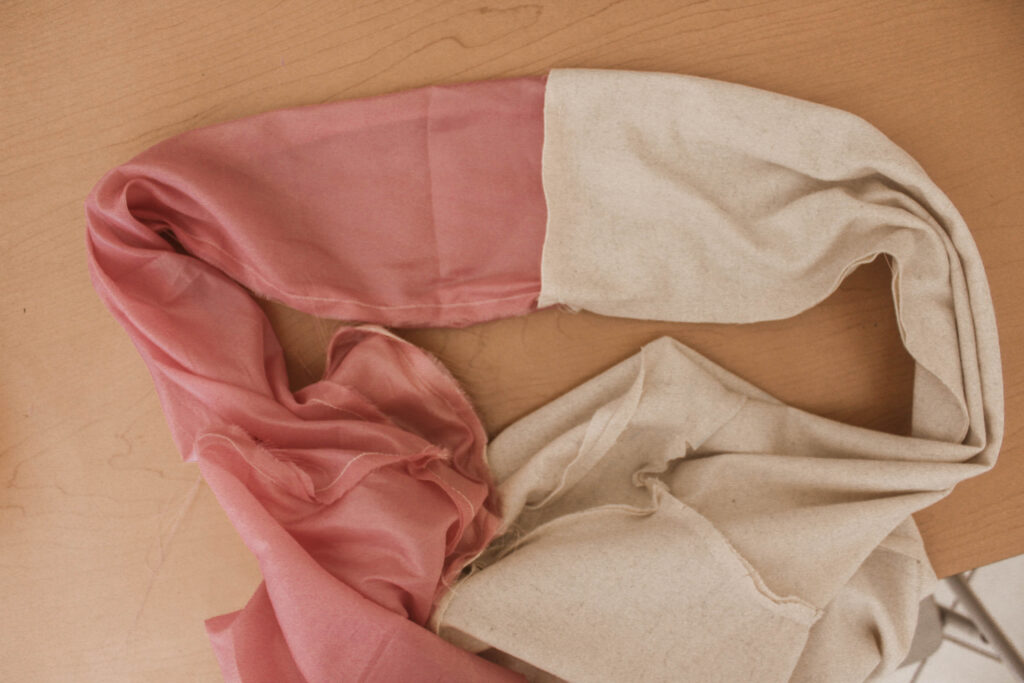 When you're done, flip it again and iron the edges of your sleeve. Do it on both sides.
Step 9
To finish the coat, we're going to sew the seams of the armhole together. This will avoid the lining peeking out from the sleeve or from moving. 
From the inside of the coat grab the armhole seam allowance of both, the main fabric and the lining. Align the seams and sew a few stitches at the seam allowance, to keep it in place.
 Flip your whole coat, or just make sure the seams are on the outside again. We're going to close it, we're almost done! 
Sew both front sides together (lining and main fabric). You can sew a little bit more into the backside, but leave a space of at least 6 inches to flip it around one last time. Sew on the other side as well, until you get to the 8 inch space you should left without sewing.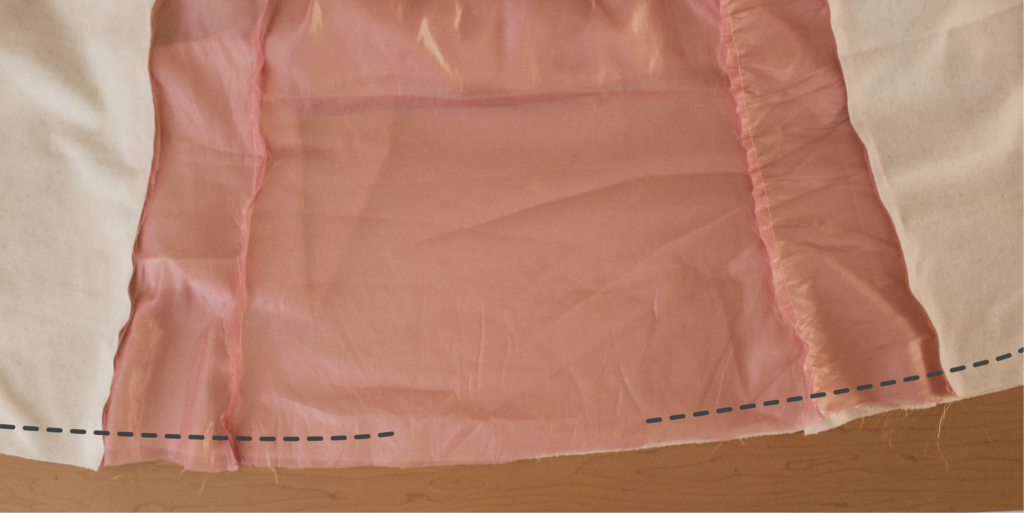 Finally flip it over and take your needle. 
If you can, you can iron this too. 
With your needle, make some invisible stitches like we show you on the picture to close your coat.
Step 10
The only thing left is the belt. Take the strips you previously cut and join them together to make a long strip.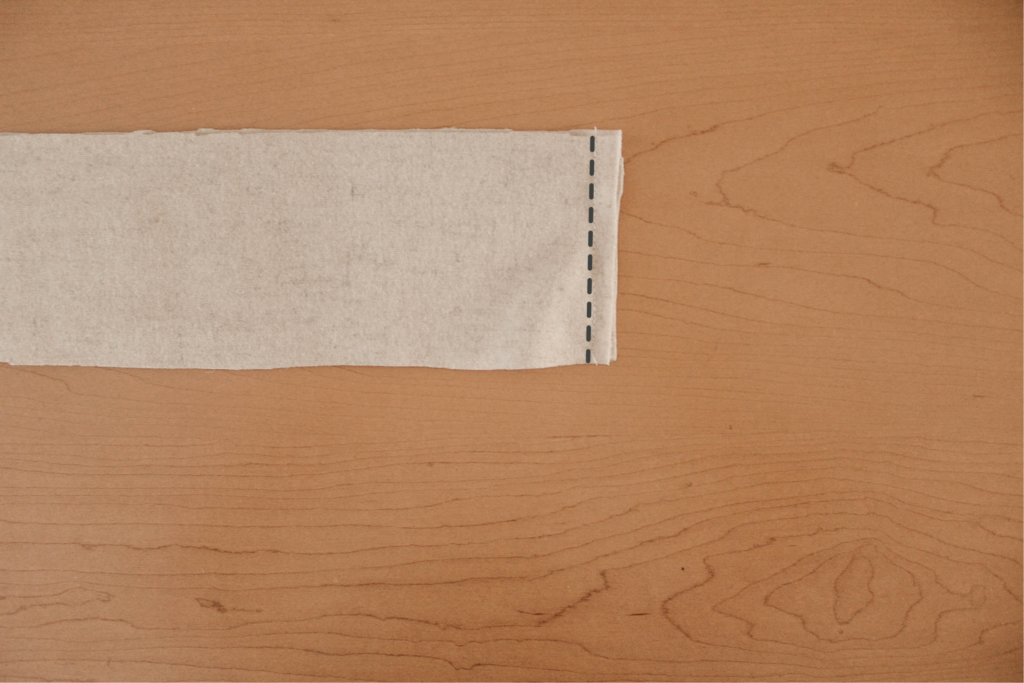 Then, fold the strip lengthwise (right sides facing each other) and sew all the edges leaving one side without sewing.
That gap will help you turn it around to hide the seams. But before you do that, cut half of the seam allowance.
Turn it around.
Once the seams are inside, you can make a top stitch on the edges as we did. To make it look more clean and professional.
And… we are done!! Yay! Aren't you proud of this new coat you made with your hands? Gosh! We are very excited about this one. I mean, we always are, but making a coat by yourself is quite an achievement. 
Show it off and wear it a lot! Happy fall!
3