We believe that stop buying NEW clothes is not the solution, it can be a momentarily one but not permanent. As we have mentioned before, sustainable fashion needs to benefit the three pillars: Economy, Society, and Environment. If one of these isn't benefited, you can't name it sustainable. If we stop buying clothes, the garment workers would be out of a job. That affects directly to the economic pillar.
On the other hand, over-consuming is not the solution either, what the world needs from us is to make conscious buys. To think and research before we buy anything. To invest our money in fair, ethical, sustainable brands, who care about all three pillars.
The sad part is that some companies use the Greenwashing strategy to make you believe that they are sustainable when in reality they are just trying to make more money. An example of this situation is when a fast fashion brand takes out a "green" clothing line made with organic cotton or something like that. This might be true, they might be using sustainable materials but it is just 1 of their lines out of 100, that makes no difference they are still contaminating the planet on a larger scale.
That's why we created this Dictionary, with this you don't need to research anymore, we have done that for you. We recommend the following brands, some of them may not be perfect but at least they are doing something important to be better and to have a lower impact. Use this guide to consult it whenever you need it.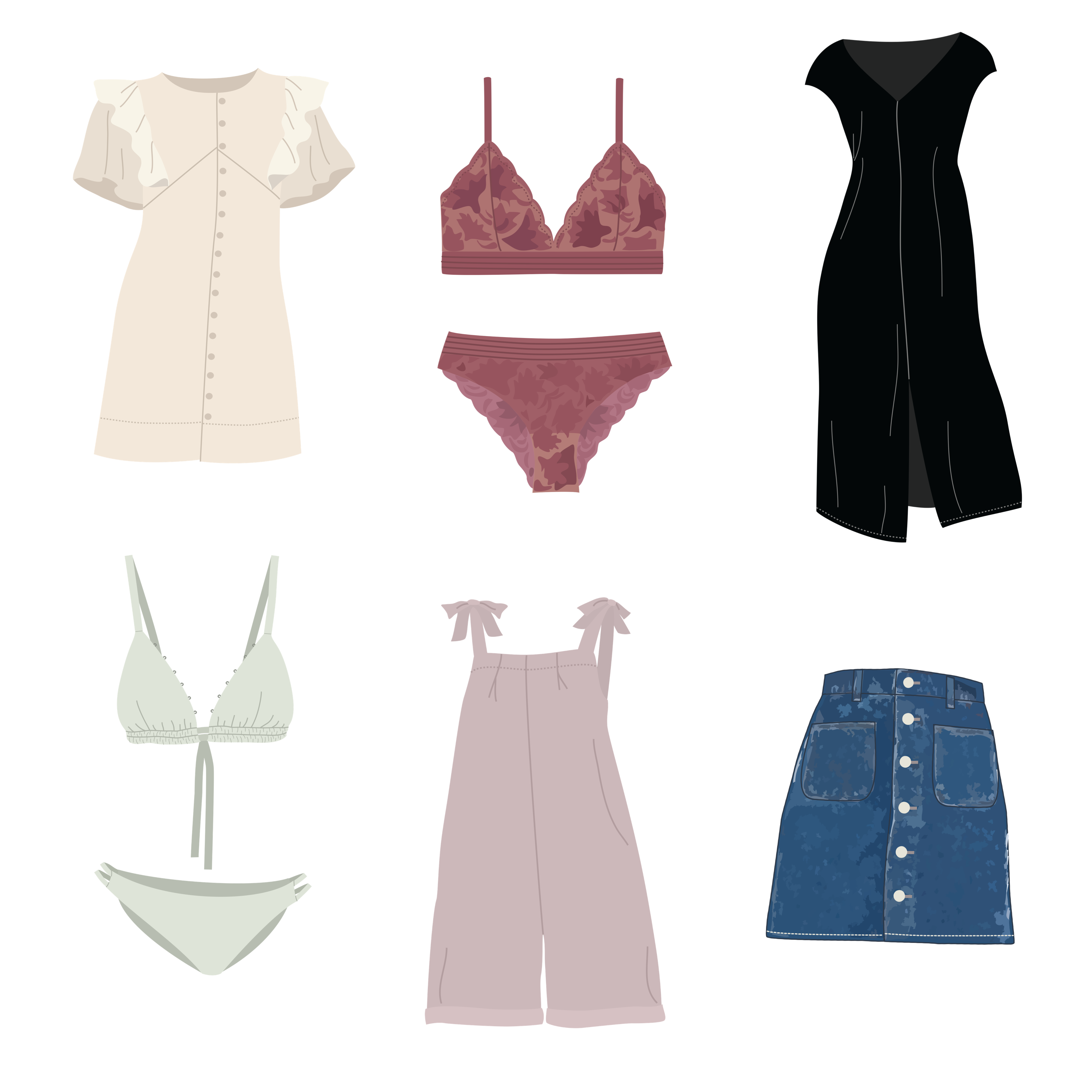 Note: If you want to know more about which fibers are more sustainable we have a whole blog about it. Go check it out!
You'll find clothing brands to complete all your wardrobe like basics, swimwear, underwear, accessories, and more.
A
A sustainable fashion brand that creates sophisticated essentials for the modern woman. It was founded in 2017, by Aneta Pruskova who wanted to offer everyday pieces that didn't cost the earth.
Transparency in labor: There are no pictures to prove their labor conditions, but they explain it pretty well.

Sustainable materials: They still use blends in their fabrics, but they say they're working on using only 100% single fibers.
Size inclusivity: Sadly, they only work with regular sizes. No XS or Plus sizes.
Aftermath: They offer free repairing services in the UK, which is GREAT! And they have recycling service, another amazing thing.
Affordability: Average price in a sustainable brand. $65 – $150 pounds

Cool fact: They plant a tree for every purchase!

A womenswear and menswear brand with a mission to combine fair working conditions, sustainability, and high-quality materials with beautiful design. Instead of chasing the latest trends, they focus on modern, contemporary collections.

Transparency in labor: They have certificates like the Fair Wear Foundation and Fairtrade for their cotton, which is great because it means they have good working conditions in every step of the way. However, they don't share a lot of information about their manufacturers on their website.
Fair working conditions: fairly produced, they get involved in the whole process. They work with these organizations: Fairtrade, Fair Wear foundation and PETA approved.
Size inclusivity: For women from XS to XL, and for men from S to XXL.
Aftermath: Clothes designed to last + They have a section on their website with tutorials where they teach you how to repair your Demin pants.
Affordability: $25 – $160 euros

Cool Fact: They are constantly supporting Organizations and Associations that help Climate change and people who are in need.

B

BACK BEAT CO. BBC is a sustainable fashion brand owned by Women Of Color. Their inspiration is the Californian surf and skate culture. They also want people to experience low impact and high comfort clothing.Here's a few reasons why we think you should invest in their clothing:

Easy to wear and comfortable

Clothes with a little bit of vintage vibes
They use "low impact" fabrics like recycled or organic cotton, hemp and Tencel
Sewn ethically in LA and in India, you can see the behind the scenes of their manufacture on their website.
No plastic shipping
They don't have any type of certifications but they are a small company. And you can see that on their website photos.
Sizes inclusivity: XS – XL
Affordability: $38 – $14

A sustainable fashion brand created by Meghan Crosby, who wanted to make colorful clothes for women who love fashion but hate the impact it has on the planet. Every piece is designed by her.

Transparency in labor: They work in a small studio in Portsmouth. On their website, you can see all the names of the people on her team. You can also see pictures of her working in the studio.

Sustainable Materials: She only works with sustainable materials and applies only eco-friendly dyes, but she doesn't talk much about her suppliers.
Aftermath: She teaches you on her website how to make your garments last a lifetime, but also, as she works with organic cotton, everything is compostable.
Affordability: $8 – $160 pounds

Cool Fact: You can order a facemask and match your garment with it because it is made from remnant fabric as well. Also, all pieces are made by order.

C

CHRISTY DAWN Sustainable and slow fashion brand, based in Los Angeles.This brand has a romantic feminine style that is enchanting. What is find very beautiful about this brand is their philosophy to "Honor Mother Earth" Here are more reason why we think you should invest in their clothing:

Ethically produced in LA
Full transparency in every step
Fair salaries to their workers/artisans
Timeless and versatile pieces "design to last a lifetime"
Clothes made with upcycled fabric or organic cotton
They treat every team member like family, they have a space where they show a picture of every person who works there.
Size inclusivity: XS – XL, Petite sizes, Plus sizes, Maternity.
Affordability: It's a little bit expensive but totally worth it. Prices: $148 – $288

We found that amazing! We truly recommend you visit their website to get to know this hardworking people and check their clothing.

*This illustration shows their "River Dress", an old model but they have a lot of new dresses that are as beautiful as this one.

D

A beautiful sustainably sourced and ethically made women's wear brand. Created by Dynasty Casanova, they create timeless pieces that are meant to last a lifetime in your closet.

They make clothing, bags, blankets, and more!

Sustainable materials: They work with natural, recycled, and vintage textiles. They reuse old garments to create new pieces.
Transparency of suppliers & materials: They explain where the materials come from in most of their items.
Size inclusivity: They offer a customized option of their Poppy Dress with sizes that go from XS to XL. You can choose the fabric you want and you can ask for special alternations.
Aftermath: They say every garment will last a lifetime.
Affordability: It depends on the item; they have very affordable pieces and others that are more of an investment. Prices between $50 – $310

Cool fact: All clothing is currently handmade in Brooklyn by Dynasty, the designer.

E

ESBY APPAREL Clothing brand based in Austin, Texas. They design all their pieces with a simplistic style and with the purpose to be worn-often. I personally like their vintage influence.Esby gets inspiration from things and destinations around the world, like flowers, interiors, art and even food.

Here's why we think you should invest your money in their clothing.

Transparency in their processes
High-quality clothes
All-natural fabrics (pre-shrunk)
Versatile and functional pieces
Classic silhouettes
Social and Environment friendly
Inclusive sizing XS – 4X
Produced locally in the U.S.
Leftover fabrics are repurposed
Low impact garment dyes
Affordability: normal prices for a sustainable brand. Prices: $78 – $288. (Face masks $38)

Cool fact: They make face masks with their remaining fabric.

F

FREE LABEL – Activewear/Loungewear

An independent, family-run business. Jess, the founder of Free Label, started the brand in 2015. Her goal is to create clothing that not only makes you look great on the outside but feel great on the inside too.

Here are more reasons why we think you should invest in their clothing:

It's an inclusive brand that works from size XS to 4X.
Every Free Label garment is cut and sewn in Canada.
They visit their factories offer to make sure their employees work in a clean, safe environment.
Free Label works with sustainable, natural, and soft fabrics (organic cotton, linen, lyocell, and bamboo.)
Many of their fabrics are custom milled locally in Toronto.
Their production is in small batches so you'll have to be patient if you don't see their products available.
Affordability: $89 – $218

Cool fact: All of their labels and tags are made in Canada, and all of their packaging materials are 100% home compostable.

We love inclusiveness and the way their clothing is made to look great on every type of body!

M

An independent designer who embodies the essence of the romantic, feminine spirit. She creates timeless and effortless vintage-inspired collections. Working with original textures and elegant silhouettes.

Here are more reasons why we think you should invest in their clothing:

Maria Stanley is a passionate advocate for the slow fashion movement. Which means, she truly cares, not only about her brand.
Her collections are made in Delhi, India. She considers her workers as her family.
She offers benefits along with decent salaries for each worker.
Their knitwear manufacturer is certified by the World Fair Association and OHSAS 18001 (security and health in the workplace).
Their knitwear manufacturer is also dedicated to protecting the environment. It is located in Lima, Peru.
She makes long-lasting timeless clothing.

Her timeless designs are beautiful and unique, and we know you'll love them too.

Mijke and Laurette, the two owners of MILABELL. They are two friends with a common pasion make clothes for vintage or second hand lovers.

They have the main goal of invitng fast-fashion lovers to look beyond only the new. MILABELL upcycles old garments and turn them into new trendy clothes, restoring them and giving it a new life.

"Cropped black longsleeve off shoulder top with flame print"

Transparency in labor/Fair working conditions: They do everything themselves from the selection of items to the transformation, and even the shooting.
Sustainable materials: they don't use sustainable materials but by using old garments they are not letting the garments go to landfills and contaminate the planet. Which is really good and what the world needs.
Aftermath: Since the garments are restored and reworked, they could last you for years and years.Affordability: prices range from £15 to £60.
Size Inclusivity: sizes XS to L, but they are working on being more inclusive with their sizing.
Their packaging is made with recycled materials and they reuse boxes to ship their creations.

You can find their clothing on Instagram: @mi.labell

Or in their ASOS Marketplace boutique: asos.mp/milabell

O

ODEYALO Slow fashion brand based in Montreal, Canada and owned by women. They have a minimalist and comfy style. We personally love their neutrals color palette, and their fine detailed prints.Here's why we think you should invest your money in their clothing:

Minimalist style
High-quality garments
Transparent on their processes
No plastic packaging
Recycle their scraps in different ways
All their production is locally made
SMALL productions – GREAT attention to detail
They use sustainable fabrics like Tencel on some garments.
Fair prices. Also they offer an online section of clothes, that have a little defect, with low prices. $460 CAD – $60 CAD
Sizes: XXS – XL

A slow fashion brand that produces clothing inspired by their family's personal experience and everyday stories. OffOn was founded by a family of four in 2012 and offers designs for women and little girls.

Here are more reasons why we think you should invest in their clothing:

They offer customized pieces
Body positivity is the essence of the brand.
They adapt each piece to the particular needs and measurements of our consumers.
They offer free shipping worldwide.
When it comes to textiles, they are zero waste.
They work with carefully selected and high-quality materials, which make their clothes last longer.
Their factory is based in Lithuania and offers great working conditions.
Affordability: They have prices that go from 69 € to 135 €
Sizes: XXS – XXL

We fell in love with their concept, the philosophy, and their beautiful unique pieces. It's great for all types of bodies, and they'll make sure your garment fits you perfectly. Isn't that beautiful?

ORGANIC BASICS – Underwear & Basics

Organic Basics is a sustainable brand that has simple but functional designs. They focus on basic garments and underwear, with high-quality. Based in Denmark.

Sustainable materials: They work with organic, recycled, and sustainable textiles.
Transparency of suppliers & materials: They explain where the materials come from in most of their items. They have certifications for their materials and factories. You can see on their website all their factories in picture.
Size inclusivity: They offer sizes that go from XS to XL. And they have a Men section.
Aftermath: They design everything to last.
Affordability: Very affordable, you can buy in packs and save a few dollars. Prices: $39 – $150

This is their "Organic Cotton Starter Pack" underwear.

*This brand section contains affiliate links.

P

PAU ROMÁN – SwimwearSwimwear and couture brand based in Yucatan, México. They designed their pieces to accentuate the woman's figure. Their color selection makes every piece feel like you're part of nature.Here's why we think you should invest your money in their clothing:

Minimalist style
High-quality garments
Transparent on their processes
Versatile and functional pieces
Fabrics with natural fibers
Social and Environment friendly
All their production is locally made
Small production, attention to details
They make swimwear, lingerie and homeward clothing.
Affordable but still ethical prices like $90 – $22
Sizes: they are not that inclusive they offer normal sizes S – L

Pau Román treat their products as crafts, with high quality in all their processes.

An environmentally conscious brand founded by Julie. She creates poetic, meaningful & timeless garments.

Her capsule collections are built upon the highest standards of ethics. Carefully selecting fabrics with low ecological impact and paying close attention to details.

Transparency in labor: All her pieces are handmade by Julie in her atelier in Berkshire.

Sustainable Materials: She only works with suppliers who have eco-verified certifications. Everything from the threads to the packaging is sustainable.
Aftermath: All garments are compostable & biodegradable.
Size Inclusivity: It's made to order. You can ask for a commercial size or customized, no matter if you're petite, tall, plus size or if you want a looser fit. They want to make it perfect for you.
Affordability: $132 – $272 euros

Cool Fact: Julie learned how to sew when she was just 11 years old, and she's the one who makes the clothing on her brand.

S

SHARON WOODS – Shoes A sustainable brand, which designs classic timeless shoes. They offer vegan beautiful shoes that are easy to combine and suitable for different occasions. A perfect addition to your capsule wardrobe.Here is more reasons why we think you should invest in their clothing:

They work with recycled & vegetable materials.
Their manufacturers and suppliers are committed to sustainability.
Their goal is to produce shoes that are 100% made from recycled or vegetable materials. They are still working on it.
Their packaging is also made of recycled materials.
Their shoes are perfect for capsule wardrobes because they will never go out of style.
The shoes are made in a small-scale family-run workshop in Alicante, Spain.
They prevent waste by producing after the order is made.
Fair prices that go from $79 – $99

It's for sure a beautiful brand and we love their designs! Make sure to check out all the models they offer, maybe you'll fall in love too!

U

A Danish brand based in Copenhagen and founded in 2010, 10 years of being sustainable. They create underwear, loungewear, and swimwear and their goal is to make you feel as beautiful and comfortable as possible.

Transparency in labor: They don't have a lot of pictures or info, but they are working on it. On their website, you can see some photos of their workers.
Fair working conditions: They only work with certified factories.
Sustainable materials: They only use sustainable materials such as recycled polyester, recycled elastane, and organic cotton. Most of their products are vegan approved.
Size inclusivity: They have a wide range of sizes for bras: XS, XS+, S, S+, M, M+, L, L+, and XL. And for everything else they have from XS to XL. They also offer a maternity line of bras and swimsuits.
Aftermath: Their materials are durable, and they tell you how to take care of their clothes, if you follow the care instructions it will last.
Affordability: $35-200 euros

Cool Fact: Their packaging is either recycled or biodegradable.

V

VETTA CAPSULE Responsible & one of the most versatile fashion brands.They create capsule wardrobes in different styles for almost everyone! You can take the quiz and find out what's their best capsule wardrobe for you.Here are more reasons why we think you should invest in their clothing:

You just need 5 pieces to make a month of outfits.
One garment can be used in different ways.
They use sustainable fabrics in all their designs. (Tencel & Organic Cotton.)
Their woven clothing is made in a family-run factory in NYC.
Their sweaters are knitted in Los Angeles, audited annually for social and environmental compliance – getting 70% of its energy from solar power.
Their packaging is 100% made of recycled material.
Buttons and elastics are also made in the US.
Sizes: XS – XL
Affordability: It is an investment but they will last you forever. Prices $49 – $159

We're in love with their concept! You should try out their quiz and discover what's the best capsule wardrobe for you.

Z

ZERO WASTE DANIEL – Upcycling A designer based in New York and the first company making 100% zero waste clothes. He makes stunning genderless clothing and accessories that send nothing to landfills.Here are more reasons why we think you should invest in their clothing:

They value all resources (materials, people, energy, time, and imagination).
They work with materials that already exist instead of creating more.
Their pieces are created with fabric waste sourced from NYC's garment industry.
They are transparent.
All workers are paid a fair wage.
Each one of their pieces is so beautiful, we could consider it art.
They can work with even the smallest piece of fabric waste and give it a new purpose.

We love the style, the clothes and the work they put to every piece they make. We know you'll fall in love with his designs too. One of our favorite innovative and sustainable brands, no doubt!

---

As you can see we have a lot of great brands to recommend, depending on your needs and possibilities, you can choose from wear to buy your next garment. But remember, as we always say… make conscious decisions and #buylesschoosewell

We hope this dictionary helps you achieve the sustainable wardrobe of your dreams!

If you have any other brand you would like to recommend to us leave them in the comments. We'll be adding more brands since everyday we discover new options, make our research and recommend them to you.

---

BECOME AN OFFICIAL MEMBER OF OUR CLUB!

We would love you to be part of our community. There are monthly freebies, giveaways, weekly tutorials, and other secrets we only share with our insiders!

JOIN AT THE END OF THE PAGE