Sporty
You're someone who values comfort!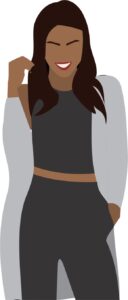 A sporty style is a mix of both activewear pieces and classic pieces. If you're a sporty girl you like to go to the gym but still look chic. You seek comfortable, relaxed clothes and you're always ready to do any kind of activity.
​You love simple shapes but with some cuts, bold stripes. You like garments with zippers and elastic bands.​
No matter where you're going out, to the movies or the club, you're happy to wear leggings again.
This style tends to look kind of informal, but you can make it as dressed-up or down as you wish.

*This color palette is just a proposal, you can add other colors or prints.
Some basics you should look for
​Basics are a must-have in your wardrobe. They're like the roots of your wardrobe, you can't build one without them.
Sneakers

Sweatpants

Sweatshirt

Jacket with Hoodie

Crop top

Sports bra

Leggings

Matching tracksuit

Halter top

Joggers

V-neck pullover
*Always consider investing in great quality.
Styling tips
How to make it your own style?
You can make it as fitted, chic, or natural, as you want.
Pair a sports bra with some leggings to go for a very sporty look.
Wear a sports bra under a jacket.
Use a hoodie with a pair of jeans and some statement sneakers.
Pair a sweatshirt with a leather skirt.
Wear monochromatic outfits, it will make you look put-together.
You can even wear sweatpants with heels, very sporty-chic. And you can wear this to a date night or a casual party.
Add accessories, like a handbag or a cap.

Brands we know you will love
Don't feel like this is your style? 
Explore the others!
↓