Fashion shows are one of the best ways to personally connect an audience with designers. If you haven't been to one, you should know they are usually fun, exciting, and entertaining. It is quite a unique experience that you'll enjoy if you love fashion.
Our journey with fashion shows started when we were in college, 8 years ago. From Fashion Weeks and huge runways with lots of designers to smaller more modest ones; we have enjoyed every single one of them. However, this year we had a new experience and we're here to tell you all about it: the good, the bad, and if it is worth it or not for you to attend.
On April 22, 2022, we traveled to California to attend Adalinda's Beauty Brunch in Joshua Tree. It was our first time in one of their fashion shows and it was quite different from any other show we had taken part of.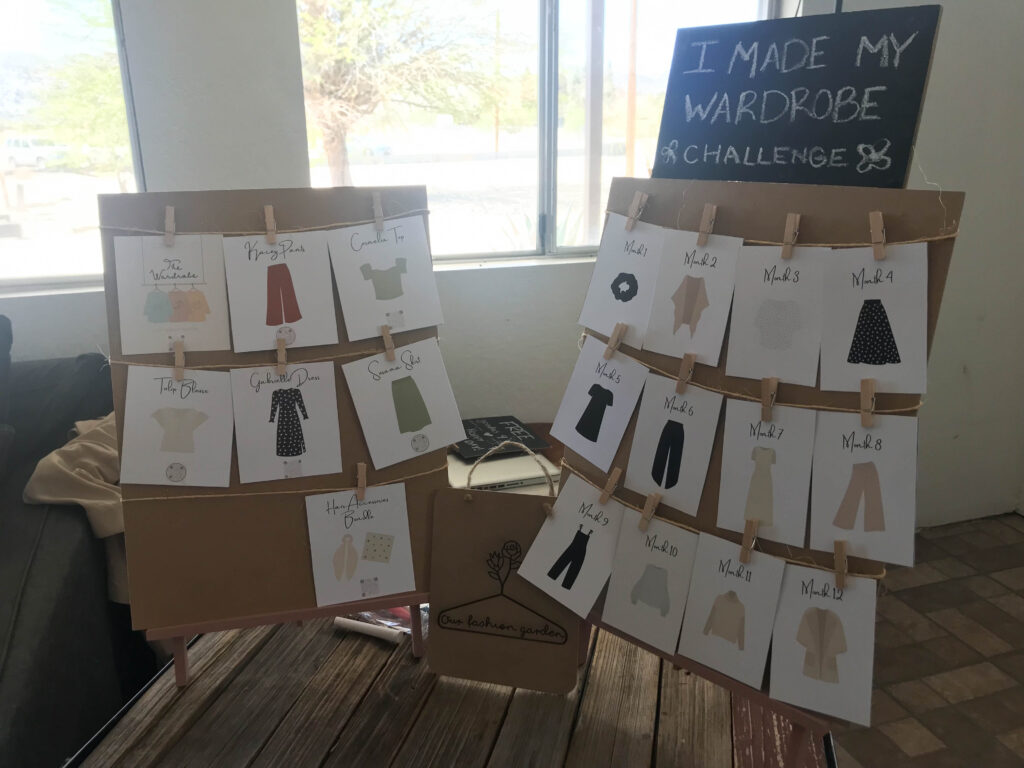 But before we start, What is Adalinda Fashion?
Who are they?
What do they do?
Adalinda Fashion is a small business that hosts fashion shows, with the intention of connecting brands with their client base. They focus on working only with sustainable brands to educate customers.
We first read about them after we were contacted by one of their employees. They invited us to the event as designers, so their "client base" could get to know more about our work.
Honestly, we were so excited to see something like this existed, an event where conscious fashion is being celebrated and promoted. Their whole idea aligned perfectly with our values as designers, so we thought, why not?
Of course, we had to consider some factors, as they invited us on March 3rd. That was only a little bit over a month before the event and we needed to find our flights, make hotel reservations, and re-schedule other plans we had.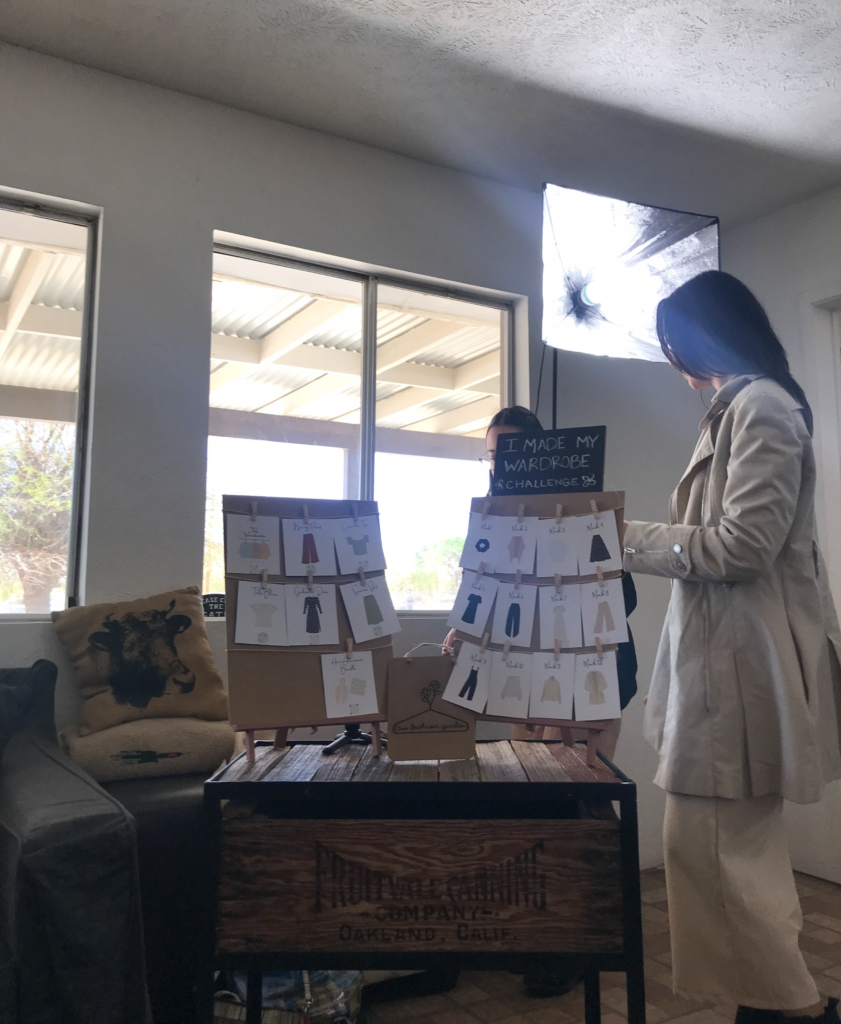 The Event's Organization
When it comes to our particular case, discussions were carried out 100% online. Therefore, we communicated through emails and zoom meetings.
The first zoom meeting took place so they could share with us more details about the event. Their employee mentioned this Fashion Show would happen during Coachella, and the theme was Beauty Brunch. This way, people could get with them for Coachella by watching a sustainable fashion show, shopping at their pop-up shop, and getting their makeup done while sipping on organic alcoholic drinks.
Apparently, they didn't exactly read what our business does as it was new to them when we told them we taught people how to make their own clothes (through eBooks & tutorials), instead of selling actual clothes. They told us they would look for the best fit for us in the event. On the same day, they offered us a table for the cost of 100 USD.
Like we previously said we make eBooks and tutorials to teach people how to make their own clothes, we put a lot of thought into figuring out how we were going to present our product, in what was supposed to be our "pop-up shop".
For a moment we came up with the idea of printing a few books, so we asked them how many people would attend, just to get an idea. They told us they were expecting about 100 people, which we thought was enough as we were only paying $100.
When we finally decided to attend, we were asked to pay the $100 fee, sign the contract, and send our logo.
After reading the contract, we found out about an important issue, and it didn't sound right to us. They never mentioned we also had to pay them 30% of the earnings we made at the event. Which represents a big percentage, in a lot of cases the brand's profit. So, you have to keep in mind that particular issue if you're planning to attend, especially if you are a small business.
On March 19th we agreed to have another call. They told us they wanted to set up a call to go through the details of the air flights and hotels, which we appreciated. So far, we were convinced about going and we had further doubts we wanted to solve out.
The call didn't take place until April 5th, which by then we had already purchased the plane tickets since you guys know flights tend to be more expensive as the dates are approaching.
It wasn't until that conference call, we found out we were not going to be on the runway. We were previously told we were getting a table, but it was never mentioned to us we were no longer part of the runway since that required a different contract. We were very disappointed after that last call.
We would have appreciated more clarity in the way they communicate, which leads us to something very important: there's a HUGE lack of communication. It seems like they assumed we knew things that were never mentioned to us.
During that last meeting conference call (April 5th) we also asked them to send us their promotional content of the event to share on our social media since we were excited to attend a sustainable fashion event as "Our Fashion Garden".
Later to this call, their attitude changed and their customer service started to become deficient to almost inexistent. We didn't hear from them for days and it became extremely demotivating.
And it wasn't until April 19th, that they finally replied to us. We were devastated to see they didn't put our name in their Eventbrite event or on Instagram. (Which was part of our agreement.)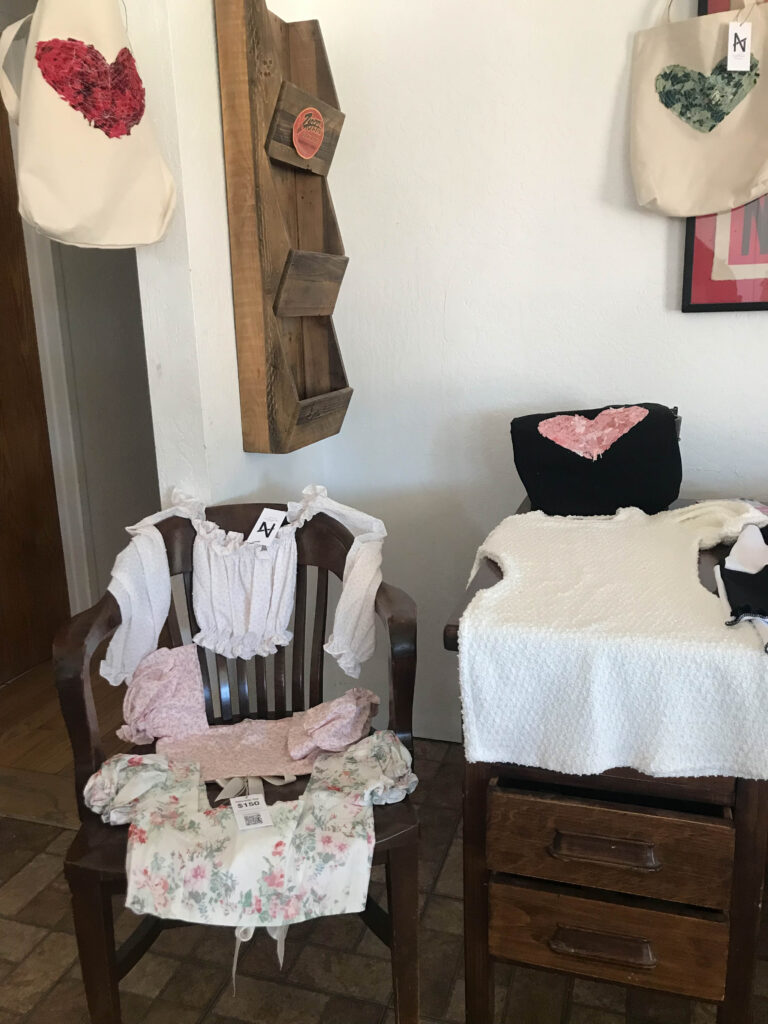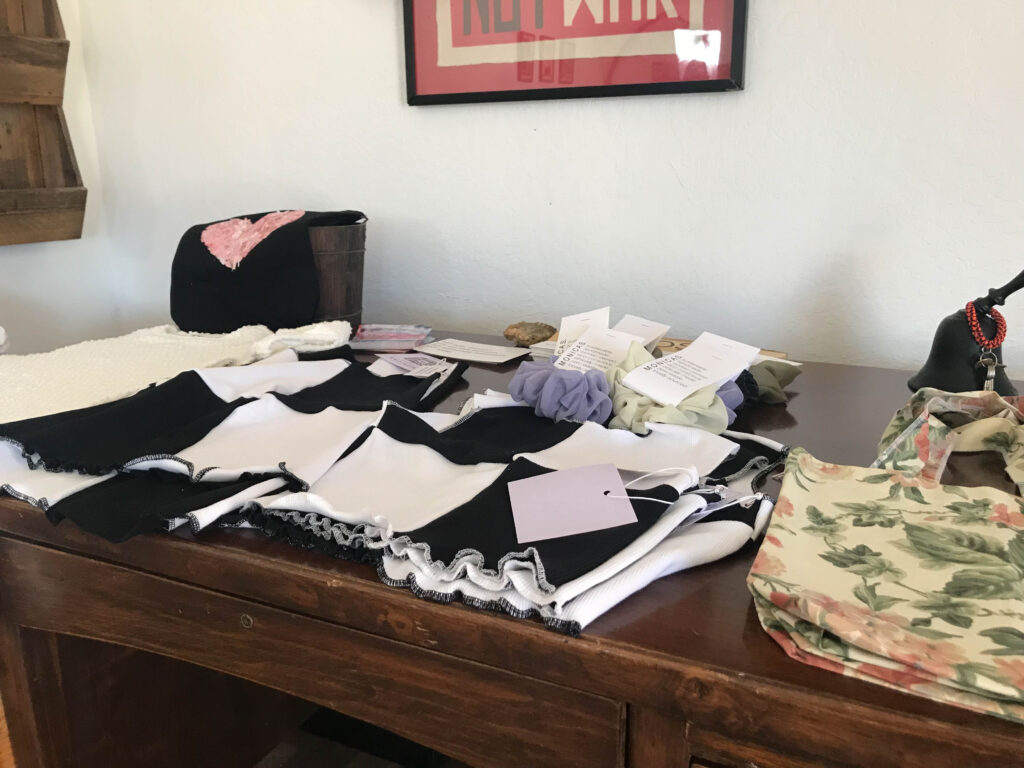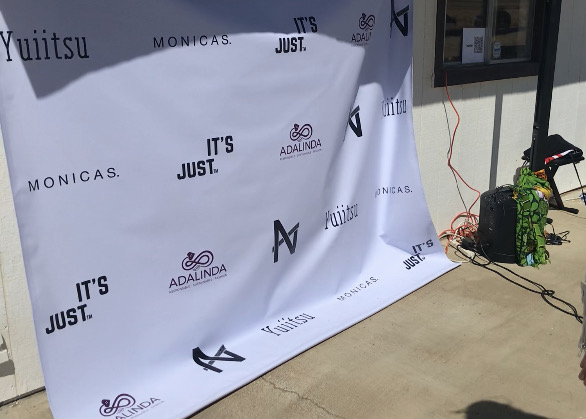 THE EVENT
In spite of feeling left out of the event, we decided to take this experience as something positive and make the best of it, but it wasn't easy. We were excited to meet the clients and connect with them. However, when the event began, we started noticing that no guests were arriving.
Before the runway, we had the chance to talk to most of the designers who attended. We can genuinely say all the designers were very sweet, talented, and friendly; it was nice talking to people who had a lot in common with us. This was the biggest perk (and probably our only from going to the event).
As the event continued, we thought we couldn't get more disappointed, but we did…
Why?
-We realized that there was a banner with all the brand's logos, except ours.
-We could only count no more than 35 people, and in this number, we are including all the designers presenting their brands, people who came with the designers, models, and Adalinda Staff. The question is… Where were the real customers? Because we didn't see any.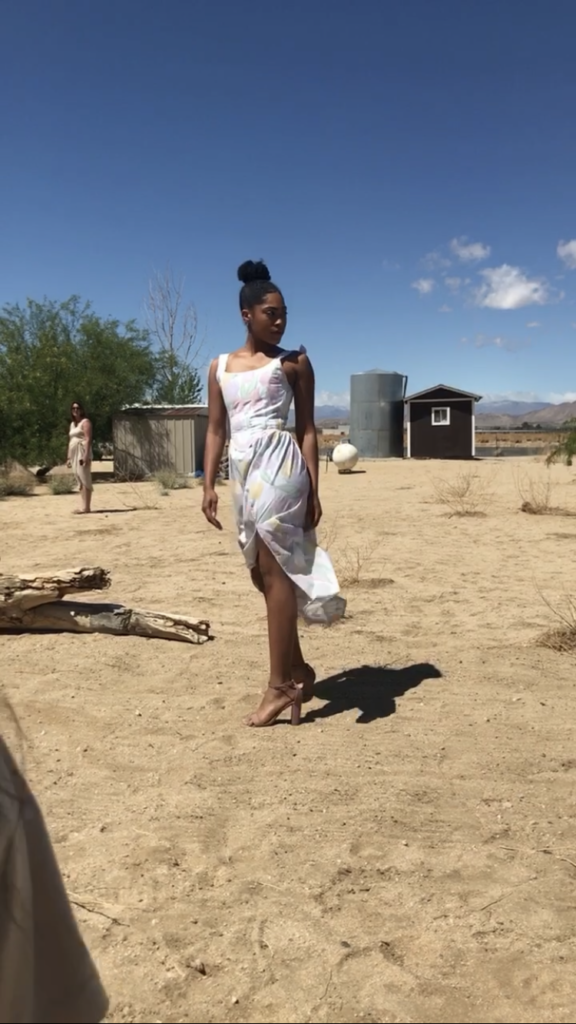 After three hours of not a lot going on at the event. Adalinda's Beauty Bruch ended, and we left feeling sad, disappointed, and excluded. This was our first ugly experience in a fashion show in 8 years. We came to the event trying to be as optimistic as we could, but being the only designers who were not mentioned in the event, didn't help at all. Honestly, we were hurt and we felt discriminated.
A day after the event, we decided to email our contacts in Adalinda who we talked to before, to ask for an explanation of why we were cut off from the banner and their marketing images, along with other concerns we had regarding the event. Like the way, they sold the event to us as a huge opportunity when it wasn´t.
In the contract we signed, they start by saying Adalinda's purpose is to connect brands with clients and that goal was definitely not achieved. That's what they told us the event was all about. We did see the brands but again, where were the clients? Where's the client base they say they have?
The only answer we got was that our name was not on the banner for "whatever reason" (the word-for-word answer we received), not responding to our doubts at all. Not even an apology, which makes us wonder, were they distracted when they made the banner? or were we excluded intentionally? I guess we'll never know.
FINAL THOUGHTS
The bright side: How could assisting an Adalinda Fashion Show help you?
-You can meet a few designers. (Networking with them)
-If you want your clothes to be worn by models, and take cute pictures, or if you want to be part of a small runway (just make sure you're being offered the right contract).
-You get to know interesting concepts of the brands that attend.
-You either get a great experience or a lesson, as we did.
-If you want to buy from sustainable brands, you wouldn't usually see in stores.
The not-so-bright side:
-Lack of potential customers. If you want to find a lot of customers and make your brand more popular, this isn't it for you.
-They make you pay an entry, but in the event, there was no control over who comes into the event. Or at least, we didn't see a security guard or something.
-Lack of transparency. They don't really solve your questions or tell you how they choose the brands that go, etc.
-Not enough communication, which leads to many misunderstandings.
-Terrible customer service once you already paid.
-They don't care about not respecting their agreements.
-This one is probably personal, but the event wasn't fun or exciting. (We actually couldn't wait to get out of there).
Is it worth it?
If you live in the city or near the area where the event is occurring and you're just looking to be on a runway and take great pictures, it is. Honestly, the fee isn't crazy expensive.
BUT
If you're looking to connect with potential customers, grow your brand, and you live far from where the event is taking place, I'm pretty sure there are better opportunities for you than this. We wouldn't recommend you waste your time, money, or energy on this event.
We are making this review because we know there aren't lots of Adalinda Fashion Show reviews out there, and we would have appreciated an honest review to help us decide if we should attend or not.
So, if you're still unsure if you should pay for this event, really pay attention to the details and don't let yourself be fooled by what they tell you the event will be. It sounds way cooler when they reach for you wanting to convince you to go. In our experience, what they told us about the event at the beginning and the reality of the event were completely different, it was like two separate fashion shows.
We learned a big lesson and we really wanted to leave Adalinda Fashion Show with a smile, but we left heartbroken. We can't do much about it as they didn't even care when we gave them the chance to explain what we interpreted as mistreatment, but we can warn others with this review.


69