Did you know 80% of women don't know their right bra size? I don't blame us, I mean, bra sizing is confusing, and I believe every woman has worn the wrong bra at least once, twice, or many times throughout her life.

But, guess what? It isn't so complicated, you just need to understand it and we're here to help you with that.
Here's how to find your right bra size at home and you only need a tape measure:
Let's start by acknowledging that our bodies are in constant change and our hormonal cycle can influence the sizing. It is very common that our size goes up when we are swollen. This means sometimes we have more than just one bra size. You can measure yourself at different times of your life to know what your bra sizes are.
STEP 1: MEASURE YOUR BAND SIZE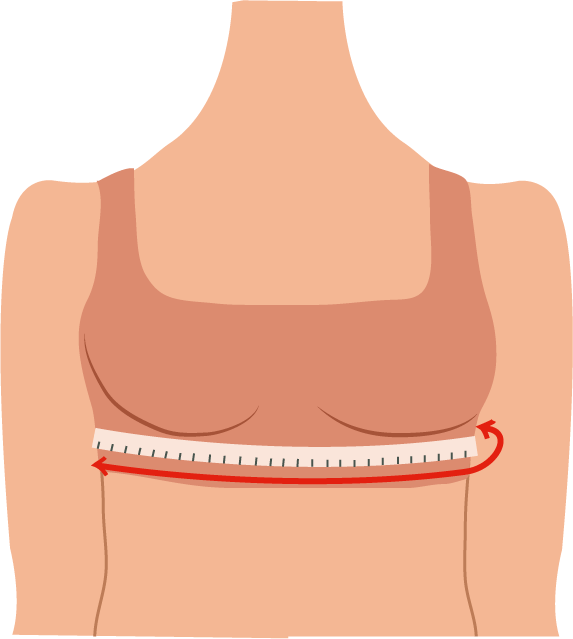 Put on a sports bra that doesn't squeeze your breast and that isn't too loose. You can also wear a regular non-padded bra that fits just right. While measuring yourself, don't wear any tops or t-shirts
Continue by measuring the contour under your breast in the most parallel way to your bra's band. Write that number down.
STEP 2: MEASURE YOUR BUST CONTOUR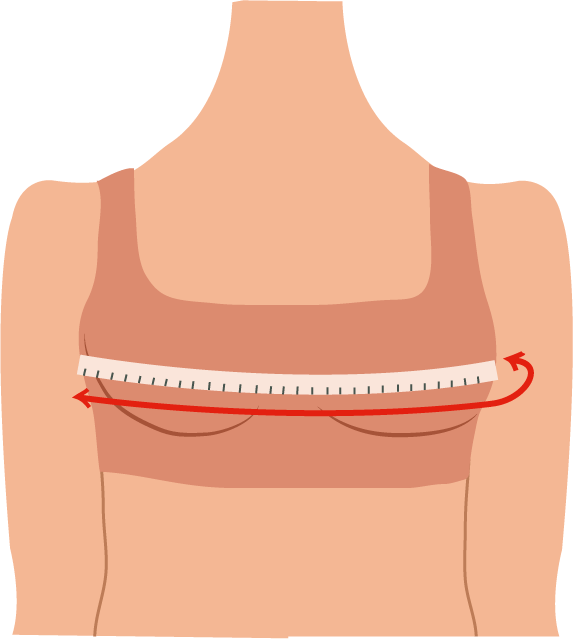 Place the tape around the fullest part of your bust. Don't press the tape measure too tight or too loose and be relaxed while measuring. Write it down too.
STEP 3: THE CUP SIZE
Subtract your band size from your bust contour measure. Every inch is one cup size up.
Let's say your band size is 34 inches and your bust contour is 38 inches. This means the difference is 4 inches, which means you would be a 34 D cup.
However, that isn't necessarily your right cup size…
Let me introduce you to sister sizes:
(or perhaps you've heard of them before)
Sister sizes fit the same size, so even if you see an AA cup or a G cup, yes it can fit you. You will probably think, that some of them are too big or too small and there's no way for it to happen, but as the band size also changes, it compensates for the cup to fit you better.
So, while you might have a lot of sister sizes, one of them will fit a lot better than the others and that depends on the shape of your bust and how wide your back is.
Following the last example, where the bra size was 34 D, your sister sizes would be the ones highlighted. (Go to the column where you find the bra size you got when you measured yourself. All of them are your sister sizes.)

STEP 4: FIND YOUR SISTER SIZE
Sister sizes are your friends here, most of them can be good options for you. But how can you know which one to choose?
Let's start by understanding how the band and cup sizes work:
BAND SIZE
The larger the band, the widest the cup will be. So, you don't have to worry, even the smallest cups can fit. The right band is the balance between comfort and support.
As you can see in the next illustration, all of the examples have the same cup size, however, the band changes. If you are very small, then maybe you should focus on the sister sizes that have a smaller band and bigger cup. On the other side, if you have a wide back, then perhaps a smaller cup and a larger band would be more comfortable for you.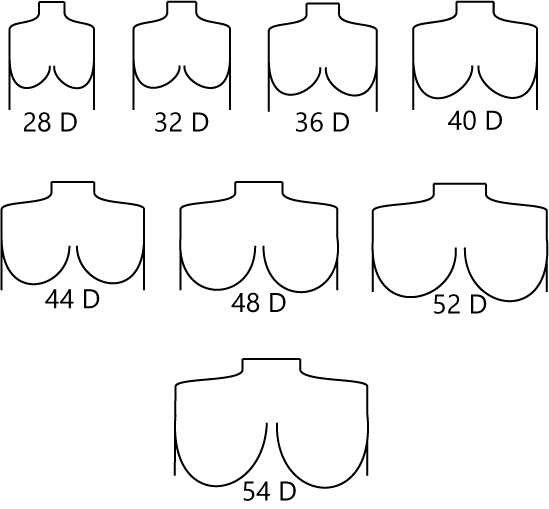 CUP SIZE
The smaller the cup, the smaller the underwire. This means that a bigger cup will offer more support and keep everything in its place. But, when it comes to a smaller cup, maybe you will find it more comfortable to wear. This depends on how much you need or want to hold in its place.
In the next illustration, you will see the same band size but with different cups. Just remember that a large cup will compensate with a small band and a small cup will compensate with a larger band.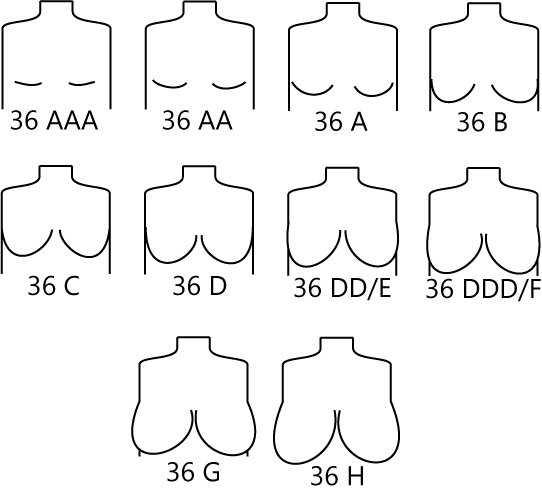 The most important thing you should keep in mind is how wide are you. You want to be comfortable, but still feel supported, so find the balance and choose by the band, rather than the cup. However, the cup can change the way your breasts look. Here's an example: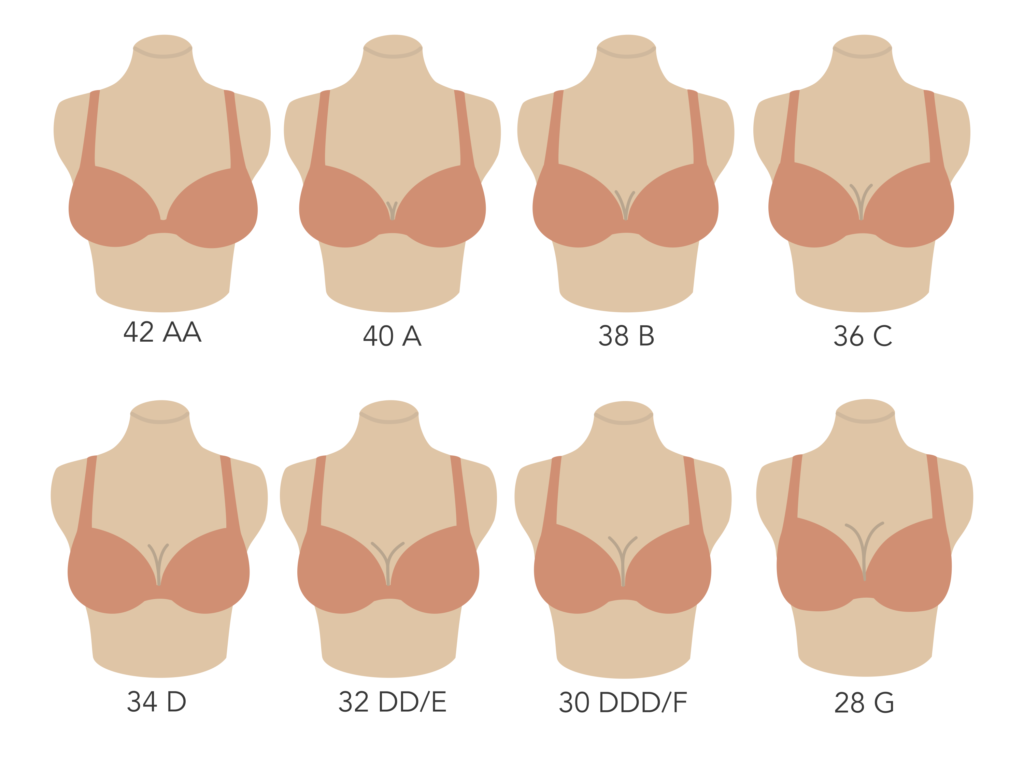 As you can see, the larger the cup, the more it can create a cleavage, but won't look as voluminous on the sides as a smaller cup would look. Of course, this won't apply to everyone, as we all have different bodies. Although, it was something we noticed when we were trying on all our sister sizes.
Some helpful tips:
Go to a store and try on all your sister sizes so you can compare and find your right fit. For better results, try the same bra (style and brand) in different sizes. This will help you notice the differences with more clarity.
Avoid purchasing online, or at least not until you know your right bra size.
Your bra should fit perfectly, so when trying them on, play with the straps and sliders until it feels right. If it still doesn't feel comfortable, try another sister size.
Your bra shouldn't be or feel loose. If it does, try a smaller band.
What if I still don't feel comfortable with any of my sister sizes?
Then, maybe you didn't try the right style or design for you. What you can do is look for another style and try it on again in all your different sister sizes. Also, you can choose the one that felt better and try it on different designs until you find exactly what you want.
Finding the right bra size is all about trying and discarding. So, don't be afraid of trying on every bra in the store if you need to.
The right bra style is something more personal, as it depends on the shape and your personal preferences. But that is a whole other topic… Let us know if you're interested in learning more about it.
We hope this guide helps you understand better how bra sizes work so you can finally find the perfect bra! It's a complex world at first, but it definitely makes a difference once you comprehend it.
---
become an official member of our club!
We would love you to be part of our community. There are monthly freebies, giveaways, weekly tutorials, and other secrets we only share with our insiders!
join at the end of the page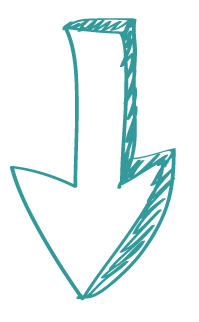 58