Did you know most of the cleaning products out there are made with harsh and toxic chemicals? Sadly, using them have health consequences for us. We're being constantly exposed to chemicals that promise they will clean our bathrooms, floors, and kitchens. Not to mention most of them are not even good for the environment, I mean, if they're not good for our health, neither for the environment. 
We recently discovered the brand KOALA ECO that makes almost any cleaning product you can think of but in a natural not harmful way.  They offer high-quality cleaning products made of certified ingredients and just to make things better, everything is packed in recycled bottles and you can purchase a refill, which means: less waste. 
*KOALA ECO kindly gifted us a few of their products so we could try them for ourselves. *
Kitchen Cleaner
This is a multipurpose Kitchen Cleaner that smells like mandarin and lemon. It seriously smells so good and leaves every surface clean, smooth, and shiny. It cleans marble and steel, so it will leave your kitchen counter and stove looking brand new. I am not exaggerating, it really does the job.
You can use it to clean your refrigerator, dishwasher, microwave, and every area where you prepare food. It quickly cleans and kills germs and bacteria and the formula is biodegradable. It's a 10/10.
So far, we've noticed they do the same job as other harsh cleaners, even better. I think this is a product we can actually recommend! You can get it here.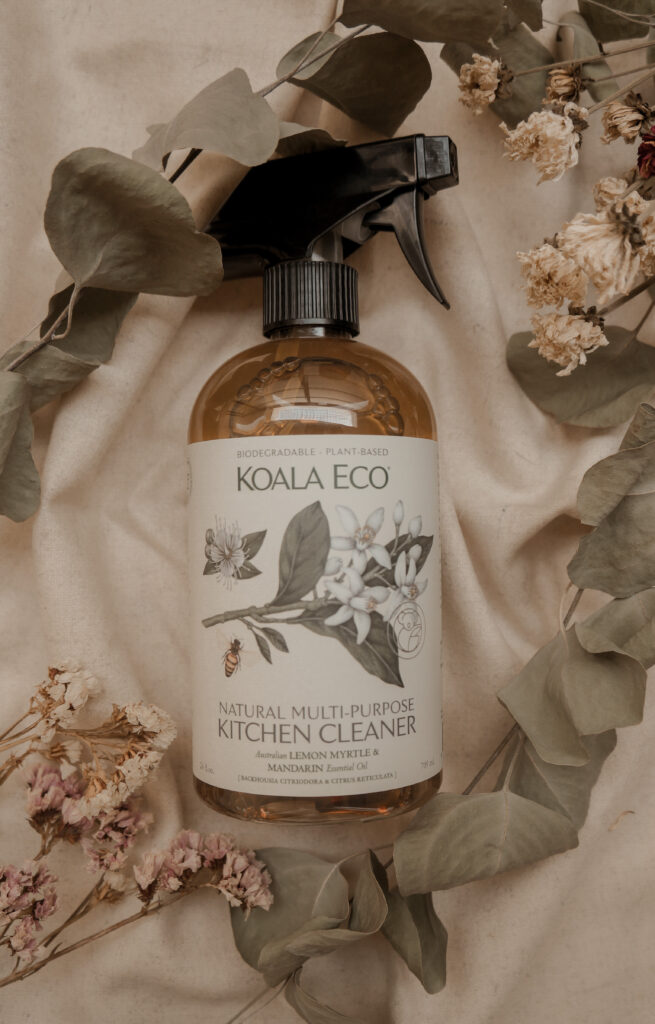 Floor Cleaner
This floor cleaner smells like peppermint and it leaves the rooms of your house smelling fresh and lovely. Something to consider is that if you like very strong smells, this won't be for you. The smell is subtle, so it doesn't last long, but when it comes to cleaning it does the job for sure. You can get it here.
You can use it over any surface, so it will clean from marble to wool. Isn't that great?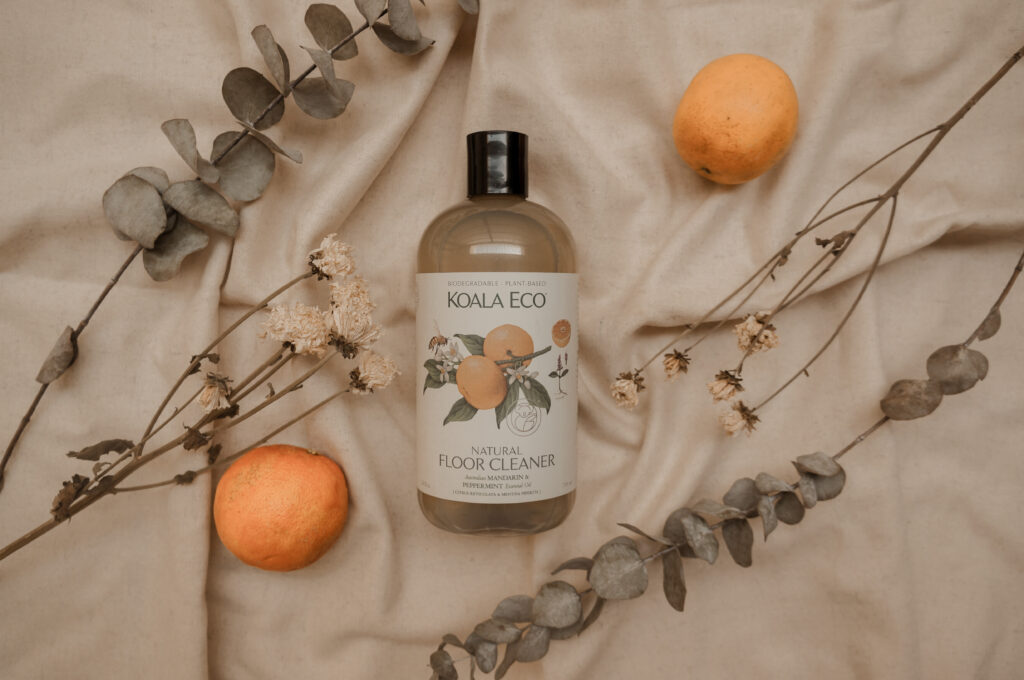 Fruit & Veggie Wash
I honestly love how this smells, it has a mandarin scent that is simply delicious. I think the smell of all the products was overall something we really enjoyed. The fragrances come from locally searched Australian essential oils. 
I've been using this a lot, since we eat a lot of fruits and veggies at home and a little goes a long way, so I recommend it too! At least it is better than using dish soap or the little drops you put into your greens. It doesn't leave your veggies tasting like soap or mandarin, so don't worry about that. You can get your fruit & veggie wash here.
Do plant-based cleaning products are as good as the average cleaning products?
When it comes to KOALA ECO I think these 3 products we tried do the job perfectly.
Just imagine not having to wear gloves when you clean because they won't be aggressive on your skin. That says a lot.
The truth is I don't know what we were doing before KOALA ECO came into our lives and I don't understand why we purchased harmful cleaners instead of this. So, I think there's no going back. I love their natural products, I love that they are sustainable, I love their quality. 
What about their prices? Are they affordable?
Definitely. A bottle of 500 ml is about $13.95 AUD, which is around $9.62 USD. Not to mention they do last a while as you just need a little bit of product to do the job. 
The refills are a bit pricier, they are about $30 AUD ($20 USD) but it contains 3x refills in a bottle, it is concentrated. 
Thank you KOALA ECO for gifting us your amazing products, we truly loved them! Don't forget to check out their other products here.
34