Timeless, classic, and feminine!
You're going to fall in love with this skirt, I promise…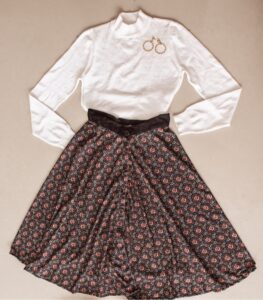 Disclosure: This post may contain affiliate links and we may receive a commission if you purchase through them.
One day I was looking for inspiration on Pinterest and saw a gorgeous floral midi-length skirt, I immediately thought it would be a great project to try. And since I didn't own any skirt like that I decided to make one myself. It's simple and fast to sew, plus it looks gorgeous on so many outfits, and no matter the weather it can be worn.
Therefore, I want to show you how to make your own midi skirt, which you'll be able to personalize as you wish. That's the beauty of #MeMade garments?! Made to your specific needs and measurements.
It's very common to find this type of skirt in linen or very thin materials, like organic cotton or silk. You can choose whatever you want to create that perfect skirt, from printed fabric to solid colors. I recommend, like always, a sustainable fabric option (organic cotton, linen, recycled cotton) but you can use whatever adjusts to your budget.
I had this leftover floral fabric, which I'll be using, but you can buy some from an ethical supplier, reuse what you already have at home, or buy one second-hand.
LET YOUR CREATIVITY FLOW!
Some suppliers for sustainable fabrics we recommend are:
Materials
2 meters of Fabric (look for a fabric with a wide edge, so the length of your skirt will fit. An example: 1.50 mts or more in width)
5-6 buttons
Thread
Measuring tape
Fabric Scissors
Pencil, clay, a piece of chalk, or a washable fabric marker
Sewing Machine
*You can do it by hand, it will take longer, but it's possible because there are not many steps to follow.
If you're planning on getting new sewing supplies or maybe you're getting them for the first time, we recommend you check MadamSew's online shop. In there you'll find everything you need, from scissors to seam rippers. Get your basic sewing tools right now!
Let's get started!
Measurements you'll need
WAIST (measure your waist at the thinnest point but don't tighten the tape to your body, let it a little loose so the skirt won't squish you)
SKIRT LENGTH (measure the length you'll like it to be, from the waist down)
*Midi length is supposed to end between your ankle and your knee.
Other measurements to consider for the patterns:
Waistband width: 10 cm
Waistband length: waist + 8 cm
Placket: 5 cm (width)
Seam allowance of 1 cm
Hem allowance 2 cm
Tracing the Skirt
You won't need any type of paper to make the molds, we'll do it directly in the fabric.
To begin tracing your skirt you'll need to fold your fabric's width in half.
Place it like this, to achieve a 90º angle. This 90º will determine how many flares the skirt will have.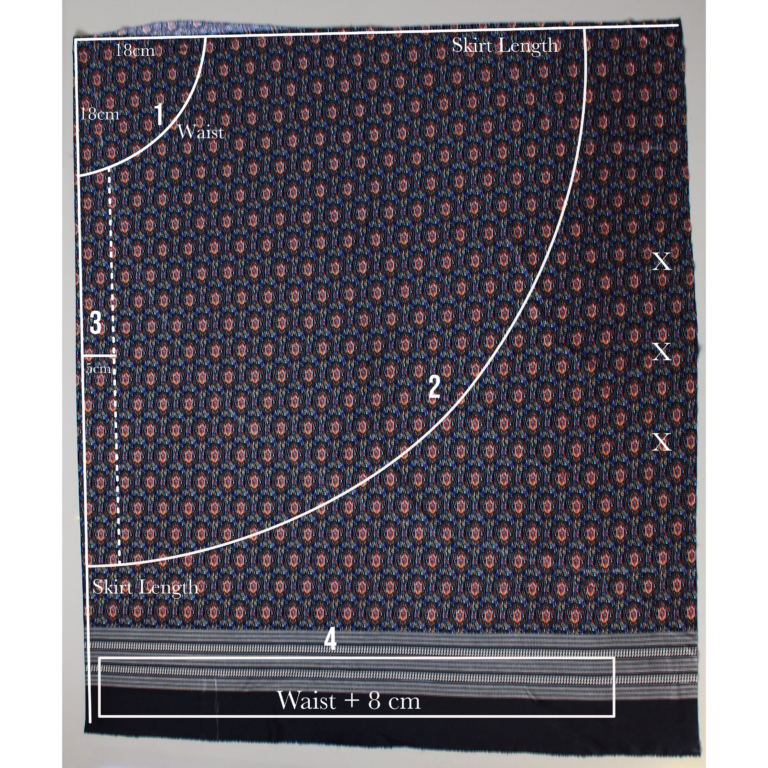 *The Xs means where the fabric fold should be.
Step 1. Trace a small curve.
From the top left corner go down 18 cm, mark it with your pencil/chalk, and from the top left corner move to the right 18 cm and make a mark as well. Connect those marks with a curve. (You can make another mark at the center, just measure 18 cm in diagonal and mark it).
This line is for the waist. To make sure this will fit you, measure that curved line, multiply it by 2, and compare it to your waist measurement.
For example, my waist measurement is 66 cm and the measure of the curved line is 80 cm. This last measurement should always be bigger. If it isn't, add a few centimeters to the 18 cm mark you previously did to try and make the curve longer, until the total measurement is at least 10 cm bigger than your waist measurement.
Step 2. From that curved line (waistline), add your skirt length measurement, in my case is 70 cm. Add it to both sides, vertically and horizontally, and mark both points.
Joining those points trace a second curved line. Following the shape of the waistline.
Step 3. Now, you'll mark a 5 cm wide placket on the left side. Trace that line with the chalk, this will help you sew it easier.
*This is why it needed to be 10 cm larger than your waist measurement because it will need to include this placket measurement. This will save us time to make another step of attaching a separate piece.
Step 4. Finally, you'll trace a rectangle of 10 cm in width and in the length of your waist measurement + 8 cm. This is going to be your waistband, we just need one piece.
Step 6. When all your pieces are marked, you can start cutting following the lines. You should have something like this. 2 pieces for the skirt and 1 piece for the waistband.
*The waistband piece looks a bit curved in the photo, but it shouldn't be.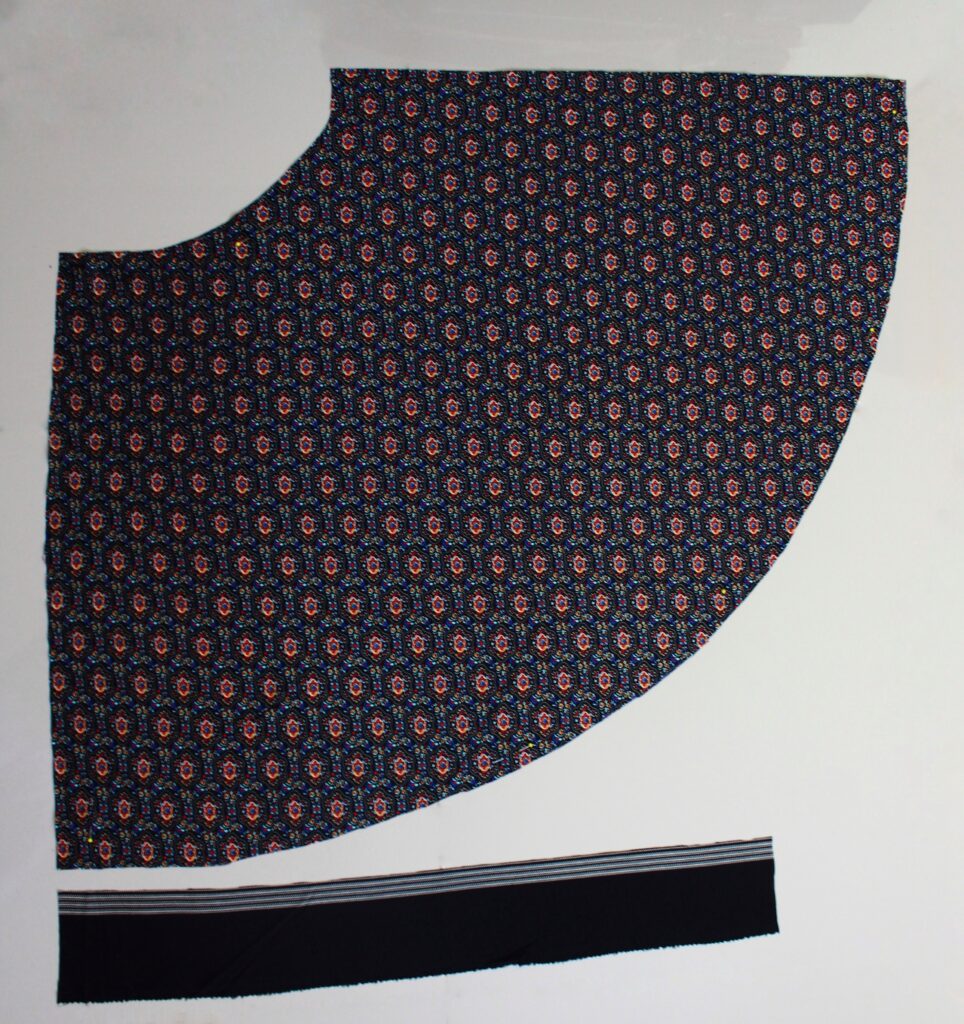 Step 1:
Start by joining the top parts facing both right sides of the fabric together. The right side is where the print is sharper. This seam is going to be the backside of the skirt. If your fabric allows it you can leave it unfinished but if you need it, use the zig-zag stitch to finish the edges. Mine allowed me to leave it like that.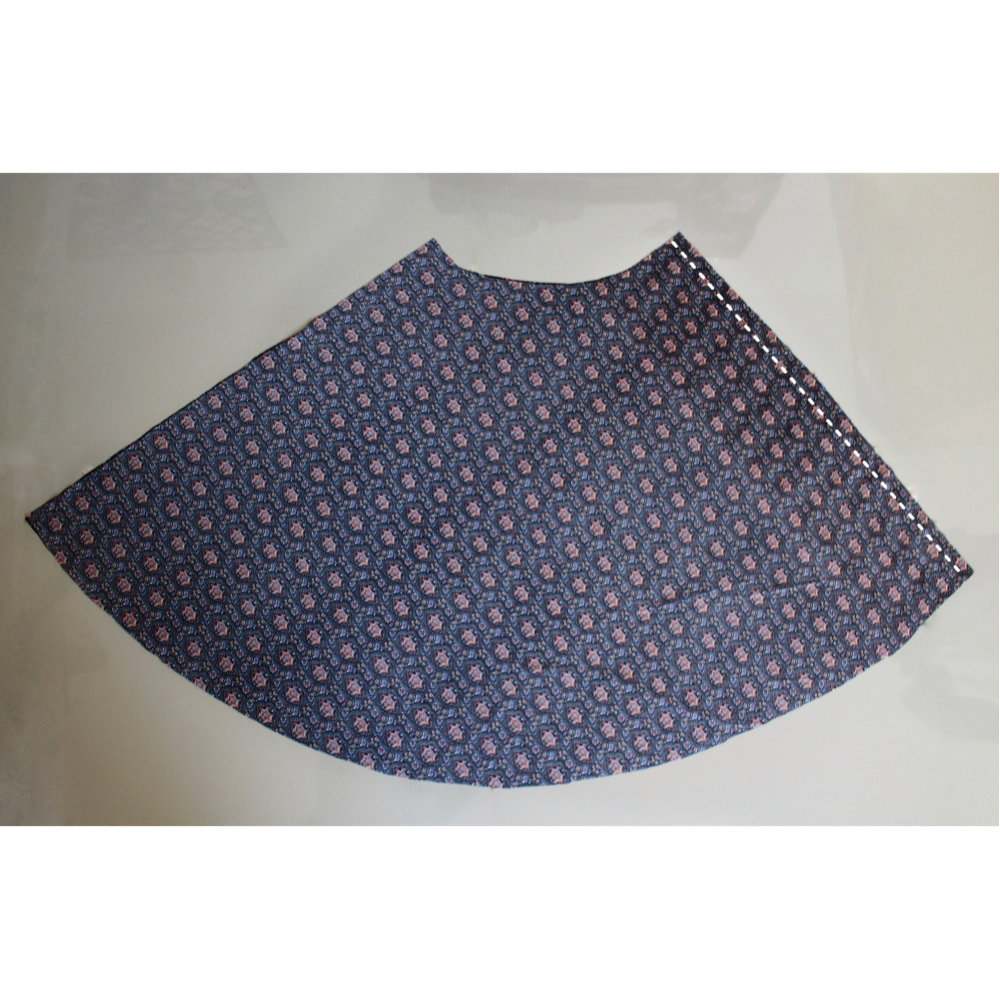 Step 2:
Fold the seam allowance to the wrong side and press. Then fold again 2.5 cm, dividing the winglet or button band in half, and sew it in place. You can add a parallel second topstitch to make sure it stays in shape. And repeat the same process on the other side of the skirt (the other placket).
You should have these two stitches along the whole placket.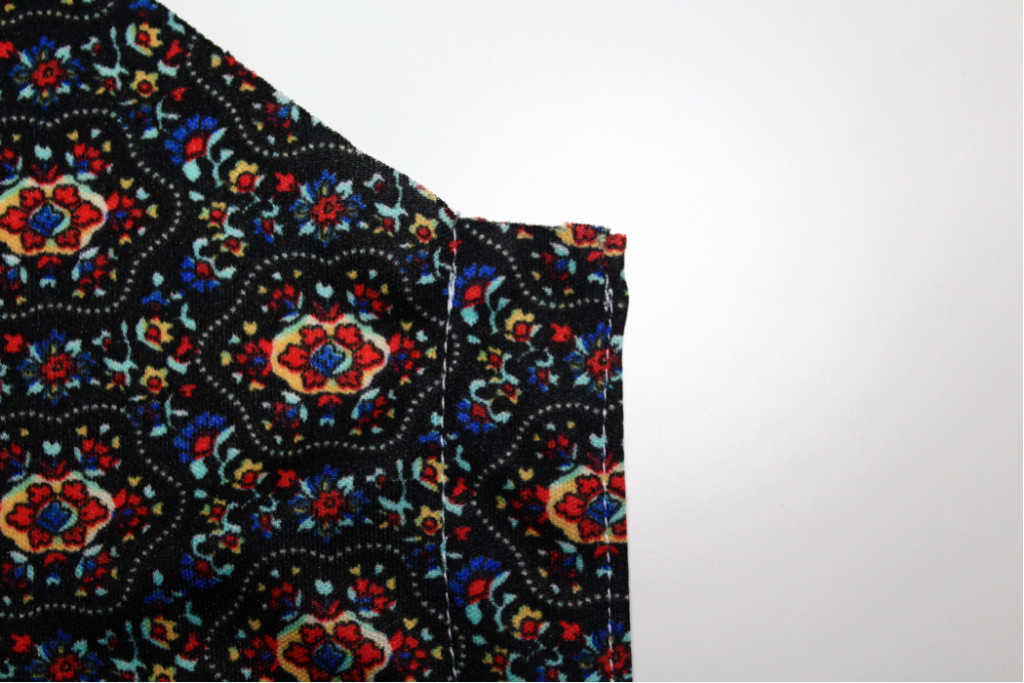 Step 3:
To prepare the waistband fold it in half, length-wise, and sew the edges (short sides). Good sides of the fabric together, like this… 
I pinned it and then sew both short edges.
If your fabric tends to fray I recommend you make an overstitch or a zig-zag stitch to all the edges, before sewing it.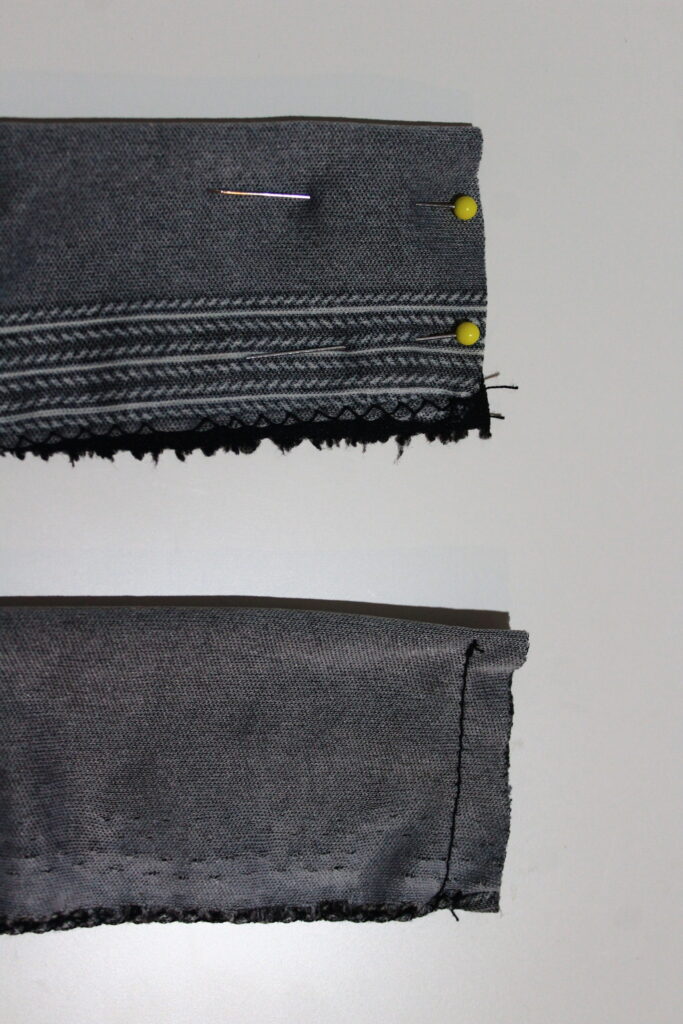 Then, place the edge of the waistband with the edge of the skirt and pin it.
Sew one side of the waistband with the skirt, right sides together.
Then wrap the stitch you just made with the other side of the waistband and sew it there. This will keep the waistband in place.
Pin it and sew following the dotted line.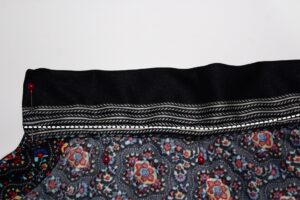 Step 4:
Make the hem of the skirt. Fold 1 cm in and then 2 cm to hide the raw edge.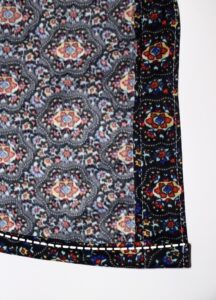 step 5:
Finally, make the buttonholes on the right placket, and attach the buttons on the left placket. I recommend making the buttonholes first so you can mark where the buttons will be after.
You can do this with your sewing machine if it has the option to do buttonholes, but if your's don't have it there are a lot of tutorials on how to sew them by hand.
And… we have a tutorial on another blog on how to sew a button correctly.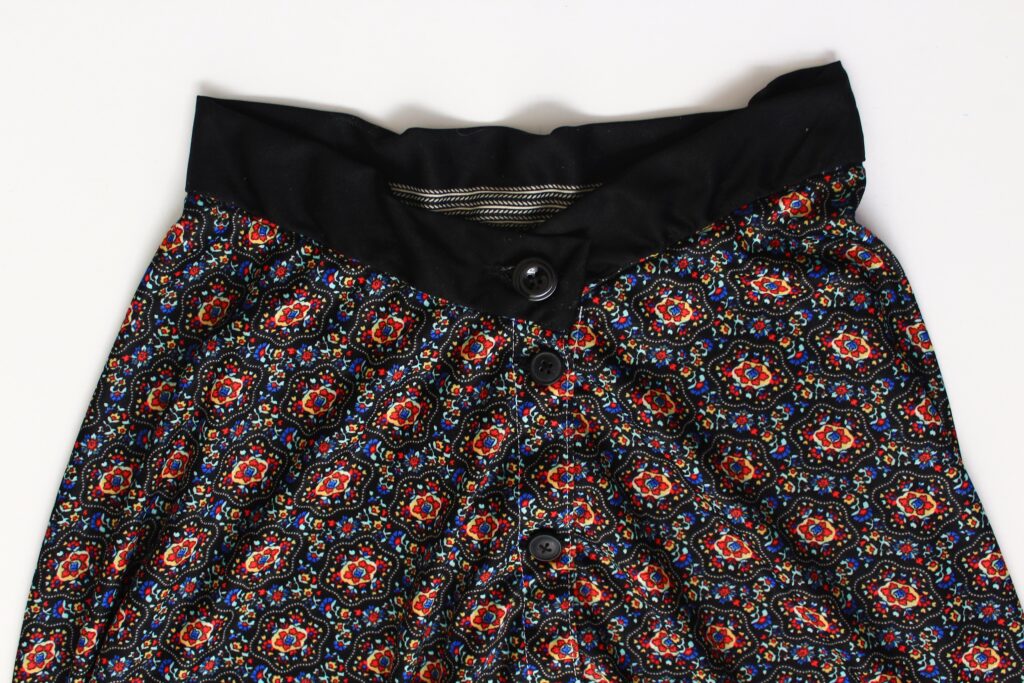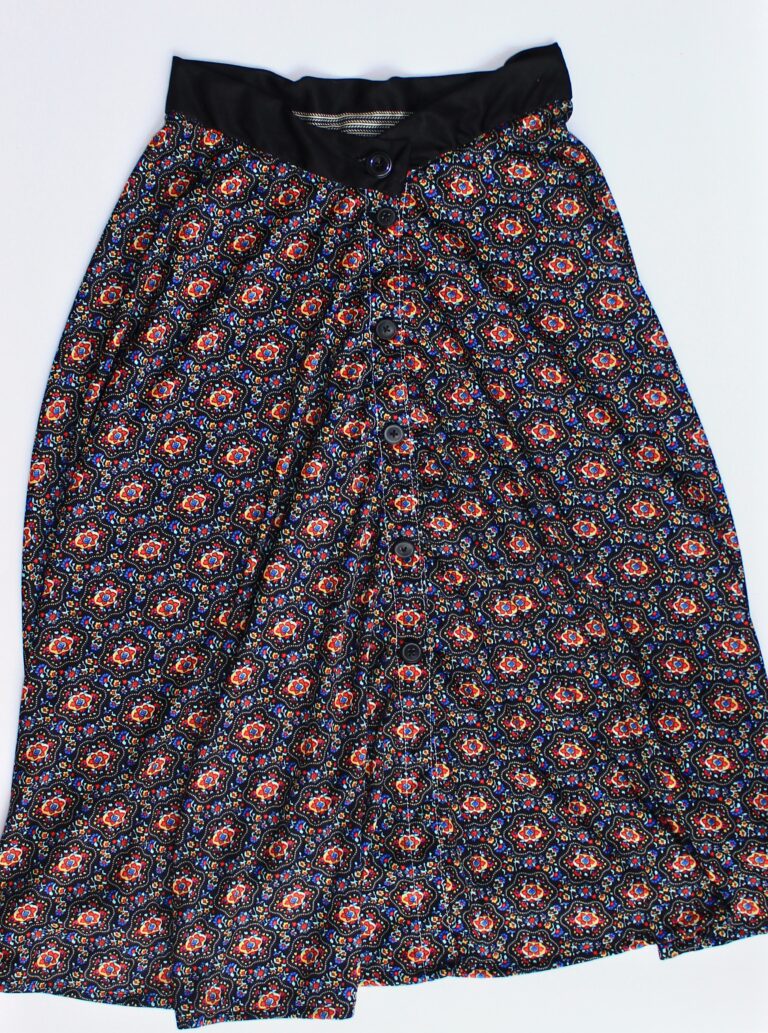 and that's it! you have a timeless midi skirt.
The only thing left for you is to try it on and style it as you wish, based on your personal style. Create outfits with what you already have in your wardrobe, there are so many ways to combine this skirt.
 By making your own clothes, you're reducing the impact on the planet. You reduce the amount of CO2 emissions released, packaging residue, and more. That's another great reason for you to fall in love with a wardrobe made by yourself. And of course, it can adjust to your budget! Since you're only paying for the supplies, perfect isn't it?
I love this kind of skirt so much I even made a second one. Take a look!
Hope you love your new skirt, if you try this tutorial please let me know in the comments.
I would love to see your perfect skirts! You can share a photo of it through Instagram DM.
And don't forget to SUBSCRIBE at the end of the page! We would love to have you join us and enjoy the freebies we have for you.
-Dani
5