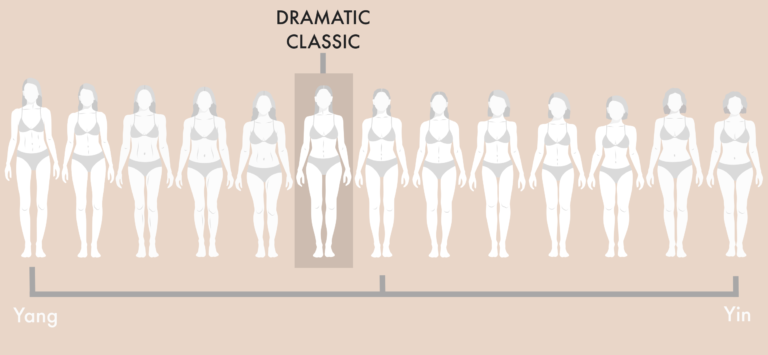 Dramatic Classics are mainly Classics, balanced YIN and YANG, with YANG bone structure. They have an angular frame with classic body flesh and facial features. They can also have a balanced/ moderate body structure with YANG flesh or facial features. On women, the body can have an hourglass silhouette and in men it looks like an inverted triangle. 
When gaining weight, they collect it in their hips and tights, rarely on the bust line. When gaining weight it can be very obvious. Their body shape transforms into a "pear shape" the more weight they gain. Men loose definition on their shoulders gaining weight on their abdominal area and looking more "squarish."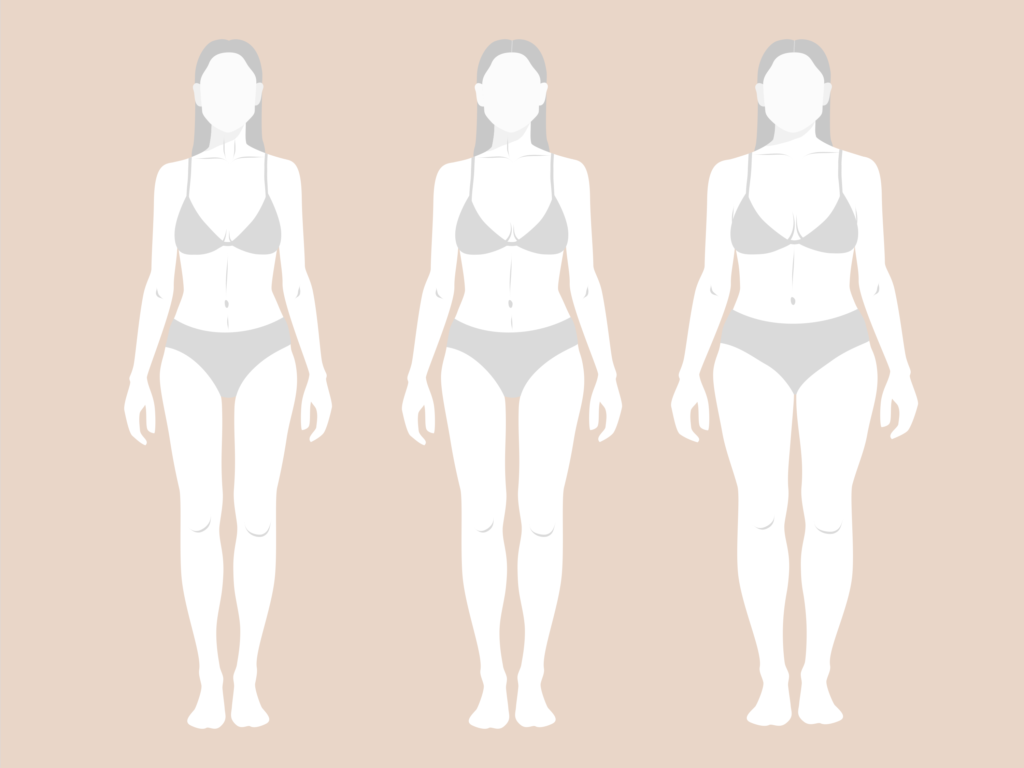 Characteristics of a dramatic classic:
​​Moderate height, but can be slightly on the taller side.
Can look a little muscular in their ideal weight.
Legs and arms tend to be longer, but not necessarily.
Tapered shoulders and somewhat square, but narrow.
Sharp or square face. 
Moderate, blended (yin/yang) facial features.
Small waist in proportion to bust and hips. 
Their silhouette can look straight if they are too skinny.
You're not a Dramatic Classic if you:
Have very contrasting facial features.
Have very delicate bone structure.
Have narrow and straight hips.
Look or are petite.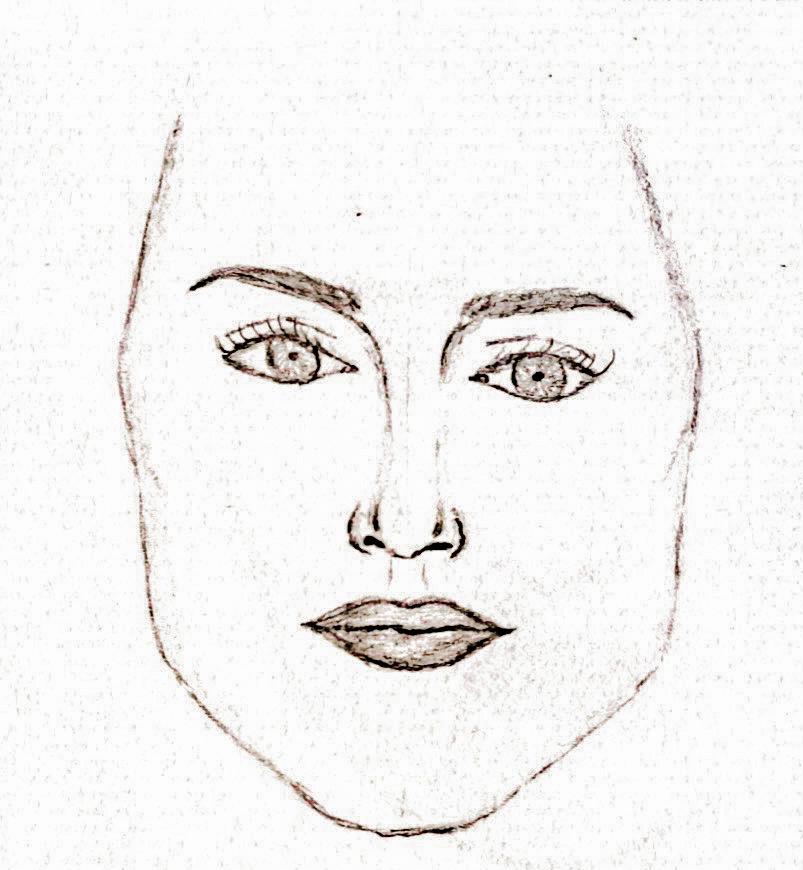 Example of an average dramatic classic face.
Dramatic Classic Celebrity examples:
-Jackie Kennedy, Olivia Munn, Phylicia Rashad, Diana Rigg, Maggie Siff, Lizzy Caplan, Jill Biden, Jane Wyman, Maria Shriver, Courtney Cox.
Dramatic classic men celebrity examples:
David Beckham, Ryan Gosling, Justin Timberlake, Cary Grant, Ralph Fiennes, Shawn Mendes.
Dramatic Classic dressing lines
Disclaimer: These are only David Kibbe recommendations, this doesn't mean this is the way you should dress to look good.
The dramatic classic dressing lines should be sharp, tailored, and straight. Classic and timeless shapes look great on you, as well as structured silhouettes. Square and v-necklines. High-quality fabrics that aren't too lightweight or too heavy. Neutrals and deep colors with high color contrast in your outfits.
Fabrics and materials:
-High quality fabrics that keep their shape.
-Moderate materials. 
-Classic prints.
shapes and overall outfits:
Clean symmetrial outfits.
-Tailored cuts.
-Waist definition.
-Symmetric garments.
Tops for dramatic classics:
-Turtlenecks.
-Tailored blouses.
-V-necklines.
-Asymmetric pieces and angular.
-Clean cuts.
-Sharp, squared necklines.

Bottoms for
dramatic classics:
-Simply and tailored.
-Clean and sleek.
-Elegant.
-Straight leg.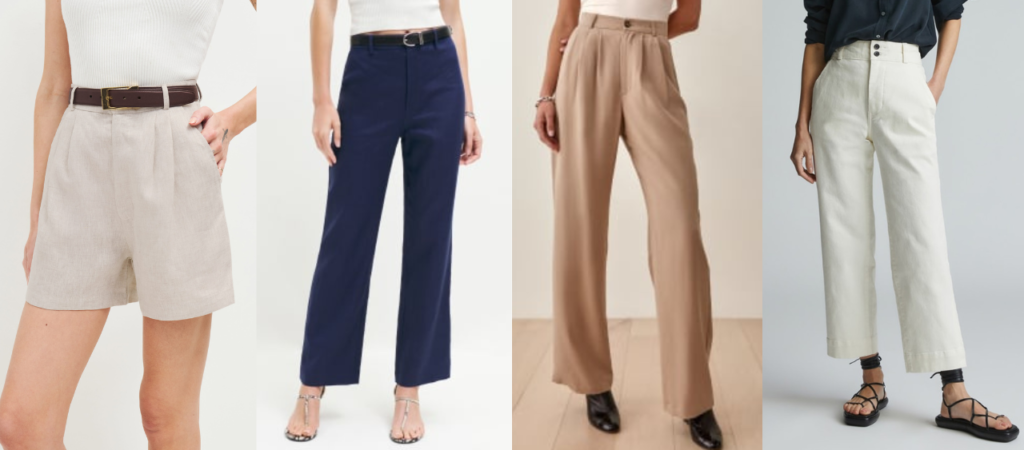 Skirts for
dramatic classics:
-Straight.
-Narrow.
-Slits.
-Below the knee length.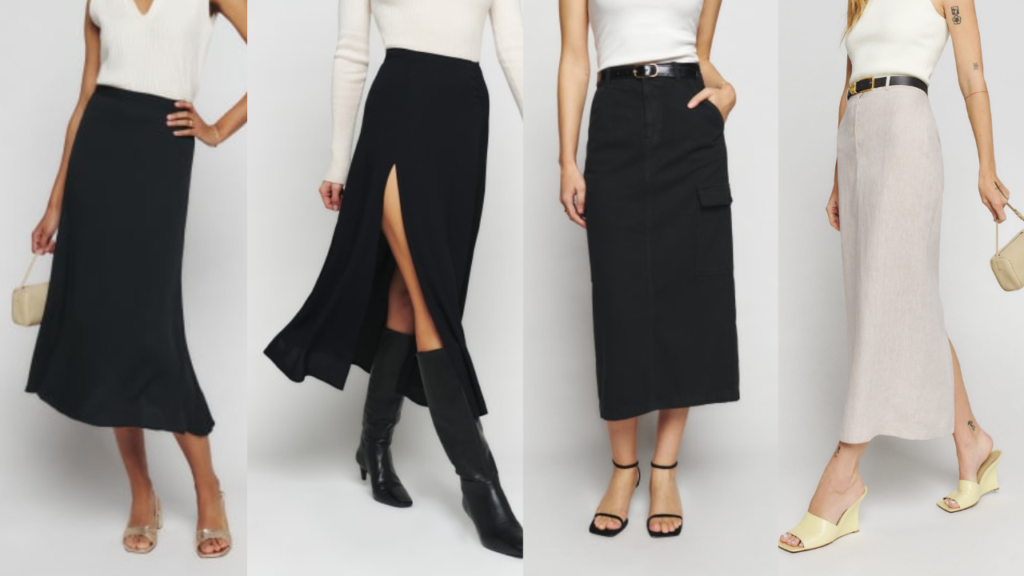 Dresses for
dramatic classics:
-Sleek and tailored.
-Coat dresses.
-Sculpted shoulders. Optical focus on the shoulder. 
-Moderate length.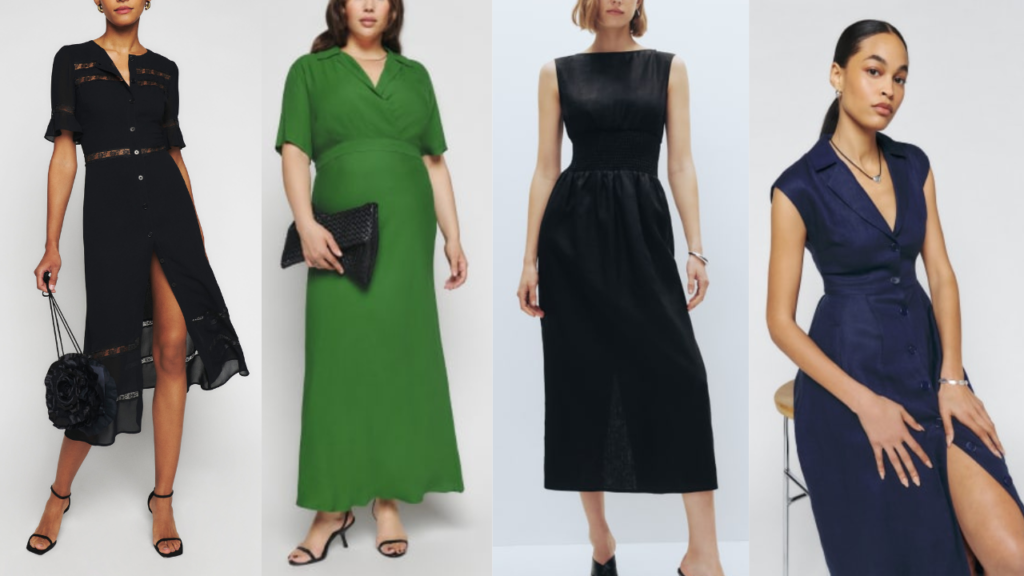 Sweaters for
dramatic classics:
-Lightweight knits.
-Thin rib knits.
-Slightly long.
-Long cardigans with shape.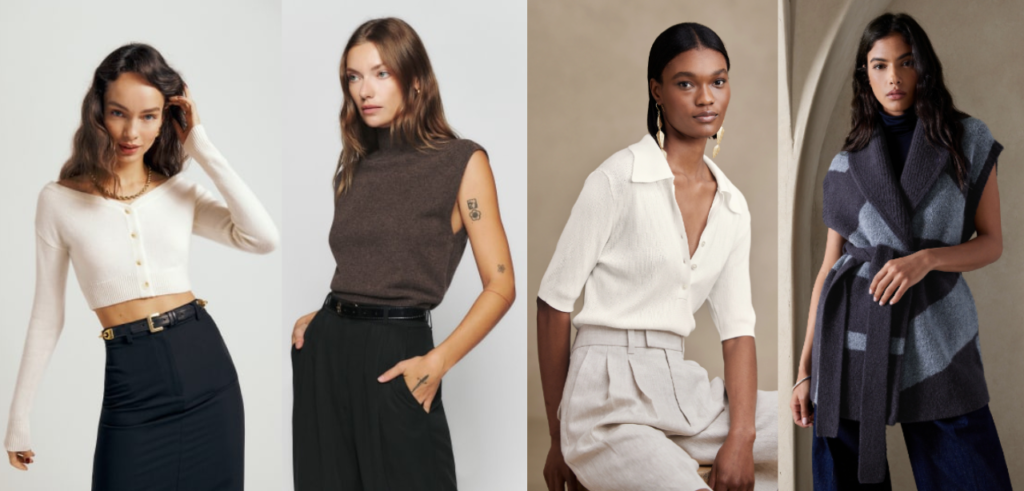 Reformation / Banana Republic
Outerwear for
dramatic classics:
-Jackets should be crisp and tailored.
-Double-breasted.
-Sharper shoulders.
-Longer length.
-Cropped streamlined jackets.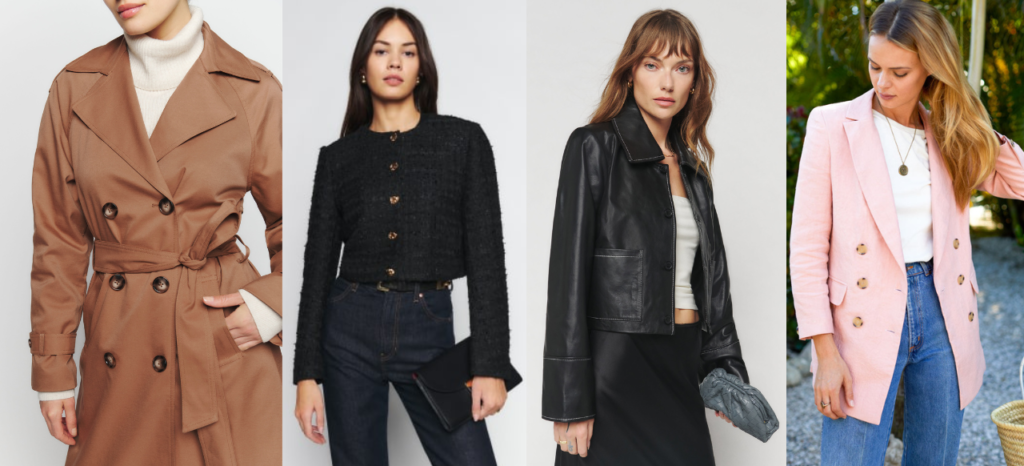 Reformation / Emerson fry
hair, makeup & accessories
*While we recommend to complement your outfits with your hair, makeup, prints & accessories based on your essences, you can apply your Kibbe suggestions. This is really up to you, but when you incorporate your essence blend you end up with a most authentic style that feels more like you and is unique.
Hair for
dramatic classics:
-Sleek hairstyles.
-Sculpted.
-Moderate to shorter length.
However, these type of hairstyles won't look good on every dramatic classic person. 

Behind the chair / Enchanted life / elle / olivia Munn
makeup for
dramatic classics:
-Smokey eyes.
-Slight contour.
-Matte.
-Bold lips, red tones might work great.

Allure / Beauty crew / WireImage/ Zoe Saldana (Getty Images)
Of course, just like the hair, it depends on your essences and seasonal color. Some might look amazing on these, but others will feel like wearing a costume.
shoes for
dramatic classics:
-Narrow.
-Angular and tailored as everything else.
-Two toned.

Vivaia / Reformation /
Nisolo
Accessories for
dramatic classics:
-Crispy bags or structured.
-Envelope clutches.
-Moderate size.
-Belts of contrasting colors with geometric buckles. (not too bold)
-Sleek, elegant and slightly chunky jewelry.

Reformation /Rothys / Aurate / Fashion activation
Patterns & prints for
dramatic classics:
-Geometric.
-Stripes, zig zags, and sleek asymmetric prints.
-Color contrast.
-Slightly oversized patterns.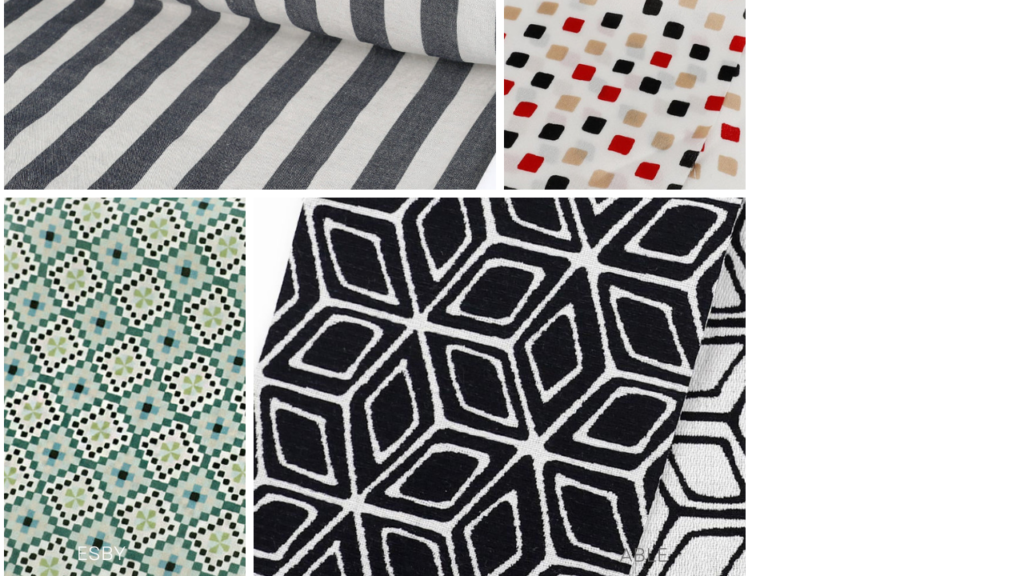 What if I am a Dramatic Classic but I don't feel like I look good on these lines and clothes?
Chances are you have the body type, but you don't have classic essence. This means, you should mantain the structure of your outfits based on your Kibbe, but follow the rest based on your essences.
Casual outfits for dramatic classics:
formal outfits for dramatic classics:
gown outfits for dramatic classics:
Brands we recommend for dramatic classics:
Not sure what your Kibbe Body Type is?
We can help you with that!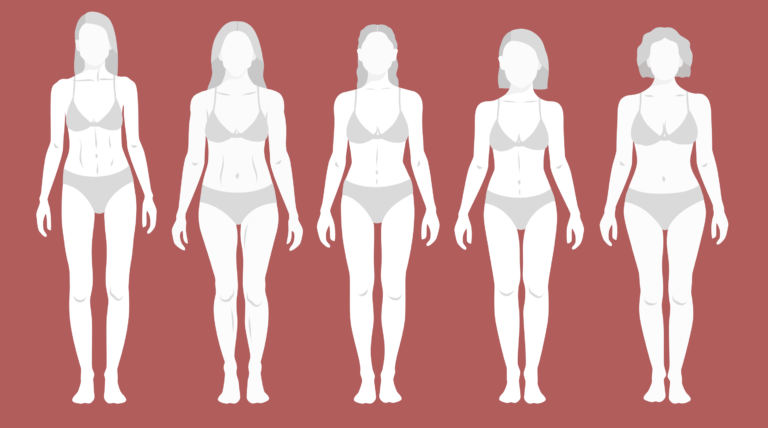 In the end, you can do whatever you want with your style. We always recommend using David Kibbe's tips as a base and create a style around your essences and seasonal colors. 
If you have any questions feel free to comment and let us know!
66