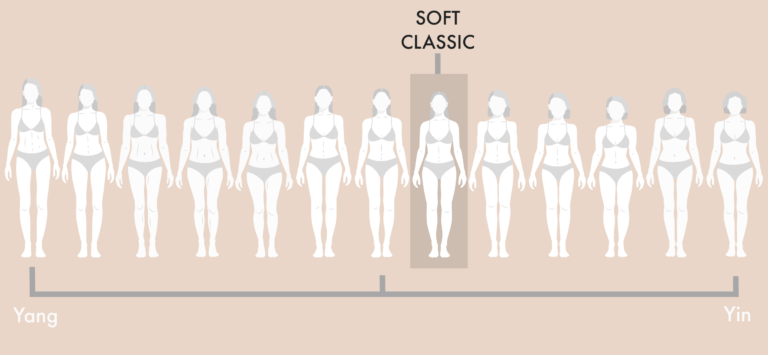 Soft Classics are mainly Classics, with YIN undercurrent. They have a balanced, hourglass figure with soft, rounded features. They often have a medium height and a softness to their overall appearance. Their facial features are typically rounded, with soft cheeks and a slightly rounded jawline. Their bone structure is moderate and can be delicate, and their overall body shape is balanced and proportionate. 
When gaining weight, a Soft Classic's body becomes very soft and the face becomes fleshy. The waist loses its definition, but they gain weight evenly in the bust and hip areas. When it comes to men, they loose their T shape and their body becomes square-ish.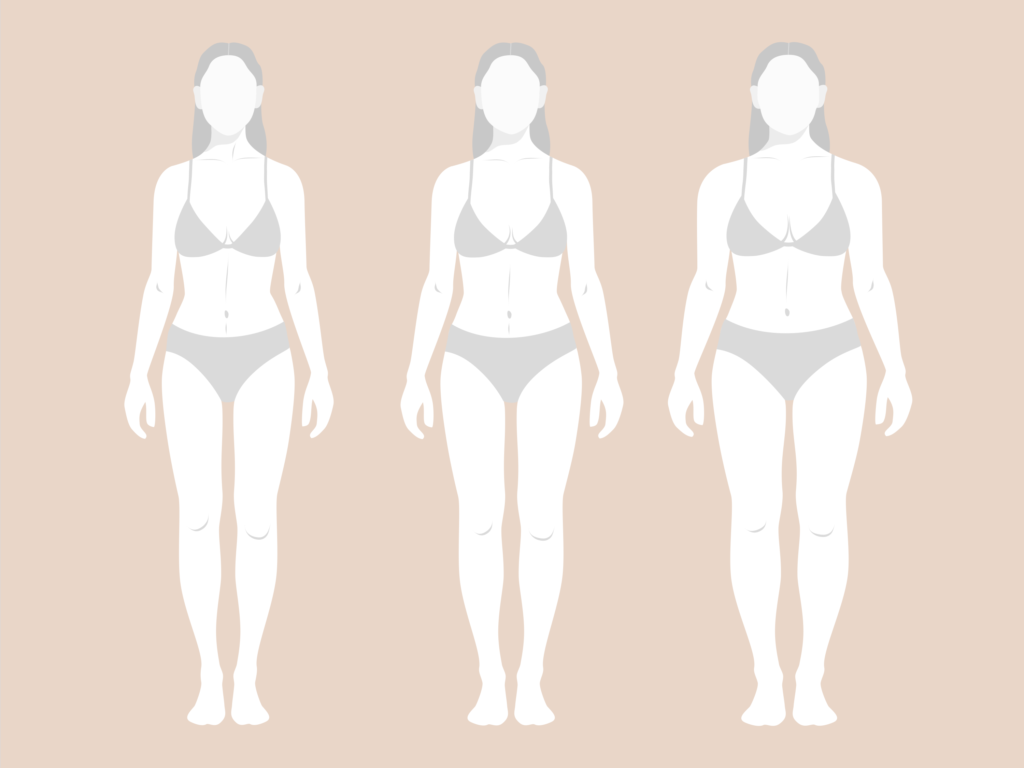 Characteristics of a soft classic:
​​Moderate height, neither short nor tall.
Slightly fleshy body.
Symmetrical with round edges. 
Soft arms, tights, and waistline.
Tapered shoulders or slightly sloped.
Can look delicate. 
Moderate arms and legs, but can be short, compared to your body.
Evenly proportioned bust, waist, and hips.
Soft and wide nose, cheekbones, and jawline. Somewhat rounded.
Large eyes, soft cheeks, and full lips.
You're not a soft classic if you:
Have very contrasting facial features.
Have very lean limbs, not fleshy at all.
Have very delicate bone structure.
Have very sharp features.
Have narrow and straight hips.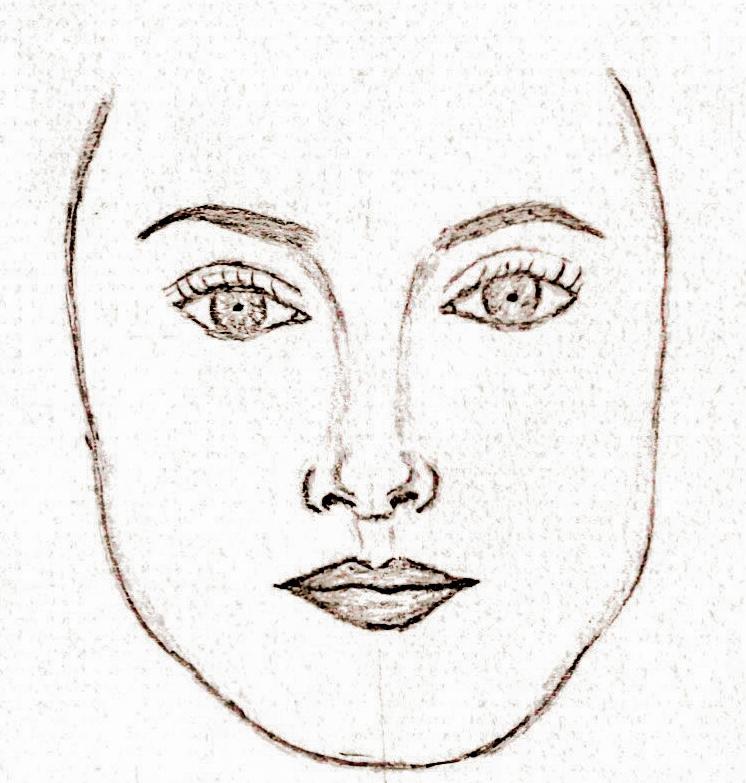 Example of an average soft classic face.
Soft classic Celebrity examples:
Marion Cotillard, Naomi Watts, Deneé Benton, Meryl Streep, Laura Linney, Kirsten Dunst, Joan Fontaine, Carolina Herrera, Grace Kelly, Dakota Johnson, Dianna Agron, Lupita Nyong'o
soft classic men celebrity examples:
George Clooney, Paul Rudd, James Franco, Jesse Spencer, Jude Law
Soft Classic dressing lines
Disclaimer: These are only David Kibbe recommendations, this doesn't mean this is the way you should dress to look good.
The soft classic dressing lines should be symmetrical, soft, and with waist emphasis. Flowing garments with draping looks great on them. The fabrics should be light to moderate weight, nothing too heavy or stiff. High-waisted bottoms help keep the balance, they should have some shape. 
Fabrics and materials:
-High quality fabrics like cotton, wool, cashemere, linen, or silk.
-Moderate and lightweight materials. 
-Small prints.
shapes and overall outfits:
Soft symmetrical feminine style.
-Items should fit in a moderate way (not too tight or oversized).
-Symmetric shapes and monochromatic combinations.
-Waist definition in every outfit.
Tops for the Soft Classic:
-Elegant, symmetrical tops made of lightweight fabrics.
-Round necklines, crew necklines and soft draping.
-Shirring and gathering.
-Loose turtlenecks
-Delicate lace.
-Tapered sleeves that gathers at the wrists.

Everlane / Christy Dawn/ Quince
Bottoms for the
Soft Classic:
-Pants must end above the ankle and high rise is prefered.
-Wide-leg pants made of lightweight fabrics.
-Tappered pants (at the bottom).
-Straight leg, mom and skinny jeans.
-Softly tailored pants.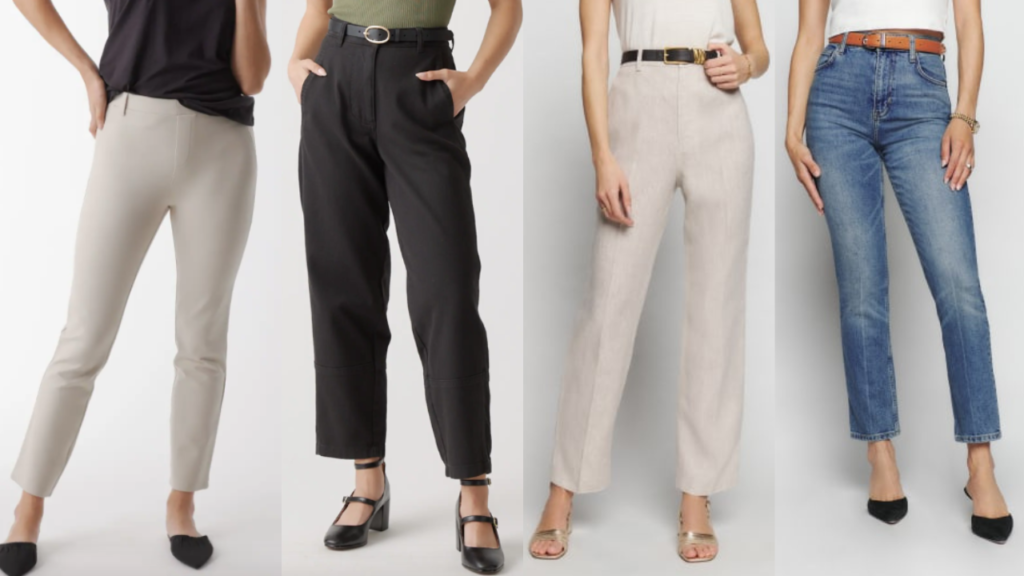 Skirts for the
Soft Classic:
-Short skirts to midi-length (two inches below the knee).
-Flowing and lightweight fabrics.
-A line skirts (in lightweight fabrics) or flared skirts.
-Small prints and patterns.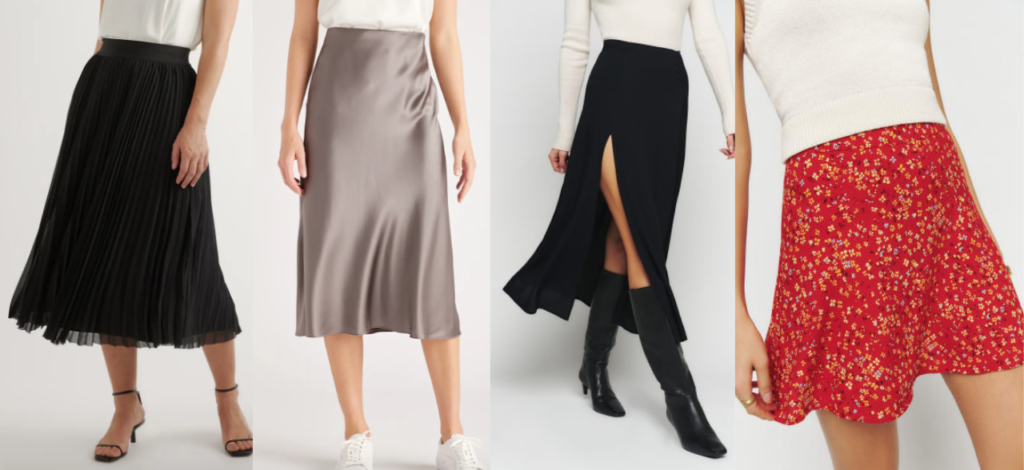 Dresses for the
Soft Classic:
-Graceful soft dresses with waist definition. 
-Short to midi-length dresses.
-Soft wrap, A-line with lightweight fabric, fit-and-flare, and sheath dresses.
-Very feminine. 
-Smooth sleeves, can be moderately puffy.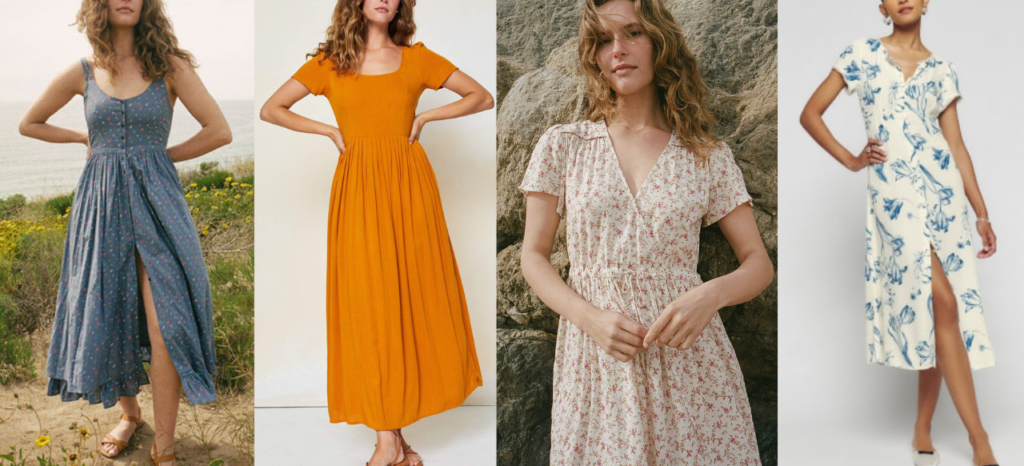 Christy Dawn / Reformation
Sweaters for the
Soft Classic:
-Lightweight and soft fabrics like cashmere and angora.
-Turtlenecks and crewneck sweaters.
-Always define where your waist is (french tuck)
-Textured knits.
-Well-fitted cardigans with buttons.

Everlane / Banana Republic
Outerwear for the
Soft Classic:
-Waist definition.
-Soft shapes.
-Short to moderate length.
-For longer coats and jackets, always look for the ones that have a belt included or add one yourself.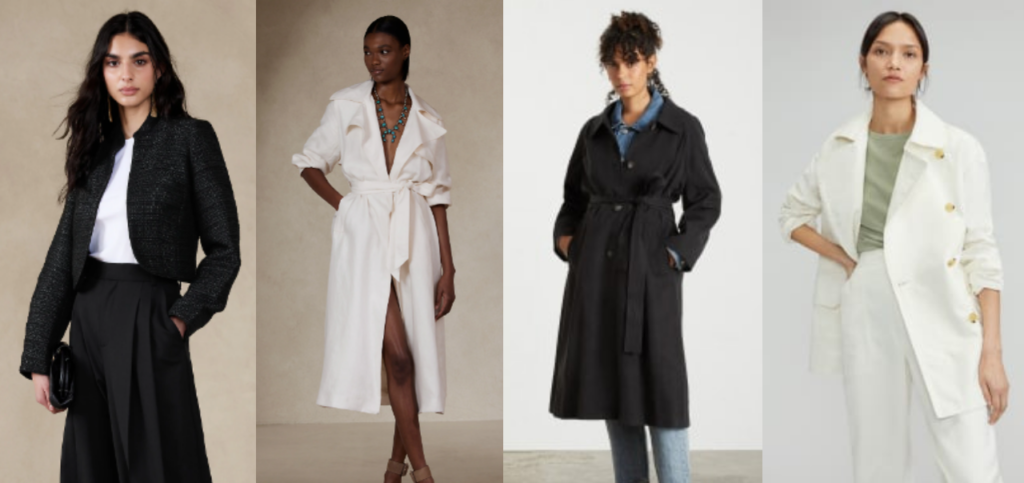 Banana Republic / Everlane
hair, makeup & accessories
*While we recommend to complement your outfits with your hair, makeup, prints & accessories based on your essences, you can apply your Kibbe suggestions. This is really up to you, but when you incorporate your essence blend you end up with a most authentic style that feels more like you and is unique.
Hair for the
Soft Classic:
-Soft wavy hairstyles.
-Shoulder lenght (at least).
-Soft curtain bangs.
-Minimalistic hair accessories.

Getty Images / Vogue Spain / Harper's Bazzar
makeup for the
Soft Classic:
-Soft and muted makeup (nothing too bright).
-Neutral colors with pink cheeks and lips.
-Avoid heavy makeup, the lighter the better.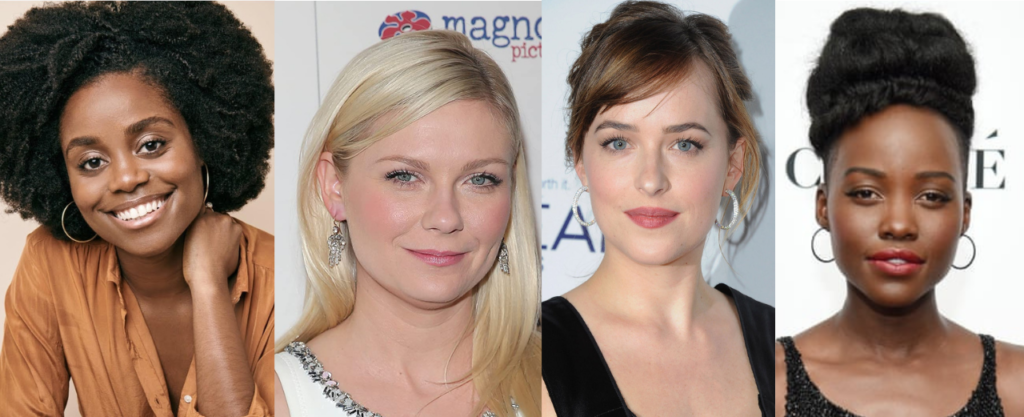 Getty images / Glamour / TAYLOR HILL-GETTY IMAGES / Wireimages
shoes for the
Soft Classic:
-Mary jane
-Heels with rounded edges.
-Two toned.

Anthropologie / Flor de Asoka / Vivaia
Accessories for the
Soft Classic:
-Clean, elegant shapes.
-Slim or medium-width belts.
-Pearls or golden necklaces, classic, delicate jewelry.
-For bags, timeless designs such as a structured tote, satchel, or a small to medium-sized shoulder bag.
-High quality scarves.
-Classic sunglases like cat-eye, aviators and wayfarers.

Patterns & prints for the
Soft Classic:
-Watercolor.
-Floral.
-Stripes.
-Abstract.
-Classic plaid (with not a lot of contrast between the colors)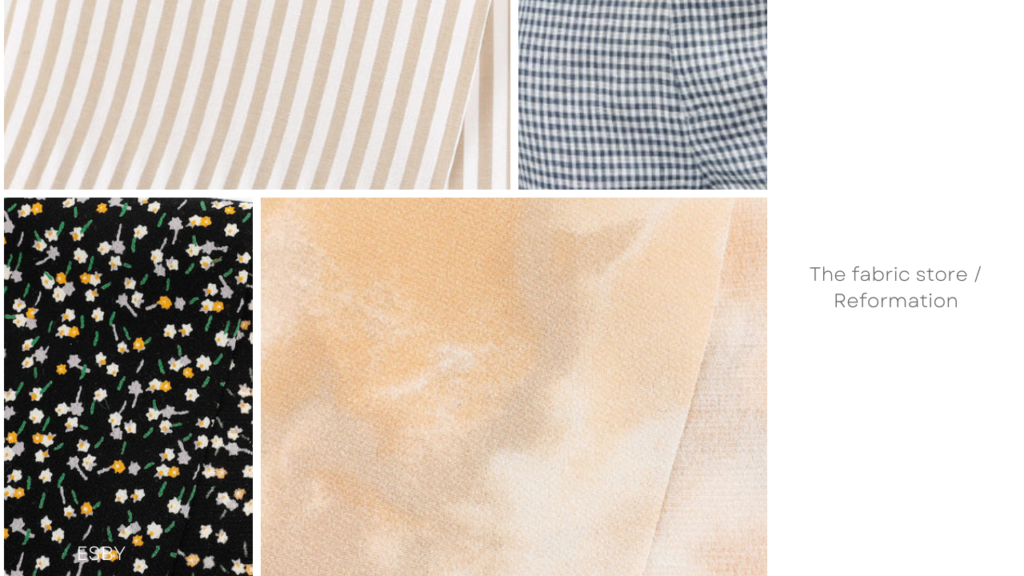 What if I am a Soft Classic but I don't feel like I look good on these lines and clothes?
Chances are you have the body type, but you don't have classic essence. This means, you should mantain the structure of your outfits based on your Kibbe, but follow the rest based on your essences.
Casual outfits for Soft Classic: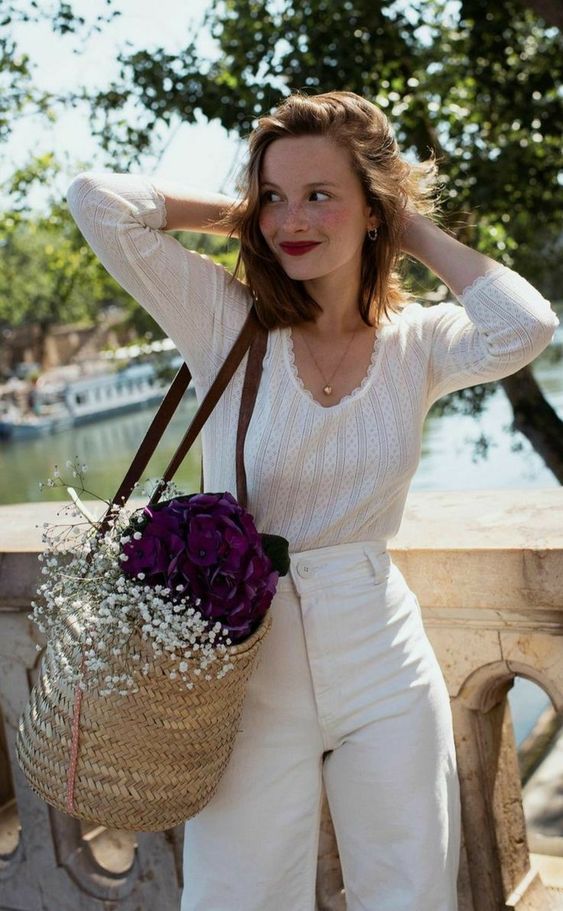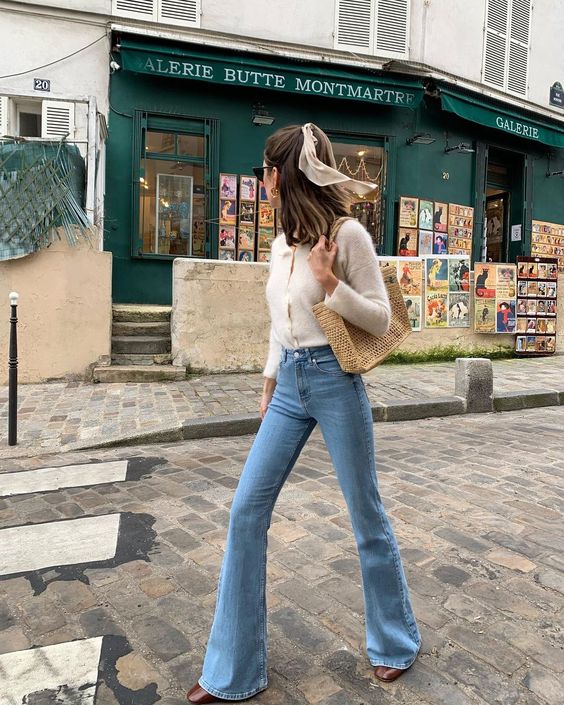 @MarielleHaon on instagram
formal outfits for Soft Classic:
gown outfits for the Soft Classic:
Not sure what your Kibbe Body Type is?
We can help you with that by following these 4 steps:
Contact us with the subject "My Kibbe." 

Let us know what type of clothes do you like to wear and how you would describe your personal style. If you don't know or you're not sure, tell us what you would like to improve by knowing your Kibbe Body Type.

When we receive your email, we'll ask for a full body picture and email you the $22 USD invoice.

Once you pay, you'll receive your results along with some tips that might help you blend your Kibbe Body Type with your personal style.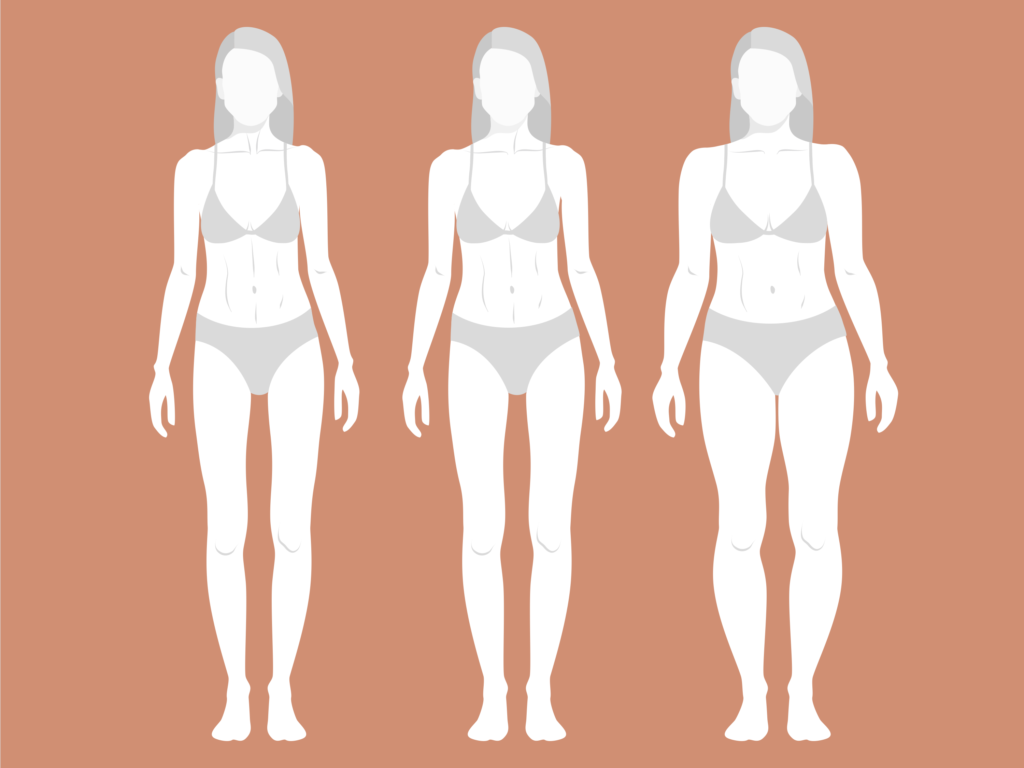 In the end, you can do whatever you want with your style. We always recommend using David Kibbe's tips as a base and create a style around your essences and seasonal colors. 
If you have any questions feel free to comment and let us know!
60