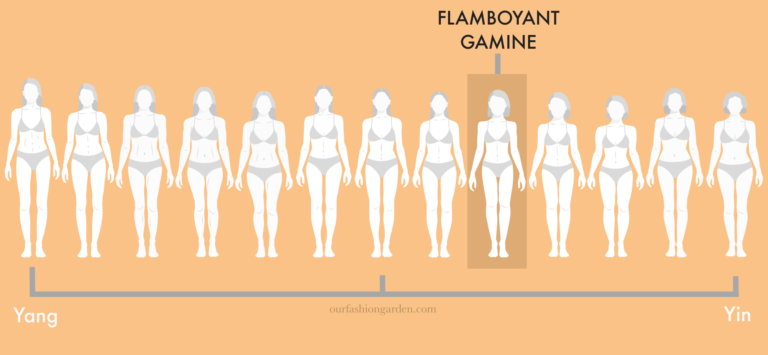 Flamboyant Gamines are mainly Gamines, they are a combination between YANG and YIN with a plus YANG. This body type is characterized by a small and compact frame, with sharp and angular features. Women with this body type have a straight and narrow silhouette, often have a small bust and waist. The shoulders are usually narrow, and the hips are flat.
On men and women, the body type still looks boyish. It is angular, sharp, but with some delicate features that could be shorter arms, small bone structure, their faces might have some rounded features, big and expressive eyes. Overall, they look youthful. Both, have contrasting feminine and masculine features.
When gaining weight, a Flamboyant Gamine's body becomes squarish. Arms and legs start to look thick, their shoulders appear wider and the weight accumulates on their waist and hips, losing definition if any. Their faces also become fleshy.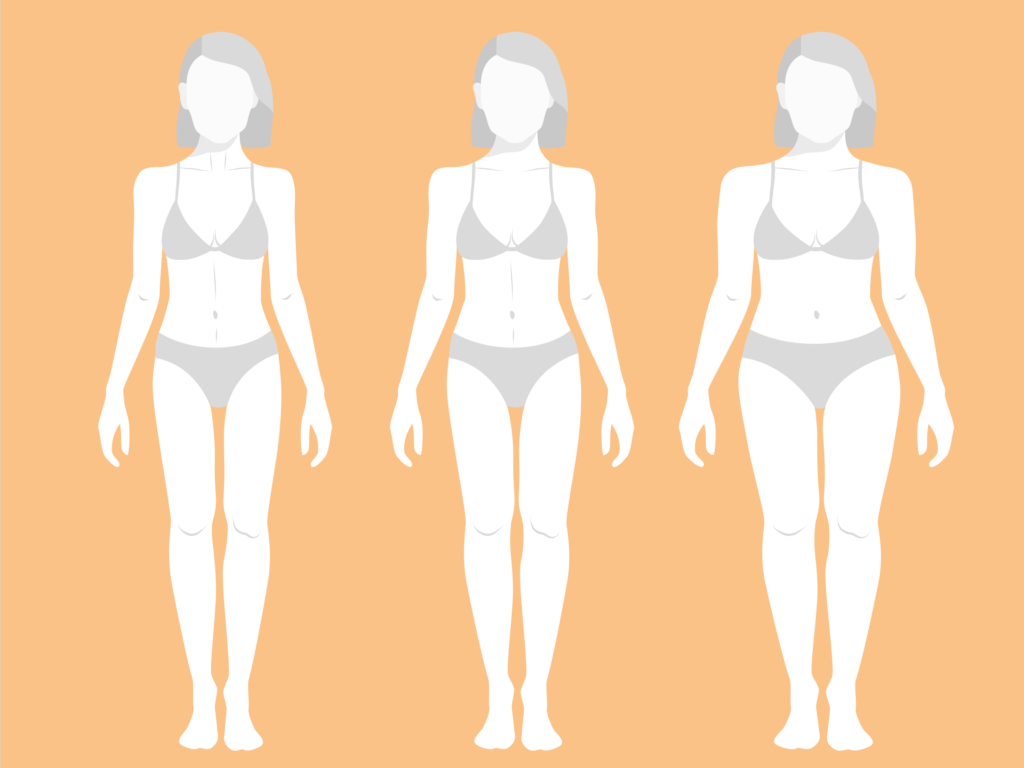 Characteristics of a flamboyant gamine:
Defined musculature. 
Angular shoulders.
Large hands & feet.
Short vertical line.
Long arms and legs.
Broad noses and jawlines.
Contrasting face features (large eyes, thin lips, lean cheekbone flesh).
Round faces or oblong shape.
You're not a flamboyant gamine if you:
Have only balanced features. 
Have very fleshy limbs.
Have a broad bone structure.
Have an hourglass silhouette. 
Have wide round hips.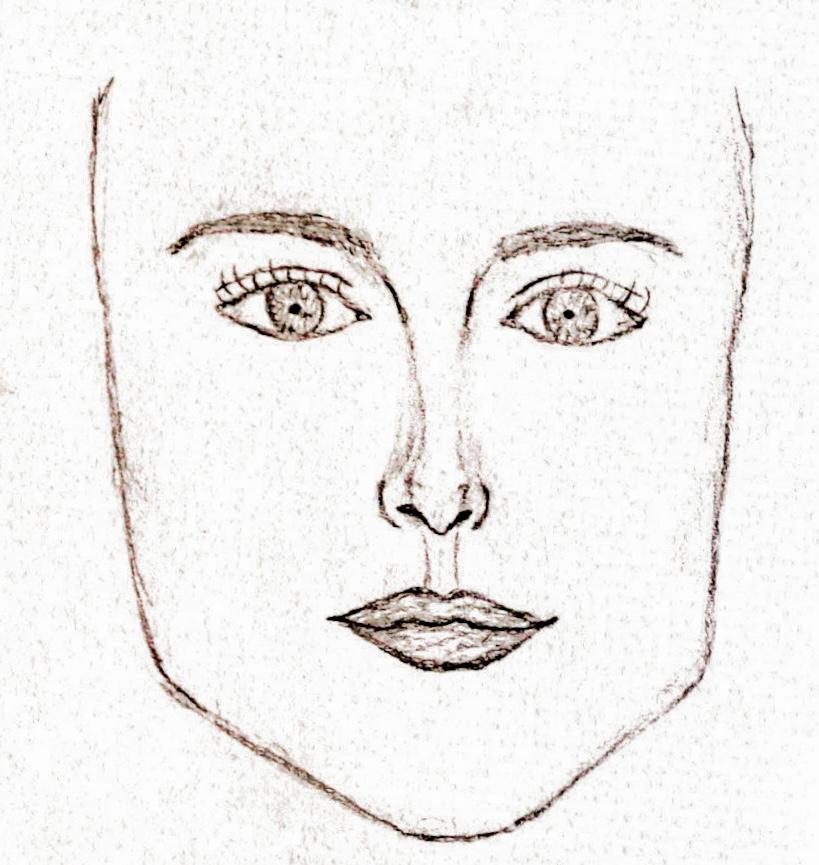 Example of an average flamboyant gamine face.
Flamboyant Gamine Celebrity examples:
-Tina Turner, Audrey Hepburn, Coco Chanel, Lizza Minnelli, Zoey Deschanel, Debbie Allen, Penelope Cruz, Shari Balafonte, Kelly Osbourne, Jennifer Love Hewitt, Twiggy.-
flamboyant gamine men celebrity examples:
-Ben Stiller, Mick Jagger, James Dean, Pharrel, A$AP Rocky, Mark Hamill, Rowan Atkinson.-
Flamboyant Gamine dressing lines
Disclaimer: These are only David Kibbe recommendations, this doesn't mean this is the way you should dress to look good.
The Flamboyant Gamine dressing lines should be extravagnt, elegant, assymmetric, and playful. Boyish clothes are the ones that look best. You can think of what a little boy would wear and mix that together with elegant and flamboyant items.
Fabrics and materials:
-Structured fabrics.
-Stiff materials in fitted silhouettes.
-Playful prints and print mixing.
shapes and overall outfits:
Short fitted outfits.
-Tailored and narrow clothes.
-Asymmetric garments.
-Dresses with no waist emphasis.
Tops for the Flamboyant Gamine:
-Short and boxy.
-Sharp collared tops like a shirt will look great.
-Tight fitting tops like turtlenecks.
-Sleeves hem are great above the wrist. 
-3/4 sleeve tops with V-necks.

Caves Collect / boden / odeyalo
Bottoms for the
Flamboyant Gamine:
-Pants are better if they are above the ankle and slim.
-Tailored.
-Skinny or boyfriend jeans.
-Tapered.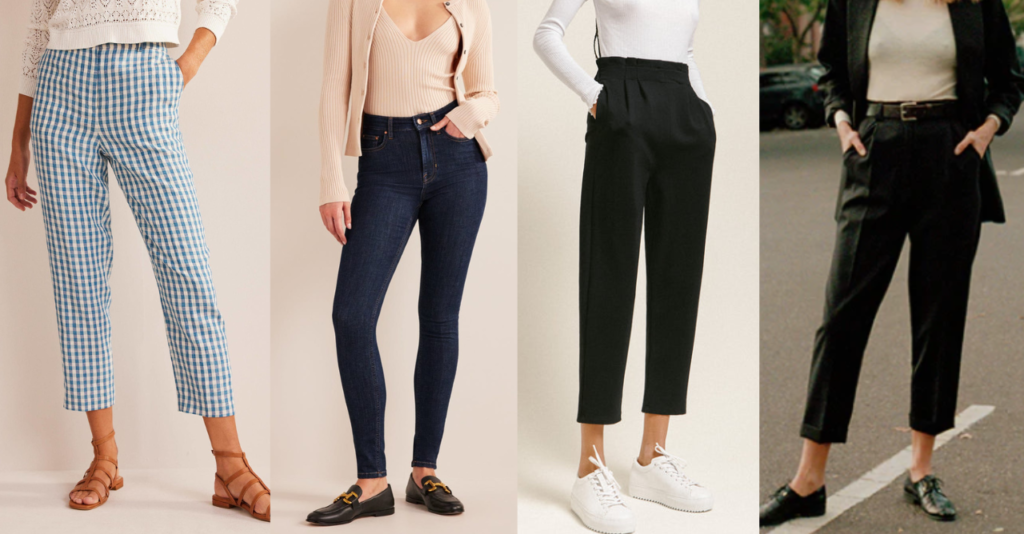 BODEN

/

 ODEYALO/ CAVES COLLECT
Skirts for the
Flamboyant Gamine:
-Short as well, boxy or A-line.
-Straight cut (It shouldn't have a lot of volume).
-Asymmetrical but sharp cuts are better.

Dresses for the
Flamboyant Gamine:
-Asymmetrical.
-Flapper style dress, short length.
-Contrasting details.
-A-line silhouette.
-Collared shift dress.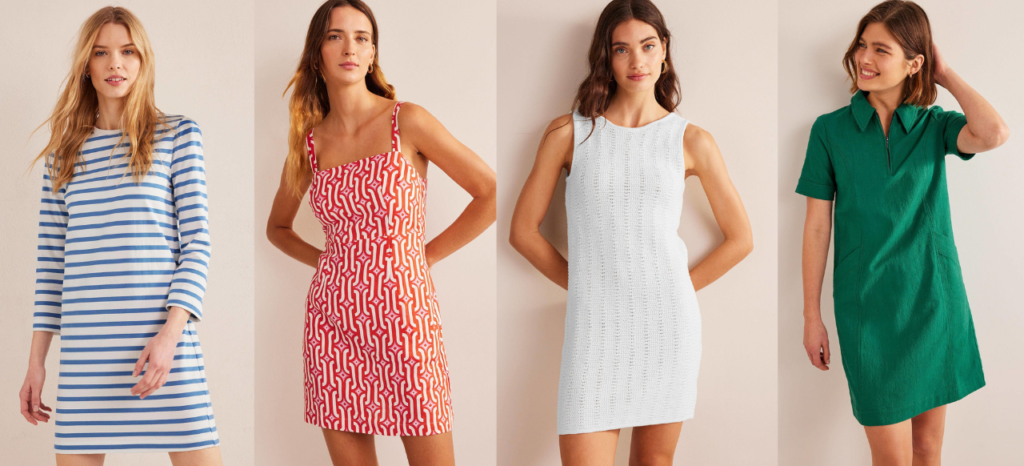 Sweaters for the
Flamboyant Gamine:
-Skinny rib knits
-Chunky knits.
-Fitted sweaters.
-Classic crewneck sweater, you could add more fun to it with a print or a contrasting trim.

CAVES COLLECT/ EVERLANE / BODEN
Outerwear for the
Flamboyant Gamine:
-Sculpted, tailored, structured jackets.
-Short line. 
-Contrasting trim.
-Sharp lapels on blazers or coats.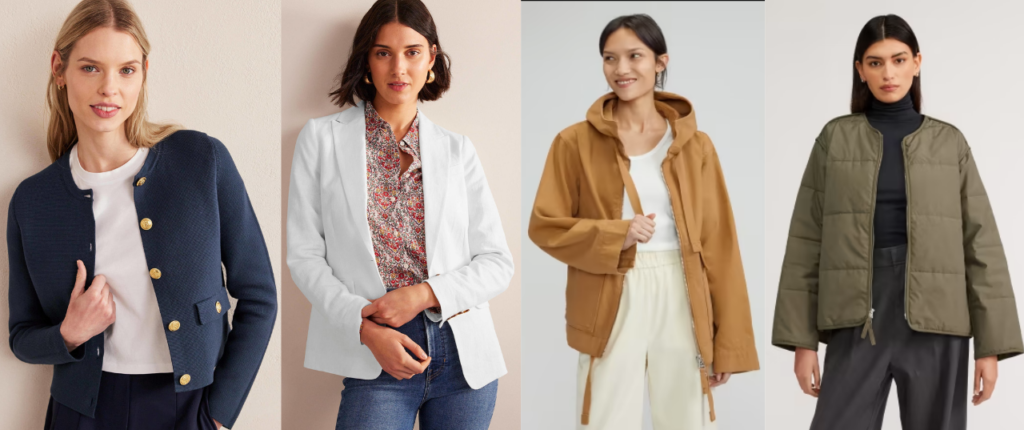 hair, makeup & accessories
*While we recommend to complement your outfits with your hair, makeup, prints & accessories based on your essences, you can apply your Kibbe suggestions. This is really up to you, but when you incorporate your essence blend you end up with a most authentic style that feels more like you and is unique.
Hair for the
Flamboyant Gamine:
-Short hairstyles are recommended but it could be longer.
-Asymmetrical bangs.
-Natural curly hair.
-Pixie cut.
However, these types of hairstyles won't look good on every Flamboyant Gamine.

The hairstyler / Penelope cruz / British Vogue / JenniferHudson.com
makeup for the
Flamboyant Gamine:
-Emphasize the eyes.
-Strong eyeliner.
-Shinny lips, preferably a light color.
Of course, just like the hair, it depends on your essences and seasonal color. Some might look amazing on these, but others will feel like wearing a costume.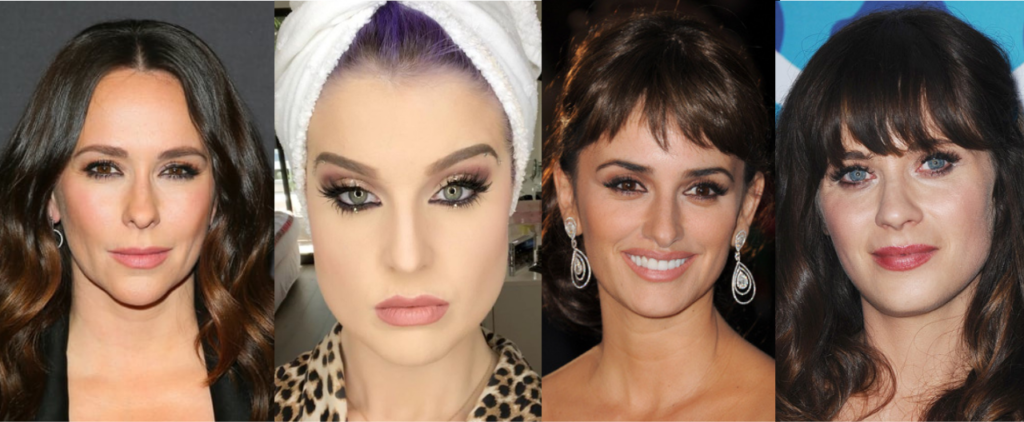 Pop Sugar / KELLy Osbourne / GETTY IMAGES / MEdiamunch
shoes for the
Flamboyant Gamine:
-Pointy shoes.
-Geometric and sharp.
-Ankle boots.
-Sandals or heels with chunky platforms.
-Loafers.

Accessories for the
Flamboyant Gamine:
-Sharp geometric shapes.
-Contrasting belts, not too wide.
-Chunky jewelry.
-Small, boxy, and asymmetric bags.

ODEYALO / BODEN / CAVES Collect / EVERLANE
Patterns & prints for the
Flamboyant Gamine:
-Bold and sharp edges.
-Geometric and angular shapes like lines and checkers or gingham.
-Bold and vibrant colors.
What if I am a Flamboyant Gamine but I don't feel like I look good on these lines and clothes?
Chances are you have the body type, but you don't have gamine essence. This means, you should mantain the structure of your outfits based on your Kibbe, but follow the rest based on your essences.
Casual outfits for the Flamboyant Gamine:
formal outfits for the Flamboyant Gamine:
gown outfits for the Flamboyant Gamine:
Not sure what your Kibbe Body Type is?
We can help you with that by following these 4 steps:
Contact us with the subject "My Kibbe." 

Let us know what type of clothes do you like to wear and how you would describe your personal style. If you don't know or you're not sure, tell us what you would like to improve by knowing your Kibbe Body Type.

When we receive your email, we'll ask for a full body picture and email you the $22 USD invoice.

Once you pay, you'll receive your results along with some tips that might help you blend your Kibbe Body Type with your personal style.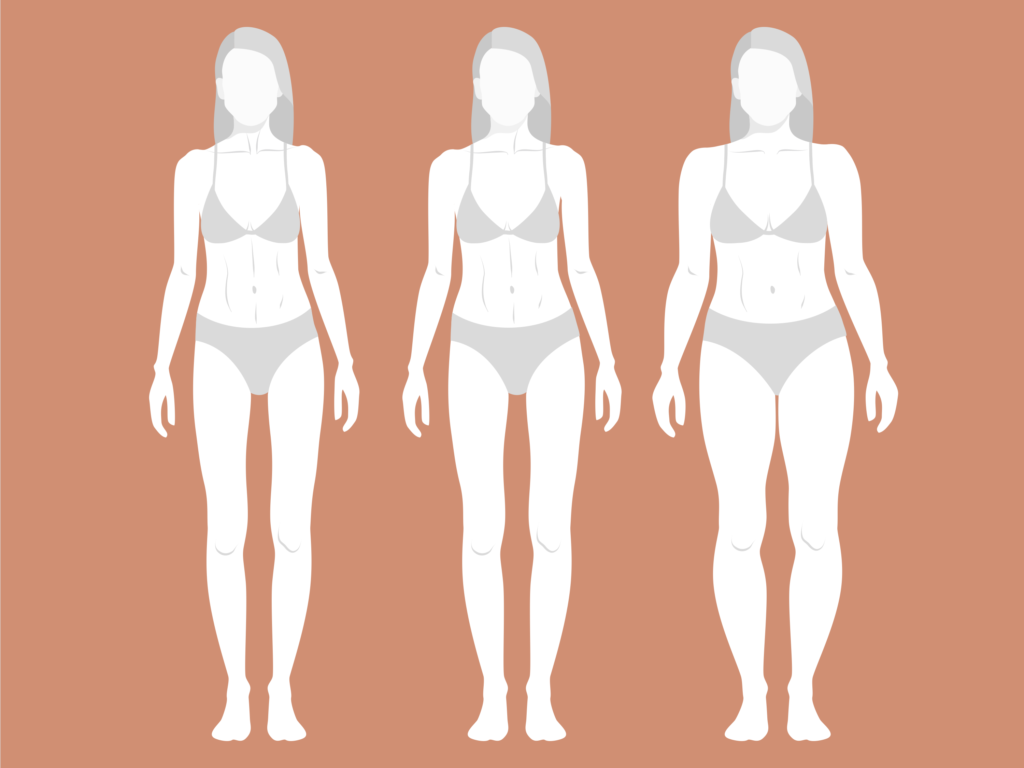 In the end, you can do whatever you want with your style. We always recommend using David Kibbe's tips as a base and create a style around your essences and seasonal colors. 
If you have any questions feel free to comment and let us know!
49