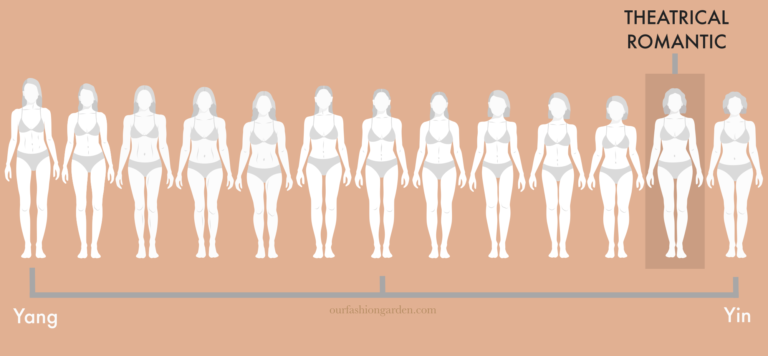 Theatrical Romantics are mainly Romantics, YIN, with YANG undercurrent. They can have a Yang bone structure, Yin body flesh and contrasting features. A Theatrical Romantic will have an hourglass silhouette that looks more delicate than a pure Romantic.
When it comes to men, they might have smaller torsos, round shoulders and their faces will also be contrasting. They will have some softness, but that doesn't mean they will look feminine.
When gaining weight, a Theatrical Romantic will maintain their hourglass figure, gaining weight in their bust and hips. Their arms and legs also look fleshier, and their faces look rounder. In a man, they will also gain weight in their chest and hips.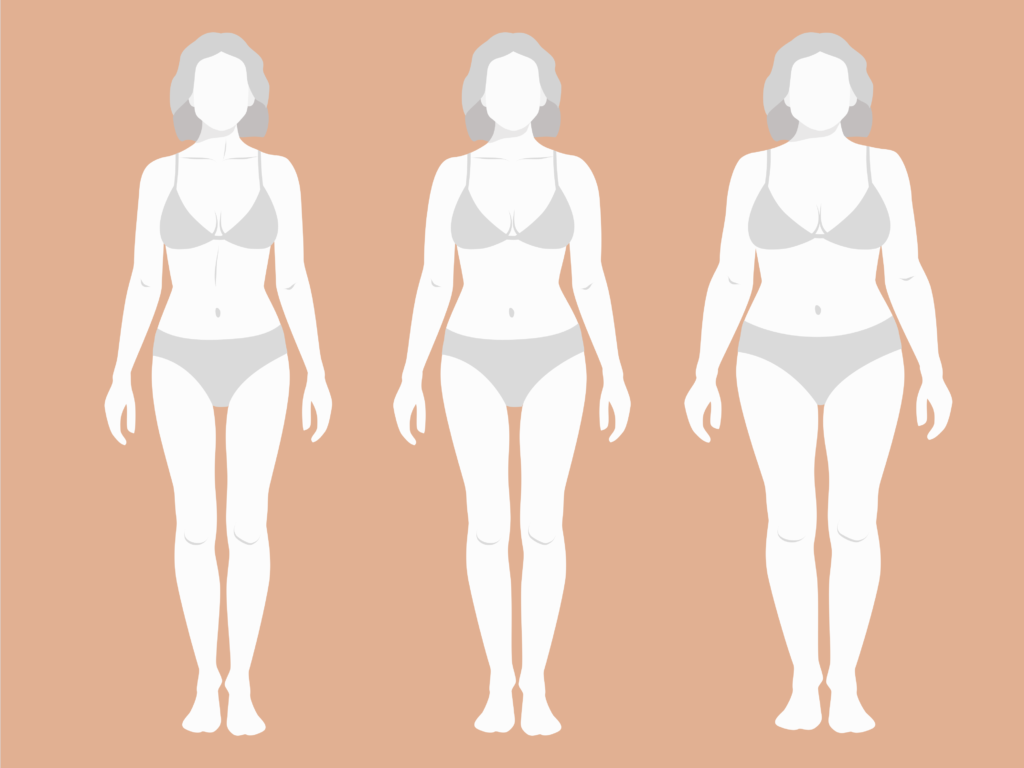 Characteristics of a theatrical Romantic:
Very delicate and look shorter (petite).
Sloped shoulders, with round edges.
Short arms and legs with delicate hands and feet that are small.
Usually a full bust line with an hourglass figure
Very curvy and rounded hips (hourglass figure).
They look voluptuous and fleshy.
Small delicate facial features.
Large rounded eyes with fleshy lips and cheekbones.
You're not a Theatrical Romantic if you:
Have a very long height line.
Have very lean limbs, not fleshy at all.
Have large or wide bone structure.
Have small or thin lips.
Have narrow and straight hips.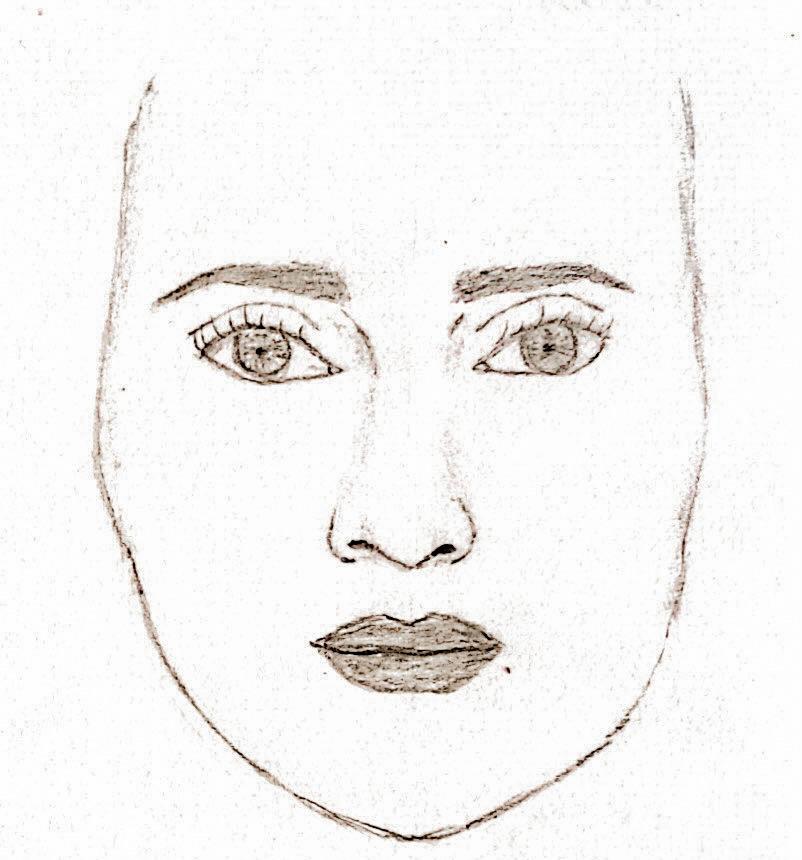 Example of an average Theatrical Romantic face.
Theatrical Romantic Celebrity examples:
-Salma Hayek, Jada Pinkett Smith, Vivien Leigh, Rita Hayworth, Morgan Fairchild, Selena Gomez, and Mila Kunis*.
*David Kibbe typed Mila Kunis as Theatrical Romantic but we are not 100% sure about that. 
theatrical romantic men celebrity examples:
Johnny Depp, Orlando Bloom, Douglas Booth, and Zayn Malik.
Theatrical Romantic dressing lines
Disclaimer: These are only David Kibbe recommendations, this doesn't mean this is the way you should dress to look good.
The theatrical romantic dressing lines should be rounded but slightly sharp on the edges. You should look for waist emphasis. Look for lightweight, soft fabrics, with floral and rounded prints. Glamour on everything works great for you. Look for garments with sheen or sparkle and tapered details. Peplums and bows work for you.
Fabrics and materials:
-Soft delicate fabrics.
-Lightweight and drapeable materials.
-Silk, crepe, or jersey.
-Soft or fluffy knits like cashmere.
-Sheer or shiny finishes.
shapes and overall outfits:
Soft flowing with a touch of sharpness and glamour style.
-Rounded and ornate.
-Delicate and intricate details.
-Waist definition but not as extreme as a Romantic.
Tops for the Theatrical Romantic:
-Draped, rounded, neckline with ornate details.
-Puff or tapered sleeves.
-Silk blouses with soft finishes.
-Ruffles.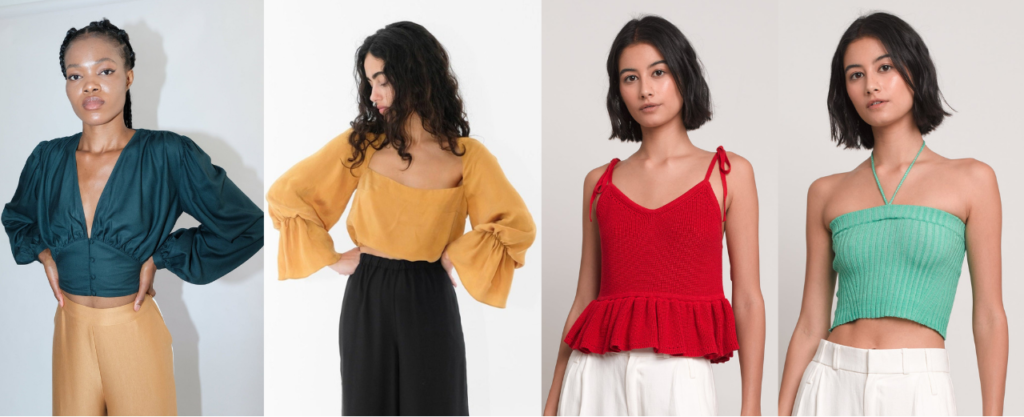 Bottoms for the
Theatrical Romantic:
-It should accommodate your curves.
-Light fabric with soft pleats or gathers at the waist.
-High rise, tapered pants.
-Ornate with details like golden buttons. 
-Skinny jeans.
-Ankle length is better.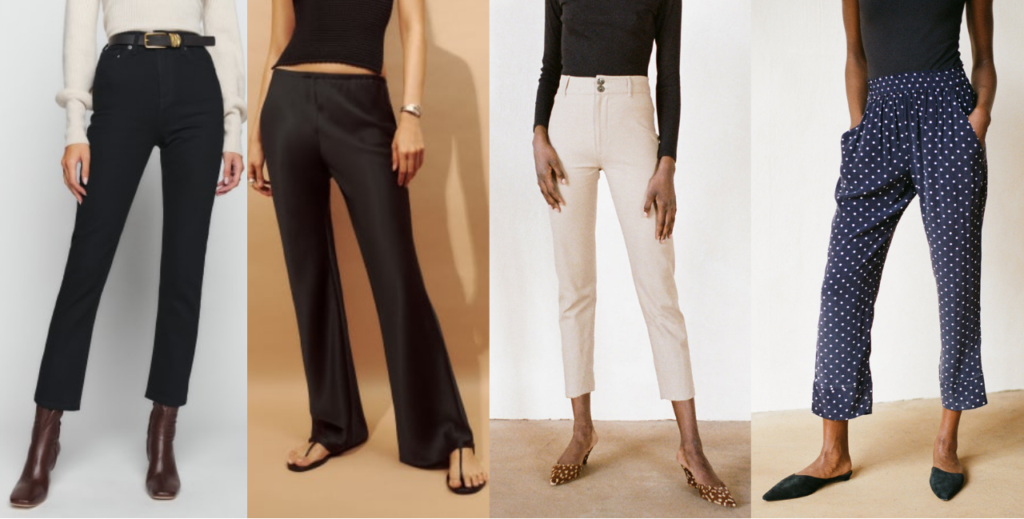 Reformation / Maria Stanley
Skirts for the
Theatrical Romantic:
-Fitted, should follow your hip curves.
-Knee length.
-Asymmetric hem.
-Gentle draping is good as well.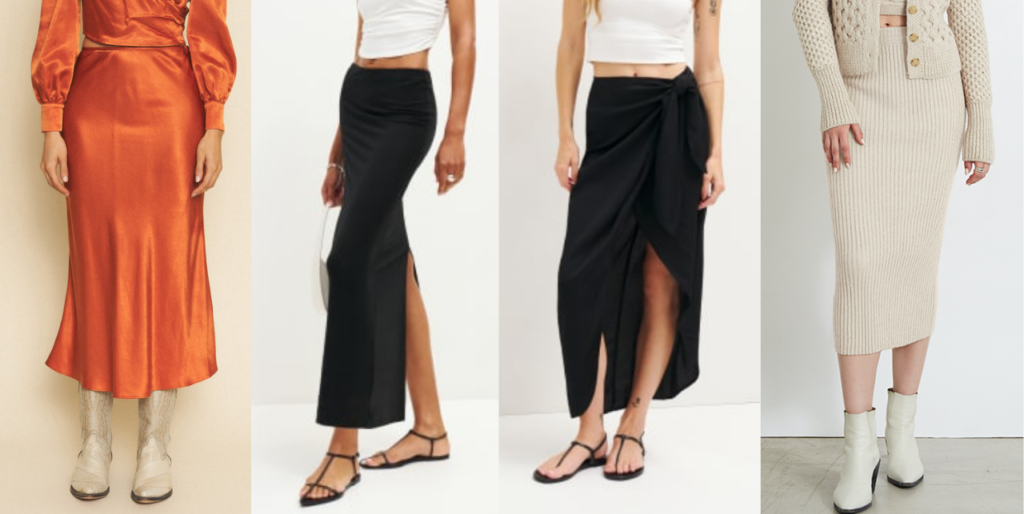 Whimsy + row / Reformation / Eleven Six
Dresses for the
Theatrical Romantic:
-Waist definition.
-Draped with soft edges.
-It should also follow your curves.
-Length is better at the knee or just below.
-All tight dresses with some sharp details on the neckline like a square neck.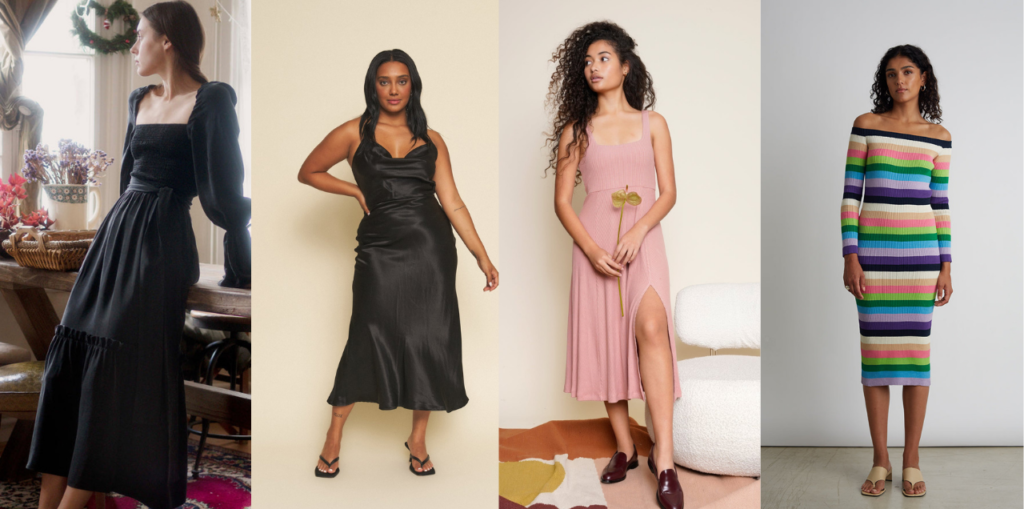 OhSevenDays / Whimsy + Row / Eleven Six
Sweaters for the
Theatrical Romantic:
-Shorter sweaters.
-Soft and fluffy knits like cashmere.
-Waist emphasis.

Outerwear for the
Theatrical Romantic:
-Moderate to short length for jackets.
-Narrow lapels with ornate details.
-Blazers can be an option, just look for the option that is fitted on the waist.
-Belts on the waist to accentuate your natural curves.
-Capes and wrap jackets or coats.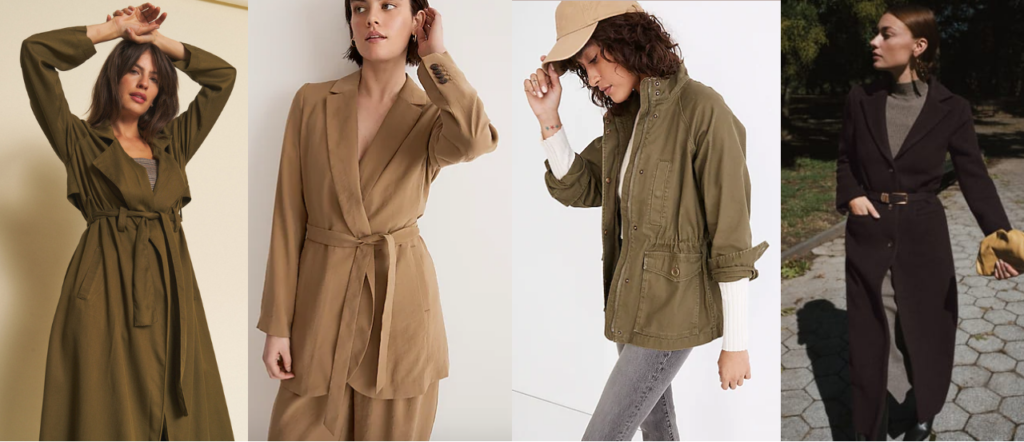 OhSevenDays / MADEWELL / Reformation
hair, makeup & accessories
*While we recommend to complement your outfits with your hair, makeup, prints & accessories based on your essences, you can apply your Kibbe suggestions. This is really up to you, but when you incorporate your essence blend you end up with a most authentic style that feels more like you and is unique.
Hair for the
Theatrical Romantic:
-Full and curly hair.
-Stylized and polished.
-Waves.
However, these type of hairstyles won't look good on every TR person. 

WireImage / Daniele Venturelli / JAda Pinkett Smith / Selena- HUNG VANNGO
makeup for the
Theatrical Romantic:
-Soft but glamorous.
-Rose blush on the cheeks.
-Glossy lips. Focus on the lips.
-Eyes could have eyeliner.
Of course, just like the hair, it depends on your essences and seasonal color. Some might look amazing on these, but others will feel like wearing a costume.

Getty Images / L.Cohen / FirstForWomen (RITA)
shoes for the
Theatrical Romantic:
-Feminine style like shoes.
-Open or strappy heels.
-Delicate flats (could be pointed).
-Heels with thin ankle straps.

Whimsy + Row / Reformation / Madewell
Accessories for the
Theatrical Romantic:
-Glamorous, you could achieve that with velvet, satin or suede materials.
-Delicate and rounded shaped bags and jewelry.
-Narrow and ornate belts.
-Shiny finishes.
-For jewelry, you could use statement necklaces that are vintage inspired or layered chains. Earrings with pearls and flowers. Thin and delicate rings and bracelets.
Whimsy + Row / Reformation
Patterns & prints for the Theatrical Romantic:
-Rounded shapes.
-Florals.
-Moderate to large prints.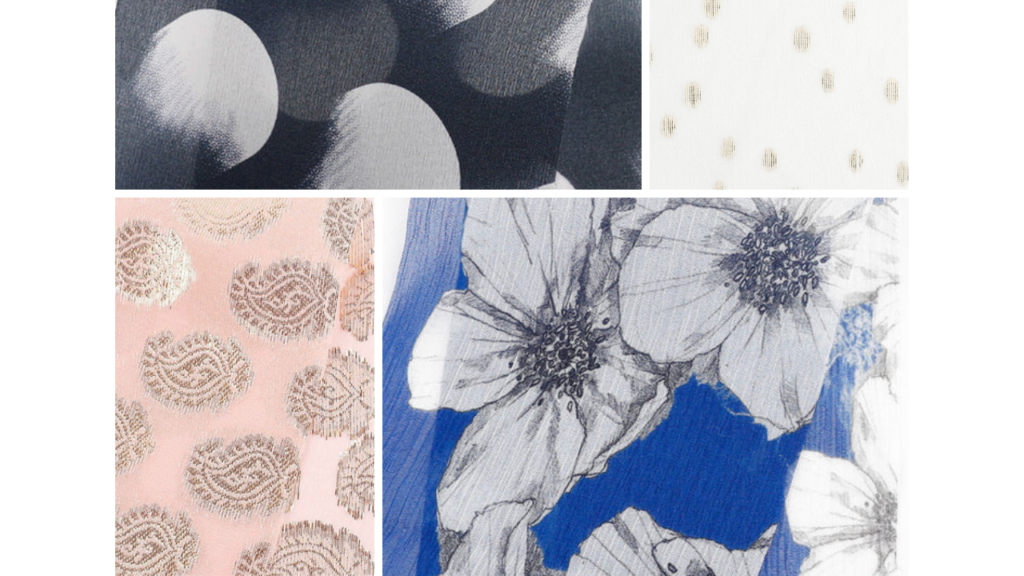 What if I am a Theatrical Romantic but I don't feel like I look good on these lines and clothes?
Chances are you have the body type, but you don't have Romantic essence. This means, you should maintain the structure of your outfits based on your Kibbe, but follow the rest based on your essences.
Casual outfits for Theatrical Romantic:
formal outfits for Theatrical Romantic:
gown outfits for the Theatrical Romantic:
Disclosure: We get commissions for purchases made through links in this post. We are an affiliate of Eleven Six, and we will earn a commission if you click through the link below, go to that website, and make a purchase. Thank you in advance if you choose to buy through our link.
Brands we recommend theatrical romantics:
Not sure what your Kibbe Body Type is?
We can help you with that!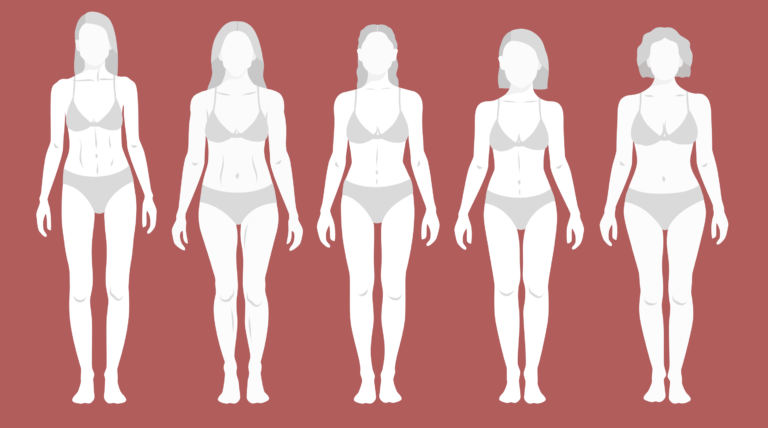 In the end, you can do whatever you want with your style. We always recommend using David Kibbe's tips as a base and create a style around your essences and seasonal colors. 
If you have any questions feel free to comment and let us know!
40