Have you ever wondered how your clothing is made? How much water and energy were used? What procedures are involved in its production? If you are curious about it and how clothing is a big part of your carbon footprint, today you will learn about some tools to measure it. Below, we'll look at the life cycle of various items and their environmental impact to give you a better understanding of what happened before the clothes arrived in your wardrobe.
We know that the textile industry is one of the most polluting: from the manufacture of synthetic fibers to natural fibers, textile waste, and fundamentally its life cycle inside our homes. We must know that each stage through which our garments pass generates an impact, for example, the raw material and the occupation of land necessary for cultivation, pesticides used, energy used during transportation, use of dyes, and, mainly, water. 
And I don't think many of us knew it, but the largest percentage of the carbon footprint during the useful life of a garment is generated during its daily use, between washing and drying the garment. To comprehend a little more, let's see some examples:
Something we all have: A basic cotton T-shirt
Starting with the farmland of the plant, the agrochemicals used, the energy used in the various stages of manufacturing and transportation, as well as the use of dyes and other chemicals that can make the fiber more resistant, shiny, and so on, this garment has both direct and indirect impacts. So, to gain a better understanding of all these, we will examine the life cycle of our cotton t-shirts, beginning with the planting of the cotton seed and ending with the disposal of the shirt.
PRODUCTION:

All processes involved in obtaining raw materials, seeds, sowing, fertilization, irrigation, pest control, and harvesting.

ELABORATION:

Processing, spinning, weaving, washing, dyeing, (cutting and sewing).

TRANSPORTATION:

the entire distribution chain from start to finish.

USE:

Washing, drying, and ironing the garment.

DISPOSAL:

If the garment is not donated or recycled it is incinerated or may end up in landfills.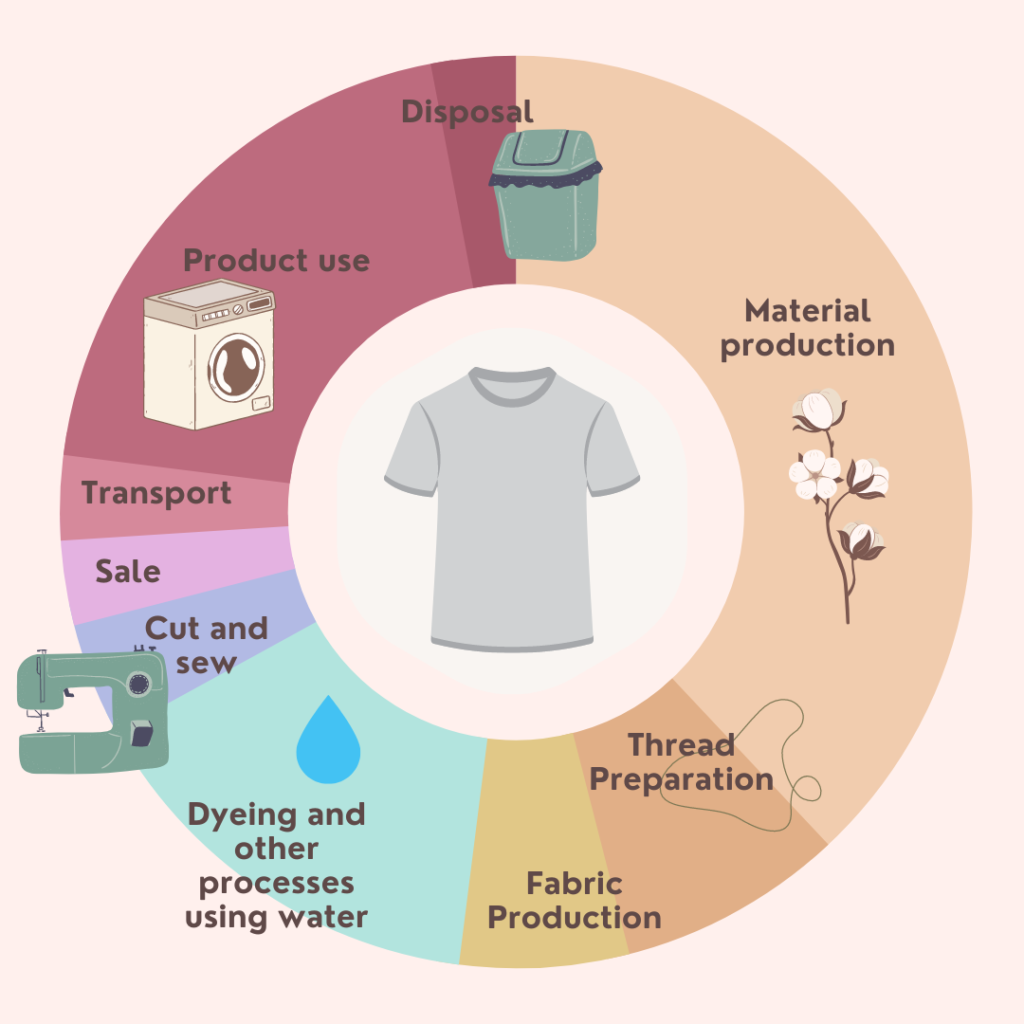 I think that considering all these phases, we can realize how much is needed for the production of these clothes. Just think of all the energy used in the process! And also, one of the most delicate issues about these garments is their water consumption. It is estimated that a regular t-shirt that weighs between 200 and 250gr, requires about 2700 liters of water, that's how much we normally drink over 3 years. It may appear to be exaggerated, but simply consider how often you wash your clothes, this takes a lot of water!
And, of course, there are numerous other examples…
What about our denim jeans?
Denim jeans are also made of cotton. When the fabric is finished, it is sent to textile factories to be cut and sewn. A pair of pants is made up of fifteen pieces on average. Each one is cut on machines that calculate the cuts by computer to maintain the precision of the measurements and make the best use of the fabric, though even with these instruments, there is still significant waste.
They are then sent to the sewing machines, where a worker sews the average 37 seams required for each pair of pants as well as the model-specific decorations (buttons, zippers, rivets, labels, and so on). After this, they are sent to the finishing area where they are pigmented to simulate stains, patches are applied or the fabric is torn, depending on the style of the model. Finally, they are sent to washing machines where the fabric wears down and gives it the finish that distinguishes them. This is why sometimes the most worn or torn pants have a higher cost, it is because they require a longer washing or worn process. 
Throughout the process, approximately 3,000 liters of water are used! And also, producing a pair of jeans consumes the same energy as a light bulb turned on for 1,111 hours, more than 46 days. Most jeans have three times the carbon impact of a T-shirt, based on the weight of fabric required.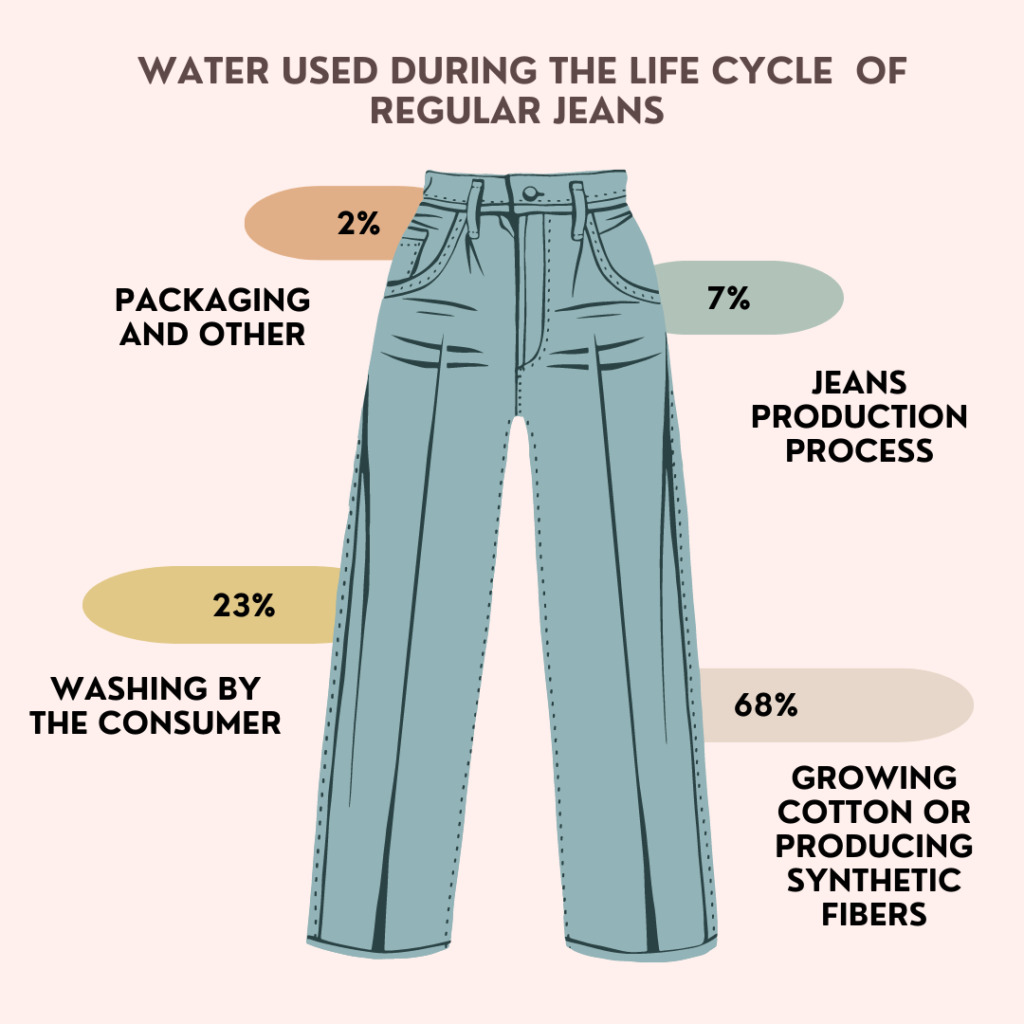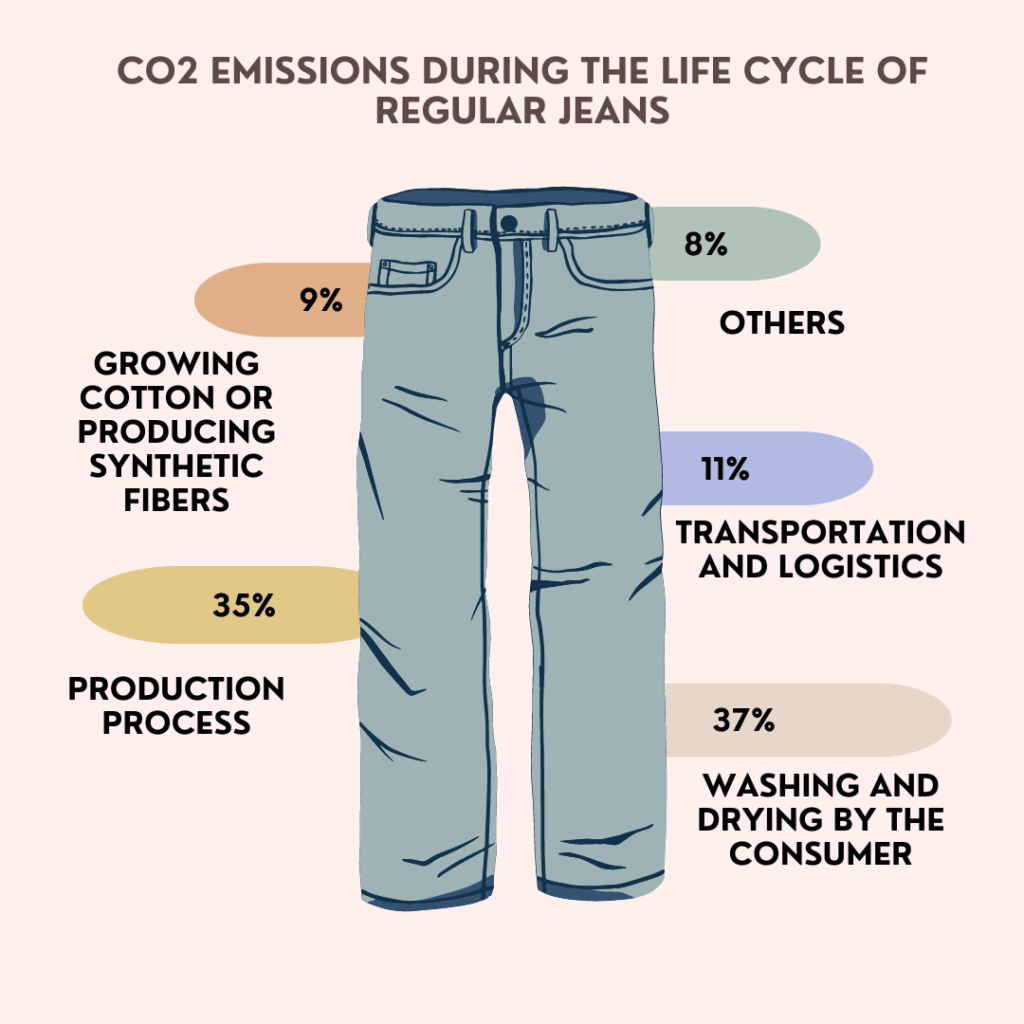 As you can see, there is a lot more going on behind our clothes than we realize. And it's critical to understand this information to make better decisions when shopping. As a result, we will be more aware when buying and will seek out garments that have undergone the cleanest processes or have had the least environmental impact. We will also be able to adopt new habits to extend the useful life of our clothes.
While reflecting and researching these factors…
I came across a tool that I found concise and useful for calculating or getting a better understanding of the effects of my clothing and accessory consumption. A brief test of our clothing purchasing and maintenance habits. Although it may be difficult to accurately calculate our carbon footprint or water footprint, I believe that this type of activity can help us understand how our fashion choices influence climate change.
This tool was created by ThredUP, an online thrift store where you can sell your gently used clothes and earn a good commission. This platform aims to raise awareness about the global fashion waste crisis while also offering a second chance to millions of used garments.
This test asks a few simple questions, for example, how often do you buy clothes? How many sweaters, t-shirts, dresses, or jeans do you get per year? And what percentage of this clothing is second-hand? Finally, you will have an approximate result of your fashion footprint and you will be able to compare yourself with the current consumption average, also in each of the questions you will find a short paragraph of information to improve your fashion habits.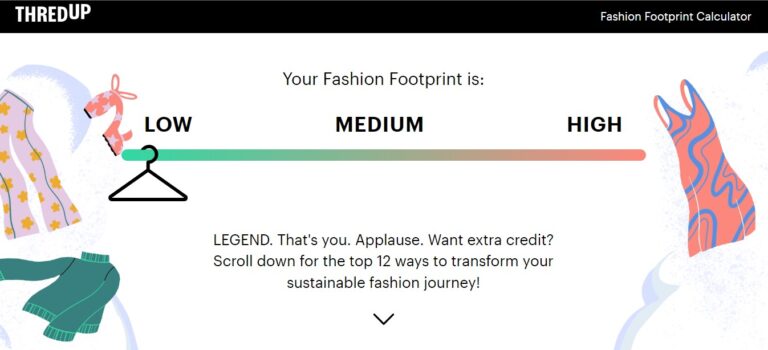 And, hey!!! If your fashion imprint has grown significantly, perhaps it's time to reconsider and make some changes.
When we are asked about our consumption, we frequently think of dripping faucets, "recyclable" garbage that we do not recycle, and the amount of time it takes us to take a shower. But we don't know that the influence isn't limited to this; everything around us, from a basic pencil to the smartphone we carry everywhere, the bed in which we sleep, and, of course, OUR CLOTHES, has required water, energy, and numerous materials for its creation.
To sum it all up, we all contribute to the carbon footprint, particularly in the textile industry, but also in general.
Beyond the industry, our consumption patterns as users are critical, and I believe that knowing a little more about what is behind our garments is a good idea. I believe that now that you know how much water is used to create a pair of jeans, you don't want to get ten different ones with quick shipping. Don't you think?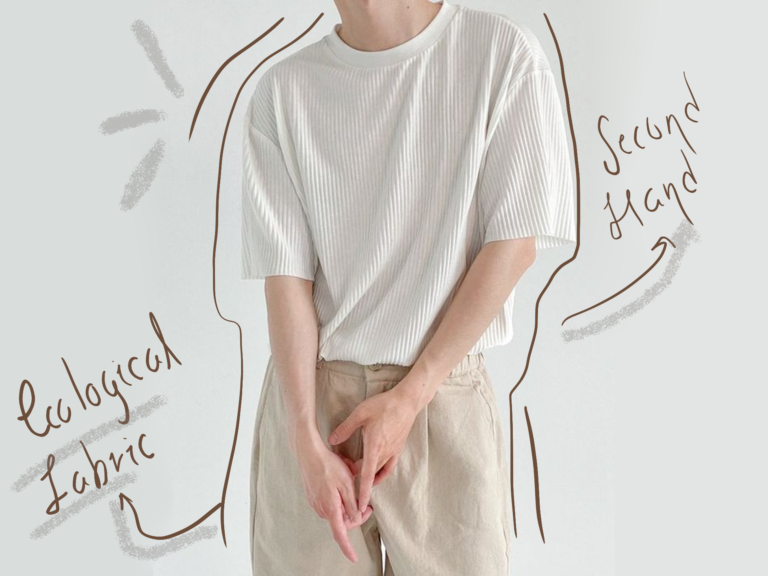 20