DISCLOSURE: This post may contain affiliate links and we may receive a commission if you purchase through them.
HEMP FABRIC… you might have seen photos of the hemp plant but don't worry it is not the same as Marijuana, it just comes from the same family. 
Nowadays, it is considered a sustainable fabric thanks to its awesome advantages. For example, it requires half of the water that cotton needs for its production. It is a renewable source, and everything is used in the production, so no waste! 
Also, hemp plants absorb more carbon dioxide than trees. Can you believe all that?
In my opinion, hemp is one of the best and underrated fibers for clothing. 
The brand WAMA, which is a pioneer in the hemp underwear industry was so kind to gift us a few of their products to try out. They never asked us to make this review, however, we enjoyed it so much that we wanted to share our opinion with you. Here's our sincere viewpoint on this brand.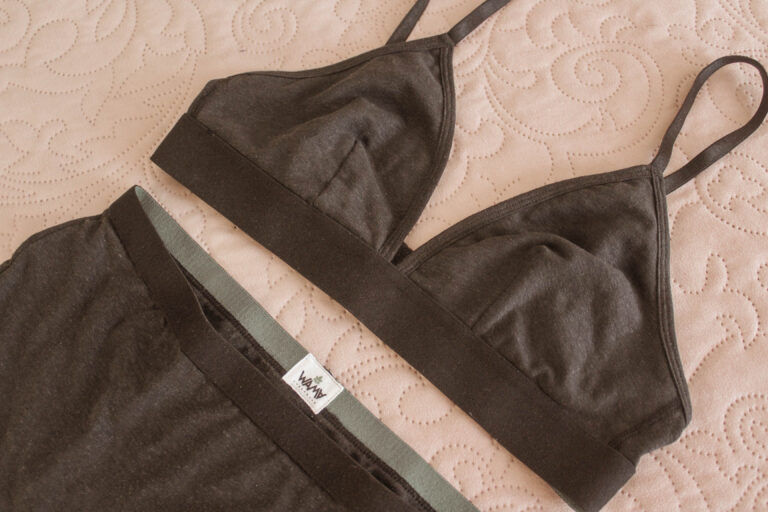 To make a full review we TRIED the products ourselves and RESEARCHED the brand to define how sustainable they are.
A little hint: they are doing a great job.
These are the aspects we considered: 
Design / Quality
Materials
Impact on the planet
Ethical production
Price
Other reviews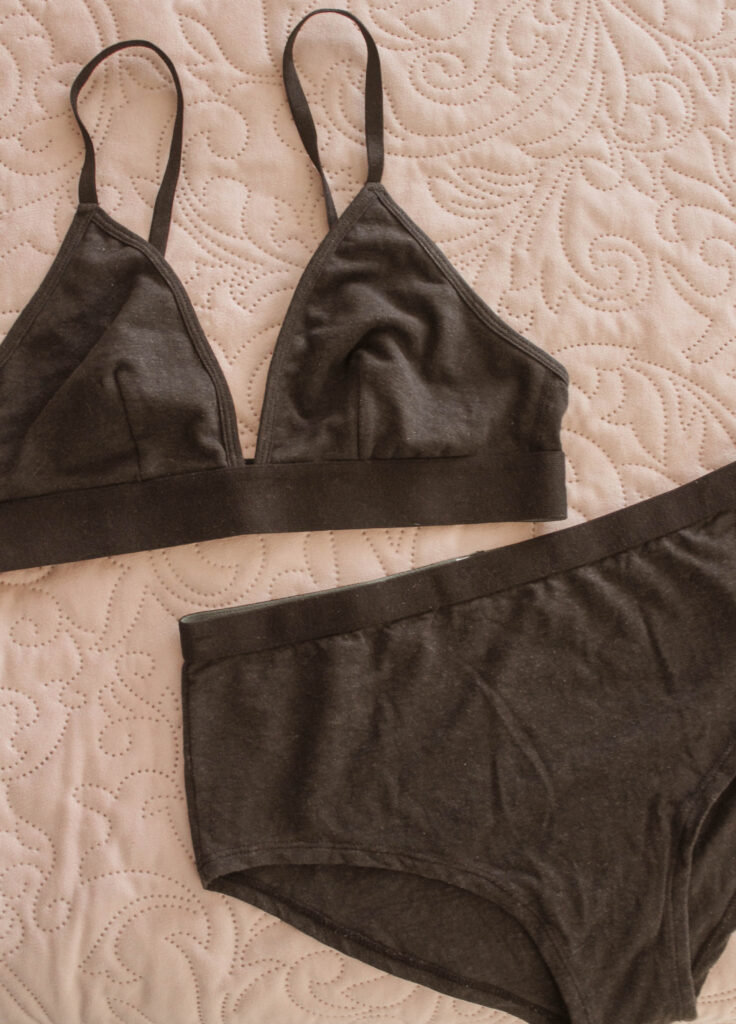 Design / Quality
When it comes to design they keep it classic. If you're looking for some basic comfortable underwear WAMA got's you.
For the bottoms, they have a lot of style options depending on how much coverage you'd like. From thongs to boy shorts you can choose whatever you find more comfortable.
They don't have a lot of product options on the top parts, they only have a sports bra or a bralette. Which are basic essential pieces in my closet.
I ordered the Triangle Bralette and Lucy the Racerback Bralette. Both are super comfortable, I have even slept with the bralette and I didn't feel it. This one I can truly recommend. It's not itchy and it's breathable. The only detail I didn't like is that it needs more coverage and the placement of the seam makes the nipple pop out even more. If you're not as confident as me this might be an issue for you, but I find it very comfortable as a loungewear bra and to wear underneath thick sweaters. 🙂
We also picked a high-waisted panties pack of 3 in a size small. These came a bit bigger than I expected so I recommend ordering one size down than you normally wear. 
They offer underwear for women and for men. We didn't try those out but we liked that they had that option as well.
When it comes to colors they offer black, green, and 4 nude colors.
Their sizes go from XS to 3XL; not so many sizes but definitely better than just Small, Medium, and Large.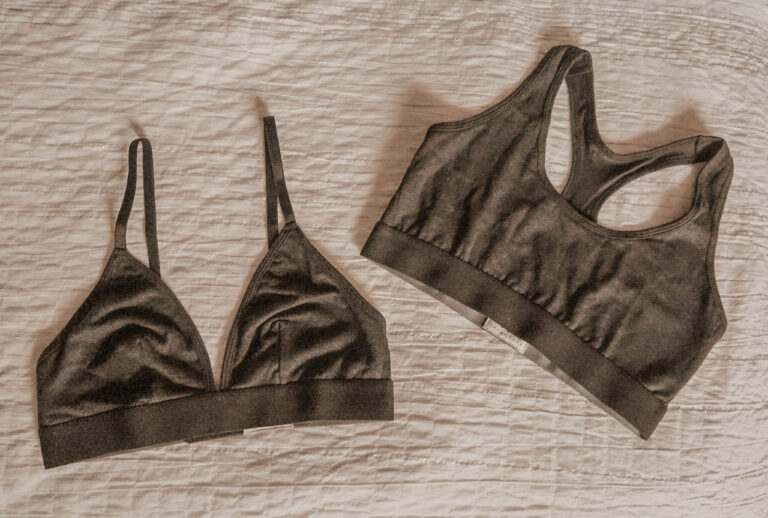 materials they use
They use Hemp, Organic Cotton, and Spandex fibers to create knit fabrics for their underwear. 
Hemp is a natural fiber with anti-bacterial properties, it's super soft and breathable. 
Organic cotton is a natural fiber as well, it should be free of pesticides and pollutes the earth less than regular cotton.
Spandex is not a natural fiber but it is the only one that gives the fabric the stretchy property, helps the fabric to stay in its shape, and not deform. Also, it makes it more durable. Unfortunately, this is not a sustainable fiber.
With their textiles being manufactured in China, WAMA supports small family-run organic hemp farms. 
They believe in partnering with factories that improve their employees' lives with fair wages and quality working environments. Transparency with their factories is important for them, therefore, they have a WAMA team member based out of China to oversee everything and have better communication.
And they are a National Hemp Association Business Member, supporting the growth and development of all aspects of the industrial hemp industry. This is a detail that helps us as consumers believe their intentions are true, that they do care for the environment.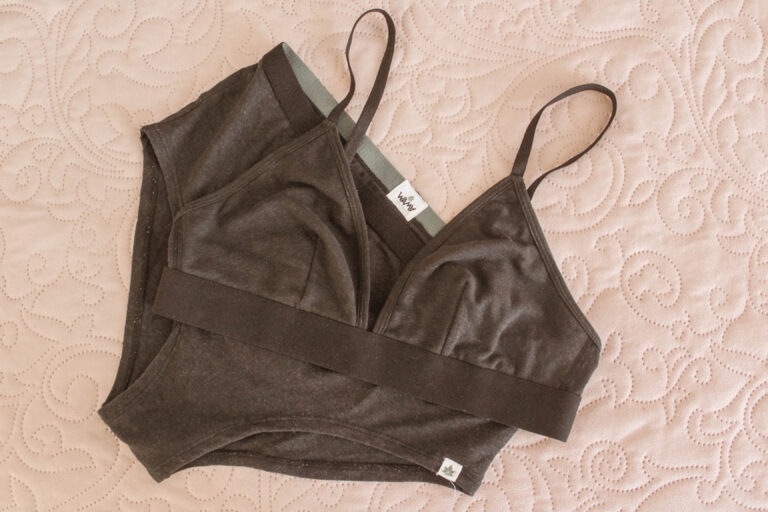 impact on the planet
Their hemp and organic cotton fabric use only 3% of the water conventional cotton uses. 
Due to sustainable farming practices, the energy used in their fabrics is 18% less than that of regular cotton.

I personally think that they could improve in finding more ways to reduce their impact, but honestly, they are doing a great job. 
ethical production
Transparency is key for them so you can see that they care about their workers and the conditions where they are doing their job. 
With a commitment to support their people they have a code of conduct which you can check on their website in the ABOUT section.
They are also involved in the Business Social Compliance Initiative to help integrate social compliance
and promote good working conditions among their suppliers.
In addition, their fabric is dyed in a facility that is Oeko-Tex Certified. This ensures that the fabric has been tested for harmful substances and that the fabric is therefore harmless for human health.
the price
For being sustainable underwear I truly believe these have the correct price. It is fair and not expensive.
Their price range is approximately from $24 to $69. 
If you want to save a few dollars, you can try their packs. We ordered the High Waisted Underwear x3 Pack, but you can choose any of their products and turn it into a pack.
Plus you can use our code: OURFASHIONGARDEN15  and get a 15% discount! 
I could say that the relation price-quality is great. What you pay it's what you get.
In the reviews, it may depend on the product but the majority agree with us that they are comfortable, soft, and breathable. Costumers say that they would order again from them, that the shipping is fast, and their support team is efficient. 
One opinion that stood out for me is that these undergarments don't tend to last too long if you wear them every day, so you might want to consider that. But if you take care of it properly you can help the garment have a longer life.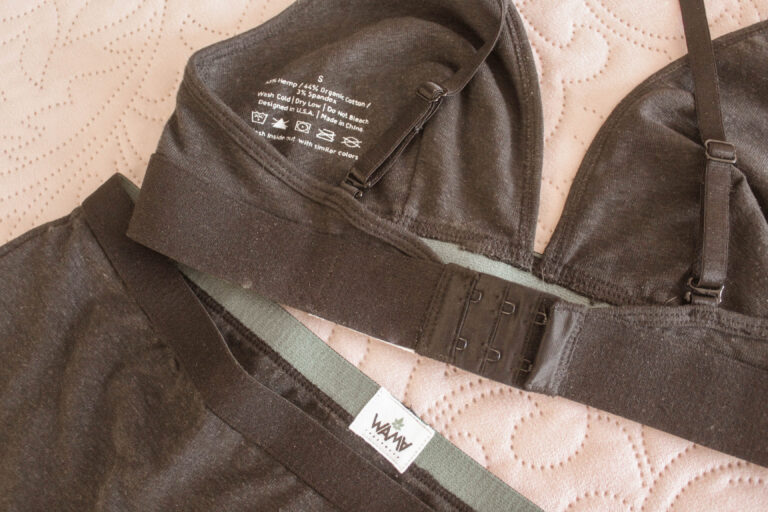 Caring tips for their underwear we recommend doing is wash by hand with cold water, hang to air dry (no dryer for these), and do not bleach.
If you would like to try these out and feel the hemp underwear for yourself, remember you can use our code  OURFASHIONGARDEN15 and get a 15% discount! 
Let us know in the comments if you enjoy this dreamy undergarments.
Don't forget to subscribe at the end of the page, for more reviews on sustainable brands and to have access to the freebies section.
53