The world is enveloped in rich, misty colors during autumn, the time of harvest, and shorter, foggy days. The characteristics of autumn are warm, dark, or soft, with a singular beauty, giving autumn a rich but muted appearance.
We've already discussed our relationship with nature, and just like the seasons, every one of us has unique natural features. For example, if you're autumn, you have a warm skin tone and hair ranging from golden blonde, light brown, strawberry, and red, to brown and dark golden brown. Your coloring is rich and complex, with golden undertones and a warm tonality to your skin. There may be bluish or pink undertones, but warmth is the primary color. Your eyes have a rich earth tone, and you have a deep, warm overall appearance.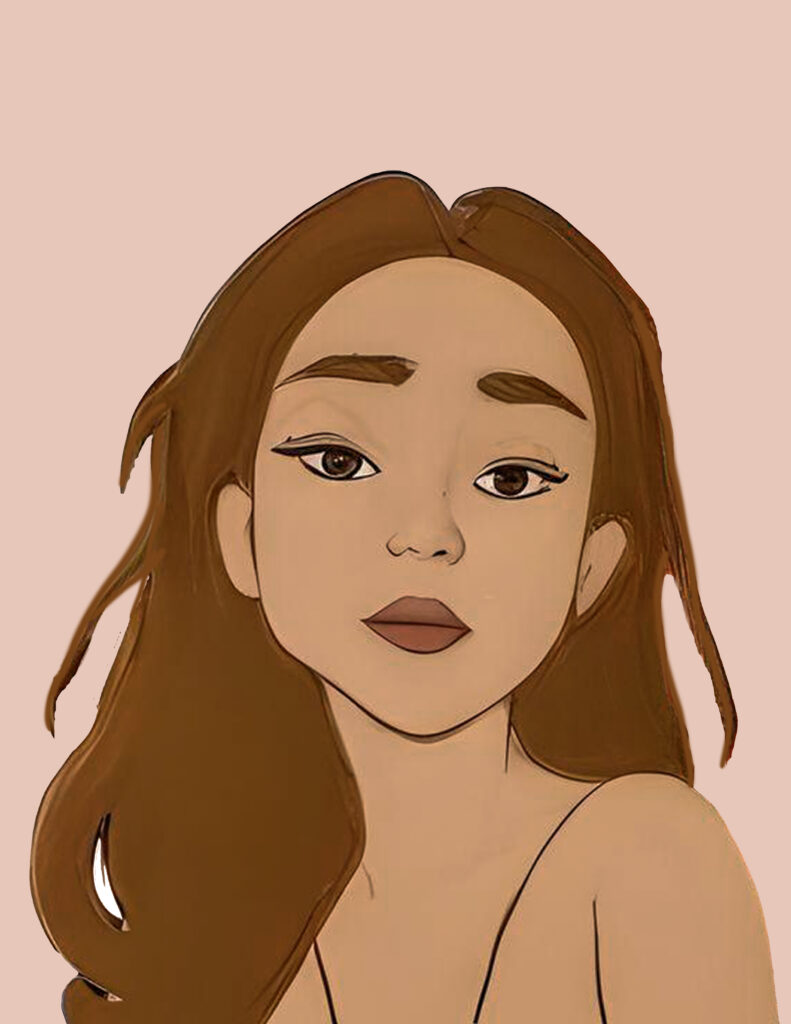 All of these features are unique to autumn folks. However, within this group, there are three subcategories to learn more about your season:
Warm Autumn (Also known as True Autumn)
Soft Autumn
Deep Autumn
Each of them has unique qualities that should help you figure out what colors work best for you and how to create combinations that look great on you!
Don't worry too much if some features of your appearance don't match the following descriptions 100%. You may still fall into this season of colors even if there are a couple of characteristics that you don´t feel identified with.
Warm autumns look best with typical autumn colors like brown, yellow, and red, spicy nutmeg, and pumpkin orange. True Autumn's color palette is rich, warm, and earthy, reminiscent of a trip through an autumn forest. Its colors are in the middle of the spectrum, neither too dark nor too light.
Characteristics of a Warm Autumn
You are a True Autumn if the primary color aspect of your overall look is warm and the secondary aspect is muted. Additionally, their coloring is soft rather than bright and clear. Your features like skin, hair, and eyes have a medium contrast with each other.
Your eyes are rich and warm. The most common colors are:
Warm green

Olive green

Dark hazelnut

Amber

Golden brown

Although rare, deep blue eyes with a teal hue and warm chocolate brown eyes are also possible.
You may see swirling even borders around the pupil and freckles on the iris.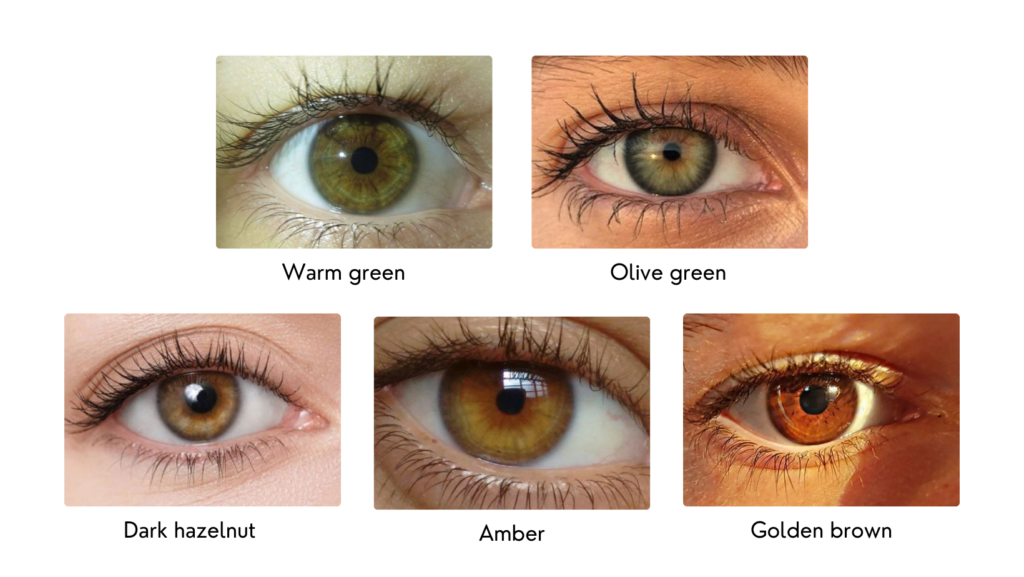 It has evident warm undertones, which means that gold looks great against it, but silver makes it look strange, now you know why that gold jewelry made you look even more radiant. The most common skin shades for True Autumns are: 
fair with slight yellow undertones

light or ivory with yellow undertones

medium

tan

light to medium brown with golden undertones. 
You may also have freckles. The most distinctive thing about the skin color is the tan or golden glow that it emanates when combined with intense, warm colors. Against black clothing, the skin may appear yellowish. Your skin tone will most likely tan easily, or freckle in the sun.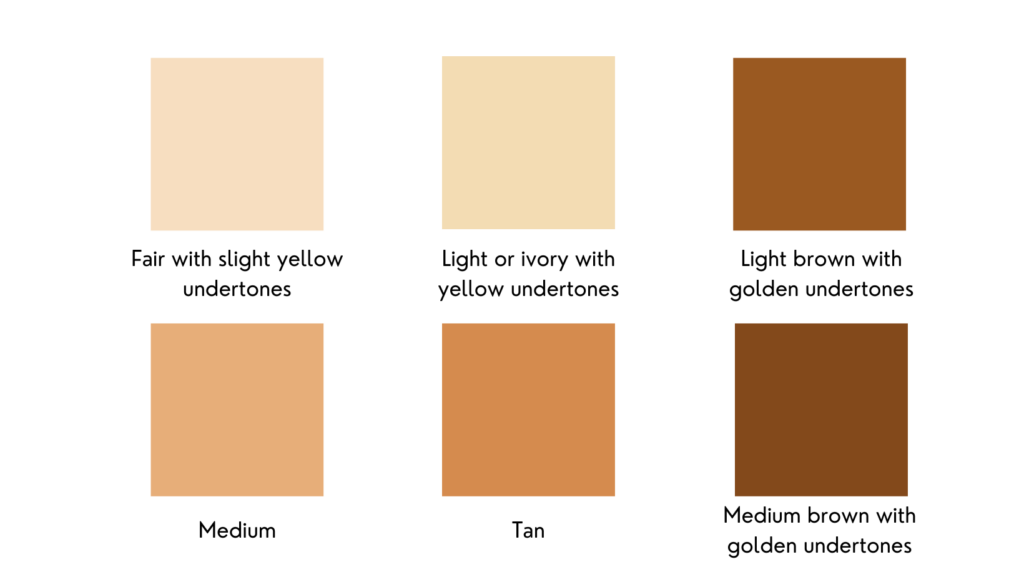 The hair, like the other features, emits a rich warmth. True Autumn hair often develops highlights when exposed to the sun, which can be golden, caramel, bronze, or oxidized. The primary hues are:
Auburn

Golden blonde

Caramel

Cooper

Cooper-ginger

Medium golden brown

Dark golden brown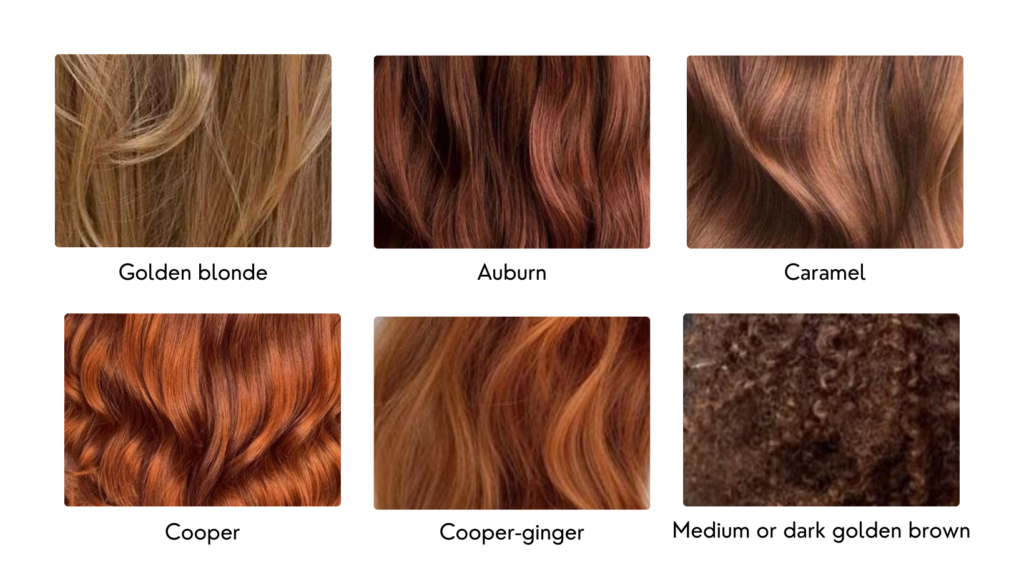 Color palette for warm autumn
Let's start with neutrals. Although the True Autumn palette leans towards dark tones, true black (a winter color) is not the best color for you because it is too dark and cold. Dark browns and very dark, slightly olive greens are used instead. We recommend slightly yellowish whites that are warmer than pure white. The palette also includes beige and cream. They can be used as light neutrals.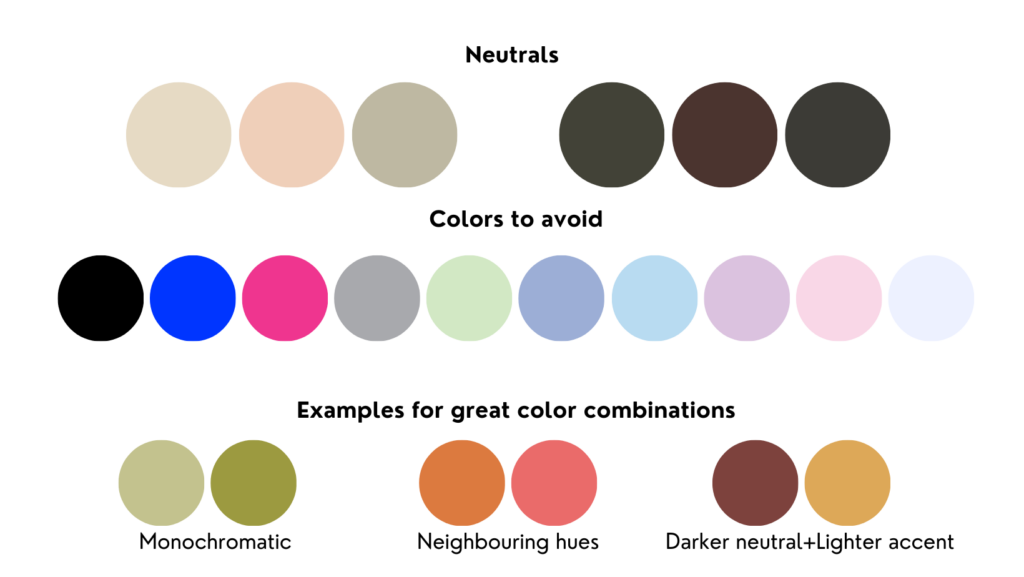 Since the main color aspects of Warm Autumn are warmth and richness, the worst colors are cold and bright.
In addition to black and white, other cool, bright colors, such as pastel pink or ice blue, will clash with your natural warmth and richness and make you look out of place. Extremely bright and vibrant colors, such as deep pinks and blues, will also eat up your coloring.
When putting together outfits, you can technically mix and match any of the colors in the True Autumn palette. However, some combinations will look far better than others. These are the combinations that mimic the level of contrast that exists naturally in your appearance.
But, like True Autumn, you can go even further in terms of contrast. A darker neutral can also be combined with a lighter, richer accent color, such as a medium brown or a mustard yellow. Similarly, lighter neutral colors can be combined with darker, rich accent colors. Although these combinations have some contrast, they are not particularly striking.
The most common Warm autumn colors are:
warm, rich, and muted reds

deep dusty green color with olive undertones *remember true autumns can wear dark and light muted versions of green 

muted forest greens

amber and golden shades

muted harbor blues

dusty lilacs and muted lavender

autumnal oranges and yellows (not neon or bright lemon shades) 

dusty rose/rosewood tones 

red-brown & burgundy colors that have a muted richness to them 

russet plum brown shade with golden undertones 
These are just guidelines to get you started. You don't want to restrict yourself too much if the colors below aren't appealing but instead allow it to be a guide and play around with different shades in each category until you find what works best.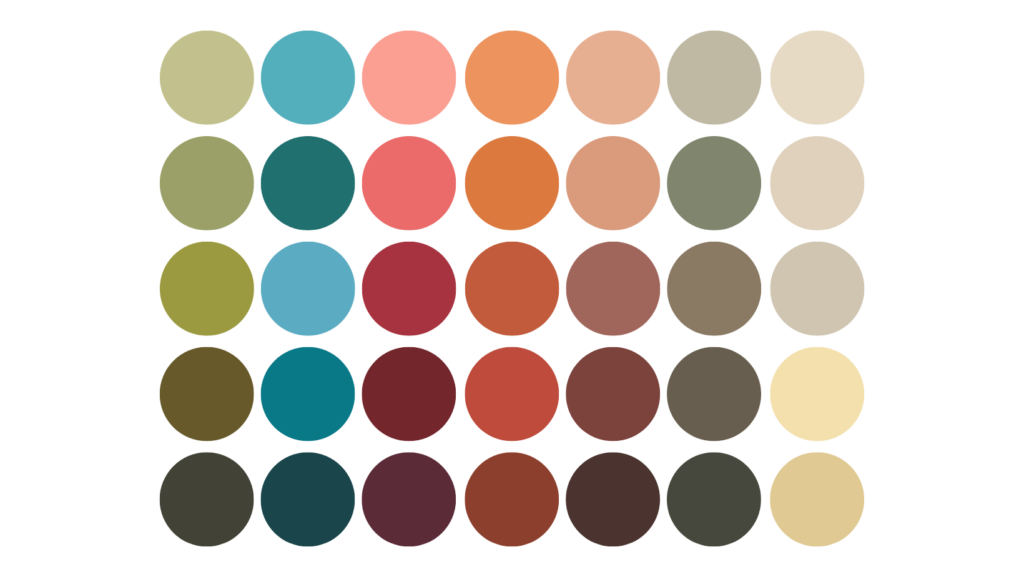 The colors of the deep autumn palette are too overwhelming for soft autumns, and the rich, warm colors of the warm autumn palette are too warm. Soft Autumn´s coloring is fairly neutral, and they can wear soft colors of both warm and cold hues, though they prefer warmer hues. Colors that are too bright may appear garish. Soft Autumn is a cross between Autumn and Summer, and its warm and cool tones will appear quite neutral, neither obviously warm nor cold.
characteristics of a soft autum
This color season is based on the warmth and richness that define autumn, but it is considerably softer due to the influence of summer. If your primary feature is muted and your secondary feature is warm. You are a soft autumn, which means you look better in warm hues than in colder ones. Your skin, eyes, and hair all have similar tones. Instead of being bright and vibrant, your features appear soft and muted.
Soft Autumn eyes can be:
Green

Light hazel

Light or medium brown 

Soft warm Blue

Soft Blue-Green

Soft Amber/Topaz
Blue eyes in this color season are typically warm and grey in tone. They have a greyish tint to them, giving them a muted appearance. Autumn eyes are also distinguished by freckles on the iris and swirling erratic borders.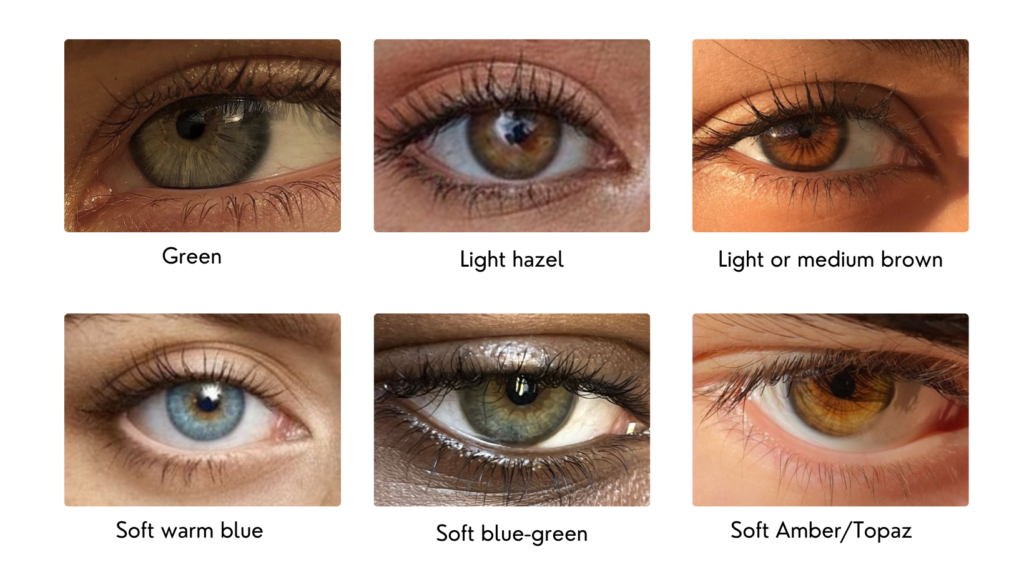 The skin is neutral or neutral-warm, which means that both gold and silver look good in contrast, but gold looks better. 
Warm Ivory

Rose Beige

Pale Tan

Medium

Tan

Almond (warm)
Ranging from light to tan and often with a hint of sand or yellow. Surrounded by vibrant colors, skin can appear dull. And against true black, it may appear yellowish.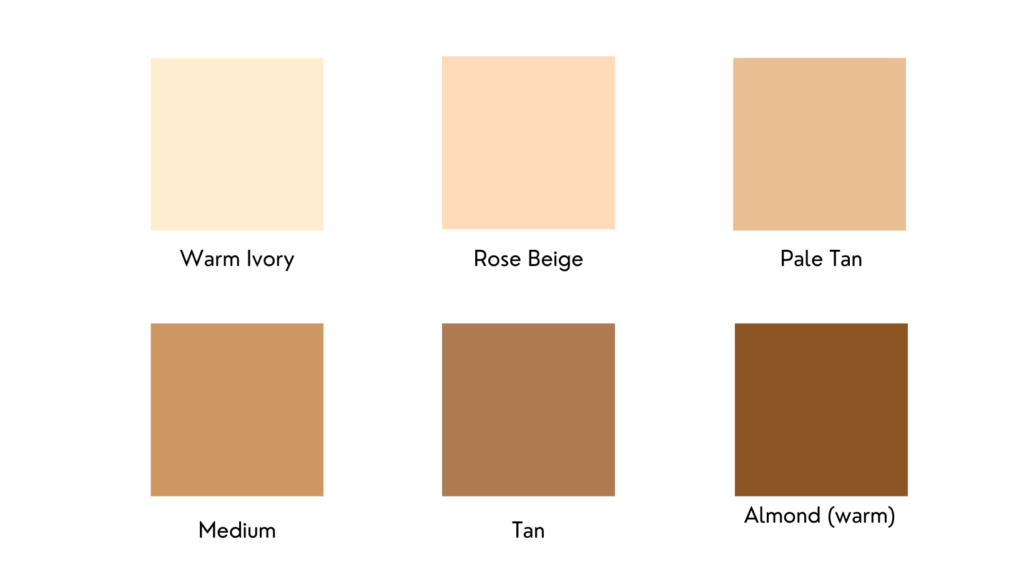 Hair can occasionally seem a little ashy, but when it's in the sun, it can get golden highlights. The primary hues are:
Strawberry blonde

Gold blonde

Pale gold brown

Middle brown

Ash brown
It's crucial to remember that you should focus on your hair's natural highlights and colors rather than any dyed, bleached, or balayaged areas.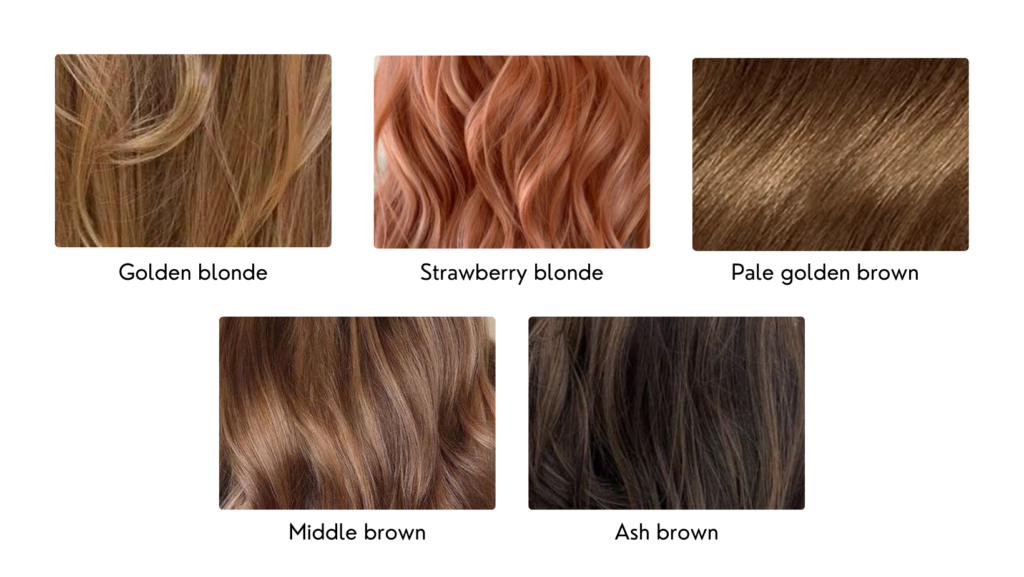 color palette for soft autumn
Soft autumn is a colorful season reminiscent of hazy days. The last rays of summer sun fall on the earth, resulting in gentle, earthy autumn landscapes. These colors are delicate and enigmatic. There is minimal contrast between the shades.
The colors we recommend for this season are soft ones, neither too cold nor too warm. This means that the palette lacks colors like the oranges of True Autumn or the darker colors of the Dark Autumn palette. Instead, the palette includes softer colors, such as olive greens and delicate reds and pinks.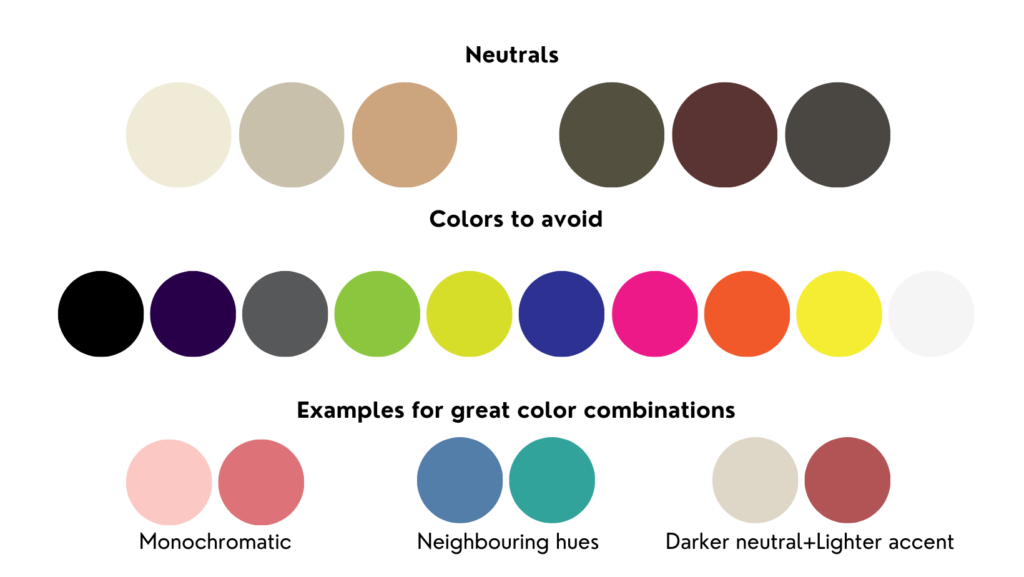 Due to your soft coloring, dark colors are one of your worst options.
Instead of black which wouldn't be the best option, you could go for dark browns, dark grays, and dark greens. The closest thing to black in the palette is a warm, dusty dark gray. Pure white is also too harsh and cold for you. Opt for yellowish-white, beige, and sandy colors. Cool colors like blue grays will clash with your warm appearance.
Technically, you can combine any of the colors in the Soft Autumn palette with each other. But certain combinations will look much better than others. Those are the combinations that repeat the level of contrast that is naturally presented in your appearance.
This season does not tolerate much contrast. Therefore, your best color combinations are those that complement each other. The best way to achieve this is through monochromatic color combinations. You can combine slightly different shades of the same color, such as a lighter green with a darker one. Avoid combining highly contrasting colors, especially those that are opposite on the color wheel, such as blue and orange.
Here are the best colors for a Soft Autumn:
antique gold

butterscotch

dusty turquoise

moss

olive green

warm pastel pink 

baked clay

teal

rich spruce green

rich warm grey (almost brown) 

mahogany

coffee brown, camel, and sand

light navy

deep periwinkle

aubergine 

mint

salmon

light pink

rust

warm off-whites}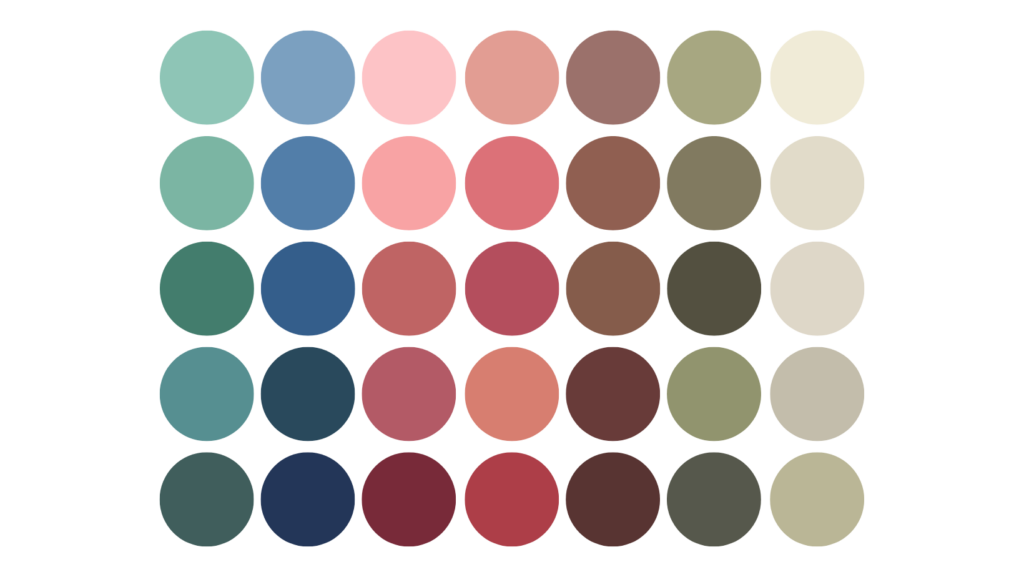 The deepest and most vibrant hues in the autumnal palette belong to deep autumn. Some of the hues that accentuate this season are pine green, tomato red, and rich dark chocolate. Avoid using light earth tones and pastels that are too delicate. In comparison to a warm Autumn, the coloring of a Deep Fall is a little more neutral as it is a blend of Fall and Winter.
Characteristics of a deep autumn
You are a Deep Autumn if the primary color aspect of your overall appearance is dark and the secondary aspect is warm, meaning that warm colors suit you better than cooler ones. Your hair and eyes are dark. Your skin may also be dark or it may be lighter. Gold flatters your skin more than silver.
The most common eye colors for Deep Autumn are:
Dark hazel

Dark green

Rich olive

True golden brown

Warm dark brown

Warm black. 

Although very rare, this color season's eyes can also be a dull dark blue. 
Autumns in general tend to have a warm or woodsy quality to the eye. And they often have speckled or star-shaped shapes.
The skin is neutral or neutral-warm, which means that both gold and silver look good in contrast, but gold looks better. Deep Autumn skin has golden undertones and can be anywhere from fair to medium to dark in color. Skin undertones are golden or tan. The skin may look pale in winter and most likely tan easily, it may also have freckles. The most common skin shades for Deep Autumns are: 
Fair with yellow undertones

Light/ivory

Medium

Rich tan

Medium brown with golden undertones

Deep brown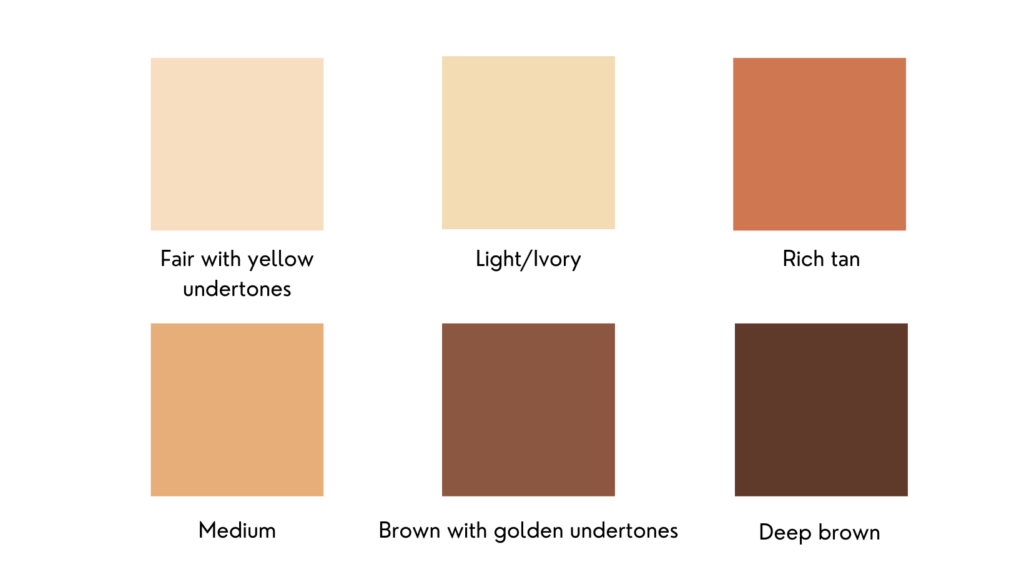 Hair colors for True Fall always have golden undertones. The most common hair colors for que vaya Dark Autumns are:
caramel color

may include dark golden blonde (but this is a little less common)

medium brown with golden undertones

dark auburn

dark brown or black brown but with warm undertones
Regardless of the color, your hair has an intense, warm, and deep shine and can develop golden or red highlights when exposed to the sun.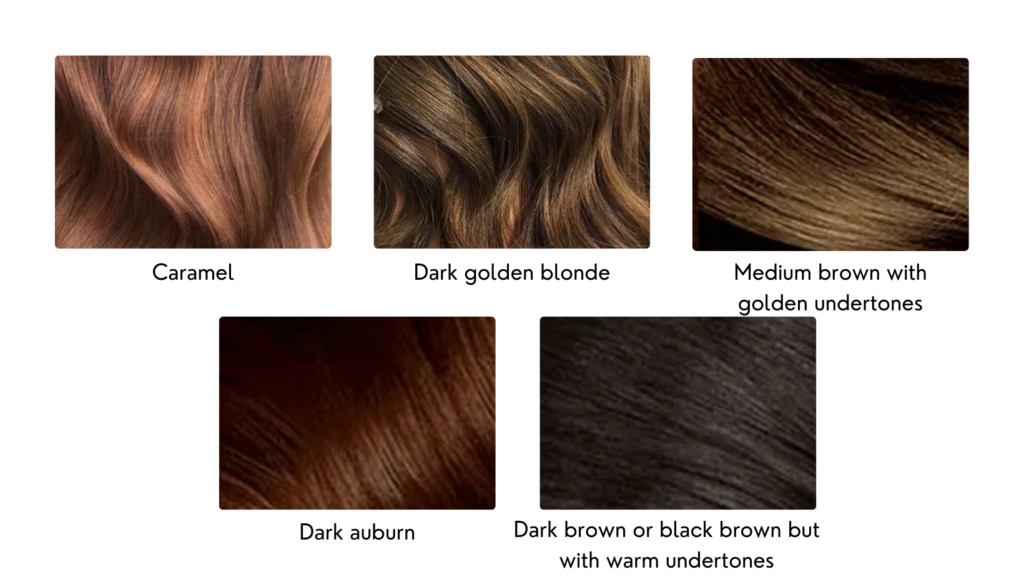 color palette for deep autumn
The chromatic season that evokes late autumn afternoons is called Dark Autumn. Rich and deep, these hues resemble the last of the brown leaves dropping from the treetops. The colors of deep autumn are the most pigmented and dark of the autumn family; they are on the darker and less warm end of the autumn spectrum, but they still have some warmth without going into the chilly winter palette. Deep autumn blends warmth and depth.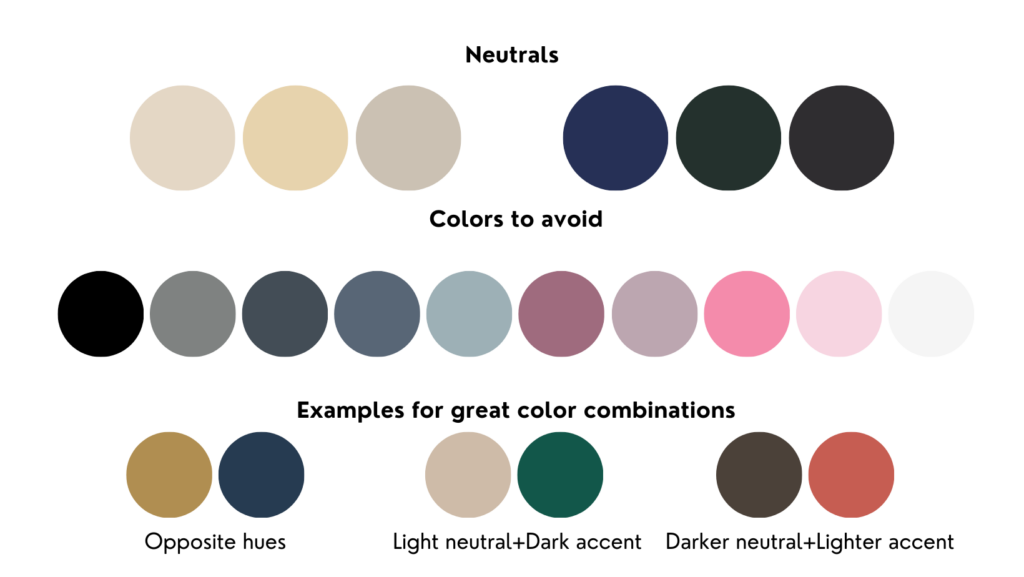 Its colors are deep. But there are also lighter colors in the palette, which are necessary to create the high contrast naturally present in a Dark Autumn look. Most colors have a yellow base, making them naturally warm. The range focuses on golden tones such as mustard yellow, oranges, and reds. And although the colors may seem bright, they are not. It is their warmth that makes them rich.
Like the rest of the autumn family, cold black will not flatter you. 

Instead, there is a warmer black with a subtle greenish undertone in the Dark Autumn color palette, as well as dark chocolate browns. These are your dark neutrals and will complement your warmer color more than true black. 

The same applies to white. Instead, you have different shades of beige and yellow that are warmer and much more suitable. 

Since Dark Autumn's main color aspects are depth and warmth, your worst colors are light, cool ones like pastels, dusty blues, and pinks, these will make your naturally rich color look dull and washed out.

The least flattering color combinations for Dark Autumn are those that have very little contrast, such as monochrome looks.
Technically, you can combine any of the colors in the Dark Autumn palette with each other. But certain combinations will look much better than others. Those are the combinations that repeat the level of contrast naturally present in your appearance. You can combine darker colors with lighter, brighter accent colors. If you have dark skin, you can create contrast by wearing lighter-colored suits and accentuating them with darker ones. Combine shades that are opposite each other on the color wheel, such as yellow and blue.
Here are the best colors for a Deep Autumn:
rich camel

Khaki

golden and dark brown

Brown coffee

Stone

Deep Peach

Salmon

Pumpkin

Terracotta

Red Tomato

Eggplant

Yellow gold and mustard

Light moss 

Olive

bluish green

Green Forest

periwinkle

Purple

light navy blue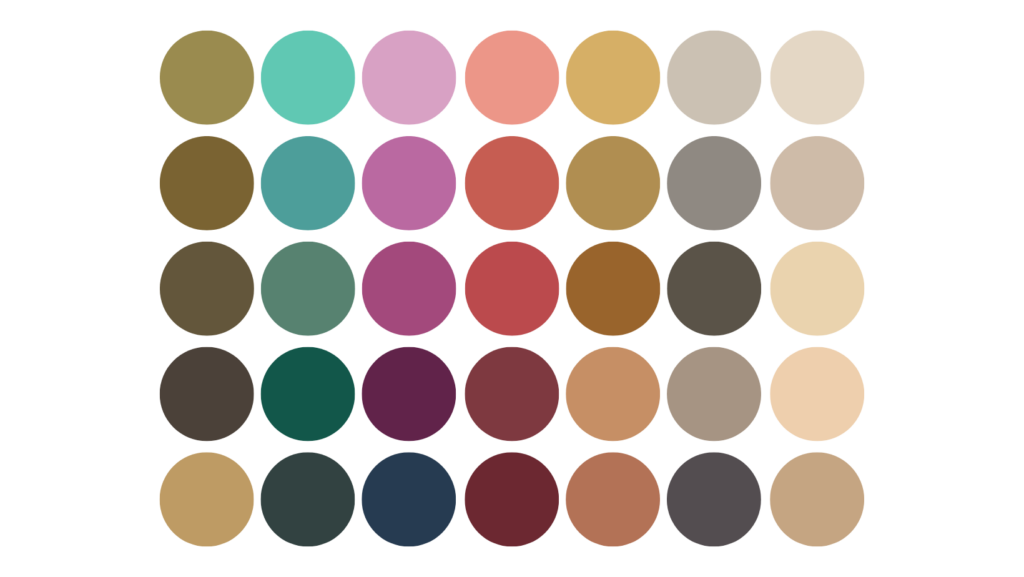 Finally, a couple of extra tips: 
Use your colors as a guide, not a rule
You shouldn't rely on your colors as an infallible rule for every color that suits you. So why not?
Due to the fact that the 12 seasonal subtypes are neither exclusive nor exhaustive. That means you might not fit perfectly into a single type or color palette. It would be a shame to ignore all the other colors if your characteristics match one of the types.
Other palettes, particularly those in your season, offer a wide variety of other shades to experiment with that will also suit you. Using the other palettes can assist you in creating more diverse but still cohesive color schemes for your needs. Start with your recommended color palette and work your way up to experimenting with different color tones and shades.
Prioritize colors close to your face
Color analysis seeks to find colors that complement your skin tone, hair color, and eye color—in other words, your face. Colors that are not close to your face can influence your overall appearance but not necessarily your complexion.
Try wearing different colored clothes close to your face. If you have a favorite color that isn't in your palette, go ahead and use it; however, try to use it for details or in a lower part of your outfit, away from your face.
Your personal preferences always win over color analysis
Your color palette should never limit your ability to express yourself.
If the suggested colors do not match your style concept, simply examine each shade individually to see if you can pull it off. Using the process of elimination, you can begin to create a color palette that is uniquely yours. If a particular shade makes you look sickly, look for a substitute that captures the essence of the color but matches your skin tone better.
I hope this helps you better understand those colors that go perfectly with you, so you can create perfect looks for yourself.
3