Summer is the time to spend long days in the sun and enjoy the cool, breeze from the water. The natural world is delicately colored by the strong sunlight. Summers appear generally soft and delicate because their features are cool, light, and muted.
We've already discussed our relationship with nature, and just like the seasons, every one of us has unique natural features. For example, if you're summer, you generally have soft, delicate features, often with pink, blueish, or grayish hues. Unlike Winter types, Summers don't need much contrast in their colors and tend to favor soft, neutral colors.
All of these features are unique to summer people. However, within this group, there are three subcategories to learn more about your season:
Cool Summer, also known as True Summer
Soft Summer
Deep or Light Summer
Each of them has distinct characteristics that should assist you in determining which colors work best for you and how to build combinations that look amazing on you!
Don't worry too much if some features of your appearance don't match the following descriptions 100%. You may still fall into this season of colors even if there are a couple of characteristics that you don't identify with.
True summers look best in soft and blended washes of color. True Summer's color palette is fresh and silent. It reminds us of a warm afternoon swimming in the sea, soft, soothing, and refreshing. 
Characteristics of a True Summer
You are a True Summer if the primary color aspect of your overall appearance is cool, and the secondary aspect is muted, meaning cool colors suit you better than warm ones. Your skin, eyes, and hair have cool undertones, which can be blue or beige. None of the characteristics have any warmth to them.
Your features blend instead of contrasting with each other. However, compared to the other two summer seasons, True Summer is the most contrasting. In general, the level of contrast between your features is medium.
True summer eyes are usually:
Blue

Gray

Green

Light hazel gray.

Brown gray.
Regardless of color, True Summer eyes are always softly gray, making them less vibrant than bright spring or winter eyes. Typical of the summer eye, you may notice a cracked glass pattern on the iris, which means they may have a ghostly or unstructured shape around your pupil. The color travels from the pupil to the outer edge of the iris, and it may even resemble white-crested waves in the water.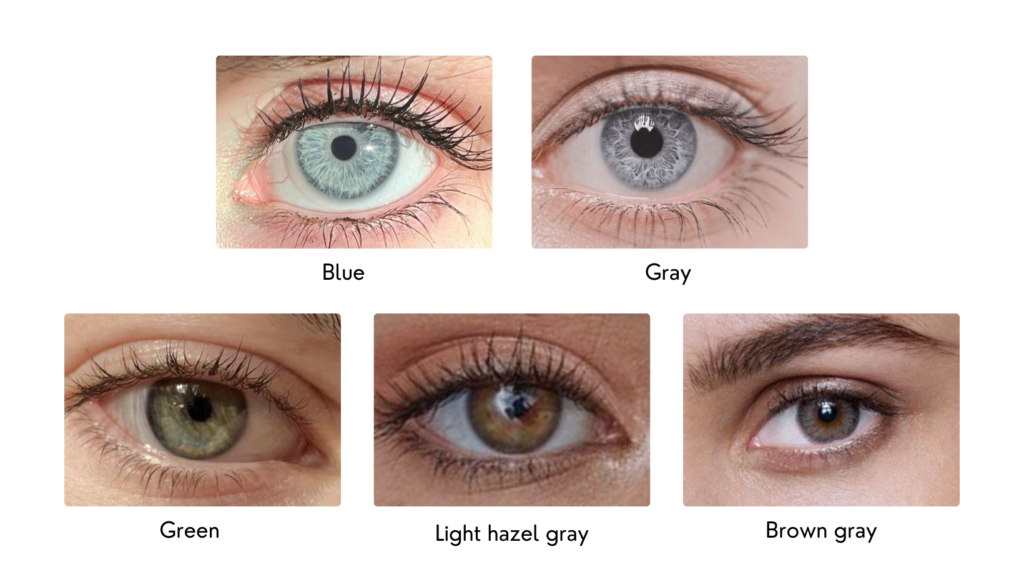 True summer skin is always cool, with blue or beige undertones and possibly a pink tint. Since the True Summer skin is cool, the silver looks good in contrast, but the gold makes it look strange. You can use jewelry of these colors to make the comparison.
The most common skin shades for True Summers are:
Porcelain

Beige pink

Variations from very light to medium regardless of your ethnicity, what makes you true autumn is the cool undertone of the skin, like a pink or ashy tone. 
There is always delicacy and sweetness in the summer type's complexion.
They may also have light to medium brown freckles. Due to their fair complexion, they can sometimes have sensitive skin that shows blemishes or redness easily.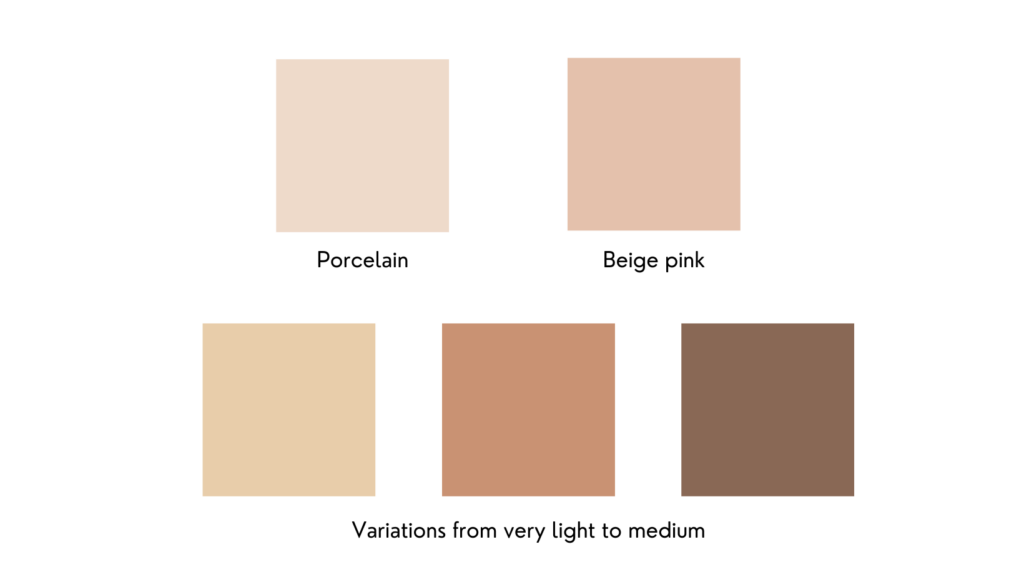 True Summer hair lacks golden luster and has no red overtones; redheads are therefore not typically true summers. True summer hair is more ashy and less warm. The main colors are:
dark blonde

ash blonde hair

light, medium, and even dark brown

ash brown

dark brown

black
You may also notice that your hair easily goes gray or silver, but this is not an issue for your color pallet! The transition between tones on your face might be quite harmonic. Your silver hair may have a bluish glimmer at times, or it may also have a brighter white tone.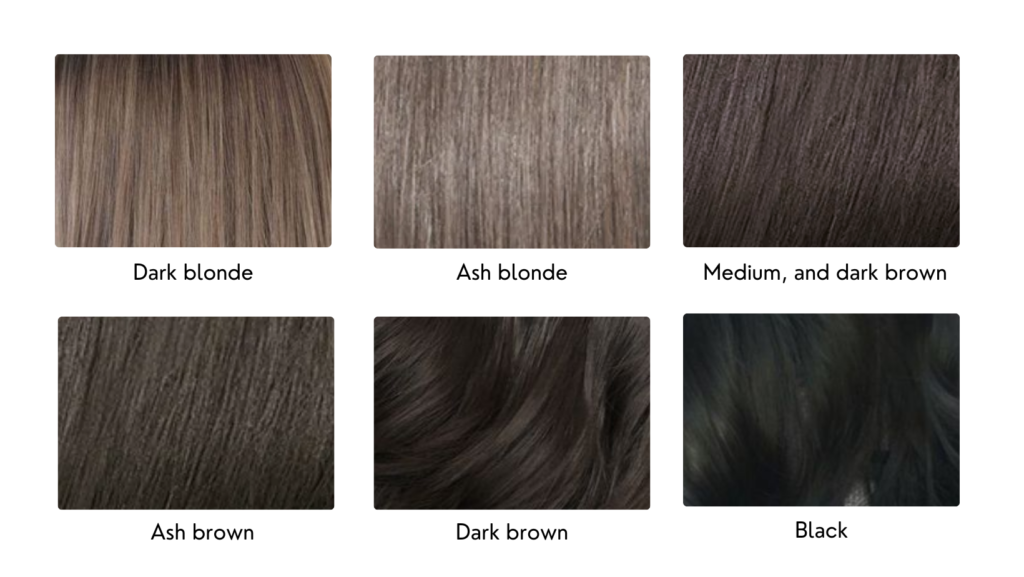 color palette for cool or true summer
Cool or True Summer is the season of color that is reminiscent of summer days at their peak, with colors that are fresh, calming, and refreshing, immediately making us think of cold water on the skin. The True Summer color combines freshness with softness, the colors are cold with a light blue tone. There is not even a hint of warmth in this palette. 
Your natural color is really soft, so true black (a winter color) is too dark and harsh for you. 

Instead, you have darker greys, blues, and browns in the palette, which you can use as dark neutrals for your outfits.

True white also doesn't go well with your appearance because although it is light, it is also too bright. 

Instead, you have light sand tones, very light grays, and grayish blues. These are best suited for the cool, muted look of a true summer.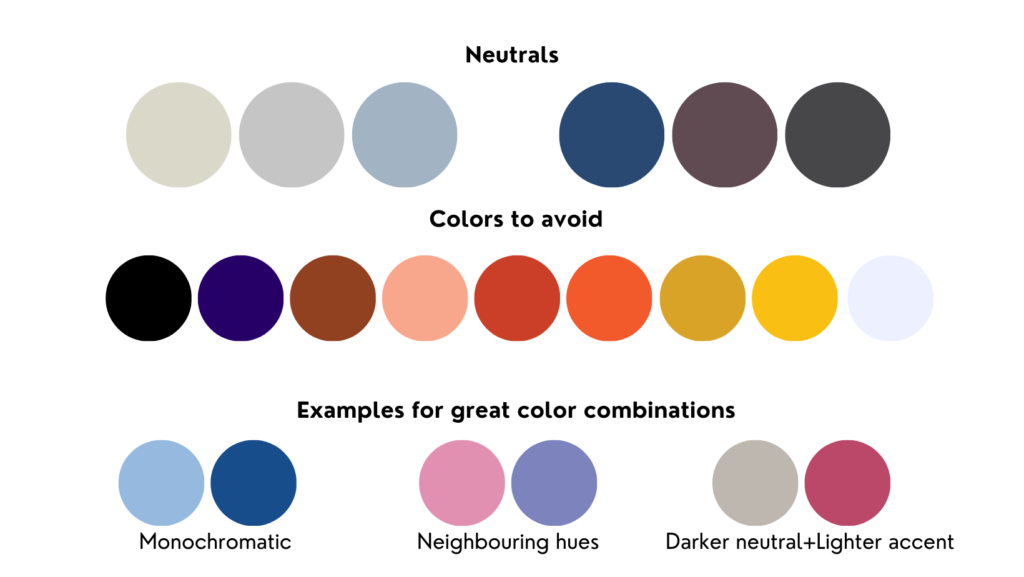 Warm, saturated colors, such as bright yellow and earthy colors with yellow undertones, will clash with your natural freshness. Likewise, dark, harsh colors, such as deep purple will dominate your soft look.
Technically, you can combine any of the colors in the True Summer palette with each other. But certain combinations will look much better than others. Those are the combinations that reflect the level of contrast that is naturally present in your appearance.
True Summer's natural appearance combines rather than contrasts. However, there is some contrast between the features. As a result, the greatest color combinations for your clothing are those with a medium contrast.
Monochromatic color pairings are one technique to achieve gentle contrast. Combine a lighter and darker shade of the same color, such as a light blue and a darker blue. You can mix adjacent colors as long as they have the same value, such as pink and lavender purple.
Here are the best colors for a True Summer:
Rose beige and cool browns (taupe, rose brown)

Pretty pinks (berry, fuchsia, orchid)

Mint green and blueish greens

French grey

French navy

Orchid

Watermelon red

Almost every shade of cool blue from the lightest powder blue to a deep navy blue
These are just guidelines to get you started. You don't want to restrict yourself too much if the colors below aren't appealing, but instead, allow it to be a guide and play around with different shades in each category until you find what works best.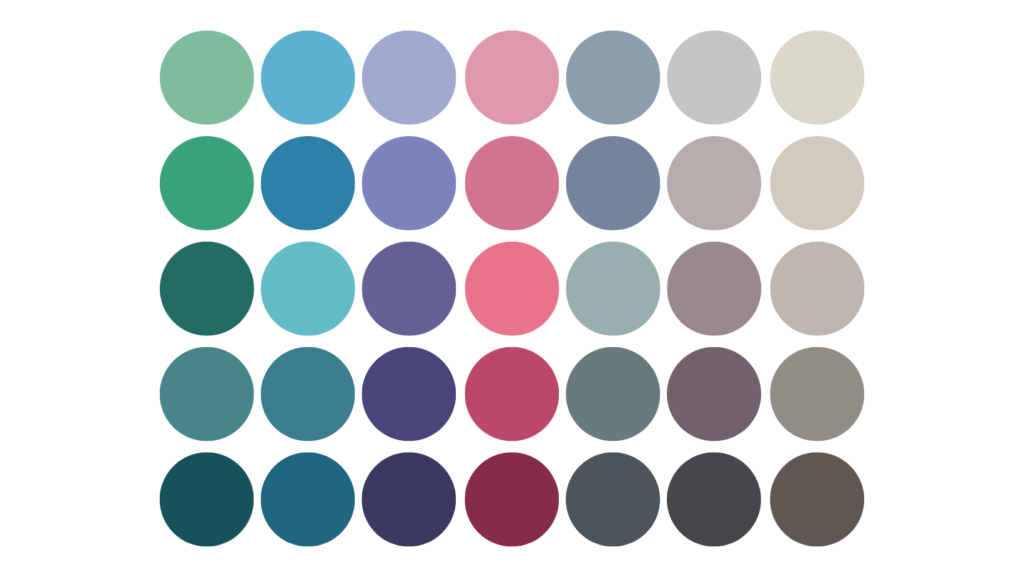 Soft Summer is cool and calm. Its color palette features muted, extremely desaturated colors that would appear washed out in other color seasons. However, they offer a subtle grace to a Soft Summer. This season occurs between True Summer and Soft Autumn.
Characteristics of a Soft Summer
Soft Summers have cool undertones, and their neutrality is subtle, but because they are close to Soft Autumn, they can have a touch of warmth that creeps in and makes it less cool than a True Summer.
You are a soft summer if the primary color aspect of your overall look is muted and the secondary aspect is cool, meaning that cool colors suit you better than warmer ones, silver flatters your skin more than gold.
Your skin, eyes, and hair color blend together. Instead of looking bright and vibrant, your features appear somewhat "muted" and gentle, with low to medium contrast. Its color is diffused and not intense.
Soft Summer´s eyes can be:
grey

gray blue

gray green

hazel gray

pale brown
Regardless of color, Soft Summer's eyes are always softly gray. Although they are lighter than Soft Autumn's eyes, they are not bright at all. These eyes often have a soft, gentle, or smoky appearance, which sets them apart from the more vibrant eyes of other seasons.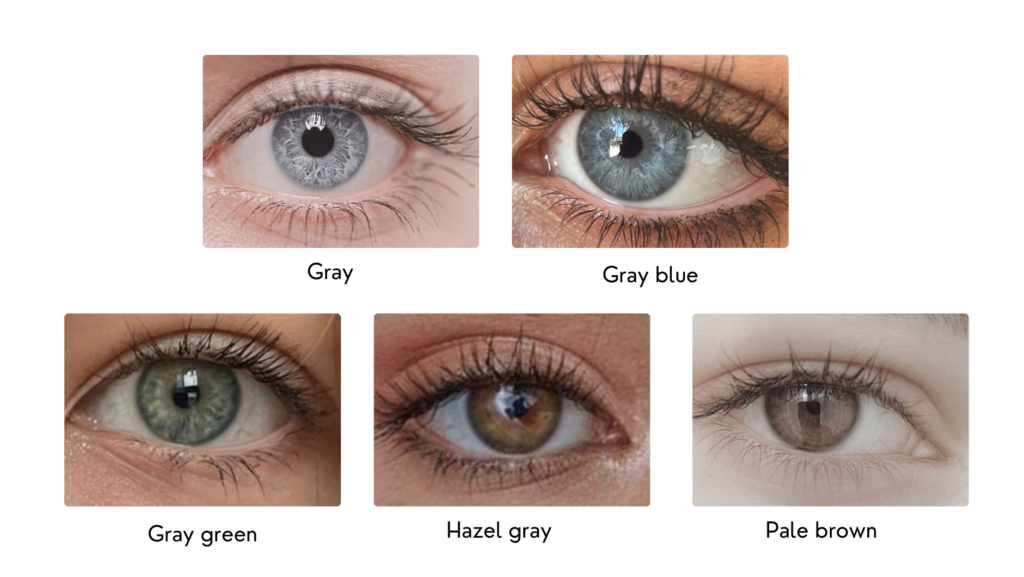 Soft Summer people possess:
neutral skin colors

fair to tanned skin, more muted than vibrant

olive tones

cool tones with pink or ashy/gray undertones.
Both silver and gold look good on the skin, but silver looks better. Soft Summers can also have freckles. The skin may also have a neutral appearance, which can make it difficult to determine the undertone at first glance.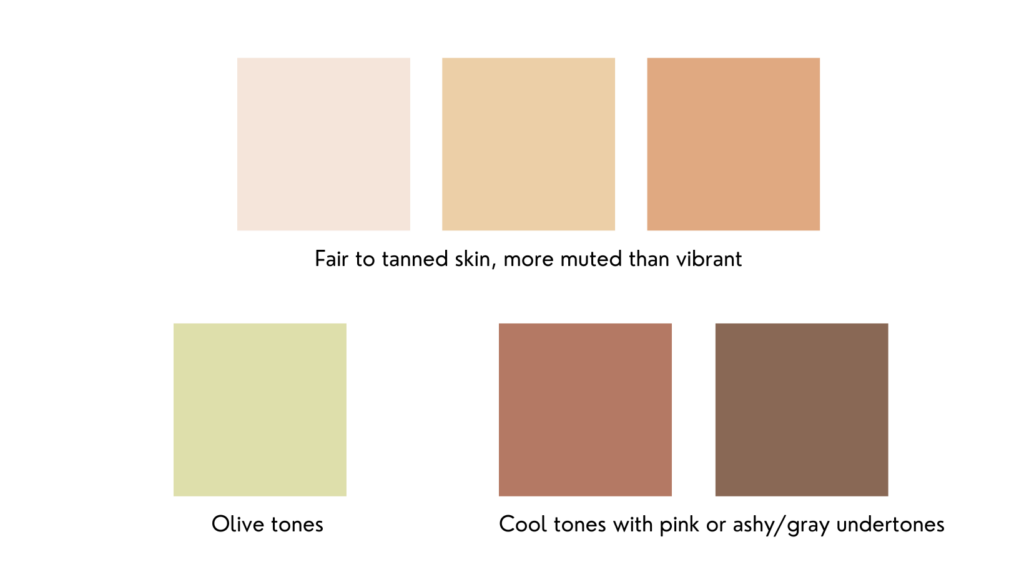 Due to the high concentration of gray pigments, Soft Summer hair lacks warm undertones, it always has a cool, smoky quality, and is never saturated and shiny. However, when exposed to the sun, it can develop ash-blonde highlights.
The main hair shades of this season are:
medium to dark ash blonde

light and medium ash brown.

dark brown with cool tones.

silver hair also harmonizes perfectly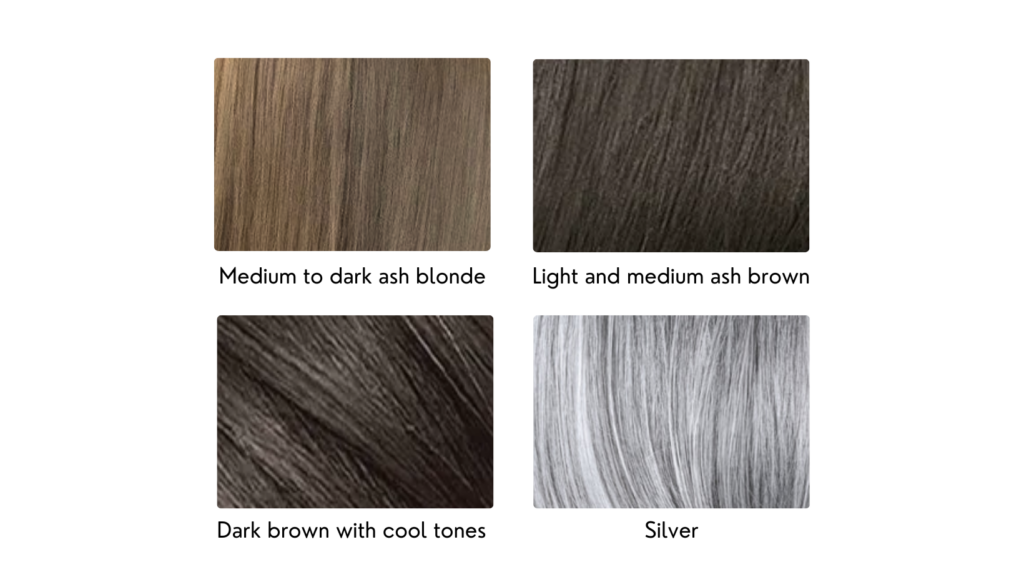 Color Palette for Soft Summer
Soft Summer is the season of misty days when the heat drives fog into the air following a cool summer rain, and autumn is just around the corner. The colors are delicate, subtle, and enigmatic. They have so many chilly and warm tones that their collision creates an eerily harmonized image.
The color palette includes desaturated, low-contrast, and cool colors: grays and blues, pinks, purples, and greens. The colors are not clear but complex and elusive, almost as if they are made up of many different colors. The approach of autumn also brings warmth, which adds a deep, brown element to the colors. Soft Summer has the darkest palette of the Summer family.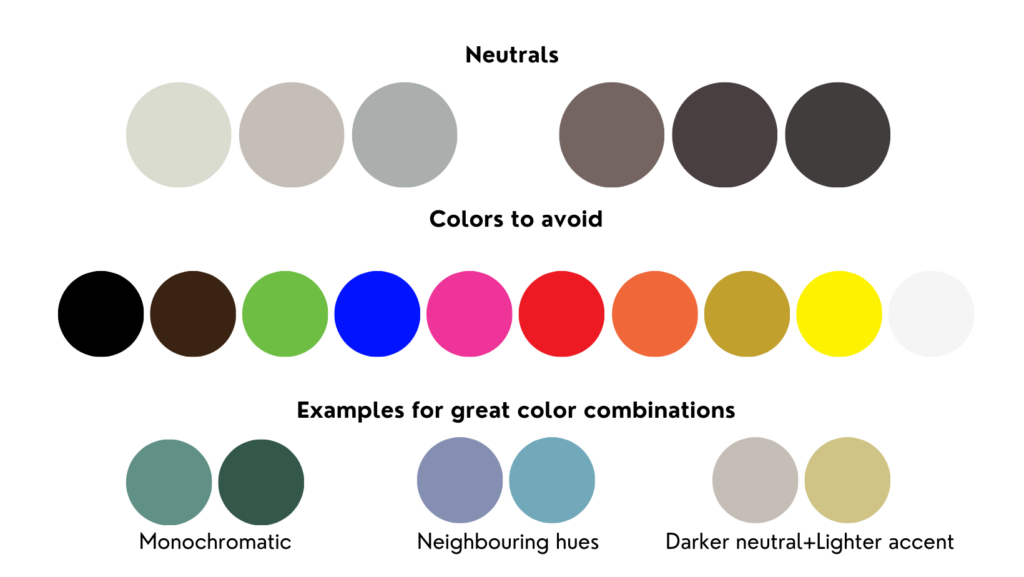 True black does not favor a soft summer. The closest thing to black are dark grayish browns, which are softer. These are your dark neutrals.

Pure white is also too hard for you. Instead, you have light grays, sand tones, and muted browns, which you can use as light neutrals.
Because the key color features of Soft Summer are desaturation and coolness, bright and warm colors are the worst. Colors that are intense and warm, such as orange-reds and earthy browns, are also undesirable to you since they will clash with your coolness.
Technically, you can combine any of the colors in the Soft Summer palette with each other. But certain combinations will look much better than others. Those are the combinations that repeat the level of contrast that is naturally present in your appearance.
Soft Summer's natural look combines rather than contrasts.

You can achieve this through monochromatic color combinations, mixing slightly different shades of the same color, such as a lighter green with a darker one.

You can also combine a lavender purple with a lighter blue. Another option is to mix a neutral color with an accent color of similar value, such as a light beige with a light yellow.
Generally, pastel and grayish colors combined in a monochromatic combination will look best in Soft Summers. This can make other seasons look washed out, but in a mild summer, it's nothing but flattering.
The best colors for soft summer are:
Off-white (cool toned)

Light to dark grey

Lilac and lavender

Ash brown

Navy blue

Soft red

Corn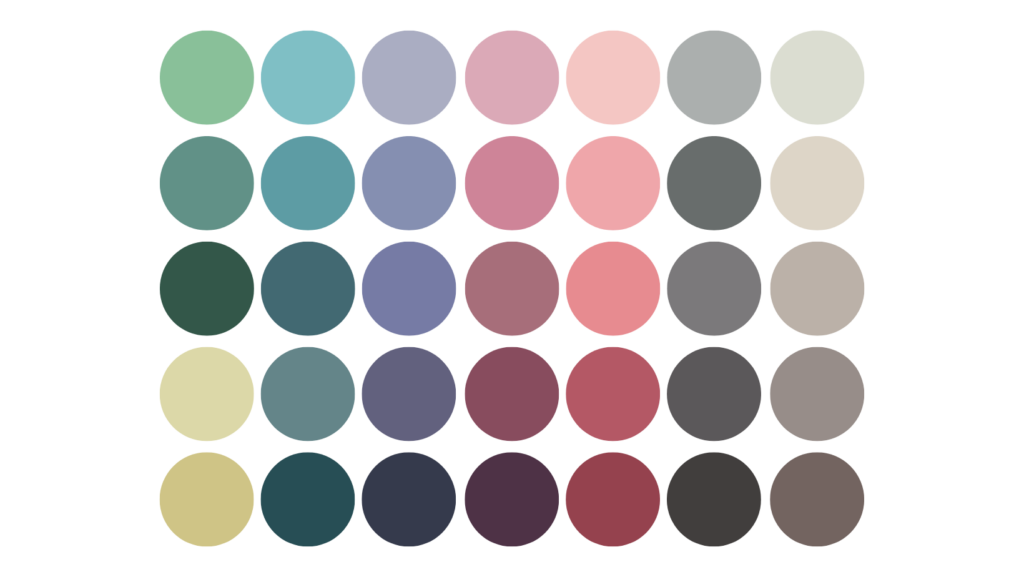 Summer is light and cool. This season of colors is even lighter than the typical summer season. And although it is a very delicate palette, it is also very colorful. Light Summer has characteristics between Light Spring and True Summer.
Characteristics of a Deep or Light Summer
You are a deep summer if the primary color aspect of your overall look is light and the secondary aspect is cool, meaning that cooler colors suit you better than warmer ones. All your features are very light and with low contrast.
Your features have mainly cool undertones (blues and grays), which means that silver flatters you more than gold.
Light summer eyes can be:
light grey

light or middle blue

light green

blue-green
There is no darkness to them and they usually have a cold, grayish tone. The separation between the iris and the white part of the eye is very smooth.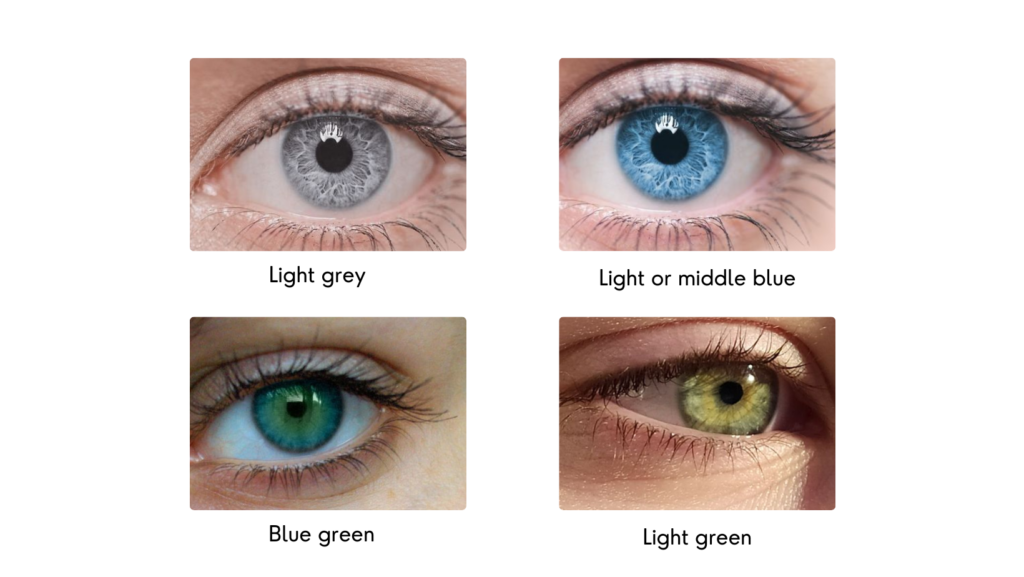 Light summers have neutral-cool skin that burns easily and may have a pink or beige tint. The main shades are:
rosy beige

neutral beige

light beige

soft beige
You know you have cool, neutral skin if both gold and silver look good on you, but silver looks better.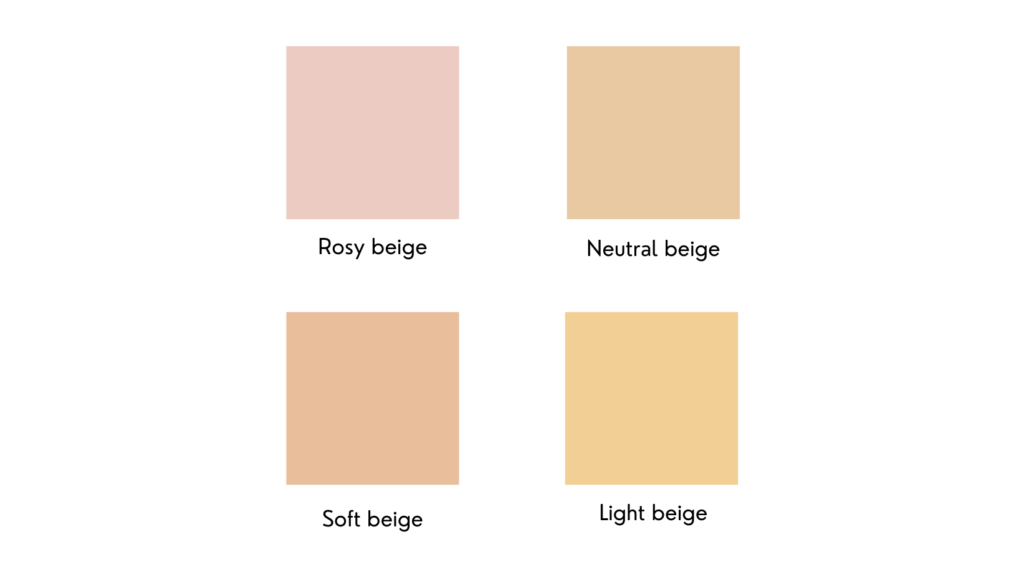 The hair of this color season is light:
very light ash blonde

medium ash-blonde

dark ash blonde

light ash blonde

icy light blonde

light ash brown
Normally, hair does not have natural highlights. Many Deep Summers were blonde as children, but their hair has darkened with age. If you have a lighter brown hair tone than the rest of your features you can also be deep summer.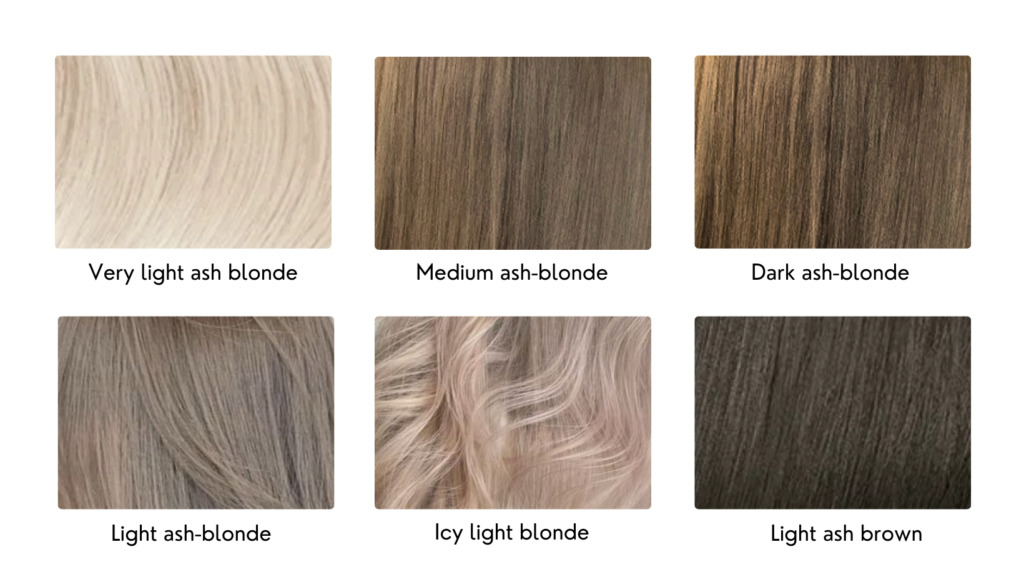 Color Palette for Light Summer
This season reminds us of cool summer mornings, rays of sunshine through fluffy clouds, and dew drops on foliage and flowers. The palette contains cold colors of medium saturation, such as light pinks and delicate blueish greens. There are no strong contrasts between the colors.
And while this season's color palette has the typical freshness of all summer seasons, it also has some of the warmth of its neighboring season, spring. Plus, spring adds some brightness and saturation to the otherwise muted summer palette. This is the brightest and least faded season of the Summer family.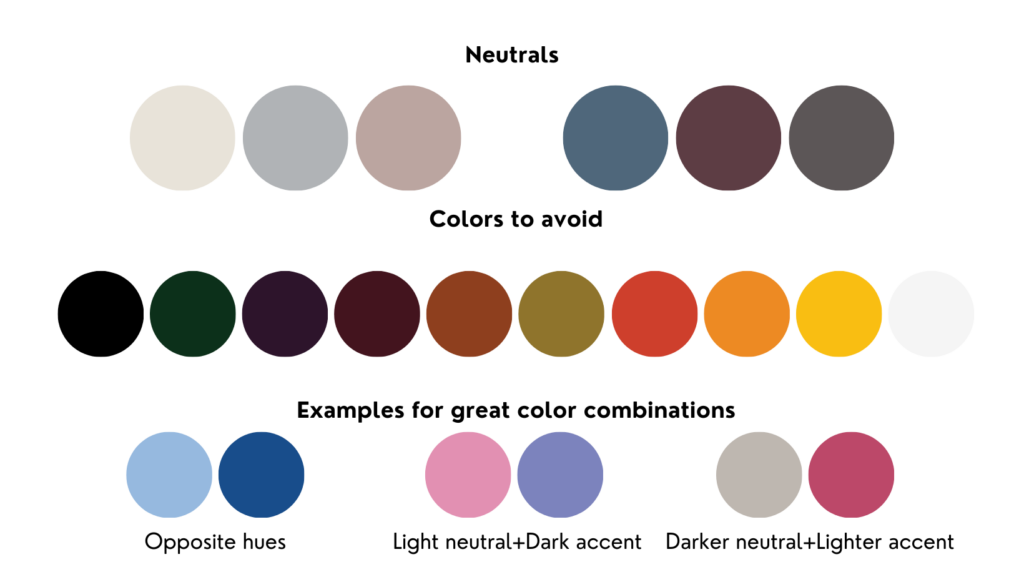 The least flattering colors for you are dark and warm ones.
Instead of all-black, you can use a dark ash brown and a dark gray-blue. And to replace bright white, we suggest light, muted beige, light grays, and light, cool browns. Likewise, very bright and vibrant colors, such as deep oranges, will overpower your natural delicacy.
Technically, you can combine any of the colors in the Light Summer palette with each other. But certain combinations will look much better than others. Those are the combinations that repeat the level of contrast that is naturally present in your appearance.
Light Summer is situated between a colorful and vibrant spring and a soft and muted summer. The colors of this season are brighter than those of the other two summer seasons, but its appearance is also delicate. 
We suggest combining neighboring shades, such as pink and lavender purple, or even colors that are further apart on the color wheel. Another way to achieve some contrast is to pair a neutral color with a brighter color, such as a medium gray with a brighter pink. In general, try to incorporate at least one brighter color into your outfit to keep your look colorful. Avoid exclusively neutral combinations.
The best colors for deep summer are:
silver

soft navy

orchid

baby blue

aqua

mint

banana

baby pink

flamingo cherry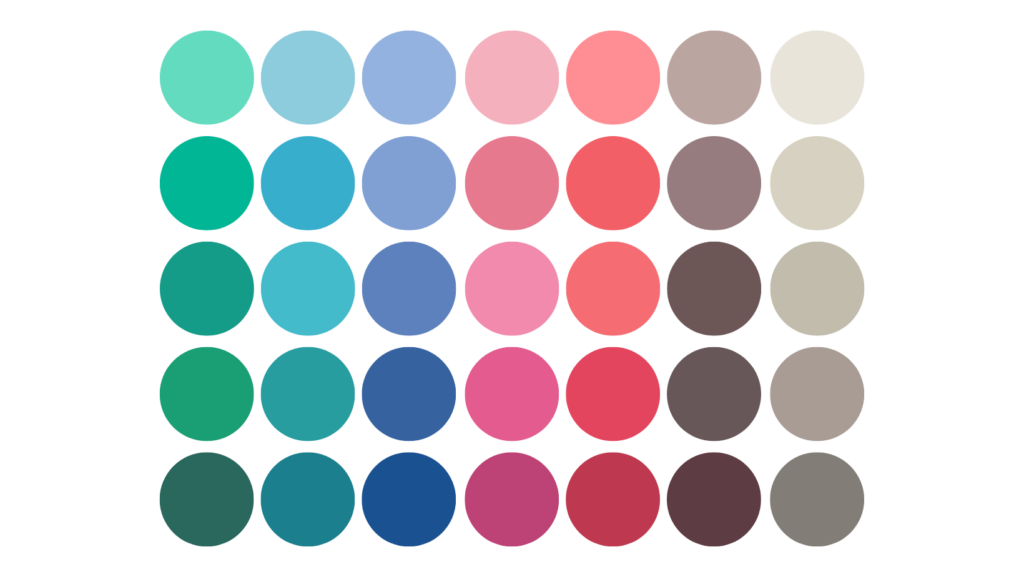 Finally, a couple of extra tips: 
Use your colors as a guide, not a rule
You shouldn't rely on your colors as an infallible rule for every color that suits you. So why not?
Since the 12 seasonal subtypes are neither exclusive nor exhaustive. That means you might not fit perfectly into a single type or color palette. It would be a shame to ignore all the other colors if your characteristics match one of the types.
Other palettes, particularly those in your season, offer a wide variety of other shades to experiment with that will also suit you. Using the other palettes can assist you in creating more diverse but still cohesive color schemes for your needs. Start with your recommended color palette and work your way up to experimenting with different color tones and shades.
Prioritize colors close to your face
Color analysis seeks to find colors that complement your skin tone, hair color, and eye color—in other words, your face. Colors that are not close to your face can influence your overall appearance but not necessarily your complexion.
Try wearing different colored clothes close to your face. If you have a favorite color that isn't in your palette, go ahead and use it; however, try to use it for details or in a lower part of your outfit, away from your face.
Your personal preferences always win over color analysis
Your color palette should never limit your ability to express yourself.
If the suggested colors do not match your style concept, simply examine each shade individually to see if you can pull it off. Using the process of elimination, you can begin to create a color palette that is uniquely yours. If a particular shade makes you look sickly, look for a substitute that captures the essence of the color but matches your skin tone better.
I hope this helps you better understand those colors that go perfectly with you, so you can create perfect looks for yourself.
3